Yesterday morning, after Ryan and I awoke, we drove to the gym for a workout. About halfway through my workout, I went to move my stuff to the weight room and glanced at my phone.
I saw that I missed a call from our vet and immediately signaled to Ryan and walked outside to return the call.
Our vet told us that the results from Sadie's lump biopsy came back and that Sadie did, in fact, have cancer. Her biopsy results revealed that she had grade one fibrosarcoma. Our vet then told us the good news, which was that when they examined the cells surrounding the lump they removed under the microscope, the cells appeared to be cancer free.
I asked if this meant that they completely removed the cancer from her body and he said that it is possible that they did, but he cannot say for certain. He encouraged us to monitor her, as cancerous lumps like this do resurface, and told us to bring her in if anything else pops up. You better believe this paranoid puppy mama will monitor the heck out of her little body!
So that's the latest update! I think Sadie has a lot of happy, healthy days ahead of her. If her current energy level is any indication, I think we're in good shape.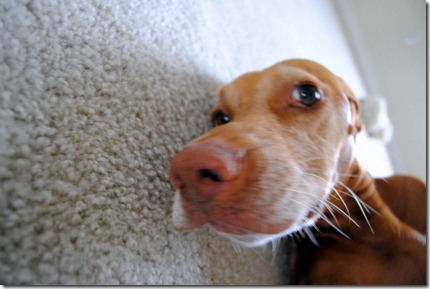 Thank you again for your kind words and thoughts last week!
Tennis
When we arrived home from the gym, we leashed Sadie up and walked to the nearby tennis courts to hit some balls back and forth for 30 minutes or so.
At first Sadie's excitement level was off the charts with so many tennis balls to chase around.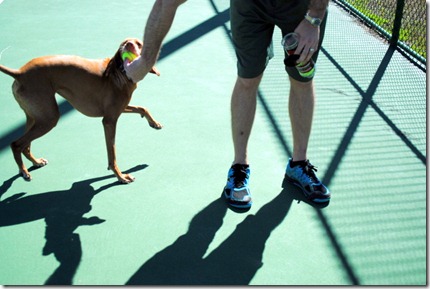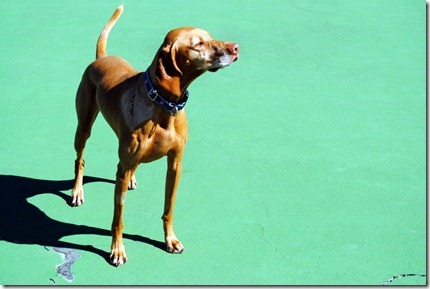 But then she saw something even more intriguing…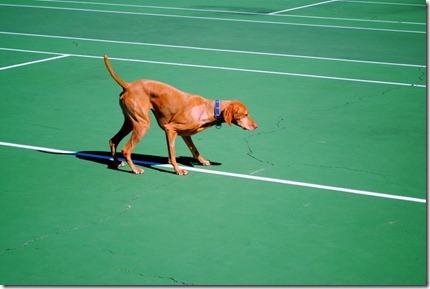 Shadows!
For some reason Sadie decided to camp out on my side of the court and hunt shadows while Ryan and I leisurely hit balls back and forth and goofed around. We weren't playing a real game or anything and that's a very good thing because I can tell you right now that Sadie wouldn't be much of a teammate. Let's just say I won't be calling her if I ever want to play doubles in the future unless I plan to play doubles with shadows instead of real tennis balls.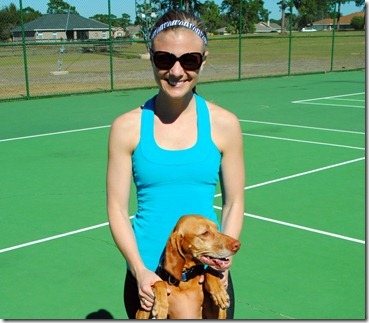 Lunch
Once we were done playing around outside, we headed back home for lunch.
I made a yummy pseudo-soup. I call it a pseudo-soup because I didn't intend for it to be a soup, but Ryan and I liked the base of the dish so much that we ended up eating it with a spoon like soup!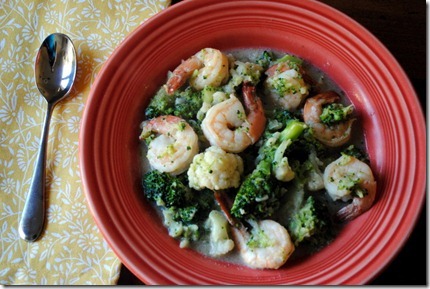 I poured a can of light coconut milk in a pot and seasoned it with ginger, garam masala and garlic salt before adding broccoli and cauliflower. I let the veggies cook in the coconut milk for about 15 minutes before adding some shrimp and digging in.
It was such a simple dish and it got rave reviews in our house.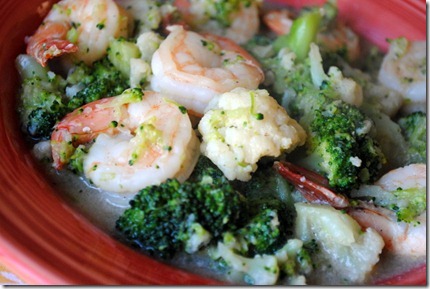 Yum.
I'm off to change for church right now, but I'll be back in a bit! Hope you're enjoying a relaxing Sunday!