The past four days I spent with three of my best friends in Sarasota were filled with lots of pool time, beach days, delicious dinners and long chats over wine.
This is the first time I've seen Carrie, Michaela and Leah without the craziness of wedding-related activities in years and it felt so great to enjoy four days of no obligations and lots of quality time together. I left Sarasota with a happy heart!
Here are some highlights from our time together:
There's a reason Siesta Key seems to constantly appear on America's Best Beaches lists. It's absolutely gorgeous and the sand is incredibly soft! The first thing my girlfriends commented on when we arrived at the beach was the sand. It truly is unlike the sand you'll find anywhere else! Though the water is still quite chilly, we waded in a few times and had fun taking a dip in the saltwater.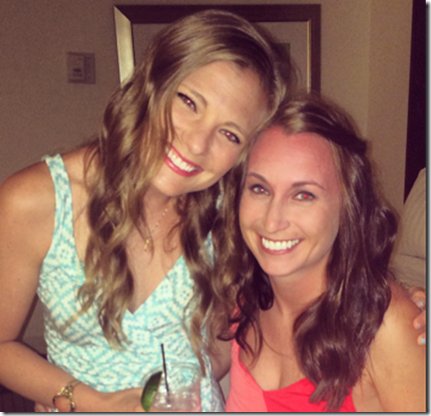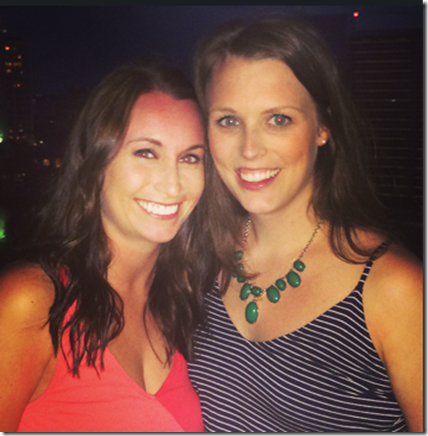 I know this is probably something very trivial, but I miss the fun of getting ready with my girlfriends! We had a great time blasting music and sharing our favorite beauty products with each other while we got ready for the night ahead. (I am now on a mission to buy Carrie's favorite Almay makeup remover pads. They were gentle but had no trouble removing my waterproof mascara. My girlfriends seemed to love my Big Sexy Hair texturizing powder.)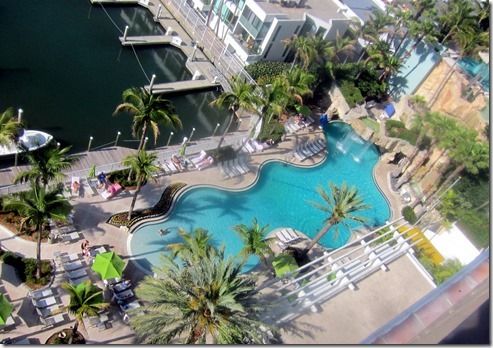 The pool at the Hyatt Regency in Sarasota was perfect for lounging! We spent hours laying out on the comfortable chairs and took advantage of the free beach towels available to hotel guests. (Bonus points go to Michaela and Leah who brought a bunch of celebrity gossip magazines for us to browse through during our trip!) The poolside bar had lots of specialty drinks including all of the basics like mojitos, Miami Vices, piña coladas and more. Plus, who could forget complimentary freezer pops!? YES! While I'm mentioning our hotel, I must also give a shout out to the hotel staff who were all incredibly friendly and welcoming. Leah found this hotel for us after comparing prices online and I would definitely recommend it to anyone looking for a great place to stay in Sarasota! Our room was clean, the beds were comfy and the location was ideal.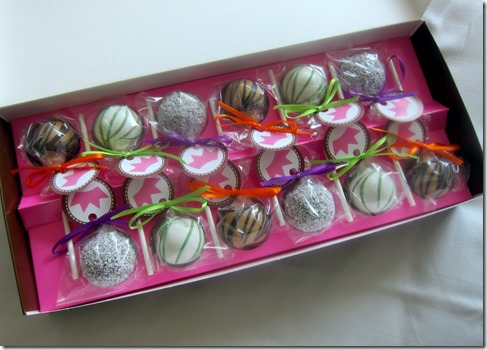 A box of cake pops from The Lollicake Queen in Sarasota served as the perfect afternoon pick-me-up nearly every day of our mini vacation. This box included key lime pie, chocolate peanut butter and gluten-free dark chocolate coconut cake pops. The dark chocolate coconut was my favorite!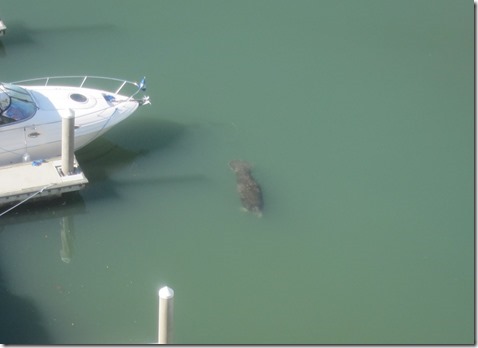 Though I've lived in Florida for a little more than 10 years now, manatee sightings are still rare and exciting to me! While looking out over our hotel balcony, we saw a manatee twice during our visit. So cool!
Enjoying happy hour by the pool with delicious cocktails and card games made our trip really feel like a mini spring break! At the liquor store, Carrie and I got a little too excited when we received free light-up ice cubes with the purchase of a bottle of vodka. (Mine kept sinking!) We played some throw-back games (Circle of Death) and had fun by the pool before dinner.
Evening Walks Along the Water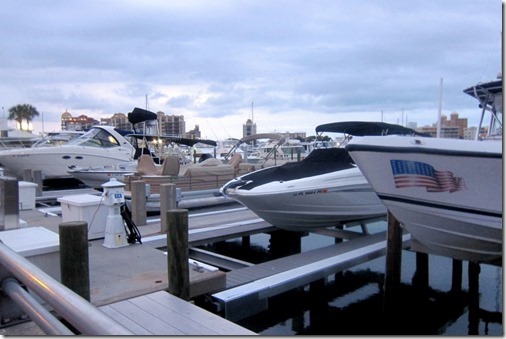 With the exception of our final night in Sarasota, we left my car at the hotel and walked to and from dinner. It was warm enough outside and the slight sea breeze kept us quite comfortable!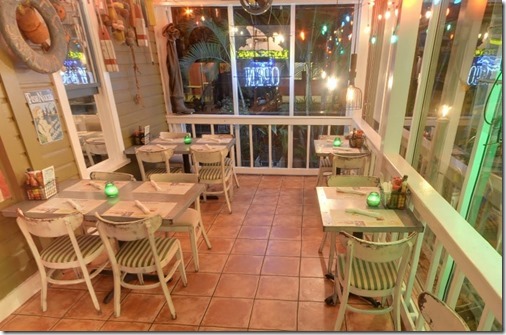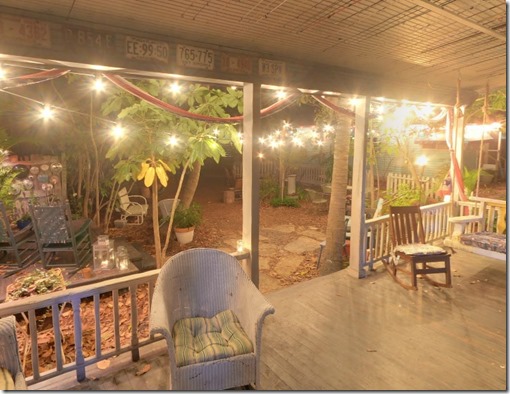 This restaurant took the top prize! It had everything: Delicious food, a fun and laidback ambiance and delicious wine.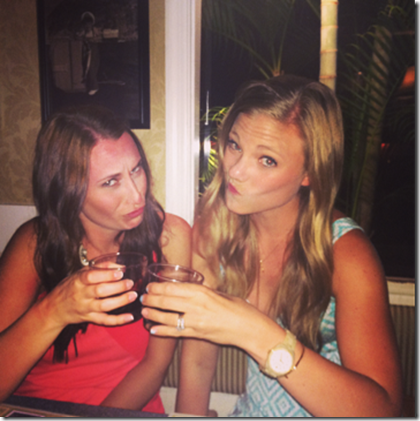 When I arrived back in Ocala, I told Ryan we must take my in-laws there the next time we're in Sarasota. Owen's Fish Camp has so much character. Twinkling lights, driftwood and nautical décor can be found throughout the house-turned-restaurant. Plus, they have fresh shellfish which always makes me a happy girl!
Every night, we managed to spend several hours lingering over wine after dinner which made me so happy. There's never a dull moment when I am with Leah, Michaela and Carrie and it felt good to joke and laugh together but also delve into serious stuff knowing support and encouragement could be expected every single time.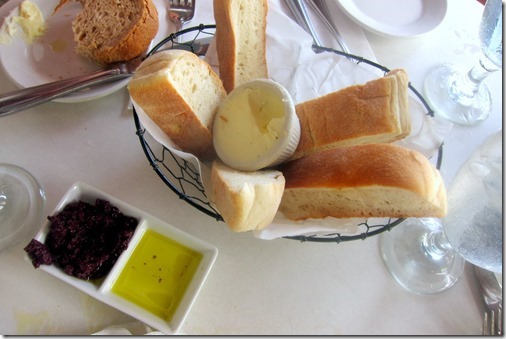 Ryan's recommendation took us to this adorable café for a late lunch on Monday. We had no trouble finding comfortable seating and dined al fresco! The bread, olive oil and balsamic vinegar at this place are worth the visit even if you only order a few small plates because you fill up on the fantastically fresh slices of white and wheat bread.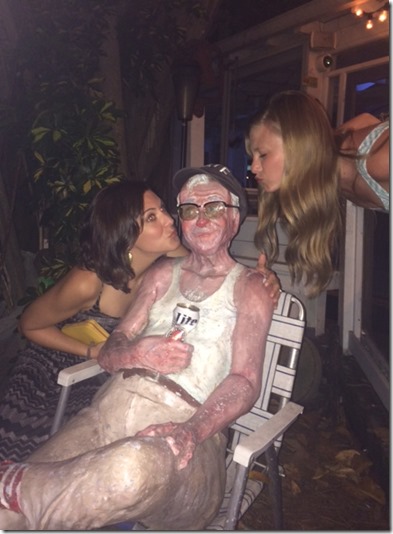 Michaela, Leah and Carrie can make me laugh harder than most people on this planet. They feel more like members of my family than my friends. We love to mess with each other, joke around and somehow always pick up right where we left off whenever we see each other and fall right back into the comfortable groove of our friendship.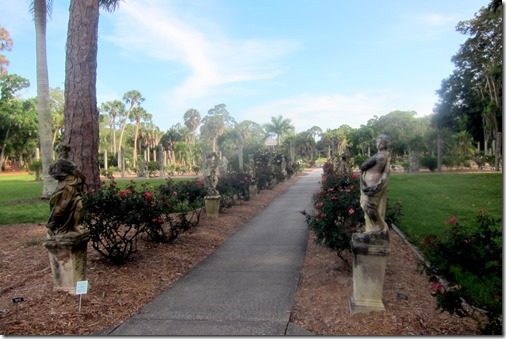 Though the majority of our trip was spent at the beach and the pool, we managed to play tourist a few times and made our way to the Ringling Bayfront Gardens which were absolutely beautiful and took some time to stroll around St. Armands Circle. (The frozen yogurt I got from the Sarasota Frozen Yogurt Company was some of the best I've ever had!)
***
Thank you so much to Carrie, Leah and Michaela for a wonderfully memorable four days together. Your friendship means more to me than you can possibly imagine and I'm already anxiously awaiting our next visit!
Questions of the Afternoon
Do you still stay in touch with friends from elementary school or high school? If so, how often do you see each other?