Saturday
Saturday temperatures in Charlotte were predicted to reach the upper 90s so we knew from the start that we were going to spend as much time as possible near water and on the lake.
After his and hers workouts (I headed off to boot camp after Ryan's gym workout), we spent a few hours at home where I worked on yesterday's Father's Day Gift Guide and Ryan did some yard work as Chase napped. Once our little man was up and ready for action, we drove to Birkdale Village for Chase's first experience at a splash pad!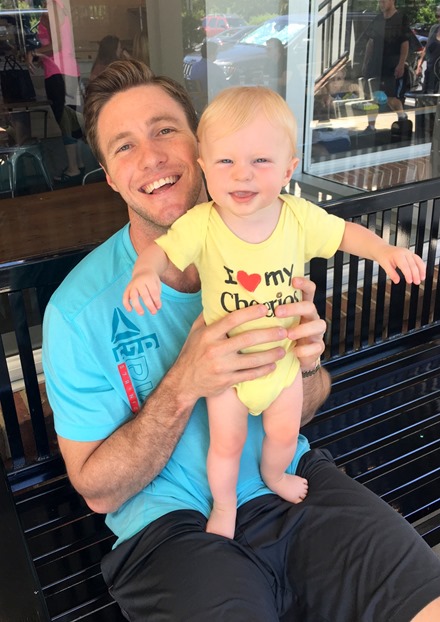 Before heading over to the splash pad, we walked around Birkdale Village and popped in and out of some of the local shops before stopping in Clean Juice for a little pick-me-up.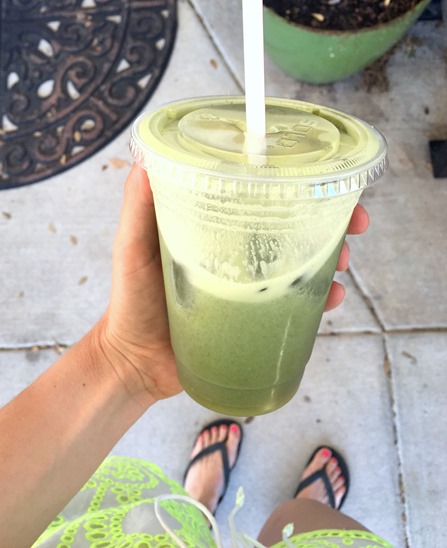 So refreshing!
Splash Pad Adventures
While we sipped our juice, we changed Chase into his swim outfit and walked to the splash pad located in the middle of Birkdale Village's roundabout.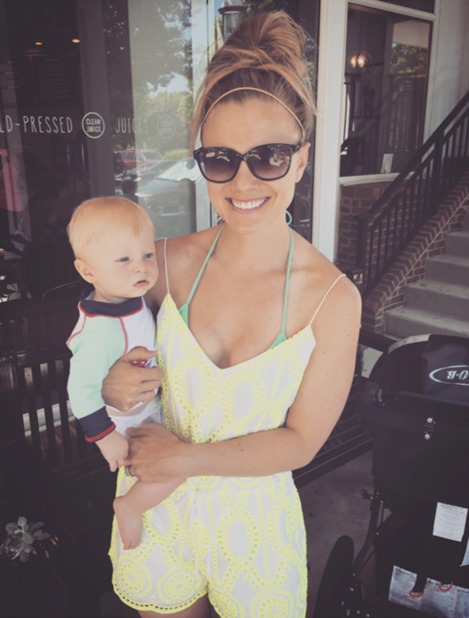 (Picture from my Instagram – For those who asked my romper is Dolce Vita but I bought it on thredUP.)
We could tell right away that Chase was feeling rather apprehensive. I saw his little hands dig into Ryan's shirt and his feet stop swaying and lock around Ryan's waist. But he was curious! His eyes were wide as he watched the bigger kids run around, splash, scream and have a ball.
As Ryan approached the streaming water, Chase's skepticism held strong, but his curiosity got the best of him and he reached out his tiny finger to touch the water. It naturally sprayed everywhere which didn't seem to bother him but a couple of minutes was all he needed to get his fill of the splash pad before we could see tears bubbling up.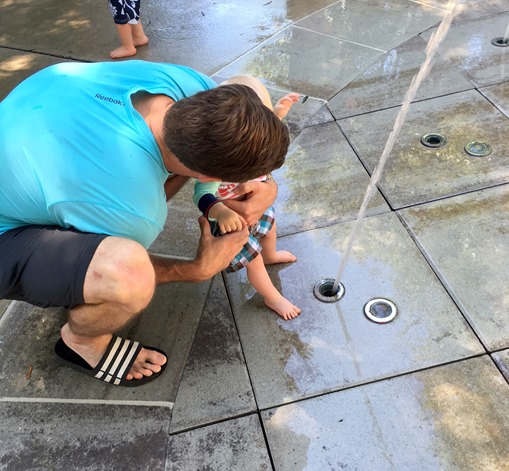 We spent a few more minutes lounging with him on a bench along the perimeter of the splash pad so he could watch the other kids play which seemed to suit him well.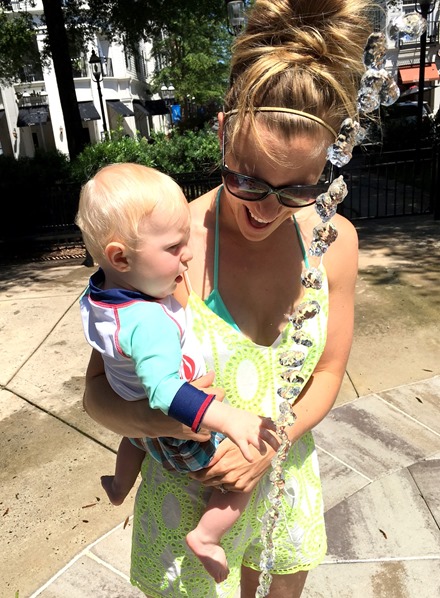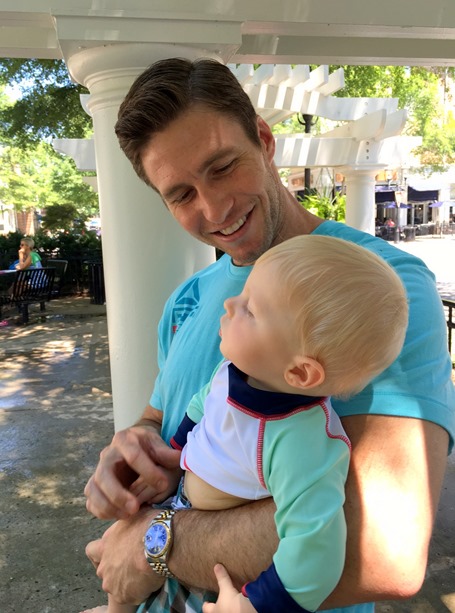 Eventually we made it back to our house for Chase's afternoon nap. I made a quick lunch to enjoy on the couch beside Ryan and spent Chase's naptime taking more notes from the Tasty Food Photography ebook I purchased a couple of weeks ago and watched a few YouTube tutorials since I am trying my best to embrace my bubbling interest in food photography. Plus, if becoming more familiar with my DSLR camera allows me to take better pictures of Chase (almost every single one I have of him so far was snapped with my phone), I'm all for it!
Once Chase was up, it was time for more outdoor fun and we headed out on Lake Norman for a few hours of sun and swimming! Even though my Snapchat filter said it was 95 degrees, it didn't feel too hot thanks to a lovely breeze and perfect water temperature.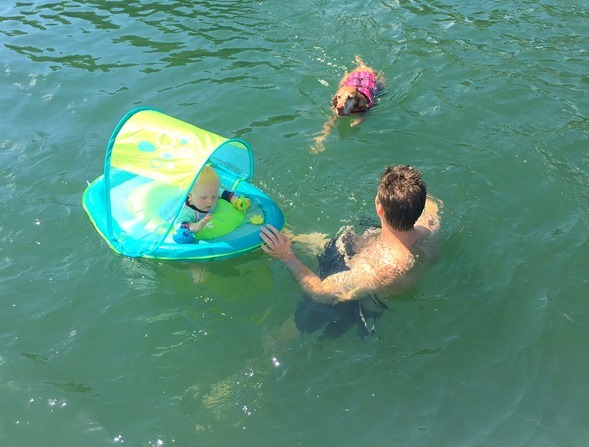 Chase did pretty well in the water and seemed happy for quite a while as we swam around and splashed with him in his canopy float. (A few of you have asked about what life jacket we use for Chase and we have the Sterns Infant Life Jacket that seems to work well, though it's undoubtedly cumbersome which seems unavoidable when it comes to baby life jackets. We'll occasionally swim with him in it, but mostly use it for on-the-boat safety since he seems to prefer the canopy float for water fun.)
I'm pretty sure Sadie had the best time of everyone, repeatedly jumping off the boat and swimming all over the place. I get so much joy out of watching Sadie in her element. She seems happiest when she's sprinting around and sniffing everything in sight on a hike or jumping off the boat and swimming around in the water. Sadie loves anything active, that's for sure!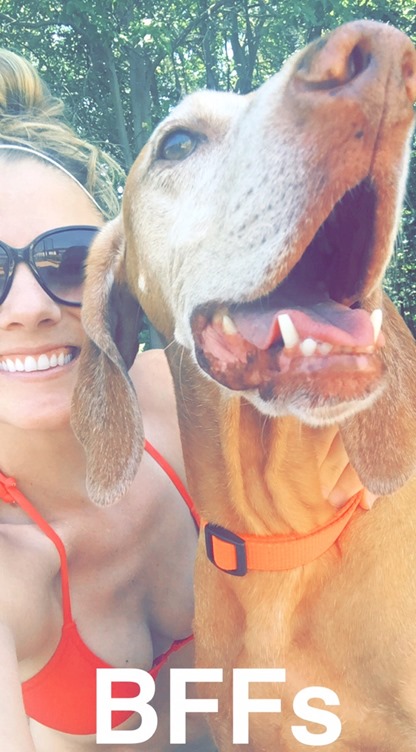 (Pic from my Snapchat –> juliepbfingers)
By the time we made it home, we had a feeling Chase would be ready for an early bedtime, so we quickly bathed him and I nursed him before he was out like a light before 7 p.m.
Ryan and I spent the rest of the night eating sushi for dinner and digging into two new-to-us flavors of Ben & Jerry's ice cream.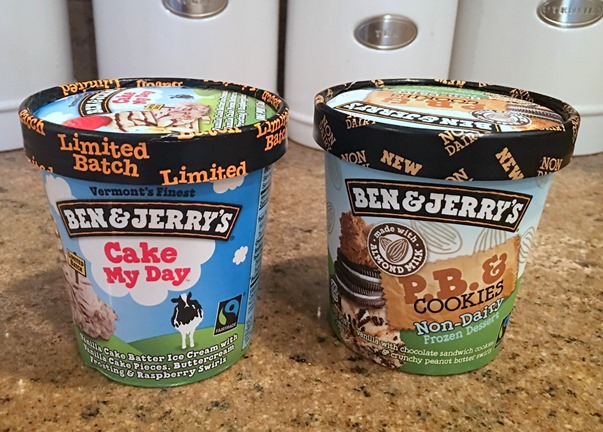 It was my first time trying one of their non-dairy flavors and I was pretty darn impressed. The peanut butter flavor was spot-on and there were tons of cookie chunks among the creamy ice cream. Loved it!

While we ate our ice cream, Ryan stuffed invitations for Chase's birthday party while I addressed them to get them ready to send out on Monday.

I ordered the invitations from Minted and customized them a bit by changing the fonts and some of the wording. I think they fit the "You Are My Sunshine" theme and color scheme of the party (yellow + mint green) well.

I'm pretty sure Ryan and I were in bed and asleep by 10:30 p.m. It was a rockin' Saturday night over here!

Good morning, my friends! How is your Tuesday going so far? All is well over here and I'm popping in this morning to share a recap of our sunny Saturday with you guys, so let's get to it!