This post is sponsored by The Laughing Cow® and features a fun giveaway that I assembled myself that I hope you guys will love! I am an official brand advocate for The Laughing Cow® in 2014 and while I receive compensation for participation, opinions are my own. I hope you enjoy this post and thanks so much for your support!
If you've been reading this blog for a while, you likely already know that I consider myself a very fast eater. (Remember this blog post when I talked about some of the methods Ryan and I use to try to prolong our dinner dates!?) Slowing down and savoring my food takes effort on my part. I've always been a really fast eater and for as long as I can remember, I've been one of the first people to clear my plate in almost any social setting.
When The Laughing Cow® reached out to me about their new initiative that centers around savoring snack time, I knew I wanted to be a part of it. I know I personally could stand to slow down and enjoy my food a little more and this seemed like a good push to brainstorm ways to make myself take a moment and enjoy what I'm eating.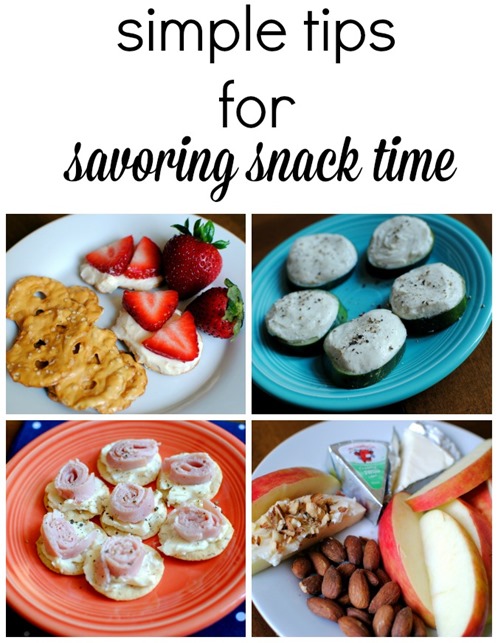 Below you will find some tips and tricks I've been trying to practice during snack and meal times to help me appreciate what I'm eating and actually experience food rather than just inhaling it all the time. I've also featured some food pairings with The Laughing Cow Cheeses to give you some snack time inspiration!
Simple Tips for Savoring Snack Time
Step Away from Electronic Distractions
All too often I'll eat when I'm working at the computer and look up and think to myself, "I don't even remember tasting that meal!" What a shame! I never watch TV during the day, but I am on the computer all the time. I also check my phone a lot since I use it to respond to emails, blog comments and other work-related tasks. By stepping away from electronic distractions, I feel much more in the moment and this makes me concentrate on tasting and savoring my snacks and meals.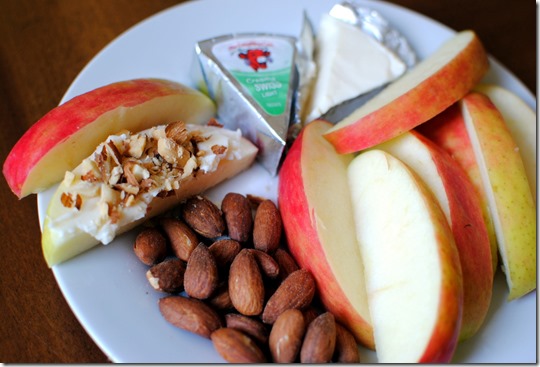 Crisp Apple Slices + Roasted Almonds + The Laughing Cow Light Swiss Cheese Wedges
Place My Fork Down In Between Bites
This is a tip I read in a magazine years ago that really does work. I tend to shovel food in my mouth a little too quickly, and taking the time to put down my fork or spoon in between bites extends mealtime a little bit and allows me to think more about what I'm eating and enjoy it.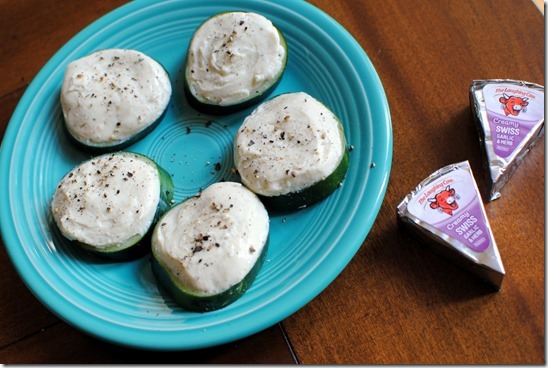 Cucumber Slices + The Laughing Cow Creamy Swiss Garlic & Herb Cheese Wedges + Freshly Ground Black Pepper
Enjoy A Snack with a Mug of Hot Tea
This is something I tend to do at breakfast time that makes my morning meal last a little longer, so I tried extending it to snack time and it really does help! If I fix myself an afternoon snack and a hot cup of tea, I'm much more likely to sit down and enjoy my snack rather than grabbing it and stuffing it into my mouth while I'm on the go. Which leads me to my next bullet point…
Gluten-Free Almond Crackers + Ham Pinwheels + The Laughing Cow Creamy White Cheddar Cheese Wedges + Cracked Pepper
I am the queen of eating at the kitchen counter. When I make myself grab a plate or a bowl and take my snack to the table, it seems to send a message to my brain that this is a time I need to chill out and enjoy what I'm eating rather than eat something as fast as possible before it's onto the next thing.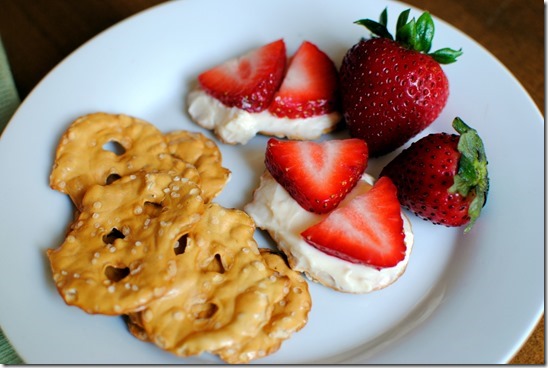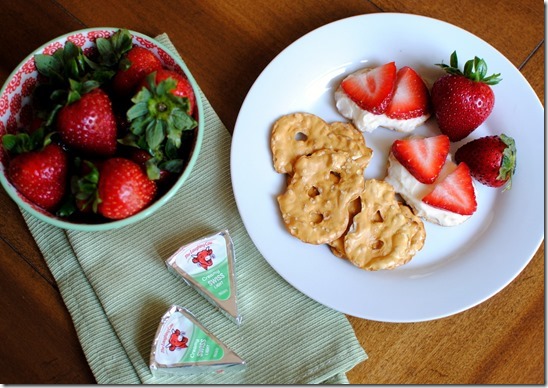 Fresh Strawberries + Pretzel Crisps + The Laughing Cow Creamy Light Swiss Cheese Wedges
I tend to eat the same snacks over and over again until I get sick of them and discover something new. When I take the time to get a little creative in the kitchen and try something new, I find that I'm a lot more likely to notice and enjoy what I am eating.
And now it's giveaway time!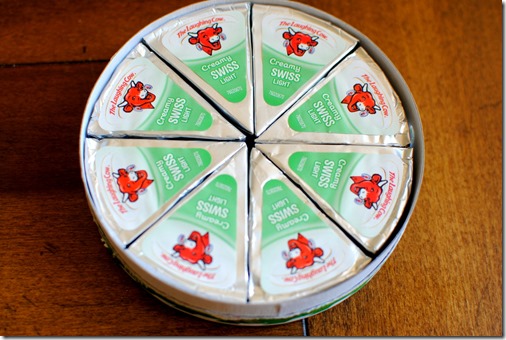 I have personally assembled a giveaway worth $300 for one PBF reader to win! I tried to select items to help you kick back and relax a bit so you can thoroughly savor your meals and snacks!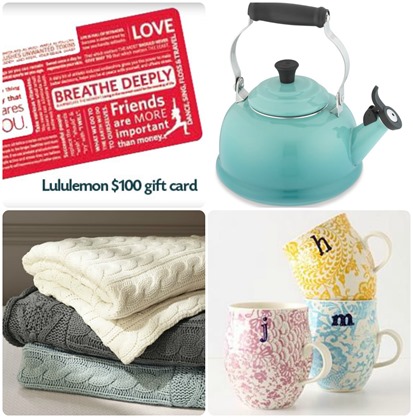 This giveaway includes:
$100 lululemon gift card – For you to pick up some super cute, comfy lounge-worthy apparel that you can also wear in public
Cable knit throw from Pottery Barn – To curl up with while you enjoy a delicious snack this winter 
Le Creuset tea kettle (color of your choice) – To brew a hot beverage to sip while you eat
Anthropologie mug with your initial – So you can sip your tea in style
Snack Time Kit from The Laughing Cow
To enter this giveaway, simply leave a comment below telling me about one of the tricks you use to encourage yourself to slow down and savor your food or tell me about your favorite snack!
I will randomly select a winner on Friday.
Good luck!