Watching Sadie run around outside is such a simple thing that brings me so much joy. I think that's one of the reasons why I enjoy our trail runs together so much. She runs all over the place, sniffing everything in her path and it's clear she's having an absolute blast!
This afternoon, right before lunchtime, we drove out to some nearby trails for a five mile run. The intense Florida heat is slowly returning and it was in the low 80s which meant it was a HOT run.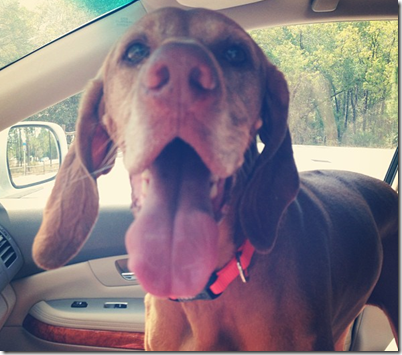 Hot dawg!
During today's run, the song "Champagne High" by Sister Hazel came on my iPod and I found it oddly energizing. I typically gravitate toward fast, upbeat music when I create workout playlists, but sometimes a slower song motivates me, too. "Walking in Memphis" by Lonestar (yes, I prefer the remake) and "My Immortal" by Evanescence (I love the way it builds) are two of my  favorite running pump up songs.
Lunch
Once we were done with our run, I took a quick shower before it was time to prepare lunch.
Lunch today was a two-parter. It started cold and ended hot!
Cold = Smoothie!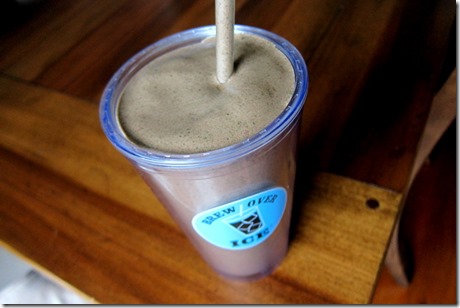 (Frozen banana + Frozen strawberries + Chocolate protein powder + Cocoa powder + Fresh spinach + Almond milk)
Hot = Sausage, Egg, Spinach and Cheese Scramble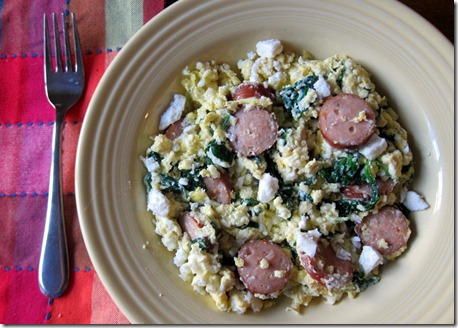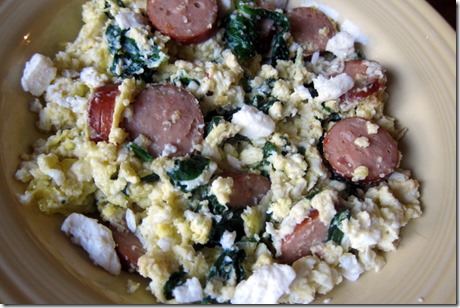 I liked the eggs so much for lunch that I'm thinking it might be a breakfast for dinner kind of night in the Fagan household!
Question of the Afternoon
What slow song pumps you up during a workout?