Morning
I ended up reading until almost midnight on Monday night because my latest book, I Am Watching You, was impossible to put down. After some seriously restless sleep a while back that I largely attributed to reading suspenseful novels before bed, I took a little break from the genre but I missed the thrill and intensity. Now I'm diving in with a BANG! I already cannot wait to read the rest of my book tonight because I know there's no way I'm going to be able to NOT finish it this evening. It's a good one!
Since I read so late and I wrote Tuesday's blog post over the weekend and had it ready to publish, I opted to sleep in a bit which felt like a treat! I woke up around 6:15 a.m., spent some time with my devotional and dug into an egg scramble and a banana for breakfast while I caught up on some emails.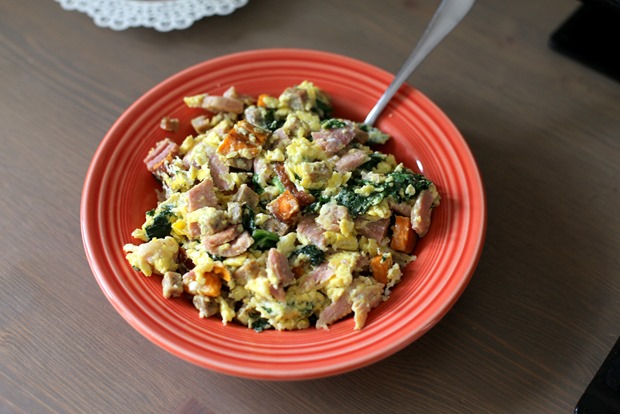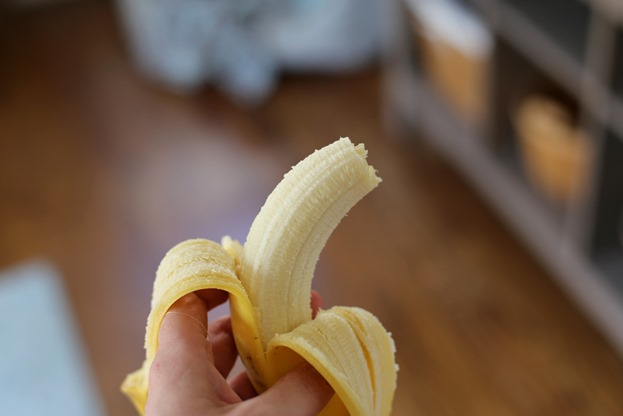 Once Chase was up for the day, we spent some time reading books in his room before eating whole wheat pumpkin muffins for breakfast while we watched the birds and squirrels play in our backyard. Spring has all the animals extra energetic around here lately and our little nature lover is in heaven observing them.
There's a great view of the tall trees in our backyard from our master bedroom, so I've also been loving Chase's recent fascination with the birds and squirrels because they seem to occupy him while I get dressed in the morning, even if I am enthusiastically called over to see a new squirrel, cardinal or robin every 2.5 seconds. "MOM! A squirrel! Come sit with me!" If you think I can resist his high-pitched little voice telling me to come sit with him in the morning, you are seriously mistaken. It melts my heart every time even if it means getting dressed takes me 5,000 years.
Chase and I prepped a crock pot dinner and then made it out the door around 9 a.m. Our first plans for the day took us to boot camp where I went through a cardio workout that I majorly slowed down. I am definitely feeling the weight of my belly and this pregnancy more and more with each passing day and always give myself permission to dial boot camp classes back as much as I need to at any given time. Yesterday there was a lot of dialin' back.
Here's what the workout at Burn Boot Camp looked like yesterday morning: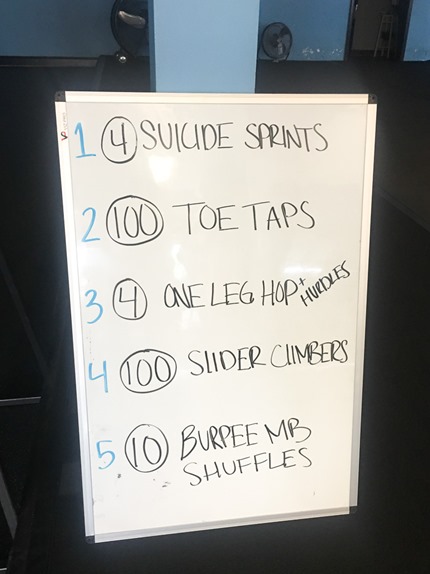 There definitely wasn't  any sprinting or hurdle hops happening for me, that's for sure. Phew!
Once I collected Chase from childcare and said goodbye to my friends, Chase and I ate a snack and were off to my doctor's office for another prenatal visit. I cannot believe I'm already at the point of pregnancy where my visits are now bi-weekly. Time is flyin'!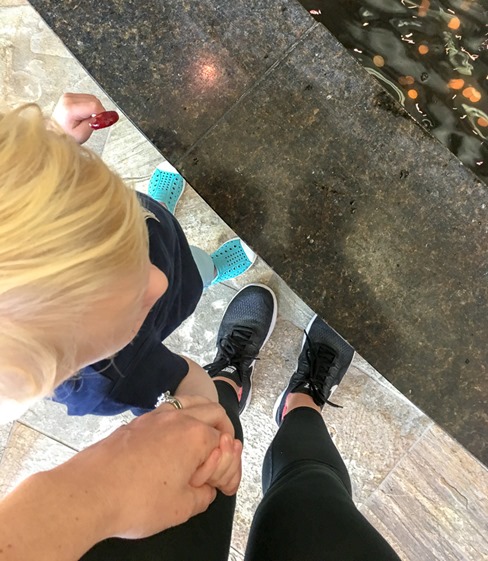 My appointment was with the midwife who delivered Chase and she was so sweet and let Chase control the Doppler so he could listen to the "boom booms." It made his day and we left the office feeling incredibly grateful for a positive appointment. Grow baby, grow!
Afternoon
A trip to the grocery store was on the agenda yesterday because I needed a few extra things to complete our meal plan for the week, so on our way home, Chase and I popped into Whole Foods to grab some food for our family. The trip gave me a chance to use my new produce bags that I ordered from Earth Hero and I LOVE them! I hate wasting so many produce bags at the grocery store and the reusable bags worked perfectly for bagging up our apples, onions and sweet potatoes.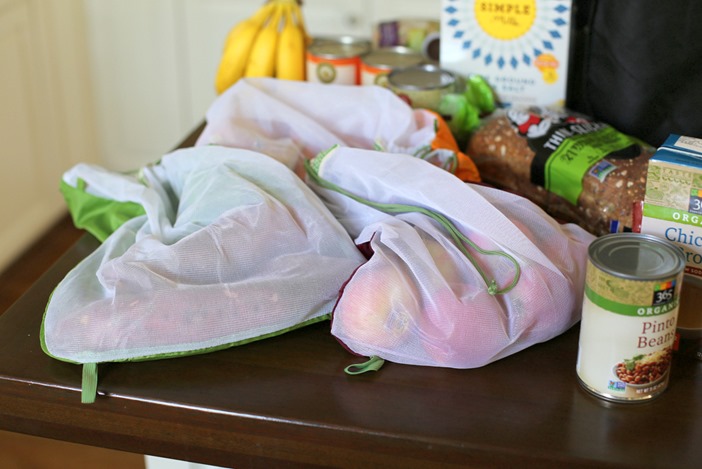 By the time we made it home, Chase, Sadie and I were all itching to get outside, so we played at Chase's water table, threw the frisbee for Sadie and ate lunch together on the patio swing. (Well, my lunch was more of a Lunch 1.0 and consisted of a bunch of Chase's Simple Mills crackers with cheese.) With rain anticipated in Charlotte most of the day today, we wanted to take full advantage of the sunshine yesterday!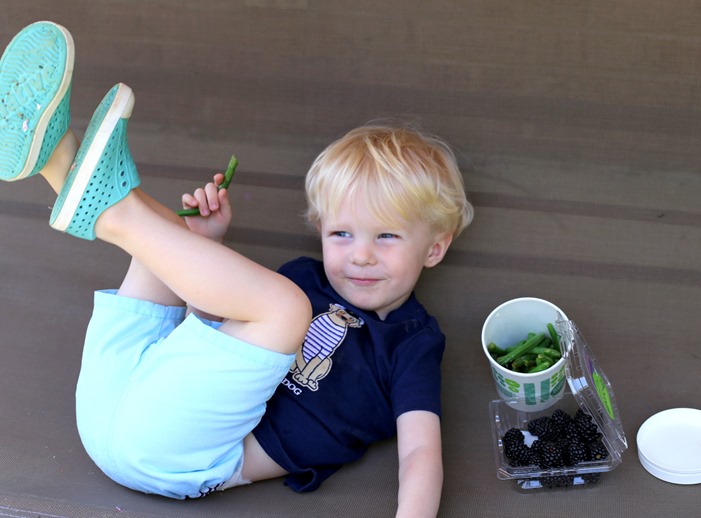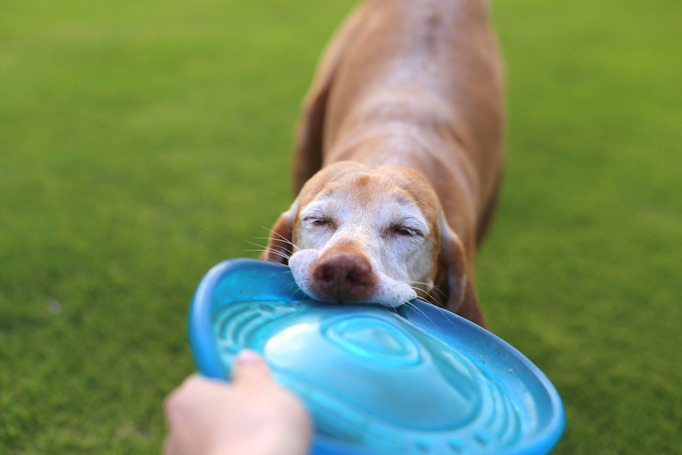 Chase went down for his nap a little after 2 p.m. and it was a rather restless sleep. I did my best to get some work done and made myself a big salmon salad for Lunch 2.0 that was fantastic and came together quickly thanks to food prep and leftovers.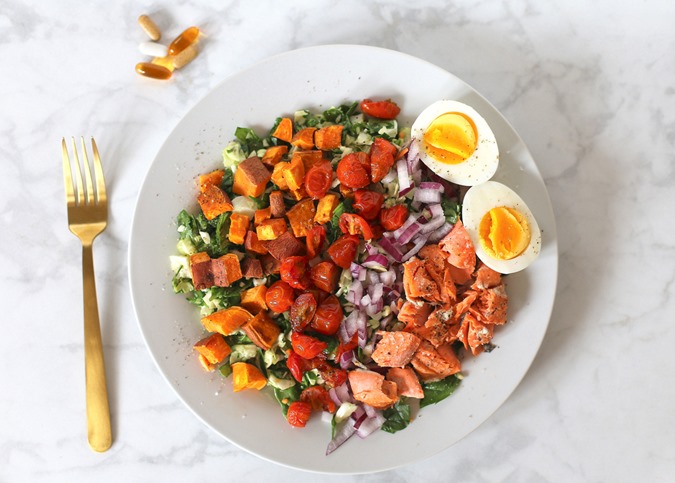 (Truth time: I definitely plated this salad for the 'Gram and it looked like a hot mess when I stirred it up and actually ate it. Gotta get ALLLL the flavors in every bite!)
Lindsay's Salmon Nicoise Salad served as the inspiration for my lunch since I had leftover salmon on hand from Monday night's dinner. The lemony dijon dressing Lindsay used for her salad was perfectly tangy so keep that recipe on your radar if you're a fan of salmon salads!
Evening
I worked until Chase had other plans for me and once he was up, we read some stories before Chase asked for an early bath and "jammies." This meant we ended up playing in our pajamas in the backyard once Ryan got home from work and undoing all the cleanliness from bath time but Chase had a BALL on the swing and challenged Dad to 5,000 running races in the grass.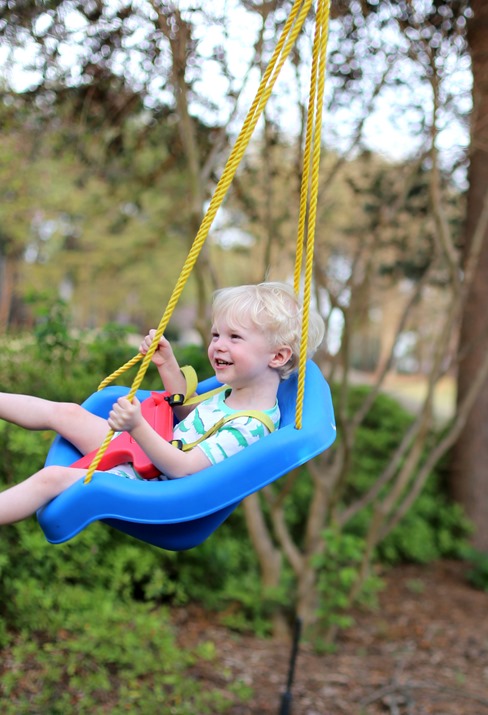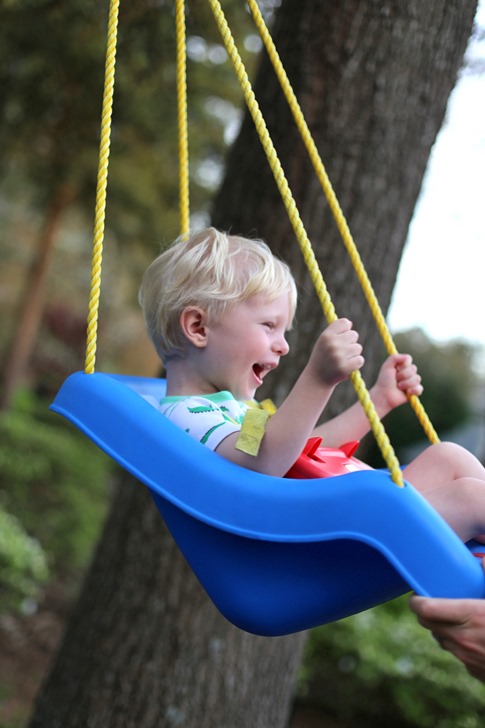 Ryan has been traveling a lot for work lately and working some pretty late nights, so having him home in time for playtime outside felt like such a treat! I told him he made Tuesday feel like a Sunday or something!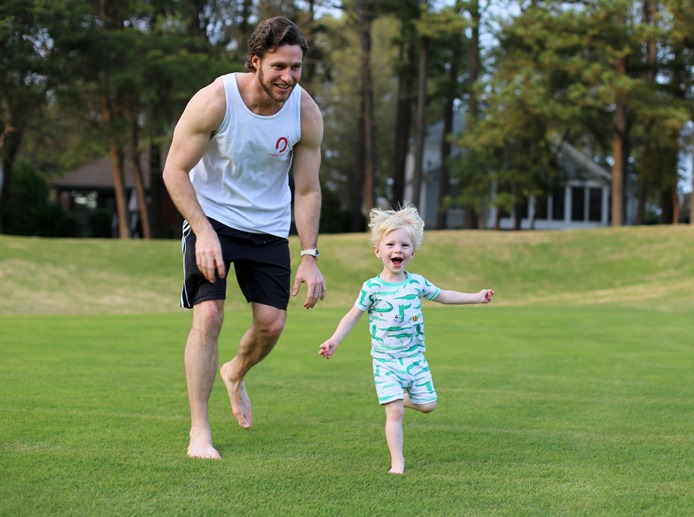 I've been on the struggle bus over here around dinner time lately because I'm hungry but my stomach often feels quite bloated and stuffed-but-not-full (if that makes any sense?) by the end of the day. I tried my best to listen to my body and while Ryan and Chase dug into a crock pot dinner once we came inside, I kept things on the lighter side and went for a few mini meals for dinner over the course of the evening.
Up first: A veggie wrap made with roasted red pepper hummus and a yummy coconut wrap from our latest Thrive Market delivery that arrived yesterday afternoon.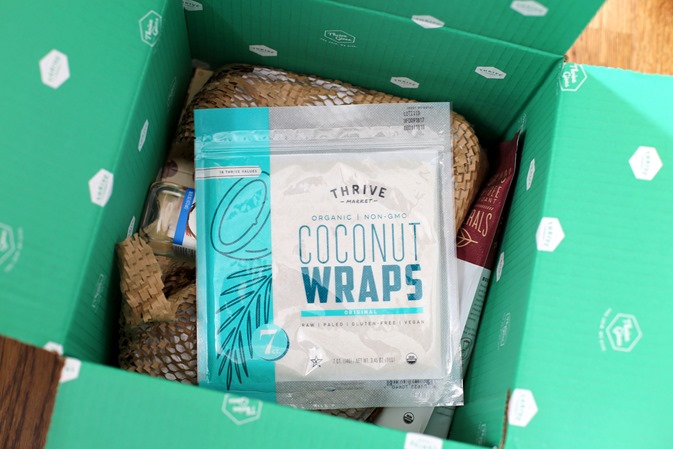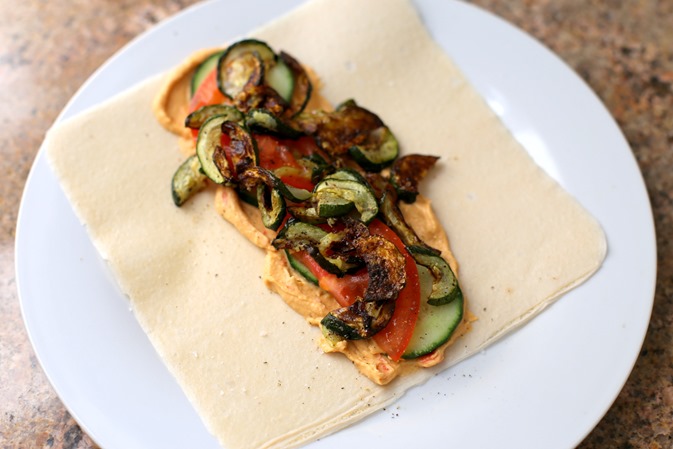 Up next: A bowl of cereal because cereal is a mandatory fixture in my life right now.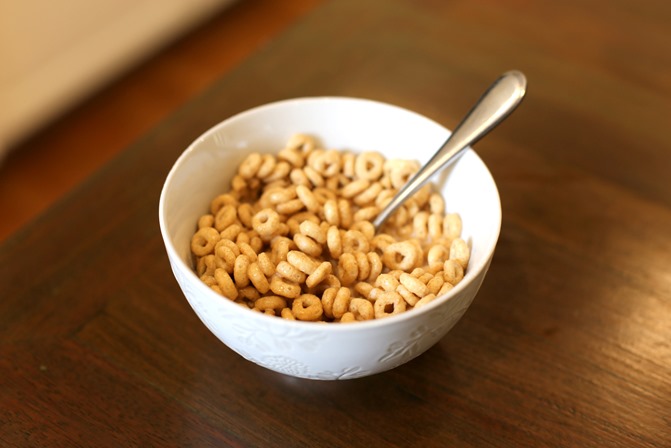 The grand finale: The head of the chocolate bunny Ryan gave me in my Easter basket.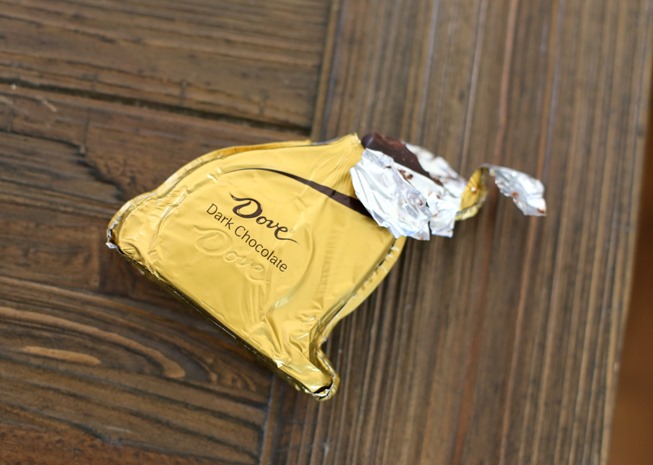 And that was our Tuesday in a nutshell! Thanks for coming along for the ride today, my friends!

Hi friends! Happy Wednesday to ya! It's spring break this week over here and I cannot help but feel like I'm in spring break mode, too. While spring break is admittedly not a huge life upheaval for us since Chase is only in preschool two mornings a week, it's not something that has been on my radar since my college days, so it's kind of fun to embrace a lack of routine.