Today is going to be one of those days that doesn't slow down until I crawl into bed tonight.
It began nice and early… extra early, actually.
As you may know, Ryan and I let Sadie sleep in our bedroom at night. Okay, so she actually sleeps in our bed. This image should give you a good idea about our nighttime slumber:

(Source)
That picture is one of my all-time favorite Pinterest finds because it is so true. Sadie likes to begin the night curled up in the tiniest little ball. By the time the morning rolls around, she ends up spread out with rigor mortis legs pushing into our sides. We are such suckers.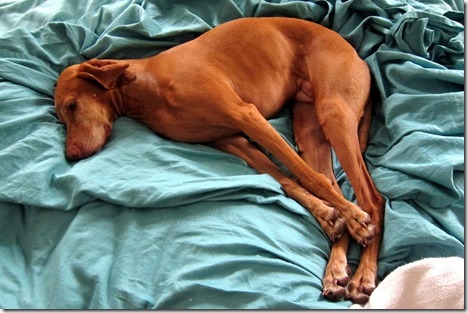 Anyway, for the past two nights in a row, Sadie has hopped out of bed 20 minutes before our alarm was set to go off. Apparently she needed a 4:30 a.m. bathroom break.
Sadie usually sleeps through the night, so this was rather unusual. It is really hard to fall back asleep knowing you have to get up 20 minutes later, so Sadie got the stink eye from us all morning… which didn't seem to faze her in the least.
Workout + Breakfast
Today's workout rounded out week two of Best Body Boot Camp! Six weeks to go!
Once we were done at the gym, Ryan and I headed home for breakfast.
I made myself an egg scramble with chicken sausage, spinach, onion and feta cheese.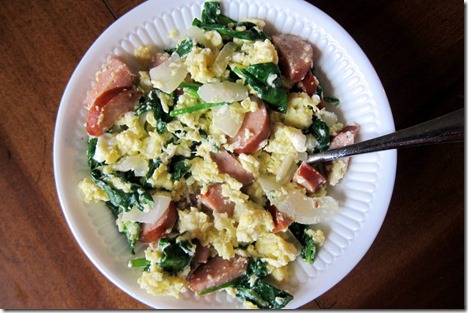 So savory!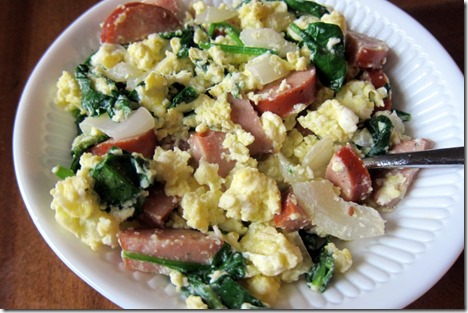 I'm off to blow dry my hair and head out to work for a new-hire orientation. Then it's off to Orlando for bachelorette party time!!!!
Question of the Morning
If you have a pet, where does your pet sleep?