Happy Friday!
My Friday began with another bowl of eggnog overnight oats, topped with a sliced banana, slivered almonds and a sprinkle of nutmeg.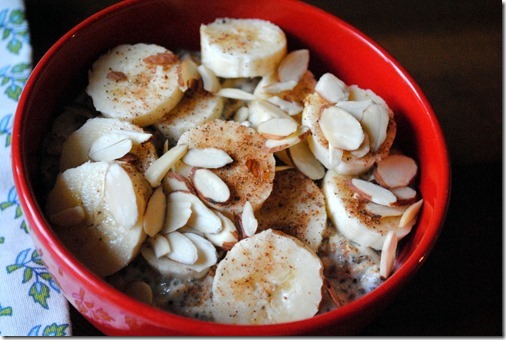 It was a festive way to start the day!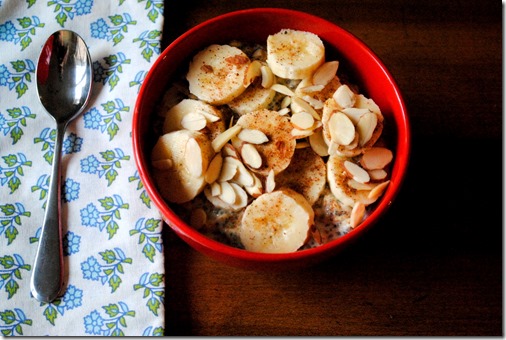 I also ate about three small handfuls of dried mulberries as I was assembling my breakfast.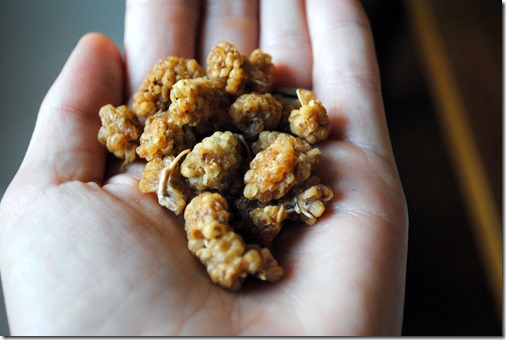 I can't get enough of them!
The Workout That Wasn't
After another late night at work, I opted to sleep in again today and skip my morning workout. Our LiveSTRONG group meeting went really well and I arrived home yesterday evening feeling so proud of our participants' accomplishments. Before we started the program, one man couldn't bike for more than 90 seconds and now he's up to 26 minutes! He's coming to the gym on his own to work out five days a week and is a big fan of our Silver Sneakers workout classes. I am so impressed with the amazing progress we see every week.
After I crawled into bed last night, Sadie hopped in beside me and as Ryan came to join us, he laughed when he saw Sadie's lovely (and very unladylike) pose on the bed.
(Her legs were actually way more spread eagle but she got a little camera shy. And yes, I am wearing a Blue Barracudas t-shirt to bed. Olmec better watch out.)
For a medium-size dog, Sadie sure knows how to take up a lot of space in our bed. At some point in the night, she always seems to raise her front paws above her head and stretch out her back paws as far as they can go. I swear she becomes eight feet tall at 2 a.m. 
Strengths
Once we were all snuggled up in bed, with Sadie wedged between us since she always has to be in the middle, Ryan asked me about my LiveSTRONG group. During every LiveSTRONG meeting, we begin by going around the circle and sharing our latest journal entry. The LiveSTRONG program provides members with journals and each page has and entry prompt, such as "When I found out I was diagnosed with cancer I…" or "I feel happiest when I'm…"
Yesterday's prompt encouraged everyone to share their strengths.
"My biggest strengths are…"
We went around the circle and took turns sharing. Some of our participants answers:
I have a very strong faith
I always look on the bright side of things
I persevere through anything
I am a good nurturer
I am very honest
I'm very determined
I'm a good mother
I have a thirst for knowledge
After I told Ryan about our journal topic, we started talking about our strengths. Yes, it can feel awkward to talk about yourself like this, but I also think it's very important to recognize your positive qualities. It was actually easier for me and Ryan to list each other's strengths than our own, but we came up with a few things.
Ryan said he thinks his biggest strength is a "can do" attitude. If a difficult situation arises at work, he always thinks there's a way to work through it and improve the situation. I agree with this even on a personal level and told him that dedication is also one of his biggest strengths. If he starts something, he has razor-sharp focus and will finish it.
I said I think my biggest strength is my optimism and my belief that things will always work out for the best. I also think that I am a fairly motivated person, so I said that my internal motivation is a strength. Ryan agreed with me, but he said that he thinks my biggest strength is my energy.
I thought this might make a fun topic for a Friday, so now I ask you…
Question of the Morning
What are your biggest strengths?
What strengths do you think your loved ones would say you have?