Sugar 'n' spice and all things nice. That's what little girls are made of!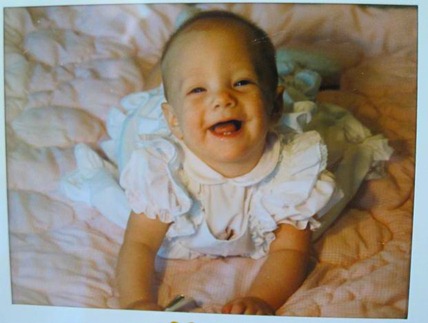 It's also what my dinner was made of. (And yes, that's Baby Julie.)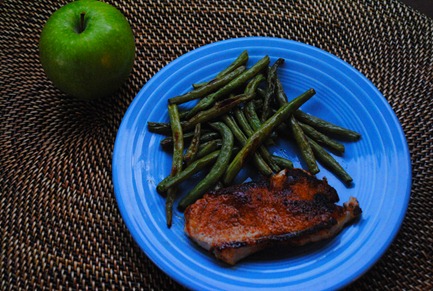 I couldn't wait to make these smoky pan-grilled pork chops (with brown sugar!) ever since I saw the recipe in the latest issue of Cooking Light.
I'm not sure if it was a conscious effort on behalf of the Cooking Light team, but I loved how the first issue of 2011 seemed to have simpler recipes that call for more common ingredients and spices. Way to go!
For the most part I followed this recipe and it was so, so easy. We had dinner on the table in no time flat.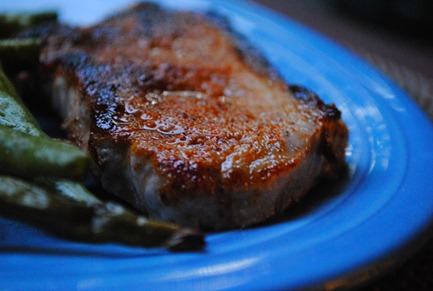 I made the pork on the stove top with brown sugar and spices and couldn't wait to dig in.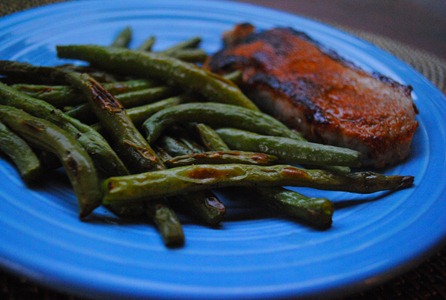 We enjoyed our pork with roasted green beans and an apple on the side for a punch of fruity sweetness. It was a dinner winner!
Smoky Pan-Grilled Pork (Adapted from Cooking Light)
Ingredients:
1  tablespoon  cumin
1  tablespoon  brown sugar
1/2  teaspoon  paprika
1/4  teaspoon  salt
1/4  teaspoon  freshly ground black pepper
4  (4-ounce) boneless center-cut pork chops
Cooking spray
Directions:
1. Combine ground cumin, sugar, paprika, salt, and pepper. Rub evenly over pork.
2. Heat a grill pan over medium-high heat. Coat pan with cooking spray. Add pork to pan; cook 5 minutes on each side or until done.