Healthy Living Summit bloggers are taking over Philadelphia!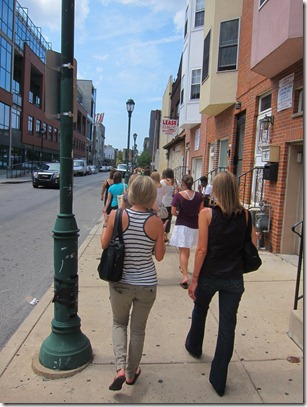 Okay, not really, but there are nearly 230 bloggers and blog readers hittin' up the city of brotherly love and that's a whole lotta people!
The morning started with breakfast and some chit chatting at the Starbucks in the hotel lobby. It was actually a great place to set up camp because a lot of the Healthy Living Summit attendees seemed to flock there and I got to meet some new people.
After breakfast, I met up with my fellow panelists to go over our presentation about negativity in the blog world for tomorrow. I think talking it through almost made me more nervous. I hope it goes well!
I feel like we have a lot of great things to talk about and I'm hoping the attendees find our session both informative and interesting. Fingers crossed! There is actually another panel going on at the same time as ours, so I'm just going to pretend that only five people will show up to our talk to ease my nerves a bit.

After our group meeting, we met up in the lobby with a billion other bloggers for lunch.
Lunch
Lunch took place at Pumpkin Market, a quaint little sandwich shop located about 10 minutes from our hotel.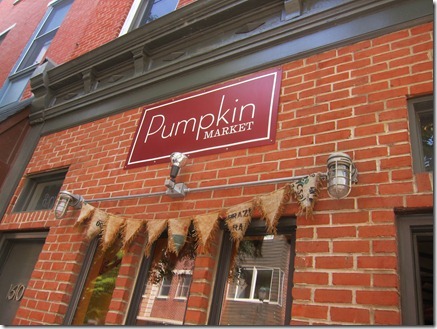 I loved the inside of Pumpkin Market. It was full of warm colors and the shelves were stocked with fresh produce, various kinds of juice and cold water.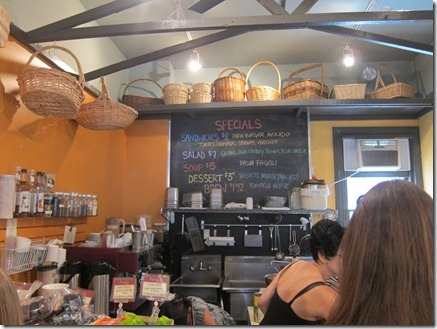 I made sure to grab a sparkling lemon water to enjoy while we waited for our meals to be prepared.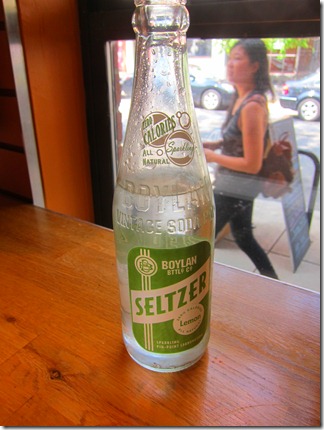 I am such a fan of sparkling water. Something about the effervescent little bubbles makes me happy!
I think our big group of bloggers overwhelmed the small sandwich shop, but they did a great job of accommodating all of us.
For my meal, I opted for a mozzarella panini that came with bean salad and a pickle.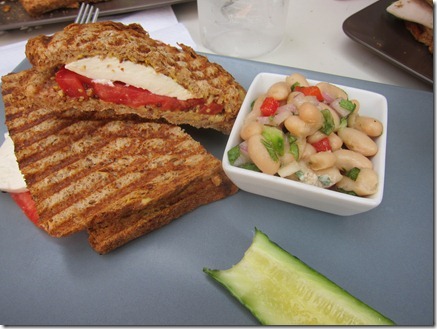 I really, really enjoyed my meal. Everything tasted perfectly fresh and I could tell the sandwich and bean salad were made with quality ingredients. Gotta love that!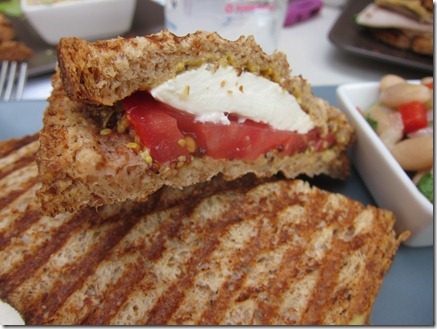 I ate lunch beside some bloggers I've never met before! Kath, Kelly and Heather were lovely dining buddies.

After walking back to our hotel, it was time to head to the Healthy Living Summit registration tables to officially check in and grab our name tags.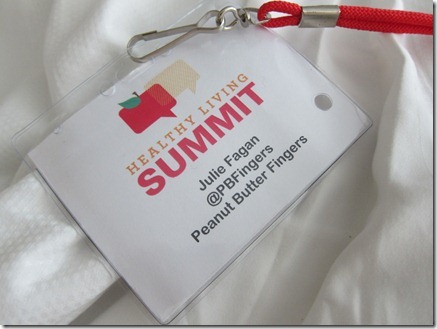 Recognize that name?

We were also given a t-shirt and swag bag full of food-related goodies.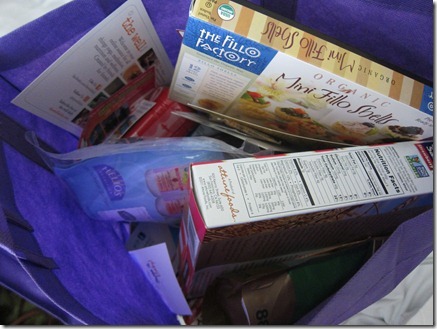 I can't wait to eat it all… and I'll have to do that before I fly out on Sunday because there's no way I have room for all that biznass in my carryon!
Time to showah! I am so gross and sweaty from walking around the city today and want to make sure I'm not the stanky girl at tonight's cocktail party.
Hope you guys have a great Friday night!