First things first… There's another new page on the blog!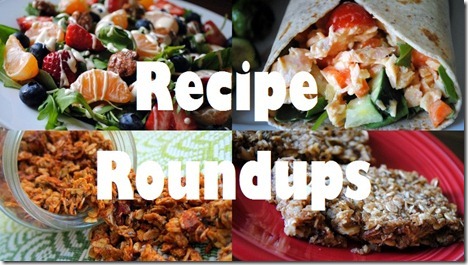 Thank you to PBF reader Megan for the idea to create a Recipe Roundups page.
The new page includes links to all of my past Recipe Roundup posts, which highlight some of my favorite recipes that may have gotten lost in the shuffle of blogging for the past two years.
You may find it at the very bottom of the "Recipes" tab at the top of the blog.
The page will be updated monthly as new Recipe Roundup posts are published. (I have one coming your way for the month of March soon!)
I hope you enjoy!
Lunch
Lunch today was super simple.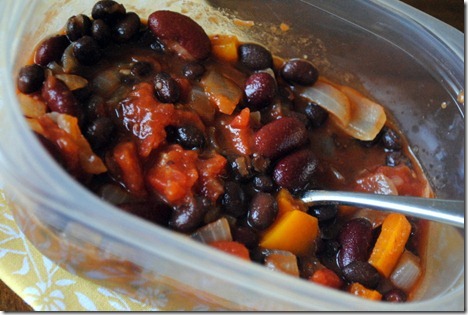 Leftover vegan chili from last night's dinner!
I think I liked it even more reheated. Chili just seems to get better the longer it sits (but not too long). So flavorful!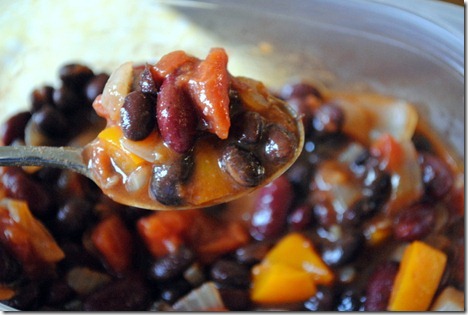 I also had a plum and half a Thomas' whole wheat bagel (BOGO at Publix this week!) that was leftover from part of my morning snack.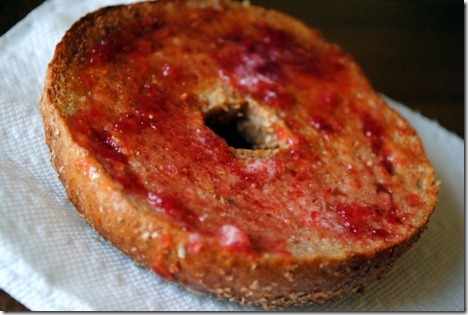 I spread the toasted bagel with a bit of butter and strawberry jelly. A classic combination that never gets old!
Taking Your Own Advice
Last week, at the end of my hot yoga class, the instructor took some time to throw a little knowledge our way as we were relaxing in savasana.
I love it when yoga instructors share introspective thoughts, peaceful words, quotes or words of wisdom at the end of a class. Their words often resonate with me and I will frequently find myself thinking about what they said days, weeks and even months later.
One of my all-time favorites is this little nugget:
"Every day is a new opportunity to make new decisions."
BAM. So maybe you did something hurtful yesterday or ate ice cream for breakfast, lunch and dinner? Well, today you can apologize, be kind and eat ice cream only for dessert after dinner!
I say that particular quote to myself a lot when I feel like I've been taking my life in the wrong direction. Knowing that each day we get another chance to change our attitude, habits and the course of our life for better or for worse can help me approach a new day feeling more in control when I've found myself feeling upset or out of control. It can help me feel like I can make a day I'm dreading a good one.
Last Thursday, the instructor of the yoga class concluded the class by saying the following:
Try taking your own advice.
Nobody knows you better than you. Whatever you're currently struggling with in your life – you already know what to do.
Gosh.
How true is that?
She then went on…
Picture yourself sitting across the table from yourself. Explain the challenge you're facing to yourself. Picture what you'd say to yourself. What advice you'd give. What course of action you'd suggest. You already know what to do. You know the effort you need to make to impact the obstacles in front of you. You know right from wrong. Take your own advice. Trust yourself.
I started to think about the negative things in my life. The things I bring to others for advice on how I should manage them. When I pictured myself telling myself about these issues, I knew exactly what I should do. I know how to change or prevent many of the issues I struggle with every day.
Sometimes we just need to kick ourselves in the butt and suck it up and make the change we know we need to make. Whether it's working out an issue with a family member or coworker, apologizing, putting forth more effort, exercising more patience… Very often we know what we have to do.
No one needs to tell us. We know.
So, how about that?

I'm not sure whether this will resonate as much with you guys as it did with me, but it affected me and made me think about taking my own advice a little more seriously. Because who knows me better than me, after all?