Today I taught my first group exercise class. Hooray!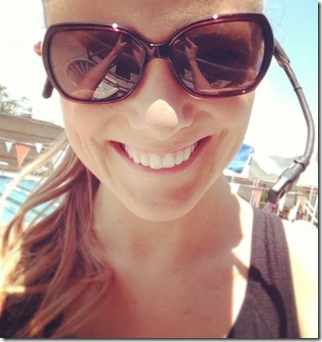 Isn't my microphone oh-so-fancy!?
Though I was slightly nervous during the hours leading up to the class, I was busy the entire day so I didn't have a ton of time to think about teaching and really let my nerves get the best of me which was a very good thing!
I arrived at the gym about an hour and a half before my shift started so I could sneak in a quick workout from Tina's Best Body Boot Camp plan. After my workout, I showered at the gym and clocked in just before 9 a.m., ready to take a small handful of people through fitness assessments. The first woman I worked with was so enthusiastic about exercise and I cannot wait to train her in the future. We set up four sessions next week and I'm already looking forward to mapping out a workout plan for her.
Lunch
Lunch today was a grab-n-go affair. Luckily I packed lots of little things that I could quickly inhale in the break room between appointments.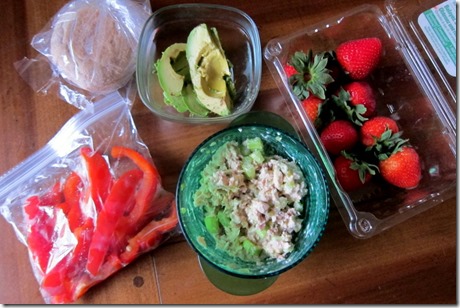 All together my lunch included tuna salad, a whole wheat English muffin, a red pepper, strawberries and avocado slices.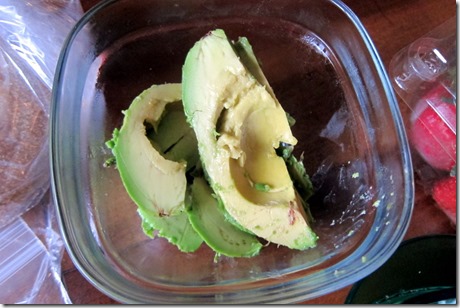 I planned to toast the English muffin and make a tuna salad sandwich with the avocado, but I ended up eating my lunch in segments. Whatever works!
Eventually it was time to teach my first water fitness class. I got my music and microphone set up and headed outside in my fun Reebok "Love Fitness" t-shirt that the company sent me this month because I had a feeling the water aerobics crew would get a kick out of it!
The shirt is so soft and comfortable and the slight v-neck makes it much more flattering and feminine than some of the other workout shirts I own. It's not clingy but it's still shapely without being boxy. I feel like so many race t-shirts are boxy, so I am always happy when a workout t-shirt is cut with a little more shape.
Though I started teaching the class in the t-shirt, I had to take it off about halfway through and wear the black tank top I had underneath because it was so hot outside. I made a rookie mistake of not wearing any sunscreen and paid the price.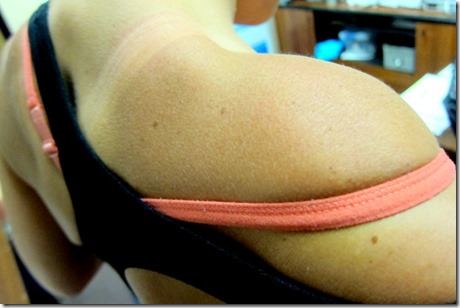 Yikes.
The class ended up going really well and I had a blast teaching it. My oldies but goodies workout playlist seemed to be a hit! Their favorites were "Soul Man," "Hit the Road Jack" and "Peggy Sue." (It didn't hurt that there was a woman in the class named Peggy!) I took everyone through an aerobic workout and some intervals which seemed to go over well. It was a lot of fun!
After class, I showered at the gym (again) and got ready because a photographer came by to take pictures of all of the trainers and the group exercise instructors. I look super awkward in all of my photos, but at least they didn't make me do the closed-mouth smile. We all know how fabulous I look doing that particular facial expression…
Once picture time was over, I left for the day and arrived home around 4:30 p.m. Now I'm blogging away and salivating over the smell of our crock pot dinner!
Time for f-o-o-d!
P.S. I know several of you out there have dogs like Sadie that don't understand the concept of personal space, so I thought you might get a kick out of this cartoon that blog reader Emily sent to me: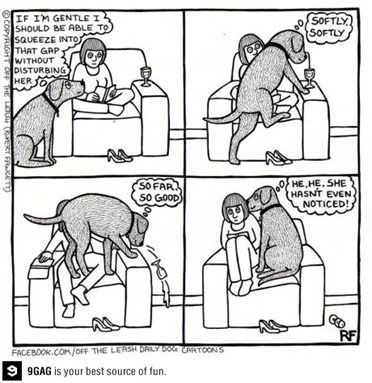 (Source)
Ryan and I shared a laugh over that one!