Good morning!
I hope your day is off to a good start! I'm hoping my day doesn't take a massive dive for the worse when I head off to the dentist this morning. I have an appointment to get a filling repaired. An old filling fell out last week and I have a nice little hole in my tooth that needs to be patched up. Sounds like a rockin' good time!
Workout
Today's workout began with a two mile run on the treadmill.
After my quick run, it was off to the weight room for a Best Body Boot Camp workout! I flip flopped the final two circuit workouts for the week and did the upper body circuit workout. That'll do, pig. That'll do. (<— If you can name that movie, we should probably be best friends.)
Breakfast
I made myself a plate of scrambled eggs with shredded cheese and spinach for breakfast this morning.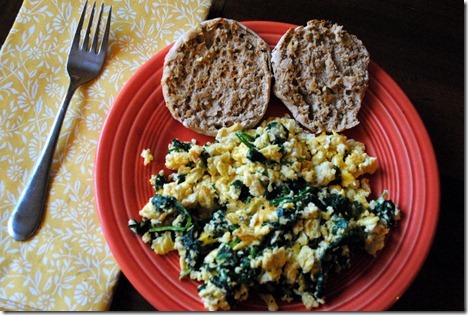 On the side I had a rather questionable toasted whole wheat English muffin. I found it in the freezer this morning and I'm pretty sure it was on its last leg. I ended up making myself an egg sandwich with the English muffin and scrambled eggs and all was well. 
Television Decision
Last month Ryan and I started talking about canceling our cable. We actually went without television in our house for two years back when we first started living together.
(That apartment is still my favorite place that we've lived! I loved all of the windows and the hardwood floors.)
We weren't sure how we would handle it, but we both didn't really miss it at all. We had NetFlix and found that when we would watch TV together, it felt like a planned event rather than just a default activity since we were watching DVDs of movies or TV shows that we were both interested in watching together. If there was a show on TV that we really wanted to keep up with, we'd watch it online a few days after it originally aired. Most days we just didn't watch TV at all and I honestly didn't miss it.
We got cable again when we moved into our second apartment (a decision that was motivated by Ryan's desire to watch the World Cup) and have kept it ever since. When we started talking about canceling our cable last week, we realized we don't really have many shows we watch regularly. New Girl and Modern Family are the only two shows we watch together weekly, though I also watch The Bachelor and Ryan loves sports.
Paying for cable doesn't seem worth it when we only care about a few shows, but aside from that, we realized that we've started to use TV as a default form of "filler entertainment." We'll find ourselves sitting on the couch watching random shows we don't really care much about at all at night. When we didn't have TV, we read more, went on more walks with Sadie and were more productive around the house in the evening.
But on the nights when neither of us feel like doing anything, TV is a pretty sweet thing. I've already told Ryan I'm all in for canceling cable but he really likes watching sports and isn't fully on board yet. We shall see!
Question of the Morning
Do you watch a lot of TV? How many minutes/hours of TV do you watch a day?
Have you ever considered going TV-free in your house? Would you want to?
Fun fact: According to the New York Daily News, Americans watch an average of 34 hours of television a week.