Thanksgiving at my mother-in-law's house was filled with wonderful food and lots of family fun. My mother-in-law, Diane, always makes hosting a huge family party seem like a breeze which amazes me.
Diane and her mother spent all day on Wednesday prepping food for the big Thanksgiving Day feast. Their hard work paid off and everyone went to bed with full bellies.
After our morning turkey trot 10K, my fellow turkey trotters and I showered before heading into the kitchen for some last-minute prep work.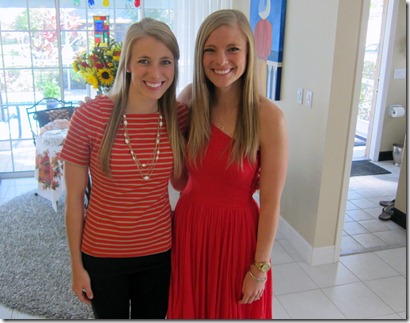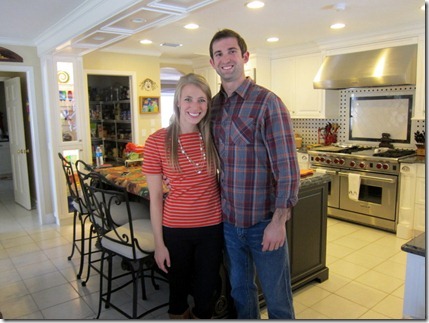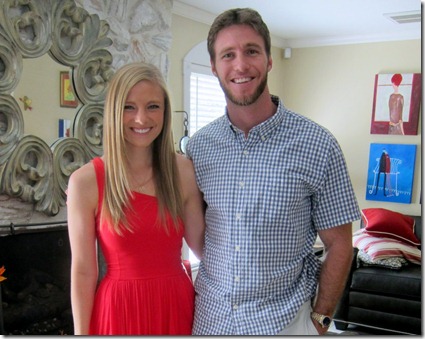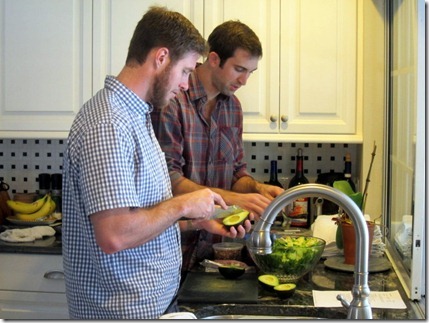 The guys handled the salad which turned out fabulous. It was packed with avocado, glazed pecans and butternut squash. For me to even take the time to comment on a salad on Thanksgiving means it was really something special. Yum!
Everyone started arriving at Diane's house around noon and we immediately dug into the appetizers.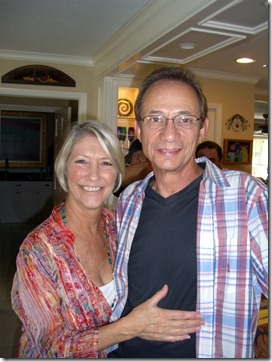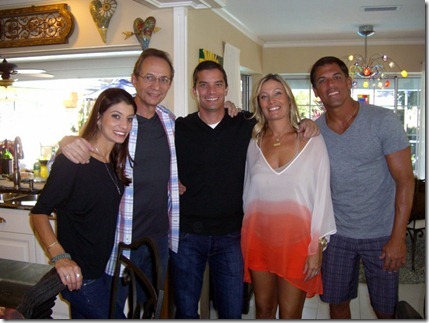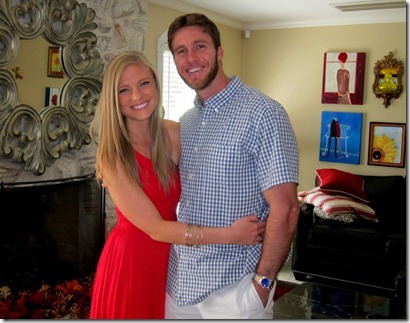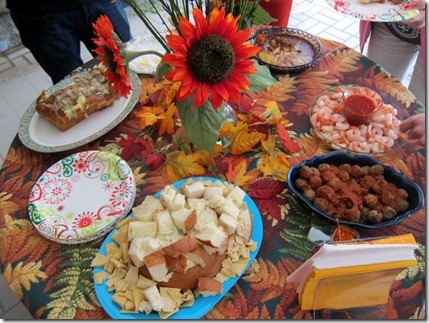 The shining star of the appetizers for me was Chris' pull-apart garlic bread. Just look at this bad boy: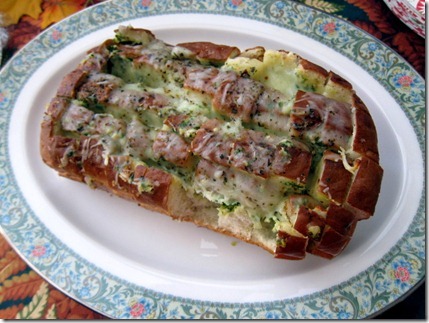 Unreal.
Chris found the recipe on Pinterest (where else?) and it was so incredibly buttery and cheesy that I couldn't stop going back for more.
At around 2 p.m., it was time to dig into the feast!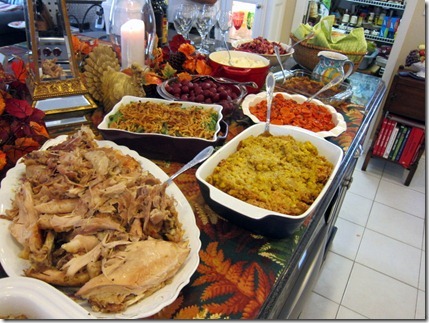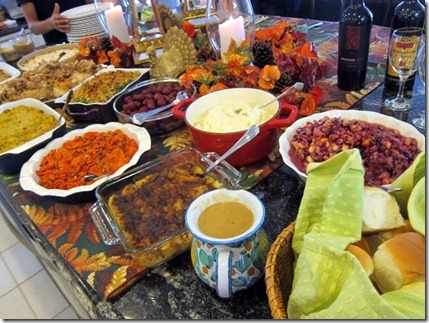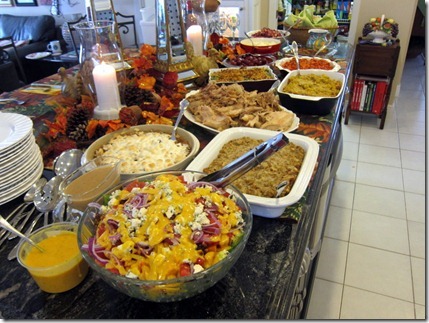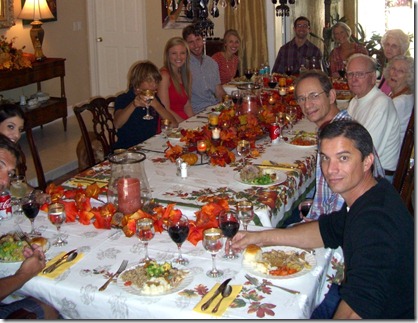 For round one, I loaded my plate up with salad, sweet potato casserole, turkey, glazed carrots, stuffing, pineapple soufflé, corn pudding and pickled beets.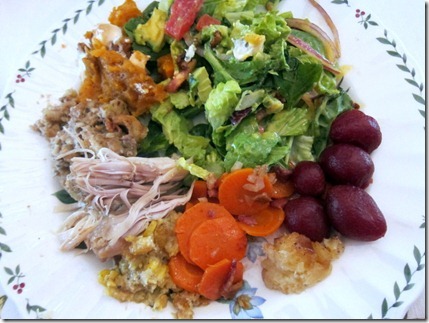 Round two included second helpings of sweet potato casserole, stuffing and carrots. Yum!
As always, Sadie camped out between me and Ryan and managed to finagle a few bites once we were done.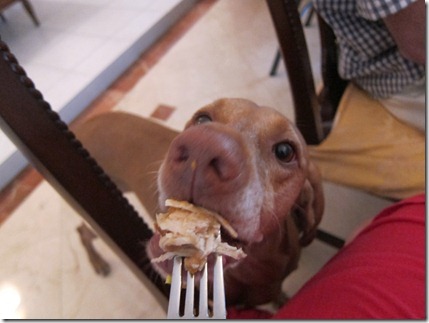 I also had a few glasses of Apothic Red wine throughout the day. Diane saw my blog post from last weekend when I said how much I loved it after I tried it at Tuscany at Mohegan Sun and bought a few bottles for everyone to enjoy yesterday.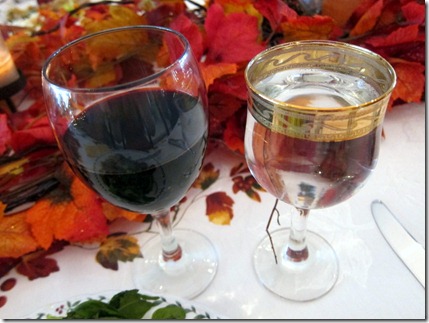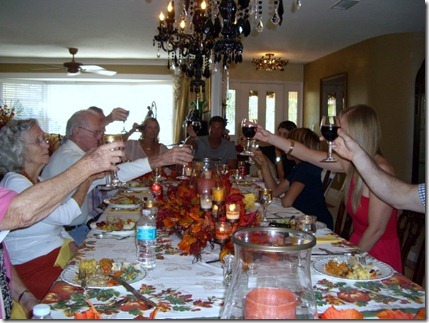 It was such a nice surprise!
After our Thanksgiving feast, everyone was too stuffed to immediately dig into dessert, so we headed outside to play corn hole and other yard games for a few hours.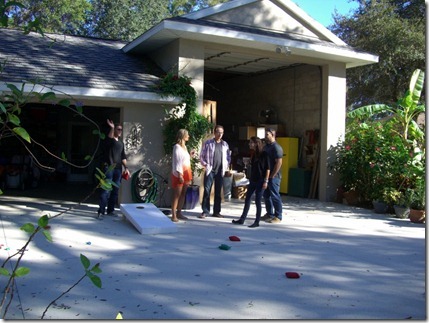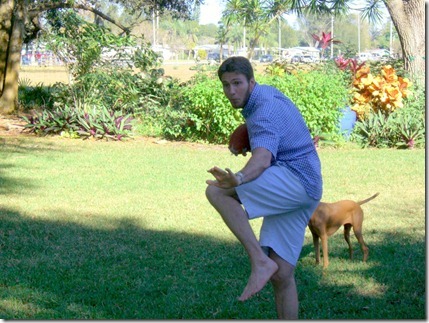 Soon enough, the pies started calling to us from the house.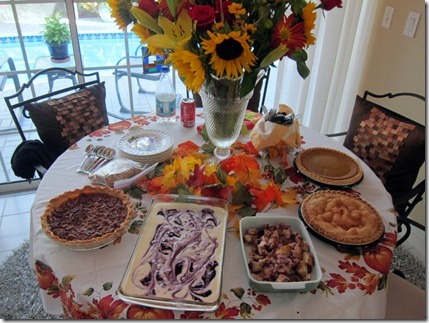 I filled my plate with a small slice of pumpkin pie, pecan pie, apple pie and pumpkin cheesecake. Plus lots of whipped cream!
Yesterday's Thanksgiving feast was incredible and I went to bed feeling incredibly grateful to be able to share the holiday with people I love very much.
Thank You to YOU
I also must take a minute to say how grateful I am for all of YOU. Thank you for reading Peanut Butter Fingers and allowing me to share my life with you every day. You make me laugh and smile and I cannot tell you how much your support means to me. I am very, very grateful for you. Your kindness means more to me than you can possibly know.
Big Sadie hugs are coming your way!