I have a feeling today is going to be a fast-paced day. My to-do list is hoppin'!
As they say, "A body in motion stays in motion. A body at rest stays at rest." I figured a quality workout would get things moving for me this morning start my day on a productive note.
My workout included 20 minutes on the elliptical, followed by BodyPump. Today's BodyPump class felt easier than usual, but not in the "I'm getting stronger" kind of way… in the "instructor hand-picked all of the easiest tracks" kind of way. At least the easiest BodyPump class is still a challenge!
Walk
After the 'Pump, I took Sadie on a long walk around the lake near our apartment. It was beautiful outside this morning! Central Florida has experienced quite a few gray days with some rain this week. The dreary weather has greatly helped with the sweltering heat.
On our walk we saw lots of different birds, including teenage swans!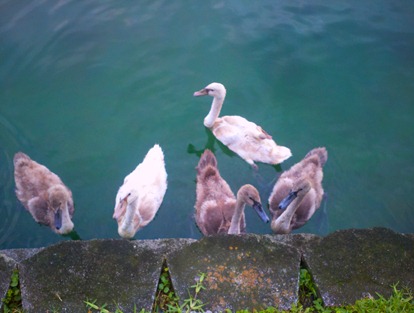 Aren't they so cute in their awkward stage?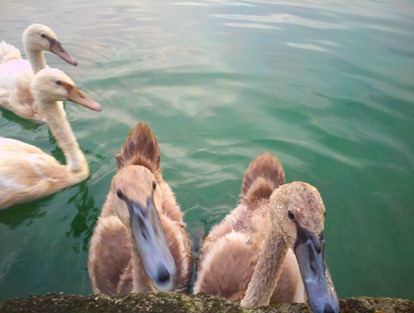 I wish I looked that adorable when I was an adolescent.
What? You're telling me Umbros and Shoot Like a Girl t-shirts aren't cute?
Breakfast
After our walk it was breakfast time!
Breakfast was oh-so-simple thanks to some prep work last night.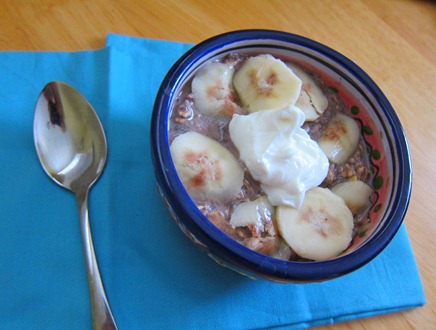 Uber chocolaty overnight oats!
This is the breakfast that almost never was because, once again, I ate it and remade it.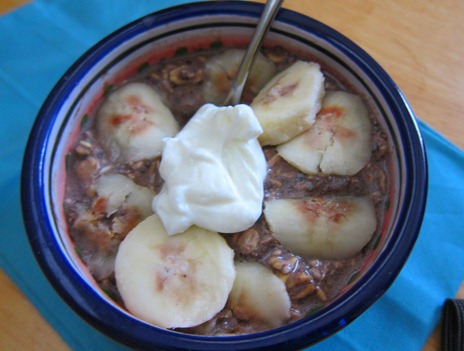 It seems like 90 percent of the time I prep overnight oats for breakfast the next morning, I end up eating them around 9 p.m. as an evening snack. They're so good and seem to call to me from the fridge.
After making my second batch last night, I headed upstairs to bed immediately so I wouldn't touch the soakin' oats. It was the little engine breakfast that could.
I think I can, I think I can…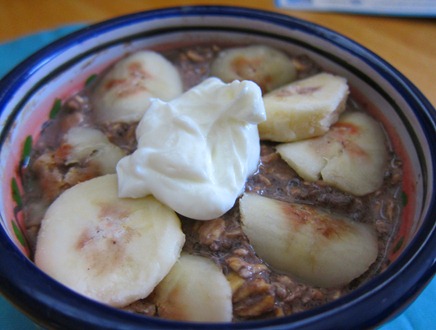 Fortunately batch number two survived the night and I topped it with frozen banana slices and a dollop of Greek yogurt before digging in.
Love chocolate in the morning!
Question of the Morning
Was there a sport or activity that you really wanted to excel in but never quite did growing up?
Prior to high school, I wanted to be an amazing soccer player. I felt like all of my friends played soccer in elementary and junior high school (and wore those super-cool Samba shoes), but I never did.
Once I outgrew my tomboy phase, I wanted to be a fantastic dancer. Luckily downing a few cocktails makes me feel like I dance like Britney Spears now, so I don't care as much anymore… Unless I'm watching So You Think You Can Dance, in which case I immediately wish I could pop, lock and drop it.