Good morning!
I arrived back in Ocala after a long drive in the rain last night.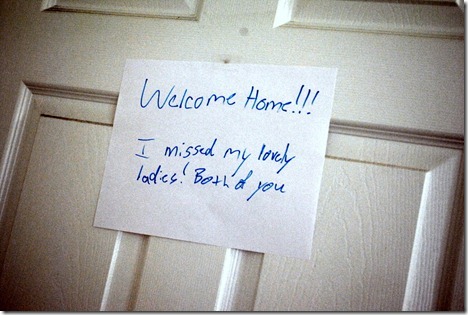 Apparently my mom's door sign habits that I also picked up are now rubbing off on Ryan! (I laughed out loud at the "both of you" part of his sign. He said it was to avoid any confusion. Sadie and I are apparently rather competitive when it comes to Ryan's affection.)
What was supposed to be a two hour drive back to Ocala yesterday became a three hour drive thanks to thunderstorms and insane traffic. The pitter patter of the rain made sleeping last night feel extra cozy though, so that's a plus!
Workout
Today's workout concentrated on core and shoulders. I loosely followed the shoulders and abs workout from day 19 of the LiveFit program, but swapped out about half of the exercises for different shoulder and abdominal exercises. I also spent 25 minutes on the elliptical while flipping through a magazine.
It felt good to sweat!
Breakfast
Breakfast this morning used whatever I could rummage up in the fridge and pantry, which meant scrambled eggs with cheese and some chopped veggies that were about to go bad.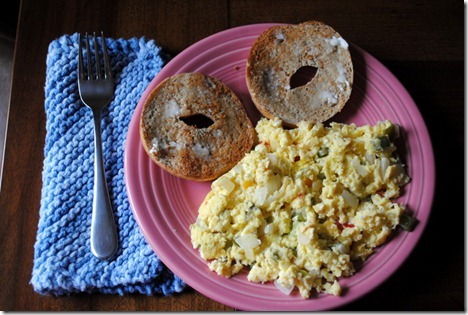 I also toasted a sweet wheat Alternative Bagel and topped it with a smear of whipped butter.
If you're in the market for a bagel that isn't as huge as a regular bagel, but still nice and thick, Alternative Bagels rock! They're a bit smaller and have 110 calories each, but still have that bagel feel that some of the bagel thins seem to lack. (I buy mine at Publix.)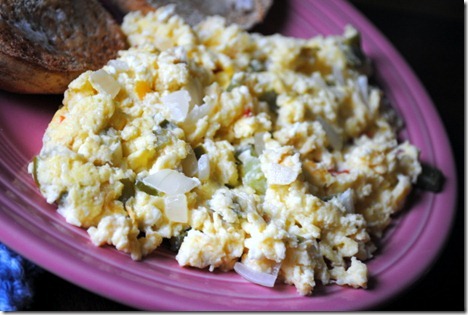 I made my scrambled eggs with three eggs, a splash of milk, shredded mozzarella cheese, peppers and onions. Tasty!
Then it was time to try my new peanut buttercup coffee.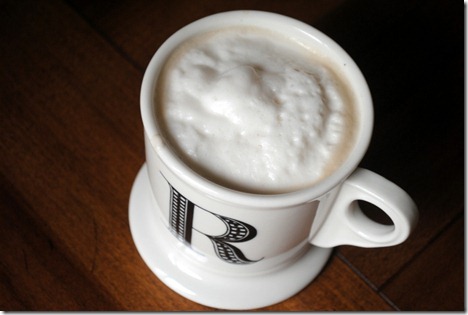 Topped with foam, of course!
The verdict? I wish it was a bit more peanut buttery, but that's really no surprise.
As I've said before, it typically takes me a few times of trying new flavored coffee to really fall in love with a new flavor because I always seem to have some taste expectations in my head. It was definitely good, but I think it will grow on me as I continue to drink it.
Time to take Sadie on a walk!
It's still awfully wet outside which means that the princess will sniff her little heart out.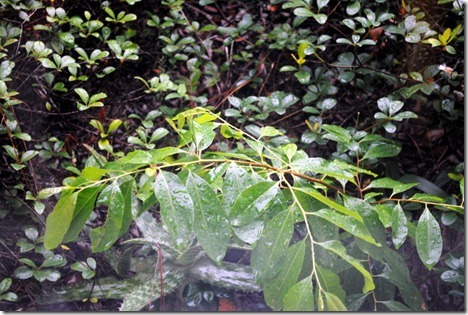 Sadie's sniffing intensity always seems to multiply by 1,000 after the rain, so she's going to have a field day this morning.
See ya after lunch!