Anyone care to take a water fitness class?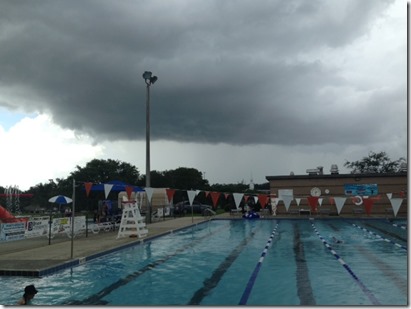 No?
About 10 minutes after I snapped the above photo, lightning was spotted and my water fitness class was canceled. I was a little bummed because I spent some time this afternoon creating a new playlist and researching some new water exercises that I was looking forward to incorporating into today's class. (For any fellow water fitness instructors out there, the HydroFit website is a great resource!)
Once the class was canceled, I wrapped up a few things at the gym before heading home. On my drive back to our house, a whole bunch of crazy warning lights popped up on my dashboard which freaked me out.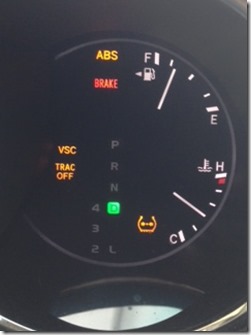 Since I recently got new breaks, I was a little peeved (and nervous!) about the brake warning light and immediately drove to the auto shop that installed my breaks to have them check it out.
They couldn't find anything wrong which was really odd. When they turned the car back on, all of the warning lights went off. I was so glad I snapped a picture of the lights before I shut off my car in the parking lot so they could see everything and I know I wasn't crazy. Yay camera phone! The mechanic added air to my tires and drove my car around the block before inspecting a few more things. He wasn't sure exactly what was up, but the lights are off now! I'm going to monitor everything and bring it back in if any warning lights turn on again. So strange!
Lunch
Before I was supposed to teach my water fitness class, I dug into leftovers for lunch.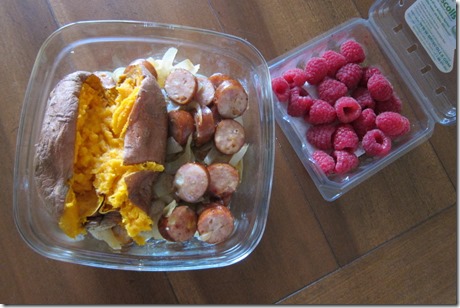 After dinner last night, I packed up the chicken sausage and onions we had leftover and placed a sweet potato on top to keep everything in one container for easy transport.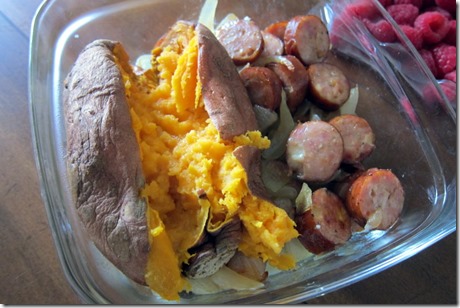 It was a delicious lunch and kept me full for quite a while!
Since I wasn't able to work out this morning like I initially planned, I am hoping to complete an at home workout before dinner.  This should be interesting since Sadie is the At Home Workout Destroyer.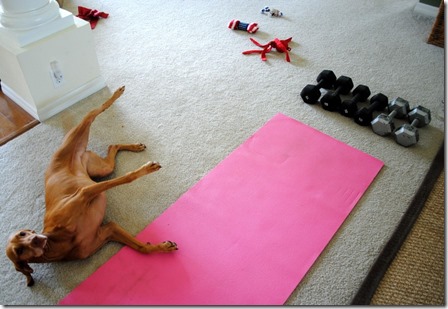 Catch ya later!