Another day, another ridiculously early morning wake up!
I worked the early shift at the gym today and arrived before 5 a.m. to get everything set up. I had my first appointment of the day at 5:30 a.m. and took a new member through the various strength machines to teach her how to use them properly and select the appropriate weight. I also trained one client and now I'm working on some more training plans and trying to motivate myself to sneak in my own workout before my next personal training session at 10 a.m.
Breakfast
Breakfast this morning began with a LUNA bar in the car on my way to the gym. Taking pictures while driving obviously isn't safe and it was still dark outside anyway, so I didn't snap a photo. I suppose this recycled picture will have to do even though I ate a lemon flavored LUNA bar. Whatever works!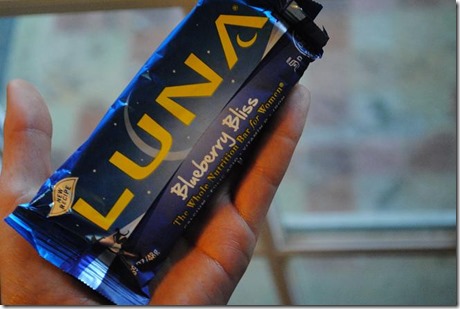 Whenever I eat LUNA bars, I think about running another race. LUNA bars are one of my favorite pre-race snacks and always remind me of early race day mornings.
It's so bizarre how different foods remind us of different things.
Some of my food-associated memories:
Monkey bread = Christmas morning
Fluffy sugar cookies = My grandma's house
Gnocchi = Janessa and Ryan's wedding (I first tried gnocchi at their wedding and was instantly smitten. That stuff is delicious!)
Toaster Strudels = Breakfast as a kid (I'd always use two icing packets on one strudel and get in trouble.)
Bagel Bites = Afterschool snack time (while watching TRL, of course)
Cheez-Its = Sleepovers at my friend Carrie's house
Around 6:15 a.m., I broke into a cup of 2 percent Greek yogurt topped with fresh raspberries that I packed and brought to the gym with me.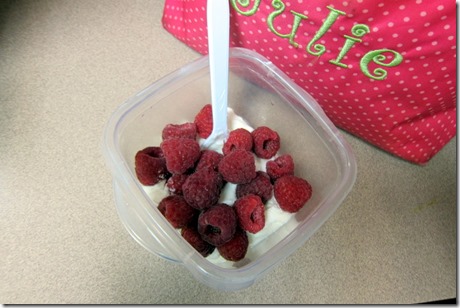 I'm already hungry again, so this breakfast obviously didn't do much to hold me over. Thankfully I have a jar of peanut butter in my bag. PB to the rescue!
Question of the Morning
Do certain foods remind you of certain things? Please share!