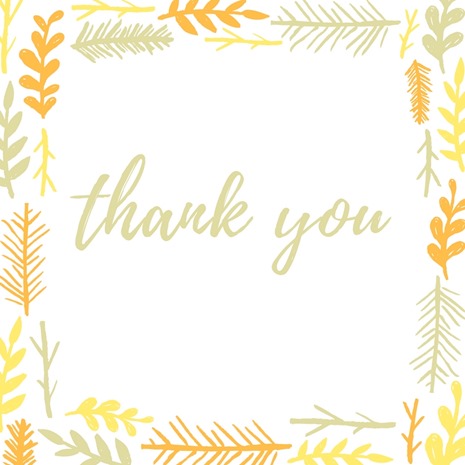 And thanks so much for taking time out of your holiday weekend to stop by PBF today!
I think I am STILL full from yesterday's Thanksgiving eating extravaganza but you better believe I am pumped for lots of leftovers today. Anyone else out there think pumpkin pie pairs perfectly with a hot cup of coffee for breakfast? Anyone!? (Don't knock it 'til ya try it!)
It's Friday so it should be no surprise that today I'm sharing my usual Things I'm Loving Friday blog post on the blog which highlights a small roundup of some of the things that are making me smile right now. I hope you will join in the fun and share a little bit about something you are loving in the comments section of this post.
Have a great weekend! And enjoy every bite of your Thanksgiving leftovers!!
Things I'm Loving Friday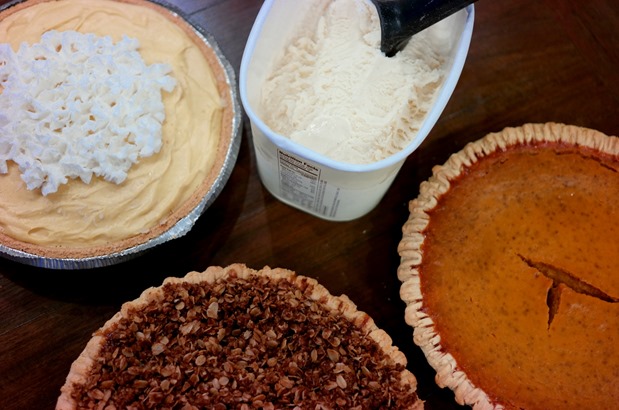 Of course this is the first item on my list for today! I will be sure to share a recap of our Thanksgiving weekend on Monday but having my parents in town to celebrate Thanksgiving with us is, without a doubt, what I am loving most this week! Good times, good food, good people. My favorite!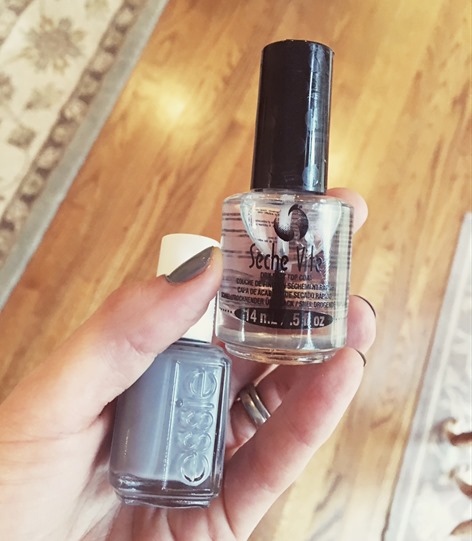 You guys always seem to knock it out of the park with your TILF recommendations and this is one recommendation I somehow forgot to highlight on the blog for weeks! A while ago, I commented on how much I love Sally Hansen Instant Dry nail polish for its rapid dry abilities but complained about the fact that it seems to chip easily. Well, blog readers Julie and Ali chimed in to recommend Seche Vite Dry Fast Top Coat nail polish (paired above with my new fav Essie Petal Pushers) and told me it turns almost any nail polish into a rapid-drying polish.
You guys, it's a total game changer! I use it ALL the time and it has allowed me to use some of my favorite nail polishes again since I was avoiding a lot of them because I felt like I never had time to sit down and paint my nails and wait for them to dry anymore. It's super cheap (less than $5) and it has more than 5,000 positive Amazon reviews. If you're impatient like I am when it comes to giving your nails time to dry, definitely give this stuff a try. Amazing!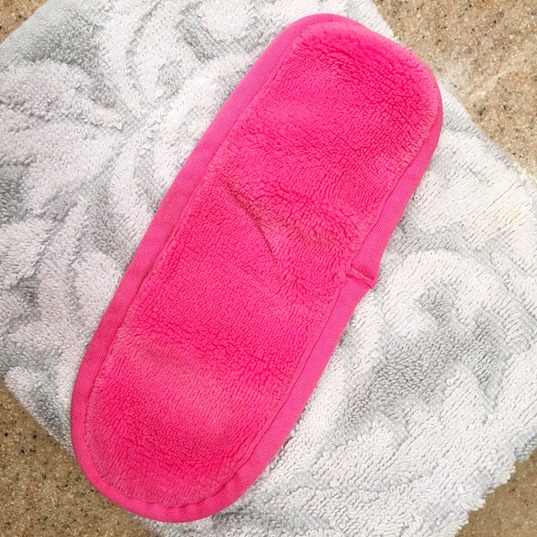 This tiny little cloth is unbelievable. It completely removes makeup with only water and I use it every single night after I wash my face and it does the BEST job at removing stubborn eye makeup. (I still personally prefer to use my favorite cleanser rather than just water when I wash my face but I think we all know that face wash doesn't exactly do a stellar job at removing eye makeup.) I previously blogged about the Wonder Cloth and while I still love it, I must admit the Makeup Eraser Cloth is superior. I think this would make a great stocking stuffer for the beauty lovers out there!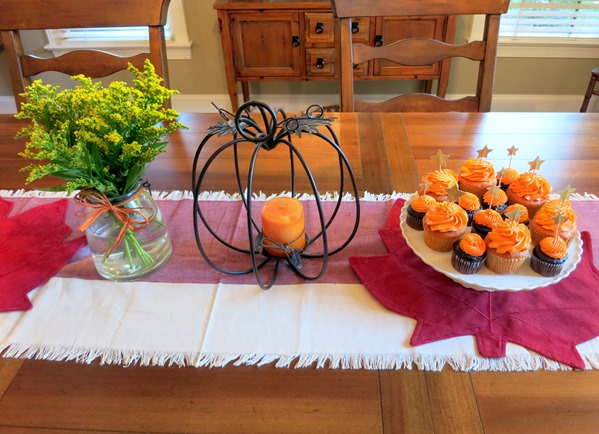 November's PopSugar Must Have Box was a total WIN!!! They clearly knew exactly what I needed this month and have already used almost everything in the box! The gorgeous Pehr wine/cream table runner was the perfect addition to our Friendsgiving table and we used the Meri Meri sparkly star cupcake toppers from the box on top of the vanilla and chocolate cupcakes I picked up from Whole Foods to add a little festive flare. Thanks so much for the fun delivery, PopSugar!!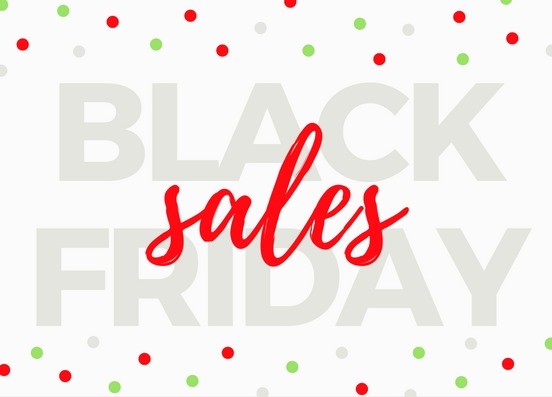 Hooray for Black Friday!!! I always like to do some holiday shopping on Black Friday but typically opt to shop from home. Thankfully there are always tons of great online deals and below you will find a short roundup of a few that caught my eye.
Gap: 50% off everything with code TGIF50 + free shipping on orders $50+ (Love the Gap Body red stripe jogger pjs!)
Nike: Extra 25% off clearance with code EXTRA25 (Includes a bunch of clearance Nike Flyknits and Converse Chuck Taylors!)
J.Crew Factory: 50-60% off everything + free shipping on orders $50+ (Their oversize plaid scarves are so cozy and in the past I've given one of my girlfriends one of their beautiful jewelry trays – perfect for jewelry and miscellaneous trinkets – and it went over really well!)
J.Crew: 40% off with code HOLIDAY
Minted: 15% off everything + 20% off orders $150+ with code BF2016
Bombas: 20% off with code HOLIDAY20 (Best socks ever! Great stocking stuffer for men and women!)
Old Navy: 50% off
Express: 50% off everything + free shipping
Nordstrom: Extra 20% off sale items
Madewell: 25% off with code THATSALE
Revolve: Up to 65% off
Macy's: 20% off with code FEAST
Pottery Barn Kids: 20% + free shipping off with code OHWHATFUN (Someone needs to come keep my credit card far away from their holiday items. So cute! And I am IN LOVE with these new printed baby blankets! We also received this stroller blanket as a baby shower gift for Chase and it's wonderfully cozy!)
Fabletics: 40% off everything
Reebok: 50% off Black Friday Collection with code BF50
Lord & Taylor: Extra 20% off with code THANKS
Tory Burch: Extra 30% off purchases $250+
TOMS: Extra 10% off sale with code TOM10
Thrive Market: Extra 15% off + free shipping (My go-to site for healthy, organic food staples, including collagen, coconut oil, coconut aminos, etc.)
Charles Tyrwhitt: 20% off with code BLACKFRI20 (They make Ryan's absolute favorite slim-cut button-up shirts.)
Eggnog French Toast Casserole (A festive breakfast recipe perfect for guests over the holidays!)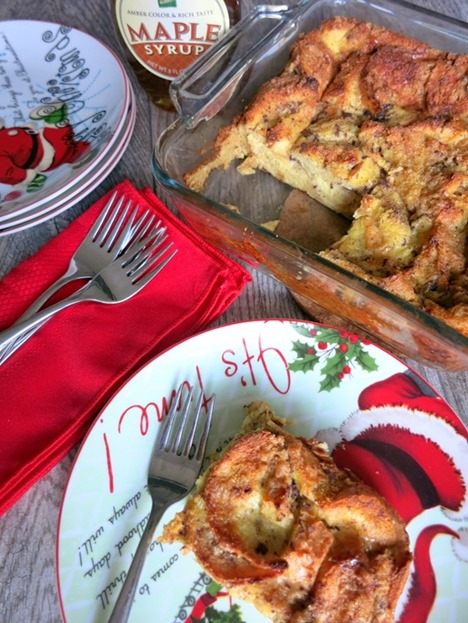 30 Minute Living Room Workout (Perfect travel workout that uses only your bodyweight!)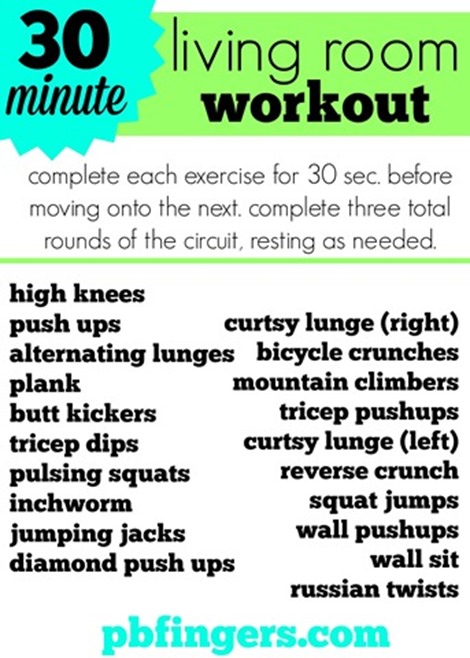 Question of the Day
What is one thing you are loving this week?
Happy Black Friday, my friends! How are you!? I hope my American friends had a wonderful Thanksgiving and were able to spend time with friends and family yesterday! In the spirit of Thanksgiving, I must begin today's post by telling you guys just how grateful I am for you, your readership, your kindness and your incredible support. You are all a bright spot in my day, everyday, and I count you guys among my biggest blessings. Thank you, thank you!