Ryan and I really wanted to take Chase to the Georgia Aquarium before Ryder was born but it never happened because my nausea returned in full force at the very end of my pregnancy and was typically exacerbated by long car rides. My trip to Jacksonville with Ryder for my sister's baby shower a couple of weeks ago gave me a little boost of confidence and reminded me that NOW is a good time to travel with a baby since it typically gets more challenging before it gets easier. We figured we should make the most of the end of the summer and booked a long weekend away. We are ready to explore!
If my Atlanta-area friends out there have any family-friendly recommendations to share (places to visit, restaurants to try, fun parks, etc.), please let me know. We're staying right near the aquarium and hope to walk as many places as possible!
I'll be sure to document our Atlanta adventures on the blog next week but until then, let's stick to the usual around here and move right on into my weekly Things I'm Loving Friday post!
I hope you all have a fantastic weekend!
Things I'm Loving Friday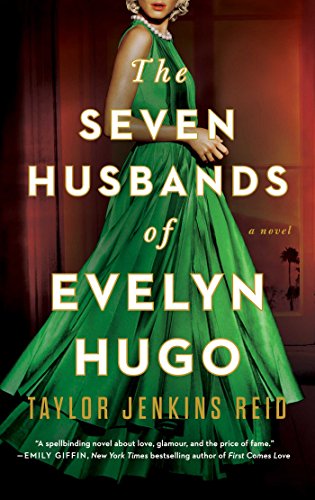 Ever since Ryder was born, I've been reading at a much slower pace than usual because I cannot seem to keep my eyes open for very long at night these days. Well something magical happened and I managed to feel a little more rested this week and flew through this book! The Seven Husbands of Evelyn Hugo caught my eye because I was on the lookout for a novel that would be a bit of a departure from the suspenseful murder mysteries I've been reading this summer. When a blog reader recommended it a while back, I added it to my "must read" list and I'm so glad I did!
The Seven Husbands of Evelyn Hugo begins when Monique Grant, a talented but relatively unknown young writer, is selected by iconic actress Evelyn Hugo to write her biography. It's the opportunity of a lifetime and one Monique is determined to do well. As Evelyn begins to tell her story to Monique, we learn all about her life, including the details behind her marriages and secret loves. The book is filled with scandal and I feel like it is only a matter of time before this one is scooped up and made into a movie.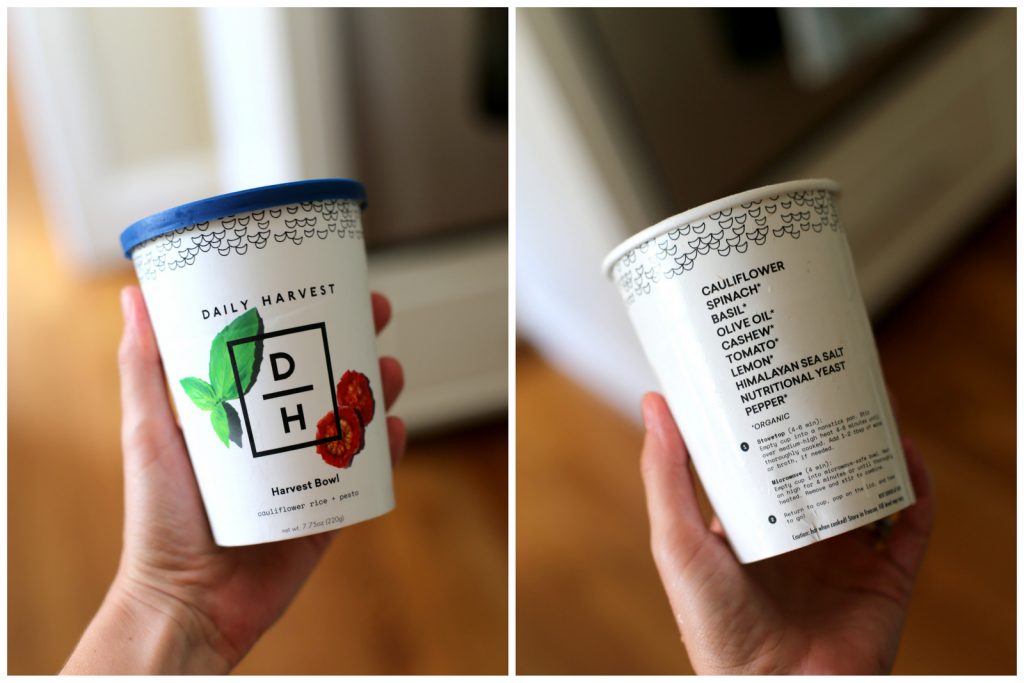 I'm not sure if it's my Instagram feed or if all of you have seen Daily Harvest popping up all over the place as well but they're killin' it on the social media front. I swear they are everywhere! The company recently reached out to me about trying their frozen, unprocessed and unrefined food cups and since I was more than a little curious to see what all the hype was about, I enthusiastically awaited my delivery. Once I began preparing an assortment of their smoothies and harvest bowls, I quickly understood the reason everyone seems to love Daily Harvest. They make preparing healthy smoothies or savory produce-packed bowls a breeze!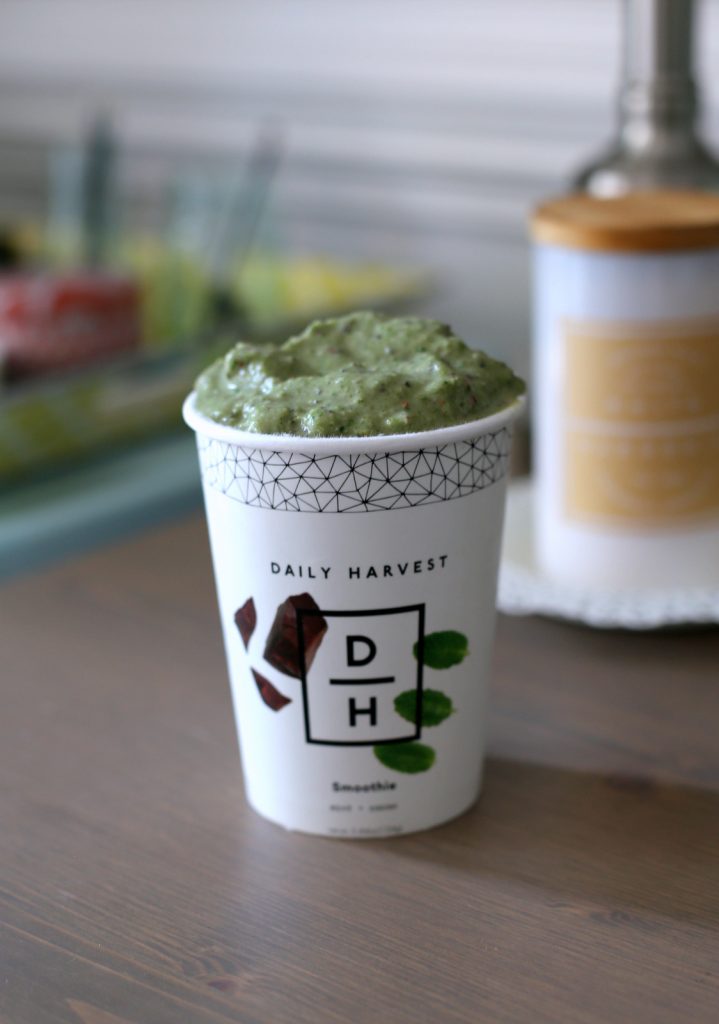 I feel like most of the people I see using Daily Harvest are enjoying their smoothies and while all the smoothies I've made have been delicious (the mint cacao is my fav!), I've most enjoyed their harvest bowls for easy and nutritious lunches for one. (In addition to smoothies and harvest bowls, Daily Harvest also makes soups, overnight oats, chia parfaits and lattes.)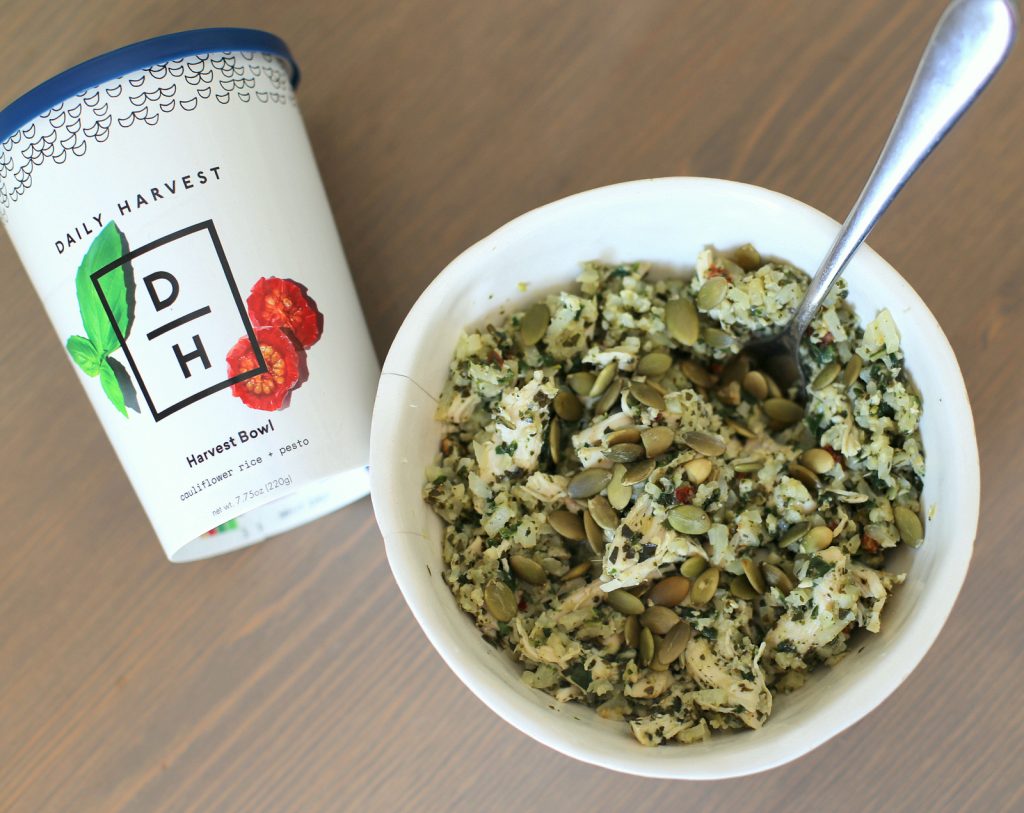 During this season of my life, I find myself struggling most with preparing healthy lunches for myself during the day. If we don't have leftovers on hand from dinner, more often than not my lunch looks like peanut butter and jelly sandwiches, cereal or handfuls of whatever food I can quickly shove in my mouth. Daily Harvest's harvest bowls have saved me numerous times and come packed with veggies, herbs and good-for-you ingredients. You can microwave the cups but I prefer pouring out the ingredients in the cups and making them on the stove top. In 4-6 minutes, I have a veggie-packed lunch ready for eating! I will often add some kind of protein to my harvest bowls like chickpeas, shredded chicken, black beans or salmon and absolutely LOVE them! If you're curious to try the bowls for yourself, Daily Harvest passed along the code pbfingers to me to share with you guys and it will get you three free cups on your first order. Please take my word for it and make sure at least one harvest bowl makes it into your order if you decide to give them a try!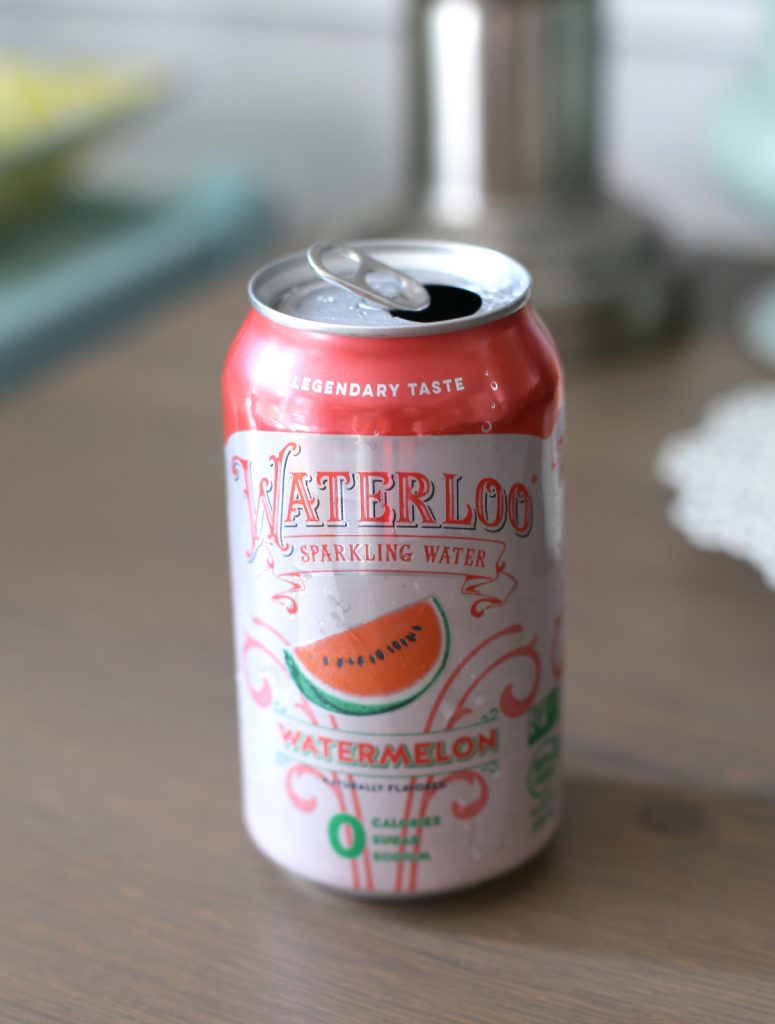 After heading to the grocery store twice last week with two boys in tow, I gave myself a breather this week and opted to order our food for the week using Instacart. Gosh, I love that service so much! It's the best and I am convinced that I save money when I use the service despite the delivery fee since I avoid impulse buys and only order exactly what's on my list. One thing that almost always makes it on my list? Sparkling water! I enjoy trying new brands and flavors all the time and this week's discovery deserves a shout out! Have you guys tried Waterloo Sparkling Water? I feel like it's a little more flavorful than other sparkling waters out there and Ryan and I both gave the two flavors we tried this week — black cherry and watermelon — two enthusiastic thumbs up! My fellow bubbly water fans, keep them on on your radar!
The Marvelous Mrs. Maisel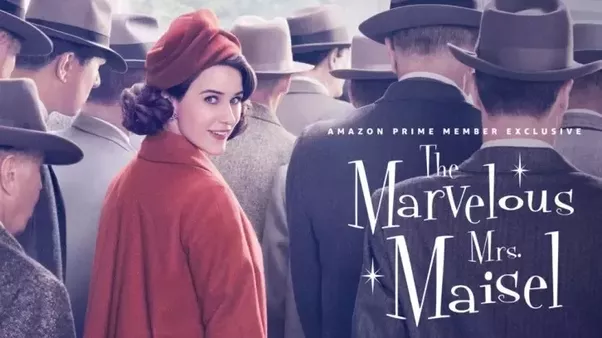 My friend Leah is a go-to resource for me when it comes to new TV show recommendations and when she recommended The Marvelous Mrs. Maisel to me, I filed it away on my "must watch" list. It wasn't until I saw Jen begin raving about it that I remembered the recommendation and began watching it last week. The show instantly hooked me and I've found myself enjoying it more and more with each episode that passes.
The Marvelous Mrs. Maisel follows Midge Maisel in the late 1950s as her seemingly perfect life takes an unexpected turn in more ways than one. It's funny, entertaining and a show I find myself looking forward to watching on the days when Ryder isn't sleeping well and I find myself spending an inordinate amount of time pacing around our family room on baby bouncing duty!
One Pot Chicken Cabbage Bowl with Sesame Ginger Broth (We had some leftover shredded chicken on hand this week so I whipped up this recipe for dinner on Monday night. It's always a winner and so, so flavorful!)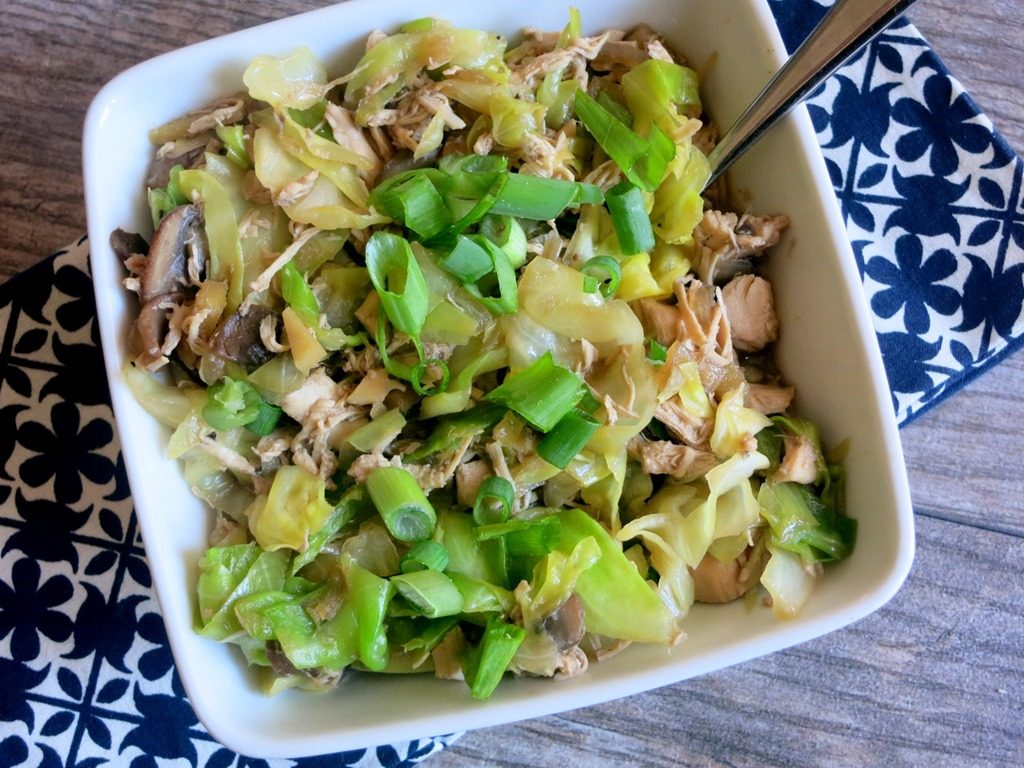 5-4-3-2-1 Bodyweight Workout (This workout includes picture tutorials and targets your whole body in a decreasing time format so it passes by in a flash!)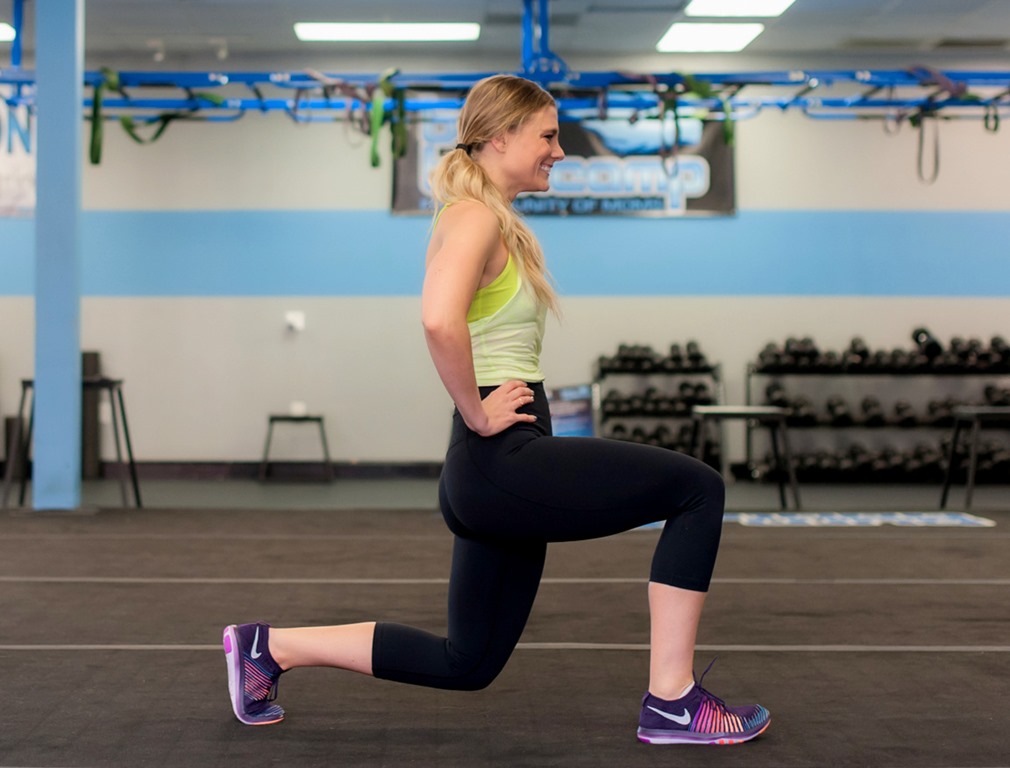 Question of the Day
What is one thing you are loving this week? 

Good morning from Atlanta! Our crew made the four-hour drive from Charlotte to Atlanta yesterday afternoon and it was no joke. Phew! Traveling with a 9-week-old baby and a three-year-old was far from a relaxing experience but we made it and we are so, so excited for a weekend of family fun in Georgia!