This one pot chicken and cabbage bowl with sesame ginger broth may have the longest recipe name in history, but it's incredibly easy to make (you only need ONE pot!) and comes together in a flash on a busy weeknight. The ginger sesame broth is strong and flavorful and will keep you coming back for more!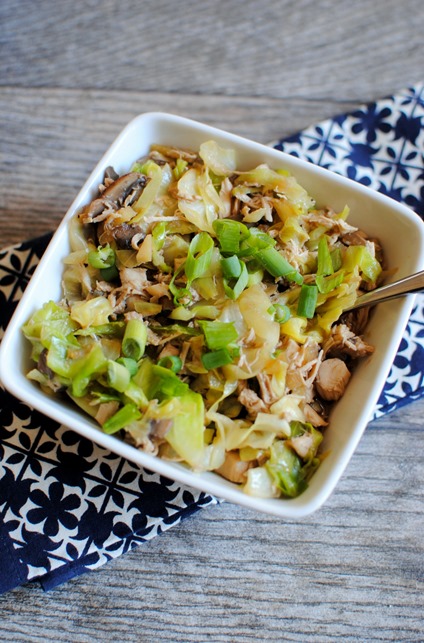 A couple of weeks ago, I made the most fantastic seared cod and udon noodle dish thanks to a Blue Apron delivery. The recipe was easy to follow and quickly claimed a top spot as one of our favorite Blue Apron meals of all time. I saved the recipe card with the intention of making the dish again in the future but ended up using the recipe as inspiration for a slightly different dish that had all the fantastic flavors of our Blue Apron favorite but incorporated chicken instead of the cod and noodles.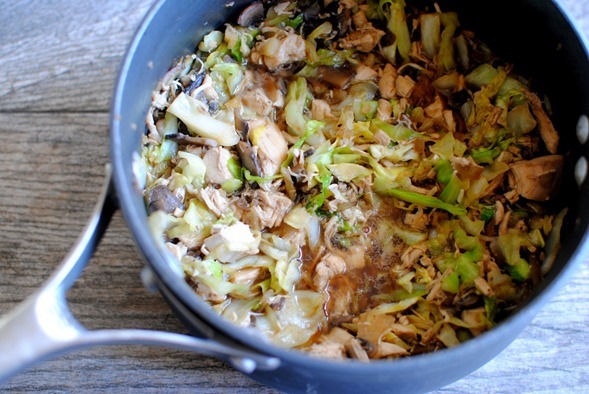 The broth of the Blue Apron dish was, without a doubt, the best part. Fresh ginger, nutty sesame oil and soy sauce came together in the recipe to create the most flavorful broth that was also a breeze to make.
I hesitate to call the recipe I am sharing today a soup because it's absolutely overflowing with ingredients and the real food-to-broth ratio is a bit out of whack for a soup. So we're going to go with a "bowl" because I'm not foodie enough to really know what to call a recipe like this other than delicious.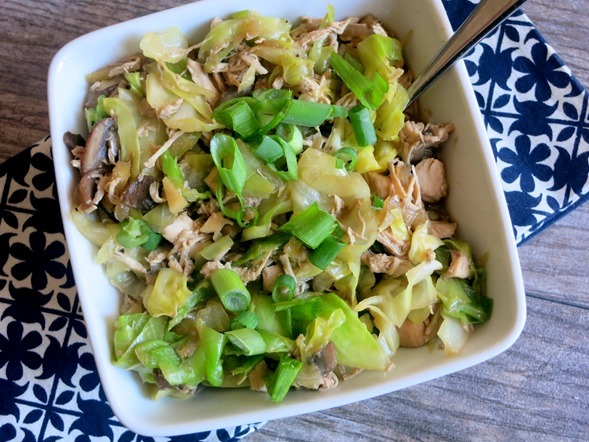 Though the name I am giving this recipe is one of the longest recipe names I think I've ever shared on this blog, the recipe itself is an easy one. I promise! And much of the recipe can be prepped ahead of time so you can throw everything into one pot at the end of a long day and have dinner ready in less than 20 minutes. If you are a big-time ginger lover like me, you MUST make this recipe.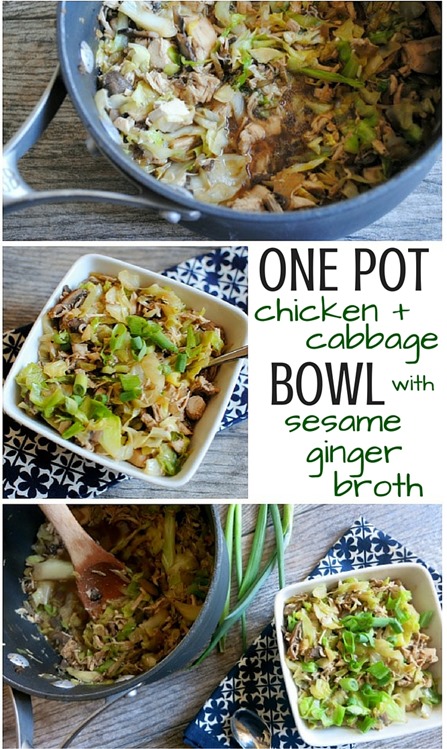 Print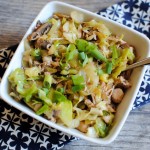 One Pot Chicken Cabbage Bowl with Sesame Ginger Broth
Author:

Prep Time:

15 mins

Cook Time:

20 mins

Total Time:

35 mins

Yield:

4 small servings

Category:

One Pot, One Pan Meals
---
Description
An incredibly easy dish (you only need ONE pot!) that comes together in a flash on a busy weeknight. The ginger sesame broth is strong and flavorful and will keep you coming back for more!
---
Ingredients
2 cups chopped or shredded rotisserie chicken
1/2 large head cabbage, thinly sliced
8 ounces portobello mushrooms, chopped
1 small onion, diced
2 heaping tablespoons diced fresh ginger
3 tablespoons soy sauce (for Paleo/gluten-free, substitute coconut aminos)
1 tablespoon sesame oil
1 teaspoon coconut oil
2 scallions, chopped (for garnish)
salt and pepper, to taste
---
Instructions
In a large pot, heat coconut oil over medium heat until melted. Add mushrooms, onion and ginger and cook, stirring occasionally until onion becomes translucent, about 3-4 minutes. Add sesame oil, stir and cook for another minute.
Add cabbage and season with salt and pepper. Stir and cook until wilted, about 2-3 minutes.
Add chicken and soy sauce. Stir.
Add 1 1/2 cups water, stir and allow to simmer for approximately 5 – 10 minutes until cabbage is tender and the flavors of the broth fully develop. Season with salt and pepper to taste.
Pour into bowls, topped with chopped scallions and enjoy!