In the meantime, I wanted to highlight a few things that are making me smile this week in keeping with the usual Things I'm Loving Friday weekly post tradition around here. I hope you'll join in the fun and tell me about something you're loving as well!
Have a fantastic weekend, my friends!
Things I'm Loving Friday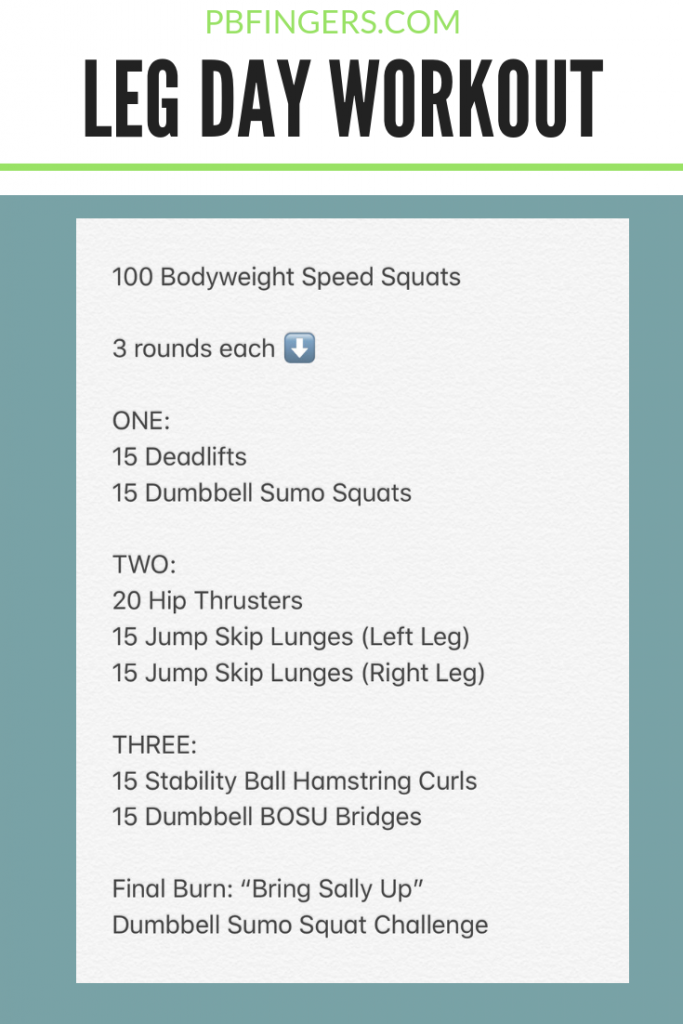 You know that feeling when you're about halfway through a workout and you just know you're going to be sore the next day? That happened to me earlier this week when I took myself through the above leg workout. I'm not sure if it was the workout itself or the fact that I haven't been exercising as consistently thanks to two sick kiddos, but yeesh, this one had my legs and booty burning! It felt SO GOOD to feel my muscles work and jam out to a new workout playlist. I knew I had to share this workout with you guys because I wanted to save it to do again myself, too!
Also, if you're unfamiliar with the "Bring Sally Up" squat challenge, you may see more details here. (I LOVE that song in a weird way.) It's HARD but also oddly fun, too! I did it sumo-squat style and held a dumbbell between my legs.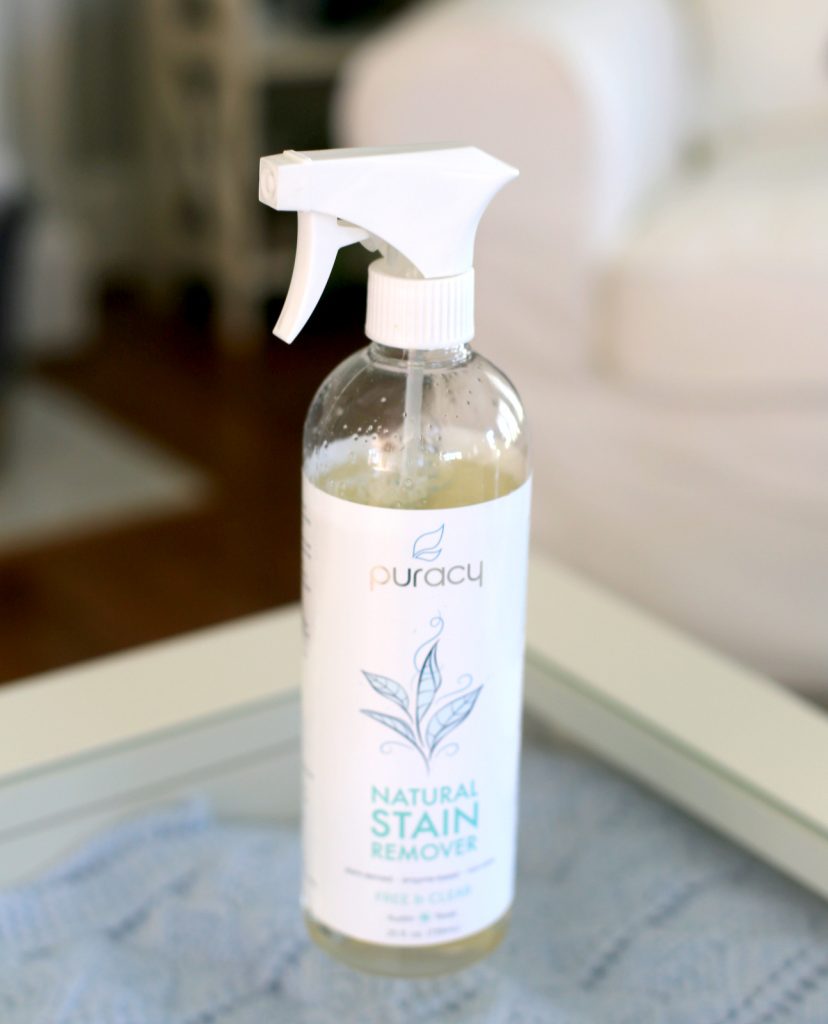 A couple of weeks ago, I was on a mission to find a more natural way to remove stains in the boys' clothing. Now that we're feeding Ryder real food, things are very messy around here and his clothes and bibs are regularly stained with pureed blueberries, sweet potato, carrots, spinach and more. On top of that, Chase almost always comes home from school with some kind of paint, marker or grass stain on his clothes. Since I can't seem to live without Amazon Prime, I turned there first and very quickly discovered Puracy, a natural plant-derived, enzyme-based stain remover that claimed to remove ANY stain out there. When I saw the 2,400+ positive reviews I was sold and ordered two bottles.
You guys, to say I was blown away by this stuff is a serious understatement. I simply follow the instructions on the bottle when treating tough stains (I use an old toohbrush to "rough up the fabric" and let it sit for several hours before washing) and it gets all of them out. ALL OF THEM. I had to take before/after pics of one of Ryder's bibs to show you guys how legit this stuff really is…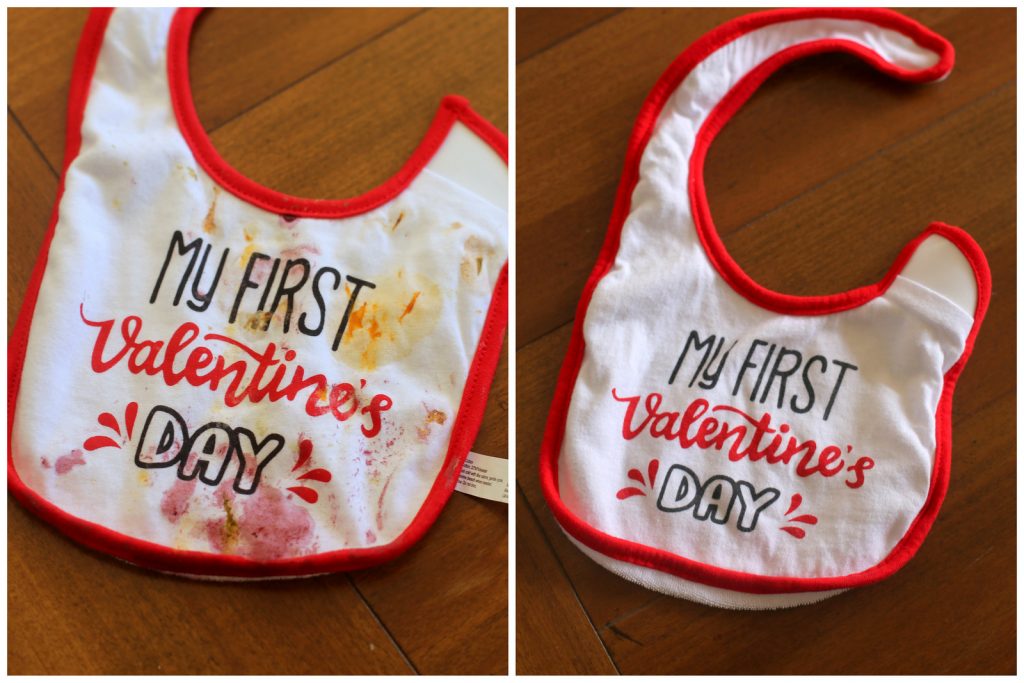 Isn't that unreal!? His bib was covered in stains and they ALL came out in one wash cycle. I have now been using Puracy on any and all stains and can't recommend it enough!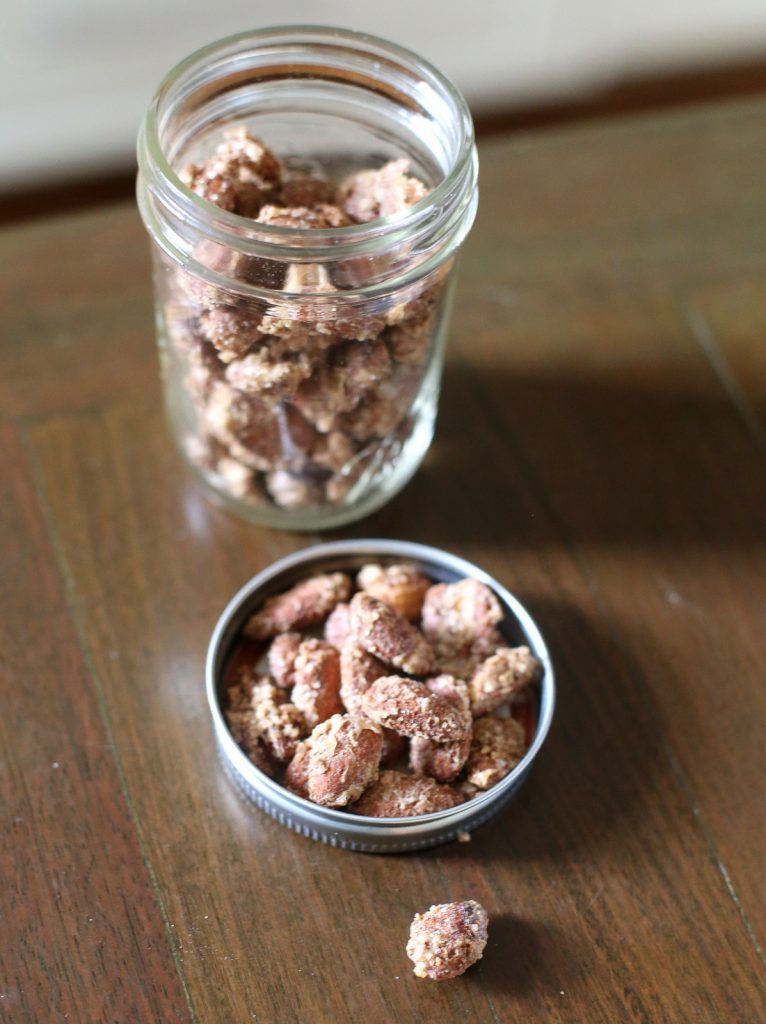 This week was teacher appreciation week at Chase's preschool and since we could not love Chase's teachers any more, we wanted to do something to make them feel a little extra special. We put together small gift bags for his teachers and included jars of these sugar and spice nuts. Chase loved helping me make them and I'm glad we had some leftover because I could not stop eating them! They were so good and a great recipe to keep in mind if you ever want to whip up a batch of nuts that are both sweet and a little spicy!
Cloth Photo Album for Baby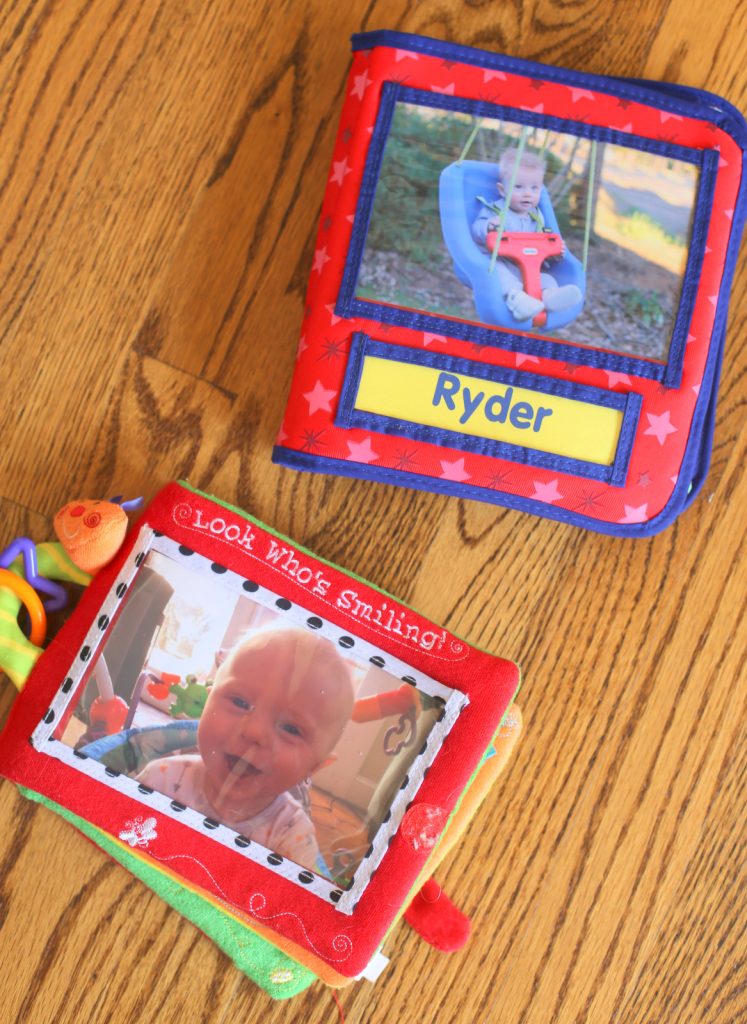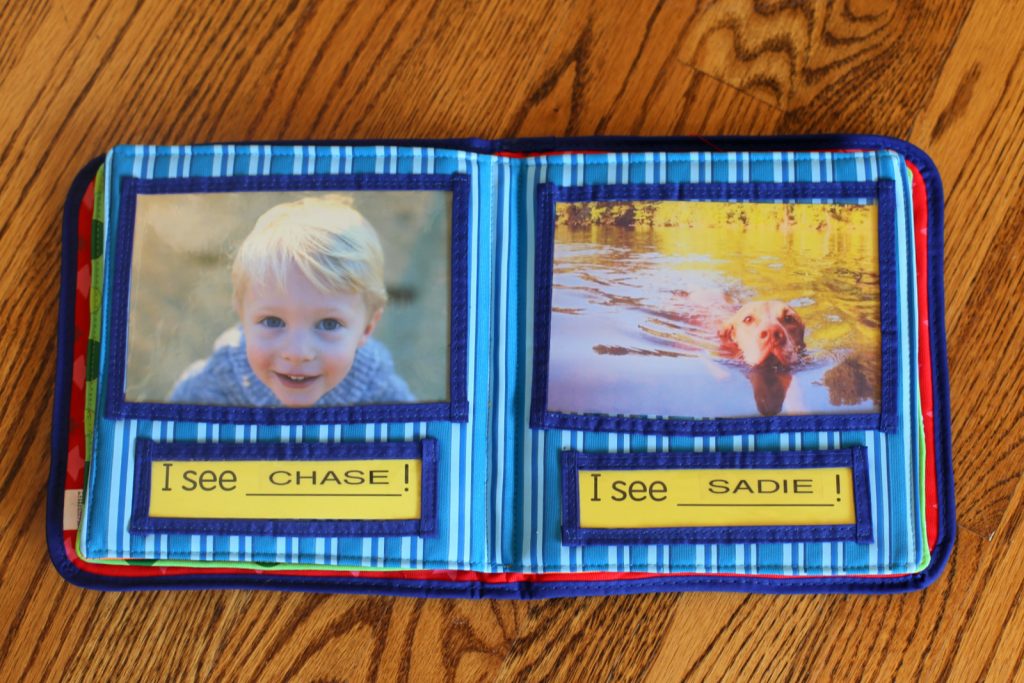 My mom put together a cloth baby photo album for Chase when he was a baby that he absolutely adored and recently sent us one for Ryder, too! We love these albums for a number of reasons but mostly because they help our little ones regularly "see" their family members who don't live nearby which is especially important to us when they're learning names and beginning to grasp the concept of family. Each page of Ryder's album says "I See…." with a blank space to write a name (or use a label maker like my mom did!) and then my mom simply added a photo of a member of our family and their name to the page. We love this sweet gift and I just had to share it here with you guys in case you're looking for a thoughtful gift idea for a little one in your life. I think it would be such a sweet addition to an Easter basket next month! This is the current version of Chase's original book by Manhattan Toy Company available on Amazon, here's one available at Target for only $8 and this is Ryder's "I See…" book by Lakeshore Learning.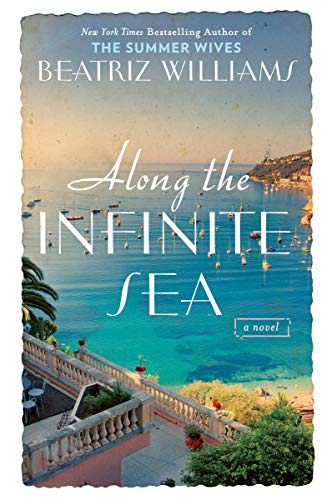 Beatriz Williams is quickly becoming one of my favorite authors. (Something about the spelling of her name always makes me want to type out "Bellatrix" instead of Beatriz. Apparently my Harry Potter lovin' side is showing through!) Two years ago I read A Hundered Summers by Beatriz Williams and really enjoyed it so I'm not sure why it took me so long to pick up another one of her novels. I recently finished Along the Infinite Sea, the third in the Schuyler Sisters series by Williams, and thoroughly enjoyed it! I'm admittedly a sucker for books that jump back and forth from the past to the present and build intrigue along the way and this one did just that as it followed the present-day life of Pepper Schuyler and the past of a woman who recently came into Pepper's life, Annabelle Dommerich.
Pepper and Annabelle's lives intertwine when Pepper finds and fixes up a very rare Mercedes that Annabelle purchases because the car once belonged to her husband, a Nazi general. As the complicated pasts of the women are revealed, secrets unfold involving Jewish lovers, surprise pregnancies and enough intrigue to make you fly through this book!
Food: Instant Pot BBQ Lentils / 12 Healthy Meals for Kids / Pan-Seared Salmon with Sun-Dried Tomato Cream Sauce / Kale Pistachio Shrimp Pasta Skillet
Fitness: Lean & Strong Legs Workout / HIIT Bodyweight Workout / 30 Day Workout Calendar
Corned Beef and Cabbage Creamy Potato Leek Soup (Just in case you're getting excited for St. Paddy's Day eats already!)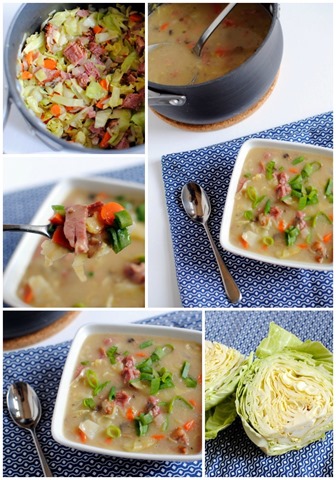 Healthy Things to Do in Charlotte (A roundup of some of my favorite things to do in the Queen City!)
Question of the Day

What is one thing making you smile right now?

Another Friday is here and I am pumped! Woo! I hope you all have something fun planned for the weekend ahead, whether it be a whole lot of nothing' (that counts as amazing plans in my book!)  or something special on the agenda with family and friends. Our calendar is wide open so I'm not sure what the next few days will hold but I'll do my best to have a recap of whatever our crew gets up to on the blog next week.