When Chase was around Ryder's age, I got one of my all-time favorite pictures of him at this same party: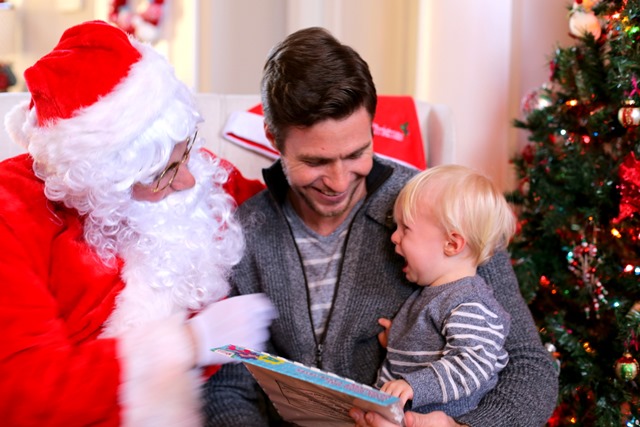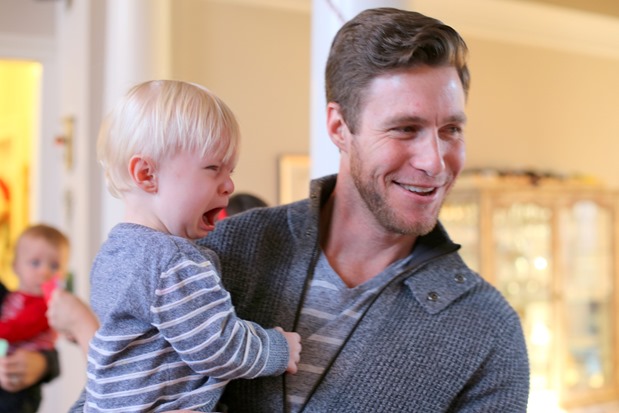 The horror!!!
I still cannot help but laugh out loud when I see those pictures of Chase. Poor little man was completely terrified of holly jolly Santa! I'm curious to see if there's something about the 1.5 year age range that equates to horrible Santa experiences. We'll see how Ryder does this year!
Aside from the cookie exchange party, we'll also be getting together with friends for a Christmas brunch party on Sunday with our little ones in their matching pajamas. It should be a full but very festive weekend!
And now let's dive right into my weekly Things I'm Loving Friday roundup of favorites, shall we?
Things I'm Loving Friday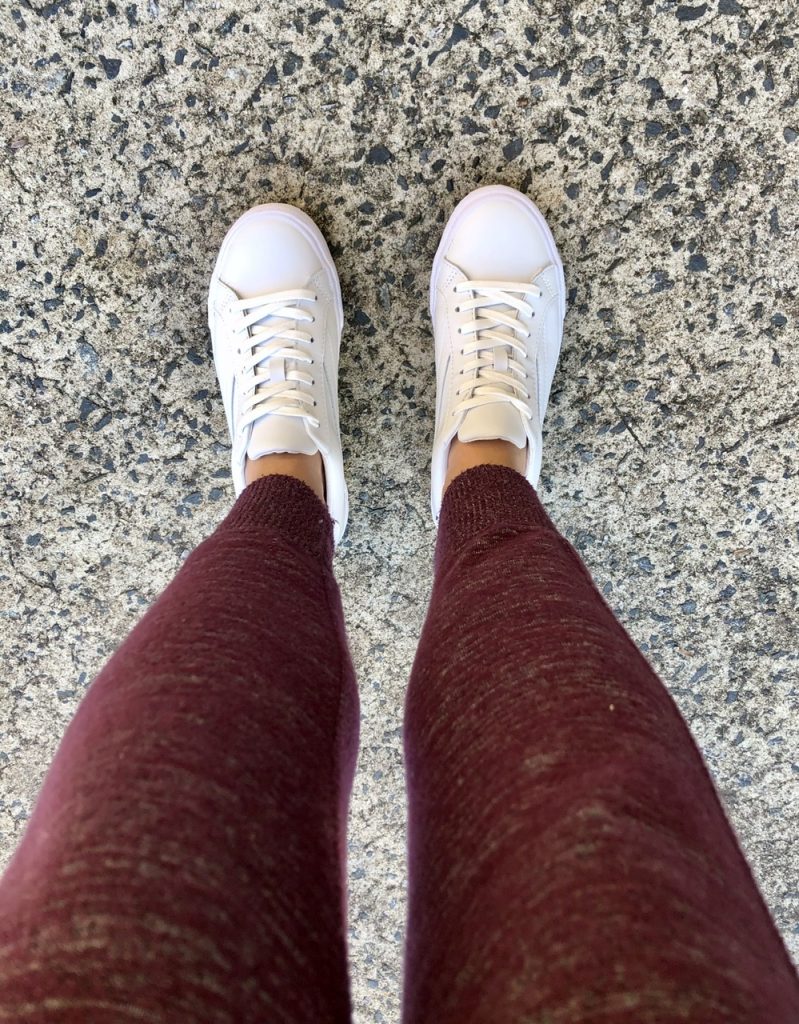 It has taken me ages to find a pair of low top sneakers I love. AGES! You'd think it would be easy but nooope! I was the queen of returns for a while there because I could not find a pair that felt comfortable and high-quality at a decent price point. (I simply cannot jump on the Golden Goose trend despite all the fashion bloggers singing their praises. $500+ for sneakers = Hard pass.)  I didn't want something that looked like a running sneaker and was in the market for a casual shoe to pair with joggers and jeans when I am running around after the boys. Well, at long last I have a great pair of sneakers to share with you guys!
This pair of Madewell Low Top Sneakers is what my casual shoe dreams are made of! They're leather on the outside so easy to wipe clean and the sole is cushioned and supportive unlike my beloved Chucks which I don't find comfy enough to wear for an extended period of time. They're lace-up sneakers but you can easily tuck the laces in for a slip-on look if you prefer. I ended up exchanging them for a half-size down so if you're on the cusp, I'd size down especially if you plan to wear them with thin n0-show socks.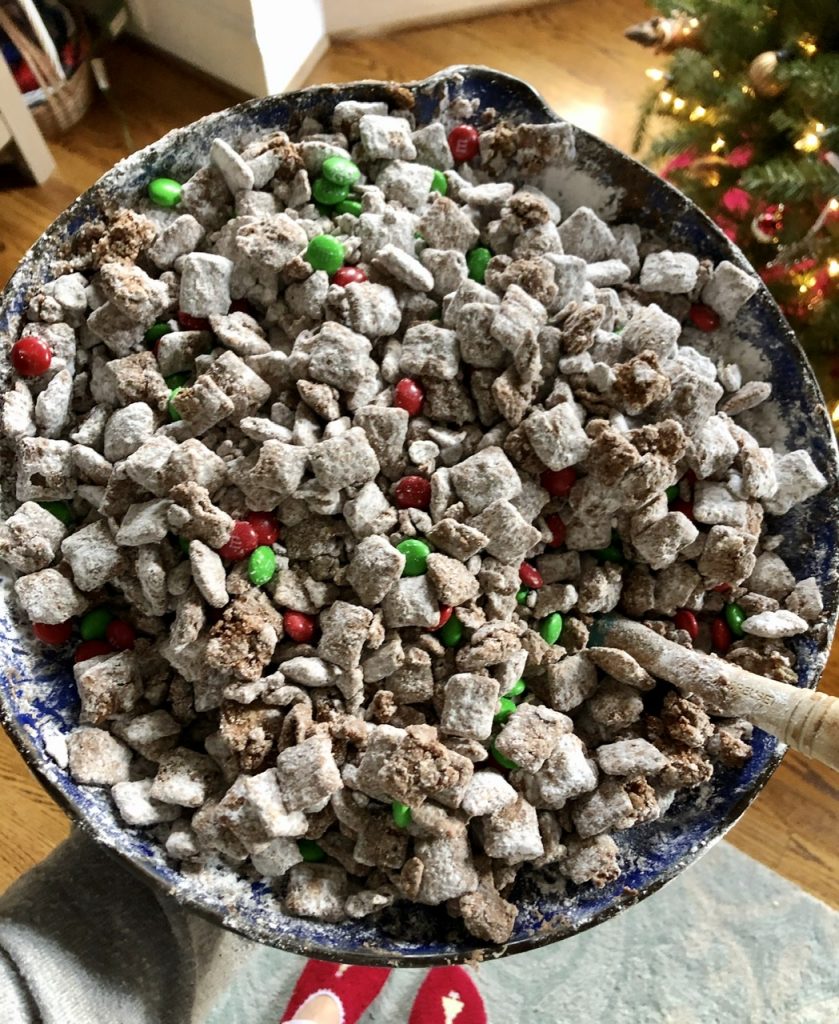 I'm not sure what it is about puppy chow but for some reason it seems like a perfect wintery treat. Perhaps is the dusting of powdered sugar that looks a bit like snow or the fact that it's easy to fancy up with a sprinkling of red and green M&Ms? Whatever it is, I'm all about it and had two sweet little helpers join me in the kitchen yesterday afternoon to help me make a giant batch.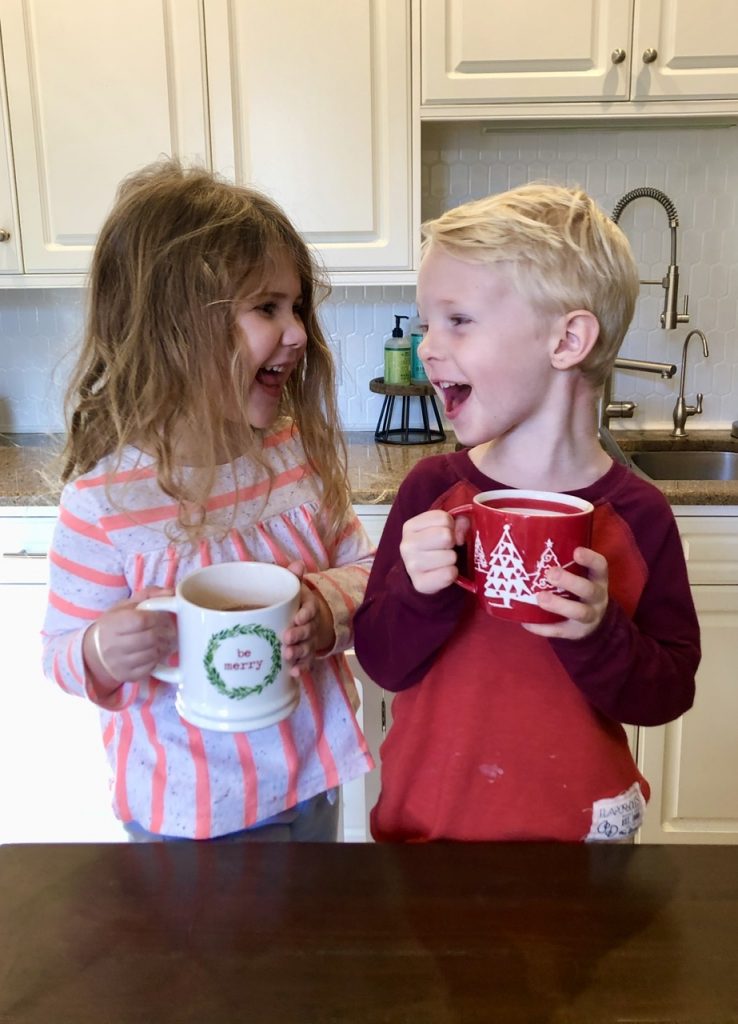 Chase and Claire saw me making myself a mug of hot chocolate and naturally requested a mug of the good stuff! (This is the recipe I follow for a quick batch of made-from-scratch hot cocoa in the microwave.) Their friendship is so darn sweet — they truly act more like brother and sister than friends at this point — and they were all in when I asked if they wanted to help me make puppy chow as they sipped their cocoa. Sugar and kids, I'm tellin' ya. It's something else.
Lower Body Triple Set Workout
I'm not sure whether it's the fact that I've only been to the gym two or three times in the past two weeks, but something about yesterday's Burn Boot Camp lower body workout felt so hard yet simultaneously really awesome. Maybe my muscles missed the burn!? It's a workout I know I'll want to repeat in the future on my own when I'm at the gym looking for a little leg day workout inspiration, so I snapped a pic of the whiteboard and figured it was worth highlighting here as well.
As noted above, we went through as many rounds of each triple set as possible  in 11 minutes before moving onto the next one. (For reference, I only got through two rounds each time.) To clarify some notes on the whiteboard that might be confusing, R P H stands for reps, pulse, hold and that pertains to the three numbers following the exercise. Example: For the glute raises, we did 20 glute raises with a heavy dumbbell, followed by 20 pulses at the top of the glute raise and a 20 second hold at the top. Additionally, "KB" stands for kettlebell and RDL stands for Russian deadlifts. Let me know if you need clarification on anything else!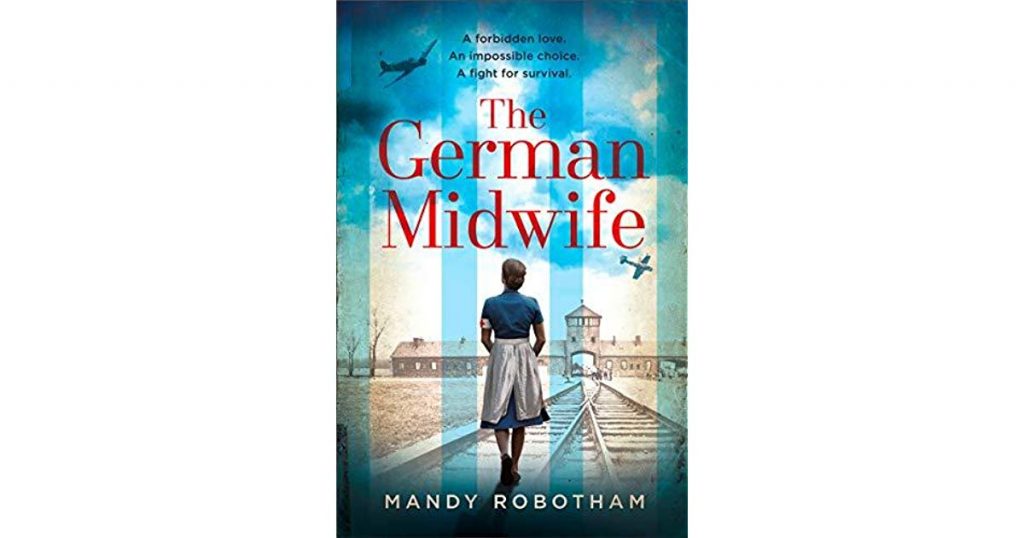 After enjoying The Secrets We Kept so much last week, I was on the lookout for another historical fiction novel this week and stumbled upon The German Midwife on Amazon. The premise of the novel immediately intrigued me, as the book follows Anke Hoff, a prisoner held captive in a concentration camp whose skills as a midwife catch the attention of prominent members of the Nazi party. Anke is taken away from the camp when she is selected to be the midwife for Eva Braun, the woman believed to be pregnant with Hitler's child. The German Midwife is a story that is incredibly hard to read in parts but Anke's journey is one filled with strength, courage, survival,  and, to her surprise, even love.
I've had a number of you request more information about the devotionals I read in the morning and since I just began a new one, I wanted to highlight it here! It's been wonderful to dive into Unwrapping the Names of Jesus by Asheritah Ciuciu this holiday season, as it helps me bring the focus of this time of year back on the meaning of Christmas. It's quite short so it would be really easy to catch up on if you're interested in reading one devotional per day up until Christmas morning and I love the way each week focuses on a different theme (hope, preparation, joy/peace, love) and concludes by offering "action" ideas for family activities and service-oriented projects you can do during the holiday season. It already has me focusing more on the joy of Christmas and the reason we celebrate which fills my heart and helps me begin each day with a positive, hopeful mindset.
Food: S'mores Cookies / Chocolate Peppermint Bark Cookies / Cinnamon Roll Monkey Bread / Holiday Spice Sangria / Ham & Pear Crostini
Fitness: 30 Minute Power Yoga Flow (Video) / Booty Blasting Ladder Workout
Weekend Sales: 25% off everything at Madewell / 15% off holiday cards at Minted with code SNOW19 (we just ordered ours!) / 30% off tops and sweaters at Anthropologie
Oreo Peppermint Ice Cream Dessert (A family favorite made with only three ingredients)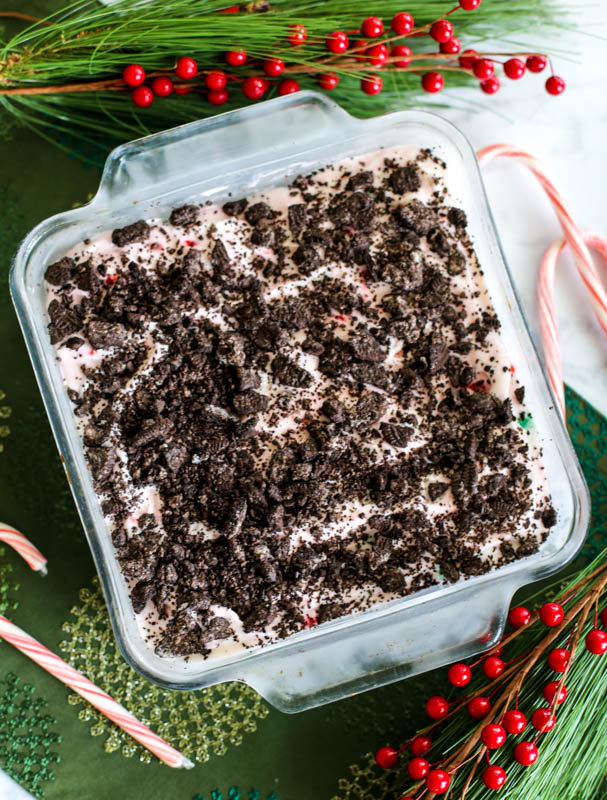 Chocolate Chip Hazelnut Oatmeal Cookies (These cookies are soft and pillowy and the chopped hazelnuts add the perfect amount of crunch!)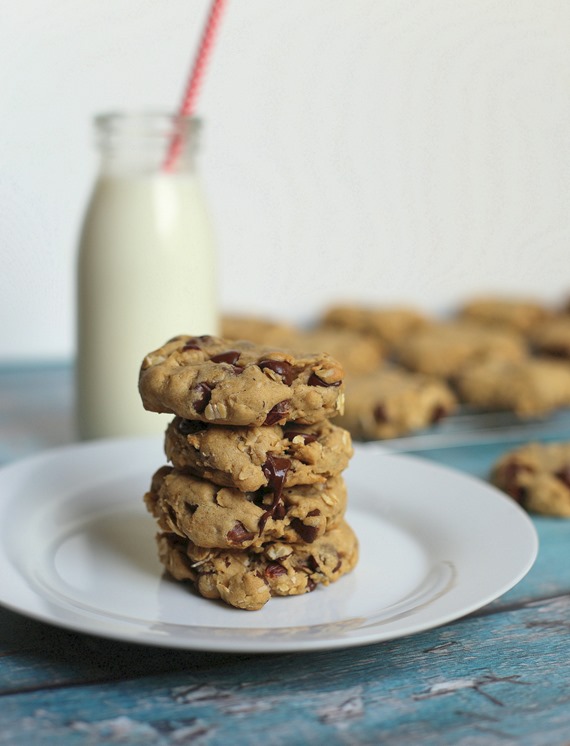 Question of the Day

What is one thing making you smile this week? 

The weekend is here! Hooray! I am really looking forward to the next couple of days because we have our first round of holiday parties on the agenda! First, we'll be heading to the Christmas party Ryan's boss is hosting this evening (the Las Vegas-themed one I mentioned before) followed by a Saturday morning cookie exchange party where our friend Dan will be dressing up as Santa for the kids! This is one of our favorite holiday traditions with our friends because it's so fun to see how the kids' reactions to Santa vary so much.