And now, since I still have some packing to do, I need to dive right into my usual Things I'm Loving Friday blog post! Below you will find a roundup of some of my favorite things from the past week. Please feel free to join in the fun and  tell me about something you're loving in the comments section as well.
Have a wonderful weekend!
Things I'm Loving Friday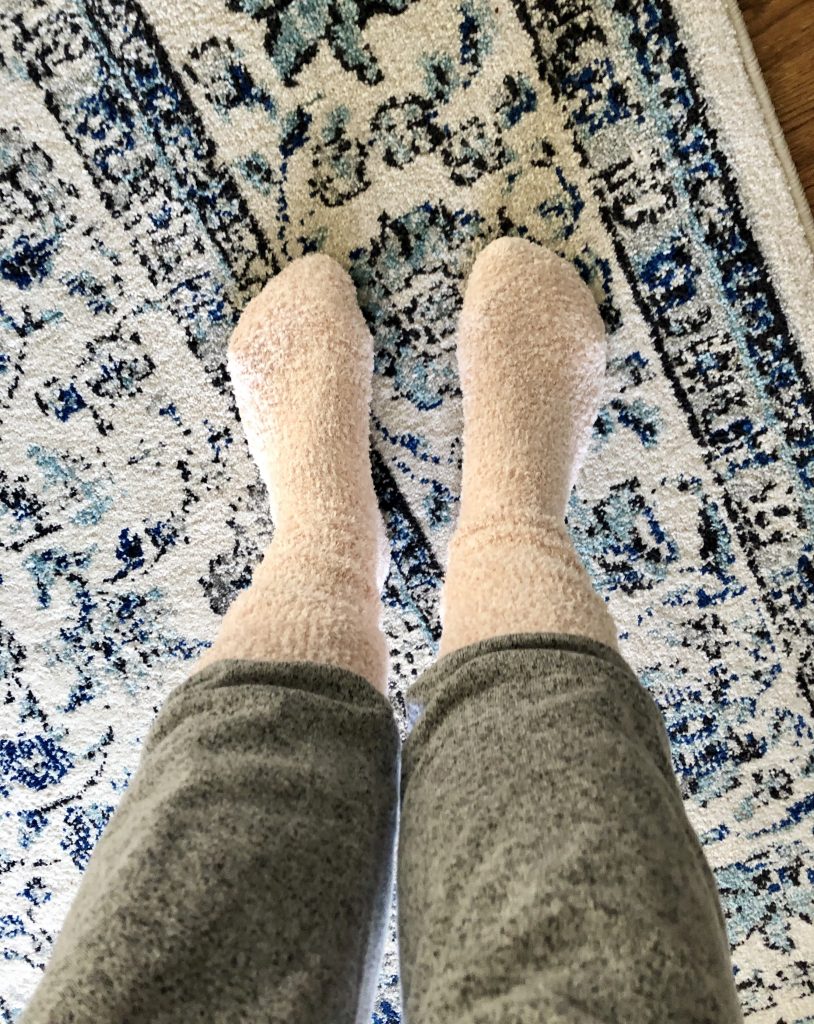 One of the best conversations I overheard over the holidays took place in our living room when Ryan asked Chase what he wanted to get me for Christmas. Without hesitation he said a laser gun. I then heard Ryan say, "Well, maybe you should ask her what she might want for Christmas for some ideas." Chase then came running into my office and I told him I would love a warm pair of fuzzy socks for Christmas. With Ryan's help, Chase knocked the ball out of the park and gave me two pairs of Barefoot Dreams socks which have quickly become my go-to "house socks" to wear around the house. (I have the dusty rose and graphite socks.)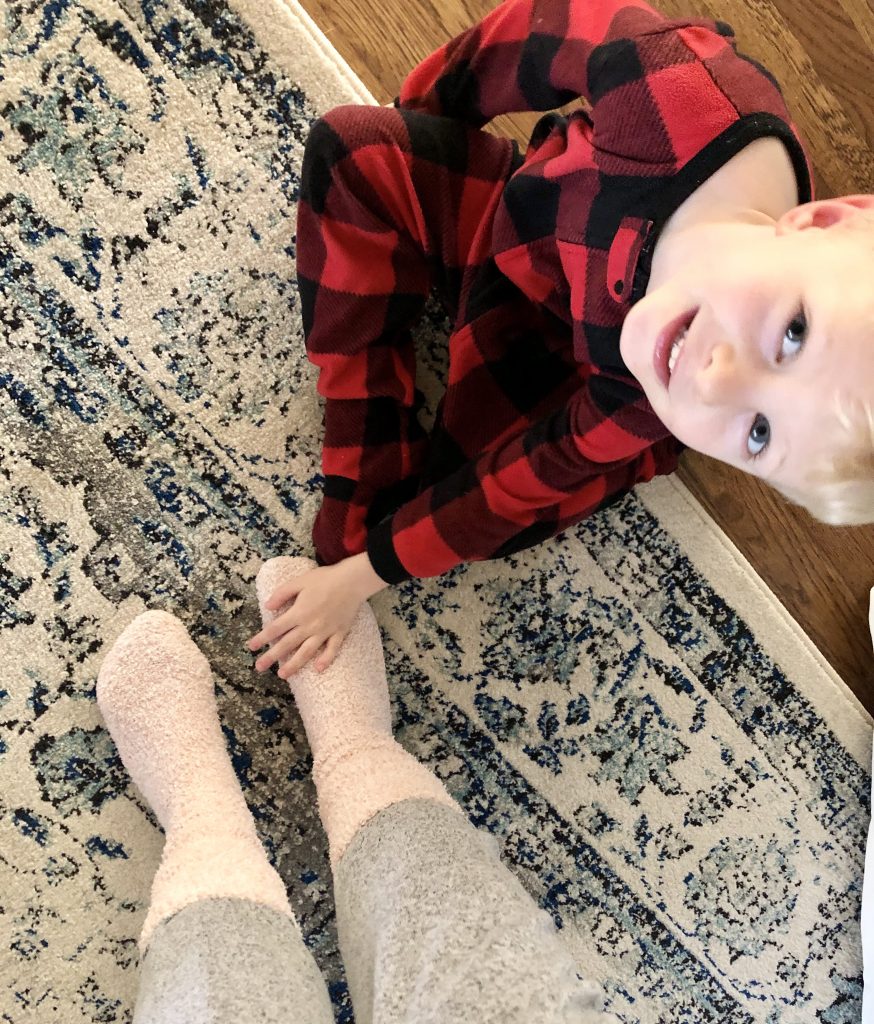 Chase saw me snapping pics of my socks yesterday and said, "Here, I'll show them how soft they are." Haha!
The fabric lives up to the Barefoot Dreams hype — it's so soft and truly what cozy dreams are made of — and I love the way the socks are long and stay up on my leg when I pull them up over a pair of joggers or leggings. Who knew two pairs of socks would end up being some of my favorite Christmas gifts this year!?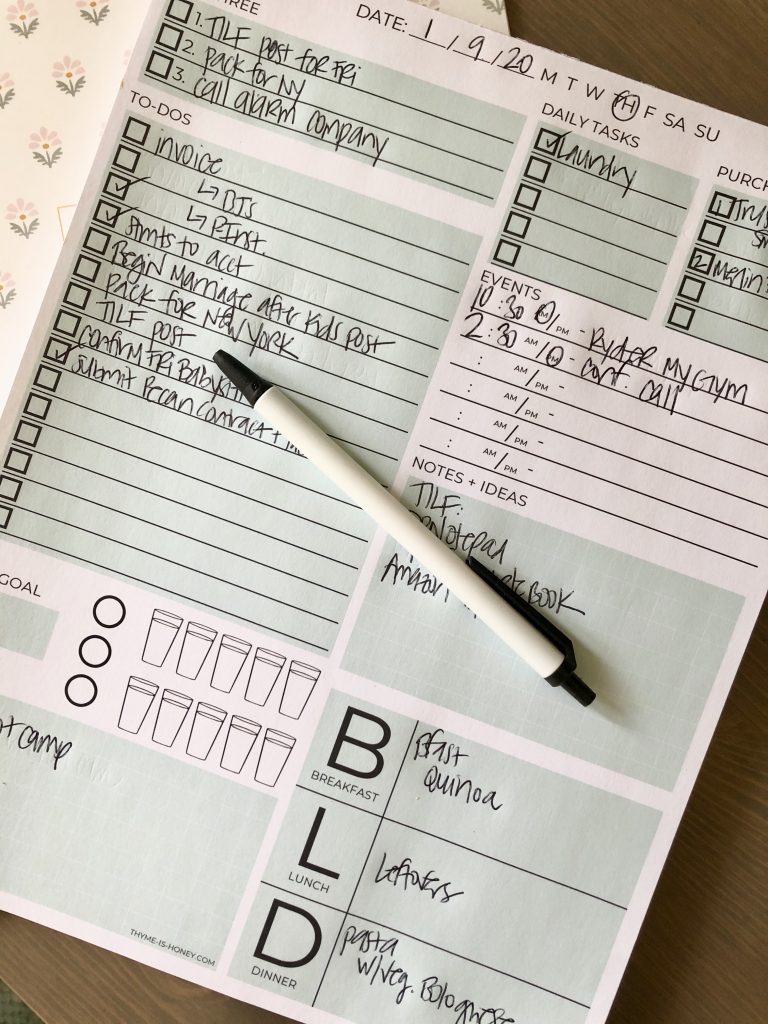 The Daily Page Notepad was included in my Gift Guide For Her last year and while it intrigued me enough to include in my gift guide, I can now personally speak to how fabulous this notepad is and how useful it has been to me in 2020 so far. It's an Etsy bestseller for good reason! I am someone who has always preferred pen and paper when it comes to organization and planners and I've been using this pad as a more detailed to-do list and loving it! Each page is detailed with categories that help me break down my daily to-dos and tasks and it helps keep me organized and truly seems to increase my productivity since it forces me to think through my day every morning and prioritize everything from work deadlines to personal commitments.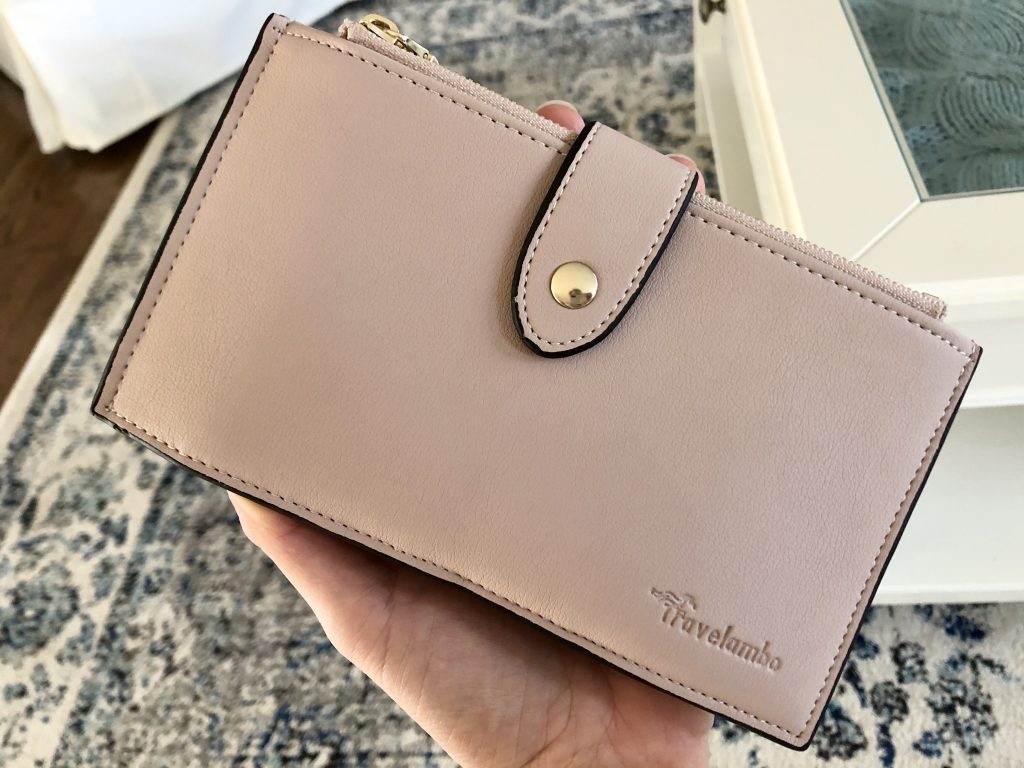 I saw this 18-card wallet recommended on Instagram and while I cannot remember who talked about it (I want to say @ThingsIBoughtandLiked), it was a solid recommendation! I've blogged about my love for card cases and wallets for a while now but this simple $15 option from Amazon is my new favorite for organizing gift cards and cards I don't need daily access to but still want to have accessible in my bag. (It basically functions as my "second wallet" for all of my non-essential cards if that makes any sense.)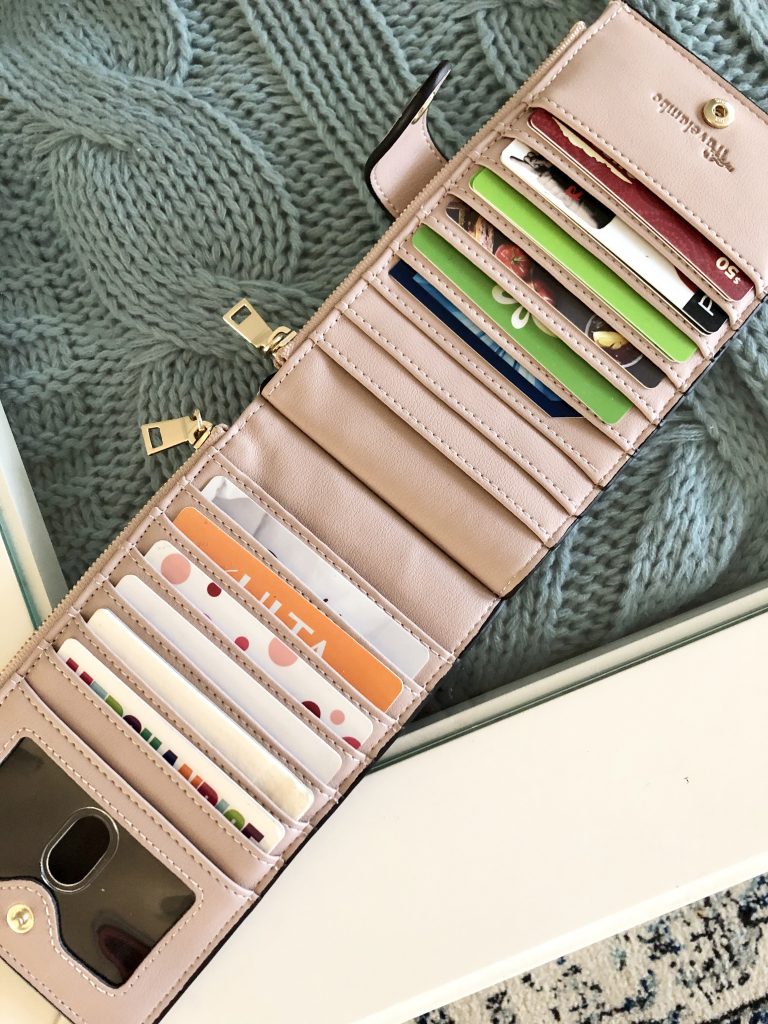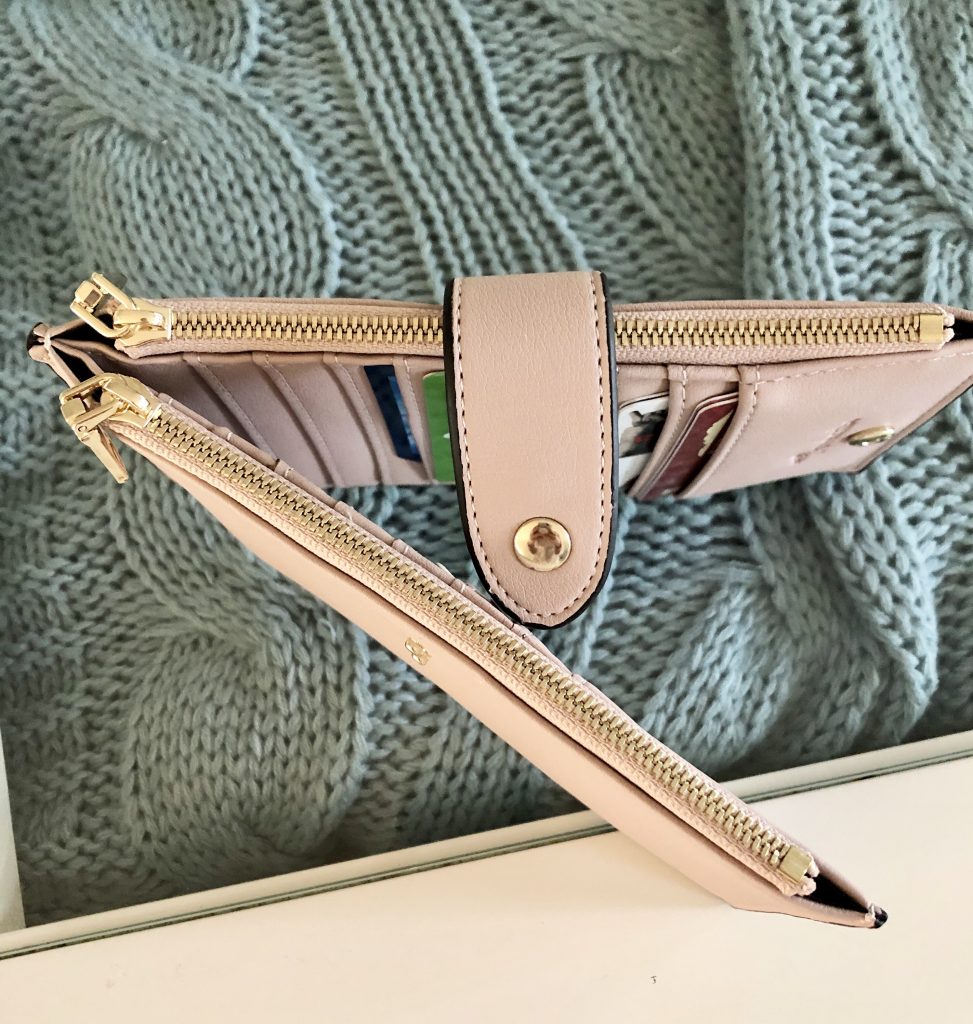 The wallet is not bulky in the least and surprisingly slim for a wallet the can hold so much. It even fits my iPhone in one of the zipper pouches. The quality is great and it comes in a myriad of colors. I ordered mine in the Chelsea Pink Champagne and love the subdued rosy pink color.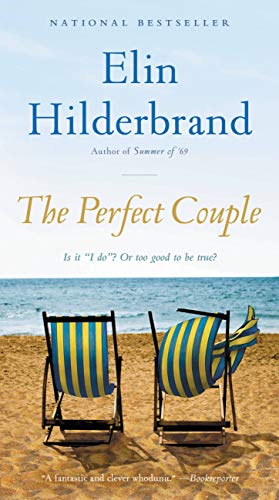 After reading America's First Daughter, I was in the market for an easy read with a little mystery. I turned to Elin Hilderbrand's novels because in the past they've been fluffy enough to not feel too heavy but interesting enough to keep me fully engaged. While I did guess the ending of the book, it took me a while to piece everything together so I wouldn't say it's overly predictable from the beginning. I wish it had more of a "wow" factor for me when everything was revealed but I'd still recommend the book to anyone looking for an easy yet intriguing read.
The Perfect Couple centers around the wedding of Celeste and Benji, the seemingly perfect couple behind what is sure to be the wedding of the year on Nantucket. When a member of the wedding party is found dead on the beach the morning of the wedding, all of the sudden Celeste and Benji's perfect day turns into a nightmare. Everyone is a suspect in the suspicious death and as the story and mystery unfolds, secrets are revealed, relationships are tested and seemingly perfect families and couples are revealed to be anything but perfect.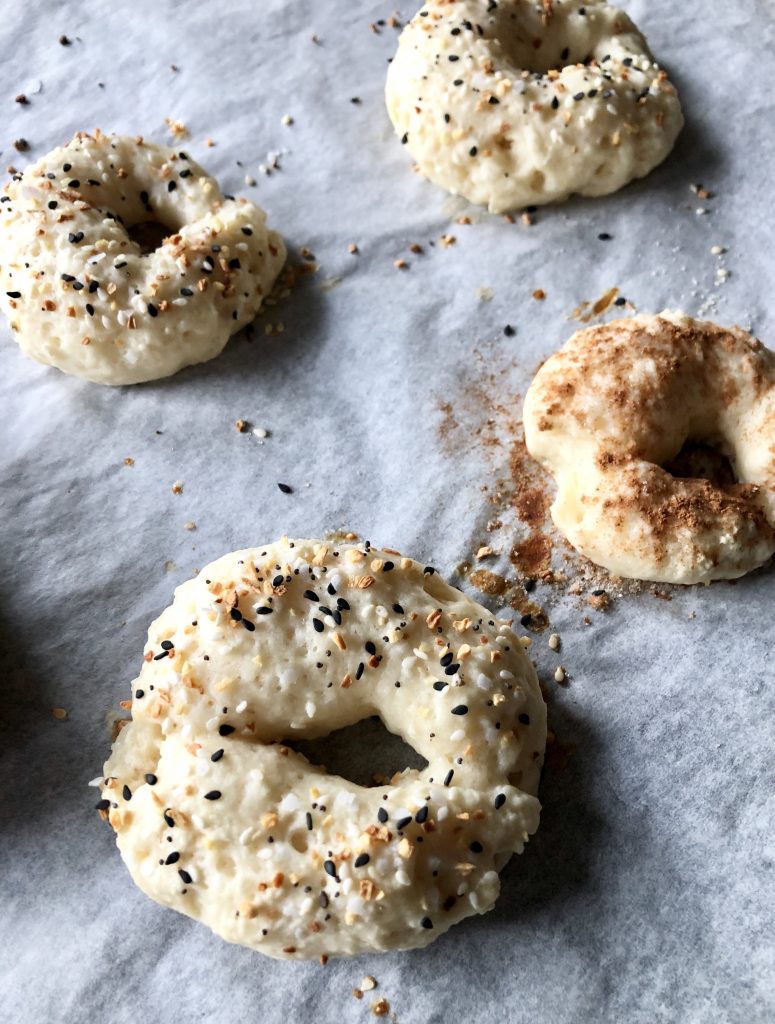 Have you guys heard of Greek yogurt bagels? Apparently they're a big thing but I never knew about them until this past week when one of my friends talked about the incredibly simple recipe that packs a surprising punch of protein. I was surprised by the texture (slightly doughy and much closer to a real bagel than I ever would've imagined) and am excited to make them again soon! For my first batch, I only had a 6-ounce cup of Greek yogurt on hand so I made some mini bagels and topped them with Trader Joe's Everything But the Bagel seasoning and cinnamon-sugar. I loved them both! I also think these bagels (in a larger size) would be a perfect base for breakfast and lunch sandwiches and would love to try them with whole wheat flour in the air fryer next!
Mini Band Booty Workout (This one hurts so good! Also whenever I see pics from this workout, I think about how I was trying really hard to hide a growing 16-week baby bump when I was pregnant with Ryder because I was still not ready to publicly share the news. No easy feat!)

One Pot Chicken Cabbage Bowl (Still one of my all-time favorite blog recipes! Incredibly flavorful and veggie-packed!)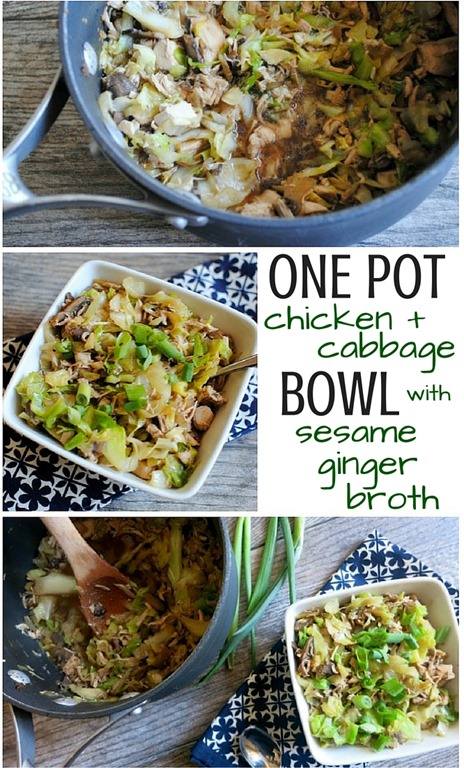 Question of the Day 

What is one thing making you smile this week?

Hey friends! Another Friday is upon us and it should be a rather eventful one over here. Once this post is up, I'll be getting ready to head off to the airport en route to New York! I am meeting up with seven of my best friends from college in New York City and then we're caravanning to a cabin outside of the mountains for a cozy winter getaway. Pajamas were the number one thing on all of our packing lists so I think we're in for a great time! I've been looking forward to this weekend for months and cannot wait to be reunited with some of my very best friends in the world!