I am heading out of town on Tuesday next week for an exciting blogging adventure (I promise to fill you guys in the minute I get the okay!) and since I won't be in town to train my clients any day except for Monday, I'm making it a point to take them through seriously sweaty workouts this week. '
One of my clients told me that she "loves to sweat" today and that was music to my ears! Workouts that leave me drenched in sweat are my favorite, so I totally get what she was saying. (Sweating outside in the humid Florida summer heat, on the other hand, is miserable. There's a fine line between the two, my friends.)
Lunch
In between training clients, I grabbed a quick lunch in the break room before it was time to teach water fitness.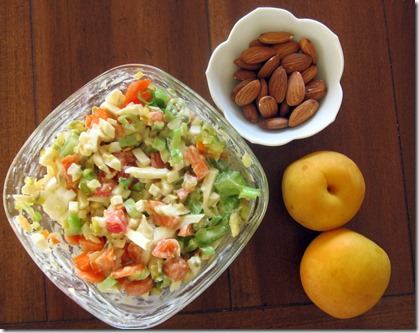 On the menu for today was a vegetable-packed egg salad with two apricots and almonds.
Once I was done with lunch, I had about 20 minutes to spare until water fitness, so I downloaded some new songs to keep my class rockin'. "Tutti Frutti" was the hit of the day. My water fitness group loves their '50s jams!
After water fitness, I was absolutely drenched in sweat. The summer heat is here to stay! I couldn't wait to hop in the shower and slipped on my old school shower sandals and quickly rinsed off at the gym.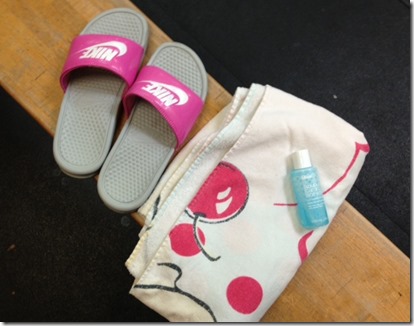 Big slip-on sandals like the ones I wore to protect my feet as I showered at the gym today take me back to locker room showers during my high school days after diving or water polo practice. I just needed my Herbal Essences shampoo and I would've been instantly transported to the fall of 2002!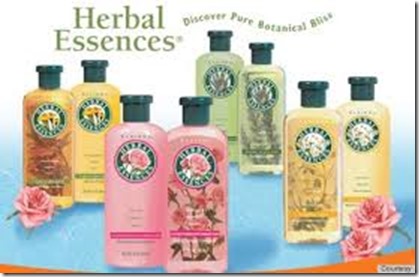 Actually, Herbal Essences was my "fancy" shampoo that I would save for special occasions. Post-diving or water polo practice, I usually used Suave green apple or tropical coconut shampoo because it was like $1.50 for a bottle and smelled like heaven.
Now I'm all about Marc Anthony Instantly Thick shampoo and conditioner. I also occasionally use L'Oreal Damage Erasing Balm on my hair as well to (hopefully) help with my split ends and keep my hair healthy!
Question of the Afternoon
What is your favorite shampoo/conditioner?
What was your favorite shampoo/conditioner in high school?
In high school I was all about Herbal Essences, Pantene Pro-V, Daily Defense and Suave. I occasionally used Ultra Swim because I was always afraid my hair would turn green from all of the chlorine, but I didn't like that stuff at all. It always left my hair tangled!