The dreary weather nixed Sadie's evening walk. She's not content to just hang around the apartment after work, so I loaded her into my car and took her on a little adventure to Pookie's, a local pet store that sells her dog food.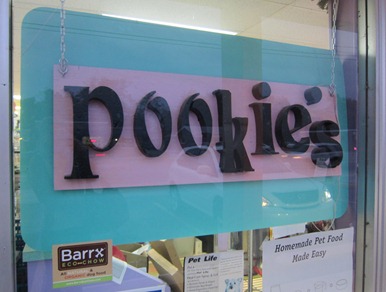 With the help of my rain boots, we braved the weather and nabbed Sadie's dry food before heading home.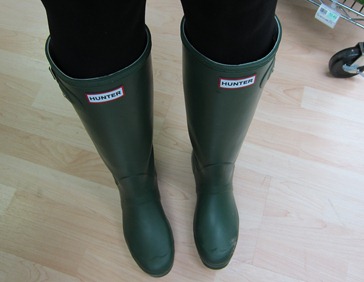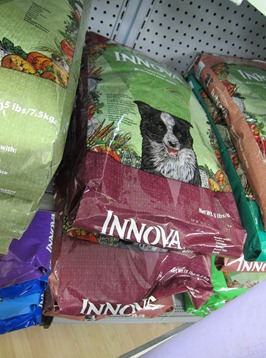 For those of you who have asked in the past, we feed Sadie Innova dry puppy dog food. (I'm sorry for not answering you sooner, but we transfer her food to a big bin when we get home and I never remember the name of the food, only what the bag looks like!) I
Also, I know Sadie just turned three, but she still eats puppy food because our vet recommended it to possibly help her gain some weight since she's so darn skinny. We love our little string bean!
Onto dinn-ah!
Dinner
Trout oatmeal hash?
Okay, okay, bare with me on this one…
Though combining oats with fish may seem totally crazy, I officially fell in love with the combo tonight. I'm not lying when I say this may be my favorite dinner I've made all year.
I owe major thanks to Clean Eating magazine for coming up with this gem.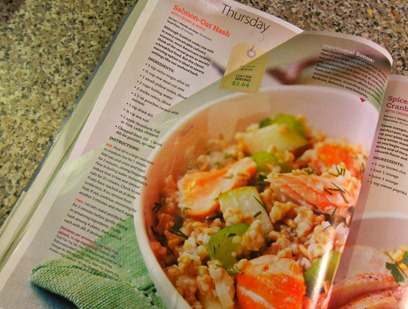 Since salmon wasn't on sale at the grocery store this weekend and I'm not a huge fan of canned salmon (which is what the recipe calls for), I picked up trout that was on sale to use in its place in the recipe.
The swap turned out to work perfectly!
While I let steel cut oats and a chopped onion simmer on the stove top in boiling water, I broiled the trout until it flaked with a fork and was fully cooked.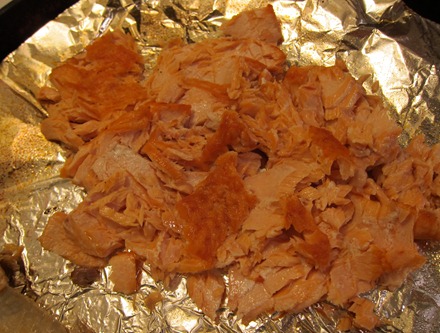 Then it was time to throw everything into the pot and stir it up!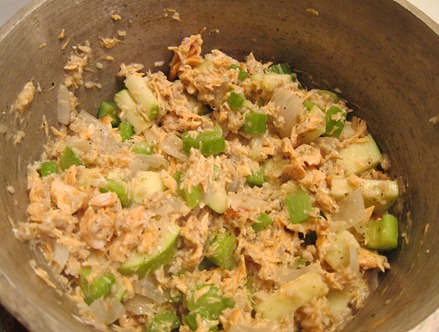 Dip it into a big bowl and dig in!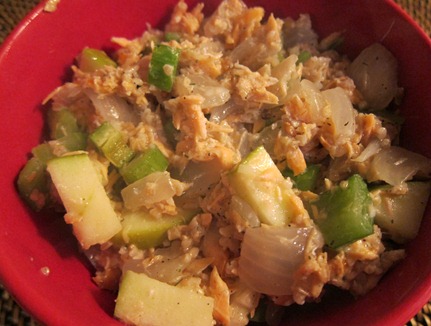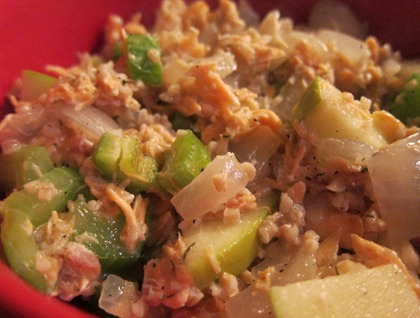 Seriously so good!
Trout Oatmeal Hash (original recipe from Clean Eating magazine)
Serves 2
Ingredients:
1/2 lb. trout filet
1/4 c. raw steel cut oats
1/2 yellow onion, chopped
1 c. boiling water
2 stalks celery, chopped
Dried dill, to taste
Salt, to taste
1/2 Granny Smith apple, chopped
Directions:
Cook trout and fork the fish so it's flaky. (I placed a large filet on a cookie sheet lined with foil  that I sprayed with cooking spray. After also spraying the top of the fish with cooking spray, I broiled it for about 12 minutes, until the fish was fully cooked.)
Spray large saucepan with cooking spray and cook onion and raw oats for approximately two minutes on medium-low heat, stirring repeatedly.
Pour boiling water into the oat and onion mix and simmer for approximately 15 minutes, until mixture has thickened a bit and oats are chewy and no longer hard.
Remove oats from heat and let stand for about two minutes to thicken.
Stir remaining ingredients and divide into two servings. Enjoy!
It's storming outside this evening!