When I watched his BFF Claire on Friday, the two of them gave me a little preview and it was way too adorable! Considering the fact that Chase spent last November's performance on my lap after he spotted me in the audience, I have high hopes that his bravery has increased a bit over the past year and he'll make it through the whole thing this time around. He's been telling me that Dad, Baby Ryder, Sadie and I all need to sit in the front row because he's "going to be a star." At what point do we lose a child's level of self confidence because I'm fairly certain that no one believes in themselves more than Chase when you ask him who is going to win a race between him and basically anyone. If only we all had that kind of self-esteem!
Yesterday was a pretty typical Tuesday around here and I managed to break out my camera and snap some pics so I could take you guys along for the ride.
Morning
After a pretty horrific night's sleep that included three wake-ups to feed, Ryder was up for the day around 5 a.m. I tried my best to nurse him and get him back to sleep but he wasn't having it. We recently transitioned him into the Merlin Magic Sleepsuit and it's working well but Sadie stood right by his bassinet and shook her ears loudly at 5 a.m. so he was on high-alert and refused to go back to sleep. Couple that with his newfound ability to move his arms in his bassinet which he finds ah-maz-ing and there was no settling him back down.
Eventually I gave up and made my way into the kitchen where I set Ryder up in his activity jumper (BLESS THAT THING — it was Chase's favorite and it's proving to be a huge hit with Ryder, too) and made myself a cup of coffee with a thick layer of foam while I ate a few handfuls of granola.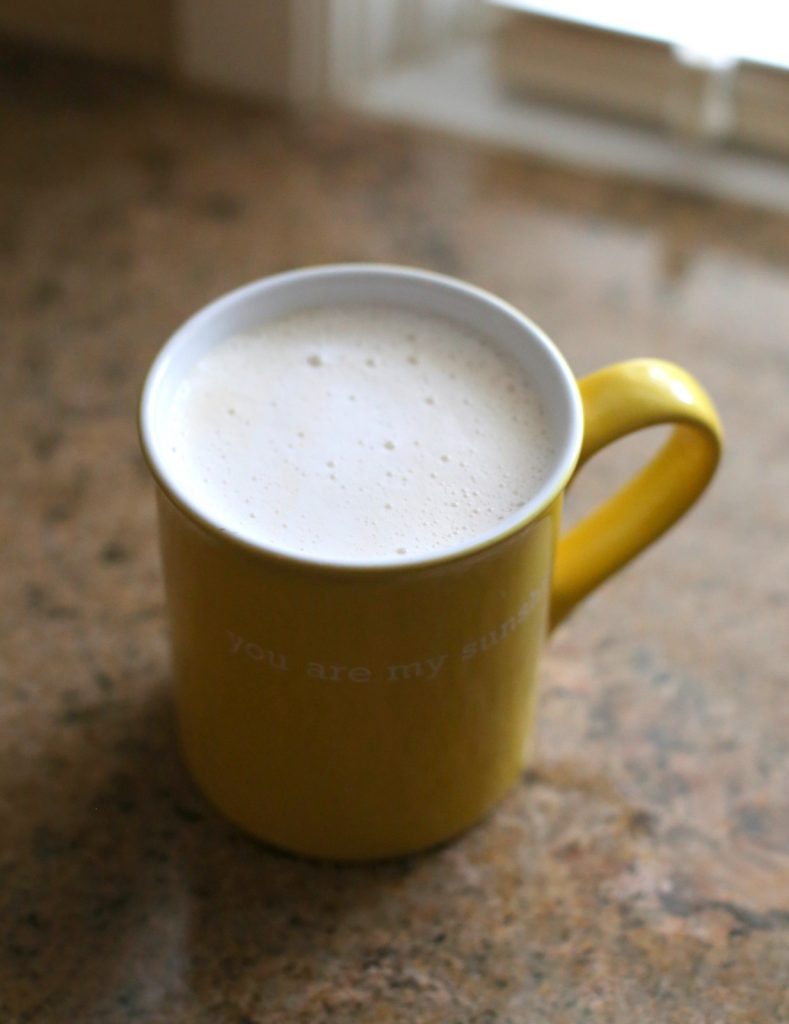 A few of you asked how I make my coffee when I make it with my new Mixpresso Electric Frother and I honestly don't do anything fancy! I just brew a single cup using my refillable filter in my Keurig and then add collagen to the black coffee. Then I pour coconut milk (from a can) and a splash of pumpkin spice Nutpods creamer (I buy this from Thrive Market) and fill it to the "max" line. Once the milk is heated and nice and frothy, I just pour it on top of my hot mug of black coffee and stir it slightly with my Koffie Straw before sipping away!
I drank my coffee and spent some time on my latest devotional before Ryder was fussy and ready for a nap.
While he was napping, Chase woke up for the day, so I got him dressed and fed and then the two of us read books together until Ryder was awake and Chase wanted to play with his little brother.
While Chase showed Ryder all of his baby toys, I made his lunch and then we headed off to preschool drop off. I debated going to the gym immediately after drop off but I could tell Ryder was ready for another nap and my stomach needed something more for breakfast than a few handfuls of granola. We headed back home and I put Ryder down for a morning nap and then made myself a big bowl of Pumpkin Paleo Oatmeal topped with sliced almonds.
I ate my breakfast while I worked on the computer which included scheduling social media shares, responding to a few brand emails + scanning and sending in a contract, beginning this blog post and corresponding with my ad network about a video ad issue.
Eventually Ryder was ready to nurse again, so I fed him and then glanced at the clock and realized I could probably squeeze in a quick Burn Boot Camp workout if I headed out after he was done eating.
I made it to the noon class and went through a leg tripod workout that looked like this: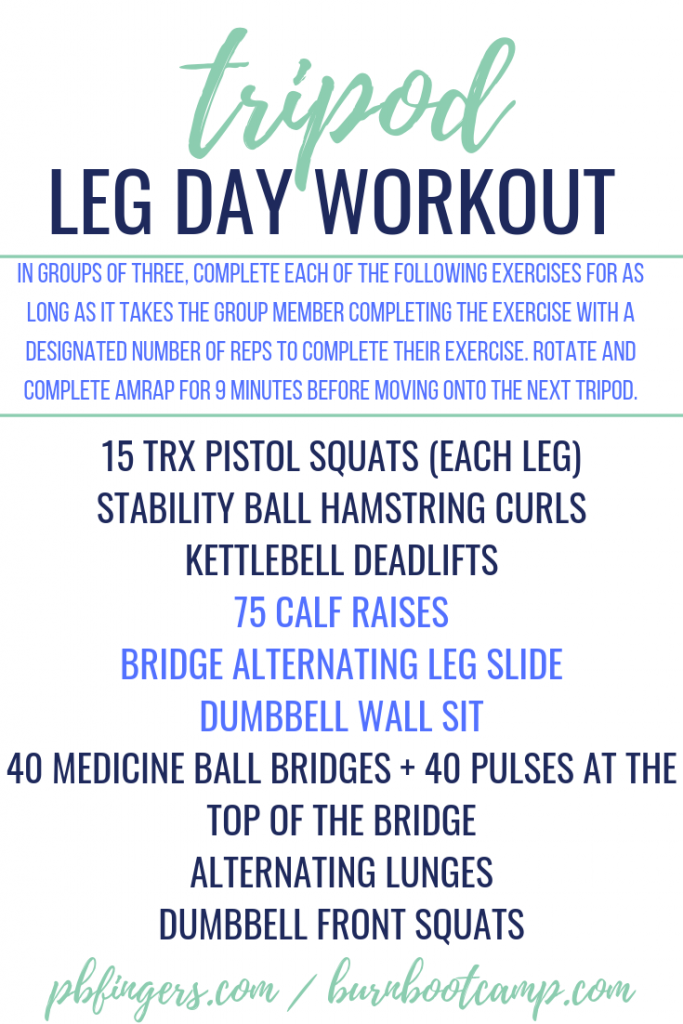 Since I have a feeling a few of the exercises mentioned above may be confusing, here are a few tutorial links just in case you want to give the workout a try:
We also did a finisher that used the mini band and involved bridge press outs and it totally smoked my glutes!
My legs felt like Jello by the time the workout was done! I quickly picked Ryder up from childcare and then the two of us drove off to Chase's preschool pickup. We made it just in time to scoop him up and head back home for lunch.
Afternoon
I've been re-plating whatever Chase doesn't eat from his school lunch for his afternoon snack/lunch 2.0 and sometimes add an extra fruit or veggie and it's been a great way to eliminate food waste since sometimes Chase is a one-bite kind of guy. Something about putting his lunch on a fresh plate and not giving him any other options usually works like a charm and makes me feel like I'm not making a million meals a day.
Chase ate his lunch while I read a few books and Ryder kicked and did a little tummy time. Once I had Chase settled in his room, I set Ryder up in the Rock 'n' Play in our bathroom while I showered. (Yes, we have two Rock 'n' Plays but we keep the one that doesn't self-rock upstairs and more or less use it as a baby staging station in our bedroom/bathroom. For any expectant moms, definitely register for the automatic rocking Rock 'n' Play. Clearly we registered for the wrong one with Chase and ended up buying the right one when we realized our mistake.)
A hot shower felt amazing and once I was done, I nursed Ryder and put him down for a nap before reheating a bowl of leftover Easy Crockpot Chicken Corn Chili topped with some cilantro for lunch.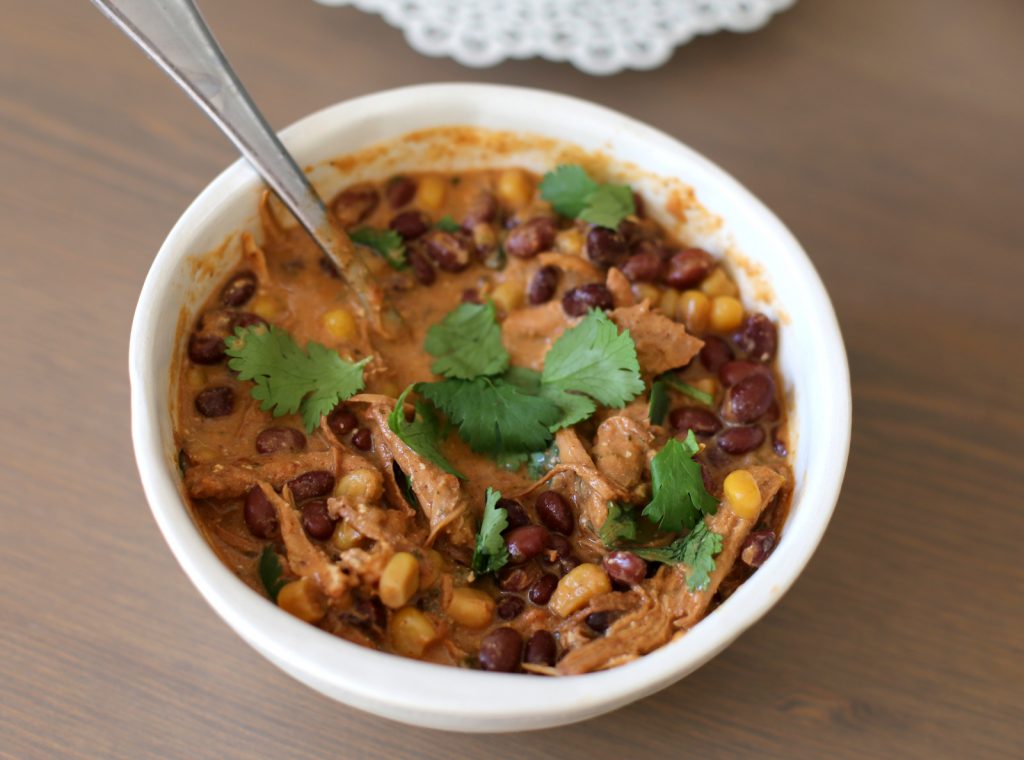 With Ryder and Chase's naps overlapping, I took full advantage of a quiet house and worked on the computer again before breaking to make myself a matcha latte for a little pick-me-up and sipped it along with a cup of yogurt topped with cacao nibs and granola.
Evening
Once the boys were up, we spent the rest of the late afternoon and early evening at home doing the normal kid stuff. Ryan had just enough time to change into comfy clothes after he arrived home from work before he was coerced into building an airport with Chase and his MegaBlocks.
As for last night's dinner, we went all in for Taco Tuesday and I made a batch of carnitas in my Ninja Foodi.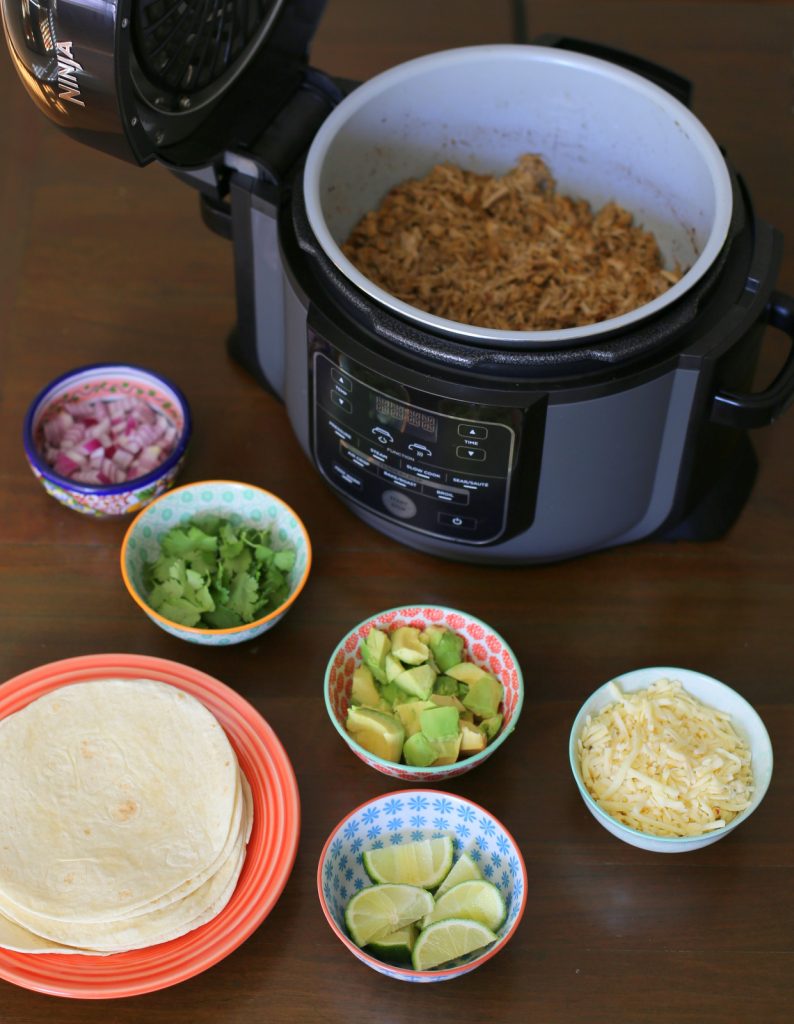 I uploaded a video of the process as part of an Instagram collaboration with Ninja Foodi so check that out if you're at all interested in the Foodi or just want the carnitas recipe! They were amazing!!

After dinner, we got the absolute BEST news from Florida. Callie went home last night! We knew it was a very strong possibility so I was glued to my phone waiting for updates most of the day and seeing the pictures come through of Callie settled into her car seat and then peacefully sleeping in her Rock 'n' Play at home made my heart fill right up. My dad put me on speaker phone as my parents, Leslie and Ross all sat down to dinner together at Leslie and Ross' place and I could just hear the excitement and joy in their voices.

Also, to those of you who have been praying for Callie and thinking of my sister, brother-in-law and their daughter, I want to say a huge thank you. We felt your love and your encouragement. I also really appreciate the respect I've received from you guys when I've been a bit vague regarding Callie and her care. While I tend to be an oversharer in this space regarding my own life, I felt a strong sense of protection over my sister and her baby girl and wanted to respect their privacy. I really appreciate the way so many of you fully understood and respected where I was coming from and opted to send us words of encouragement, prayers and kindness. We are so thrilled and so, so grateful she is home! I cannot wait to snuggle with my beautiful niece SOON!

And now on that great note, I'm off to get this Wednesday rolling and try to convince Chase to let me brush his hair for his performance at school. I hope you all have a wonderful Wednesday!!!

Hi friends!! How are you doing today? I am a little more excited for this random Wednesday than usual because we have Chase's fall feast at his preschool later this morning. He's been practicing for a short performance with his class for several weeks and I cannot wait to see him sing and dance with his friends on stage.