Our second day in New York City started early!
We had plans to take an 8:30 a.m. class at Physique 57 and awoke at the last possible minute that would allow us time to change, quickly eat a bagel and arrive at the class right before it began.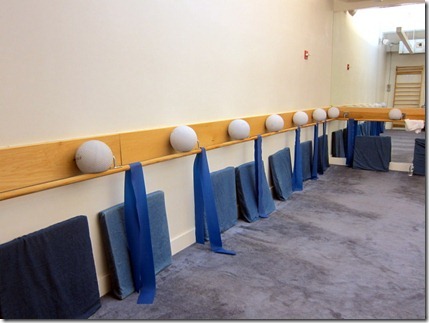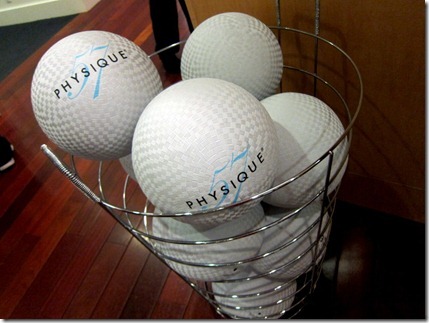 When I was in NYC back in May for the Fitness Magazine Meet 'n' Tweet event, I met Natasha, the awesome woman behind Physique 57's social media and she invited me and my friends to try a beginner class during our visit. Since I've taken the class one time before, I knew to expect to feel intense burning in my muscles and Saturday morning's class did not disappoint.
Our class was led by Chad Levy, a ridiculously flexible and incredibly upbeat dancer.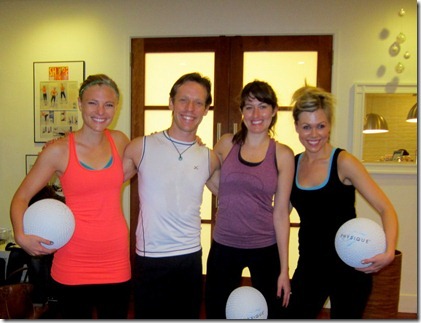 Chad made the class an absolute blast. He was so funny and his enthusiasm was contagious. We did what he called "thigh dancing" to Gagnam Style which had all of us laughing and almost forgetting how much our legs were burning.
Chad described the workout as "interval training for your muscles." We overloaded our muscles so they were burning like crazy with only bodyweight exercises before stretching them out. As someone who loves strength training with weights, I am still blown away by just how much you can seriously work your muscles without any weights at all.
We chatted with Chad after class and when I mentioned how bummed I was that Physique 57 does not offer classes in Florida, he said that they recently launched on-demand online workouts that you can do from home for $5 – $7. I wonder if any of them include Gagnam Style thigh dancing?
After quickly showering at the studio and stopping by Merri's apartment, we headed out to walk the Brooklyn Bridge before lunch.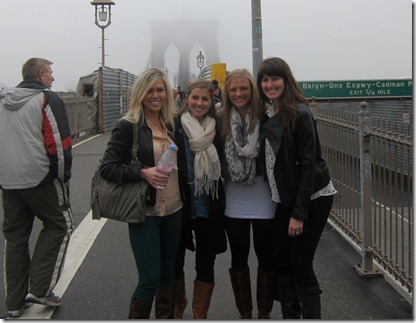 Unfortunately the weather was foggy and drizzly so we couldn't see much from the top of the bridge, but it was still a fun walk and a cool experience.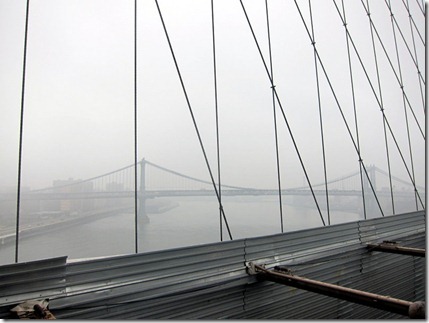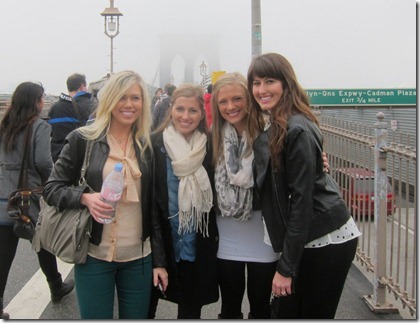 Lunch became a priority after our walk and we eventually found our way to The Grey Dog on Mulberry Street.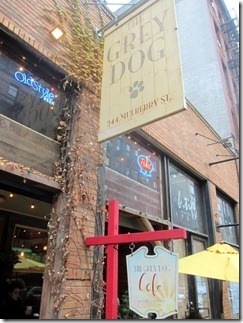 The Grey Dog had an eclectic, rustic feel inside that I adored.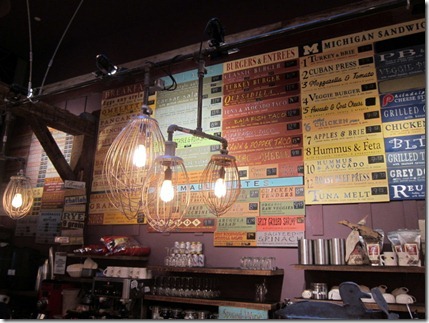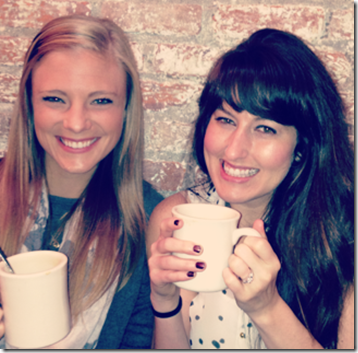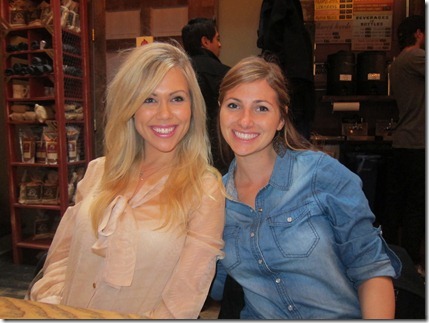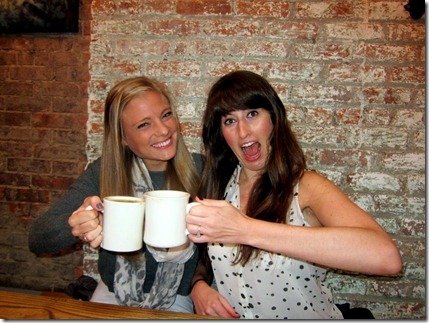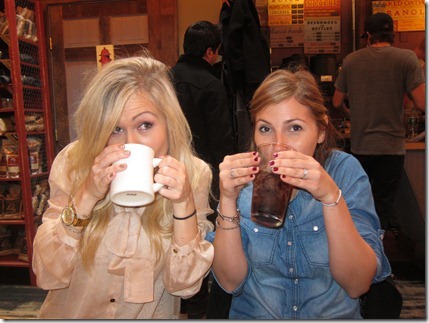 While we were there, Merri gave each of us a hilarious booklet themed after the movie Bridesmaids and asked each of us to be a bridesmaid in her wedding!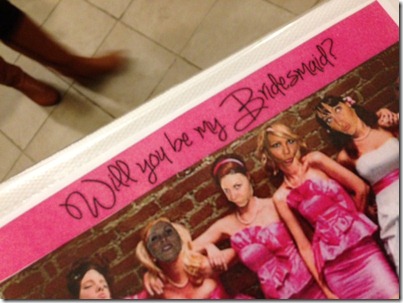 Of course we were all so excited and wedding talk consumed the rest of our lunch.
We sipped hot coffee and ate sandwiches, soup and salad and left feeling rejuvenated and ready to tackle wedding dress shopping for Merri!
Our first stop was a huge success!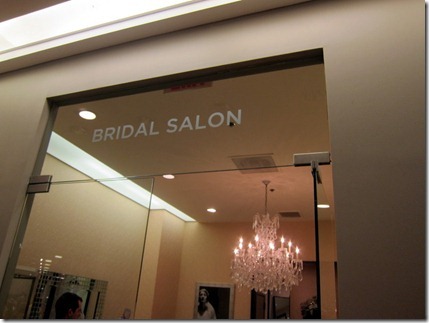 We arrived prepared with champagne and ended up popping it open and toasting to Merri because she found the dress!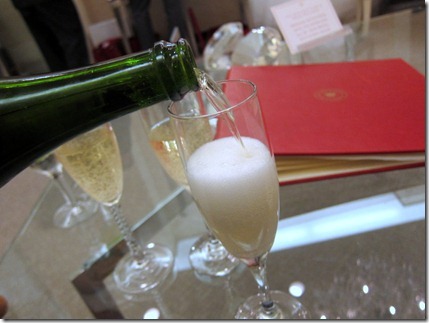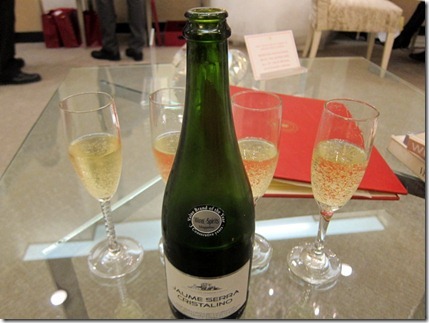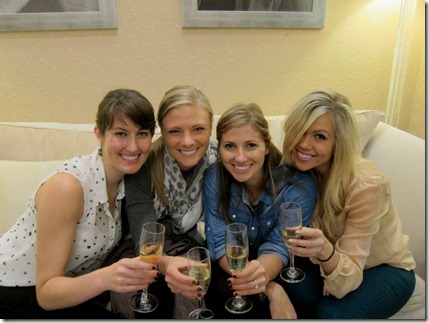 Unfortunately I cannot share any pictures of her dress with you guys, but it is incredible. Merri looked perfect!
Since Merri's dress shopping experience ended up being a lot shorter than any of us anticipated, Merri said she wanted us to try on bridesmaid dresses. 
Merri's idea for bridesmaid dresses is so cool. She wants all of us to pick an original dress in a champagne/cream/beige/light gold color so we'll all be a little different, but still have a unified look together. (The idea reminded me of Molly Sims' bridesmaid dresses but without the black.)  How fun!!!
We tried on dresses to get an idea of a color palate and had a blast.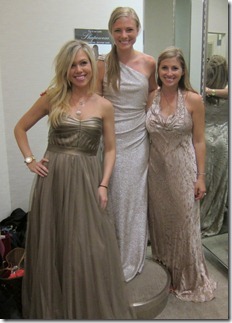 Merri's wedding isn't until October 12, 2013, so we have plenty of time to find perfect dresses but shopping together on Saturday was really fun.
See ya in a bit with more NYC adventures!
Healthy Holidays Giveaway Week Winners
Congratulations to…
Bethenny's Skinnygirl Workout DVD:
Jamie: "I tried one of bethanny's yoga routines off of on demand at my parents house once and loved it! I'd love a copy of the dvd as I myself do not have cable!"
Emily: "I've tried one of her skinny girl yoga segments on comcast's demand. I would love the full DVD!"
Moving Comfort Urban Gym Tights:
Katie Voorhees: "I practically live in my workout gear, especially when it's comfy yoga pants !!! Love the look of the urban gym tights! Must try!!"
New Balance Minimus Training Shoe:
Jenny: "I tweeted! Would love a new pair of shoes "
ZOOMA Race Entry:
Katherine @ The Kats Meow: "I would love to run the Zooma race in Annapolis and I think running the half would be run! Good motivation to start running again."
Best Body Boot Camp Entries:
Raisa: "Hi Julie, I read your blog everyday and I love it! I have been wanting to try Tina's best body bootcamp since I started reading pbf. I recently got engaged and have been looking for great workouts online but haven't been successful at finding anything I like yet. I need something new to keep me in line!"
Jessica:  "I would love to win this bootcamp thing!! I am a brand new reader to your blog. I fell off the exercise wagon in the past month because I started a full-time job and continued with full-time school. Finals are KICKING my BUTT, but I will be able to get back into the swing of things in about a week!! This will be something new and exciting to really jumpstart my workout routines for the new year!"
Nicole: "I am a Marine wife to be. I will be getting married in May and I would love to have a plan to stay in shape for my wedding, really kick butt and impress my fiance who is a United States Marine. I love everything that Tina's Best Body Bootcamp stands for and I feel like it would be a great plan for me! What better way to prepare to be a Marine wife than doing my own session of bootcamp!! "
Everyone please email me at pbfingers@gmail.com with your mailing address and size preferences (if applicable) and we'll get you your goodies right away!