Gotta love leftovers!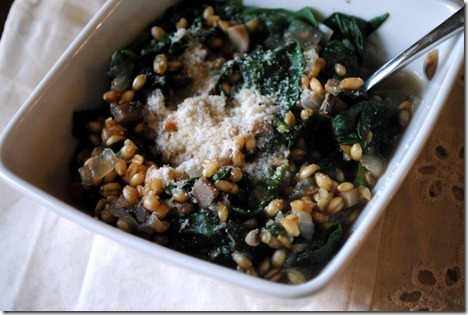 Lunch today came together quickly thanks to reheated leftovers from last night's dinner. All of the sausage pieces were gone thanks to Ryan, but the remaining wheat berry risotto was still fantastic.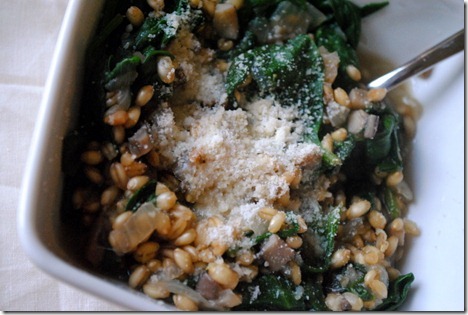 I added a sprinkle of parmesan cheese on top because I'm cheesy.

Since today's portion wasn't that large, I also ate a cup of Fage 2 percent Greek yogurt on the side.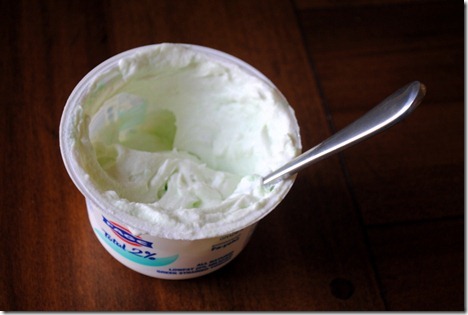 If you see a green tint the the yogurt, your eyes aren't deceiving you. I added a spoonful of pistachio pudding mix to the yogurt for some sweetness and flavor. Yogurt pudding! It's a great little treat!
Now for some wedding fun!
Wedding Statistics
Since the wedding-related posts that pop up on this blog always seem to be relatively popular (dating duration before engagement + average engagement length), I figured a handful of you guys would likely find the following collection of statistics as interesting as I did when I read them at the gym this morning!
In the February 2012 issue of Ocala Magazine, a large portion of the content is dedicated to weddings trends and wedding planning.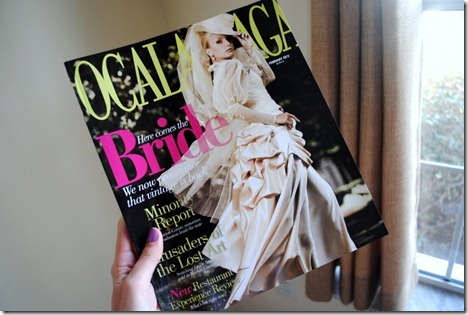 Even though I am already married, I still love reading about weddings. And yes, I even have a "Wedding Ideas… For Other People" board on Pinterest. I'm pretty sure everyone who got married before Pinterest took off wishes that site was around when they were planning their big day!
Well, one page in the latest issue of Ocala Magazine included a plethora of wedding statistics compiled by Caroline Fischer, many of which completely surprised me.
Most Popular:
Most popular month for weddings: June, followed by August and May
Most popular engagement month: December
Most popular wedding location: Istanbul, Turkey, followed by Las Vegas
By the States:
West Texas has the youngest average brides, New York has the oldest. Nebraska and Iowa have the largest weddings, while Hawaii and Nevada have the smallest wedding guest lists.
The most expensive wedding areas in the United States in 2010 were Manhattan ($70,730), Long Island ($51,811) and North/Central New Jersey ($49,374). (Floridians: South Florida was number 10 on the list.)
Averages:
Average number of weddings per year: 2.3 million (6,200 weddings per day or 44,230 weddings per weekend)
Average budget: $26,951
Average number of guests: 178
Average cost of wedding dress: $1,124
Average cost of bride's ring: $6,113
Average cost of groom's ring: $468
Average cost of a wedding cake: $591
Average age of bride: 25.3
Average age of groom: 26.9
Average number of bridesmaids/groomsmen: 5
(Sources: www.weddingstats.org, www.soundvision.com, www.partytime-rentals.com, www.weddingbusinesstoday.com)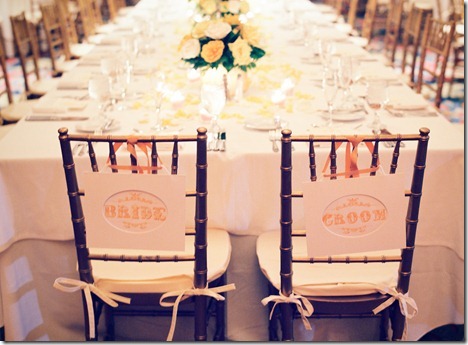 Question of the Afternoon
Did any of these wedding statistics surprise you?
I remember reading a handful of wedding statistics when Ryan and I started planning our big day and felt completely shocked by the average cost of everything. Wowza!