Those eggs I had for breakfast? They sparked a craving in me bright and early and I knew I'd be making breakfast for dinner tonight.
Bring on the quiche!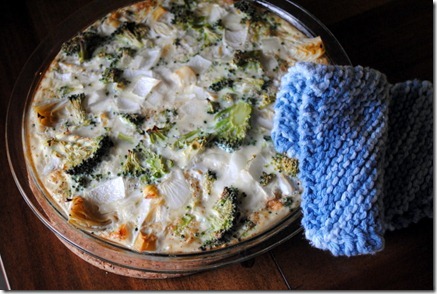 I wanted to make a yummy quiche, but didn't have any pie crust on hand, nor did I feel like making one from scratch, so I set out to find a recipe for quiche with a non-traditional crust.
I found a recipe for artichoke quiche through MyRecipes.com that I figured I could tweak. I upped the veggie content in the dish and changed a handful of other things in order to use ingredients I had on hand.
A combination of cooked pearled barley, egg whites, garlic and cheese ended up serving as my crust and I loved the dense, chewy texture.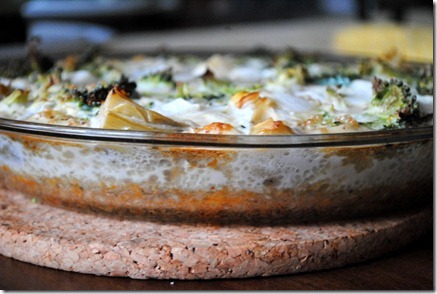 Artichoke and Broccoli Quiche with a Barley Crust
Ingredients:
1 cup cooked pearled barley
3/4 cup reduced-fat shredded cheese
6 egg whites
1 teaspoon garlic salt
1 small garlic clove, diced
1 (14-ounce) can quartered artichoke hearts, drained
3/4 cup almond milk (regular milk will also work)
1/4 cup chopped onion
1 tablespoon Dijon mustard
1 cup chopped broccoli florets
Salt and pepper, to taste
Directions:
Preheat oven to 350°.
Combine barley, 1/4 cup cheese, 2 egg whites, garlic salt and garlic. Stir together and pour into a 9-inch pie plate coated with cooking spray. Bake for 5 minutes.
Arrange artichoke quarters on bottom of barley crust and sprinkle evenly with remaining 1/2 cup cheese.
Combine remaining four egg whites, milk, onion, mustard broccoli, salt and pepper and pour over cheese.
Bake for 55 minutes or until set. Let cool for 5 minutes and cut into six wedges.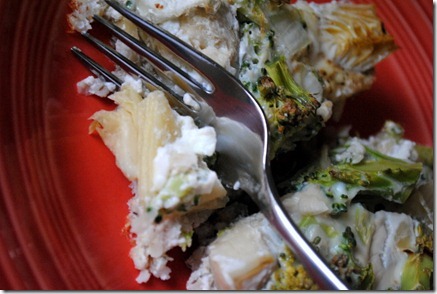 I had two extra-large slices and really enjoyed the quiche. There is only one small slice remaining, so it's safe to say that this quiche was a hit in our house.
After dinner, Ryan and I took Sadie on her evening walk and now I'm feeling extra cozy in my pajamas and am off to read The Paris Wife! I'm about halfway through this month's book club selection and am enjoying it so far.