weeknight eats
!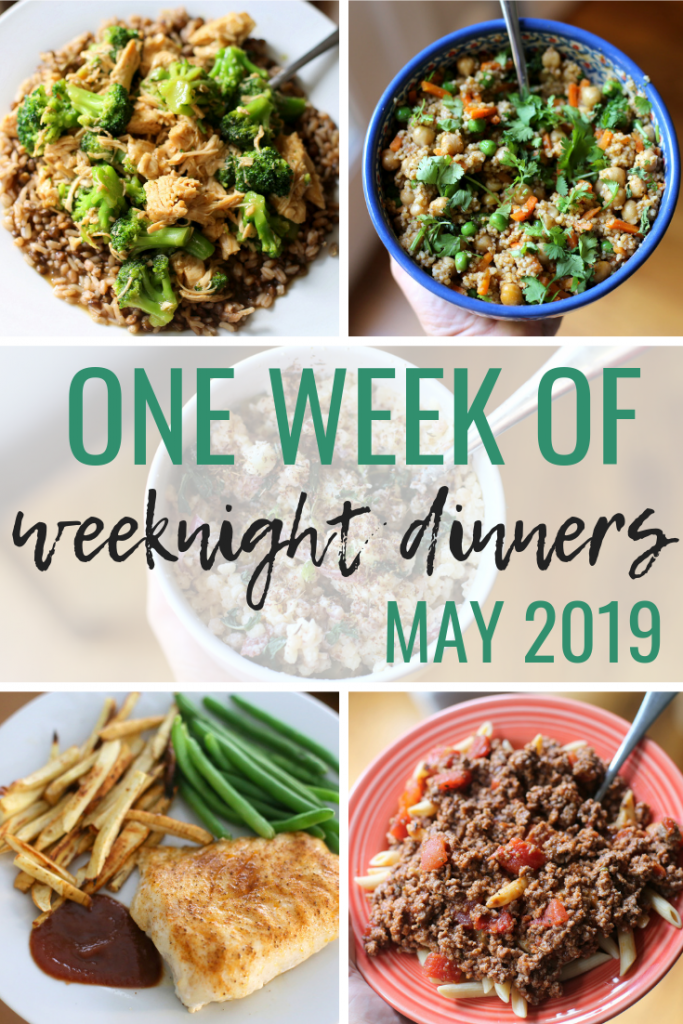 I often find myself falling into a rhythm of some sort or gravitating toward certain kinds of meals for weeks at a time (like soups and stews in January) but this past month the theme of our dinners seemed to be absolutely no theme. It was a fly-by-the-seat-of-our-pants kind of month when it came to dinnertime and last week reflected this trend. I didn't meal plan but shopped for produce and some random pantry fillers and mostly relied on pantry and freezer food to round out our meals.
Last week's dinners were all over the place and included two vegetarian meals, an Instant Pot dinner, fish and pasta dishes. I always love to hear more about what you guys are eating and loving at dinnertime lately, so definitely drop a link to any must-try recipes! I am hoping to be better about meal planning in June and really enjoy trying the recipes you guys recommend.
Week of Weeknight Dinners: May 2019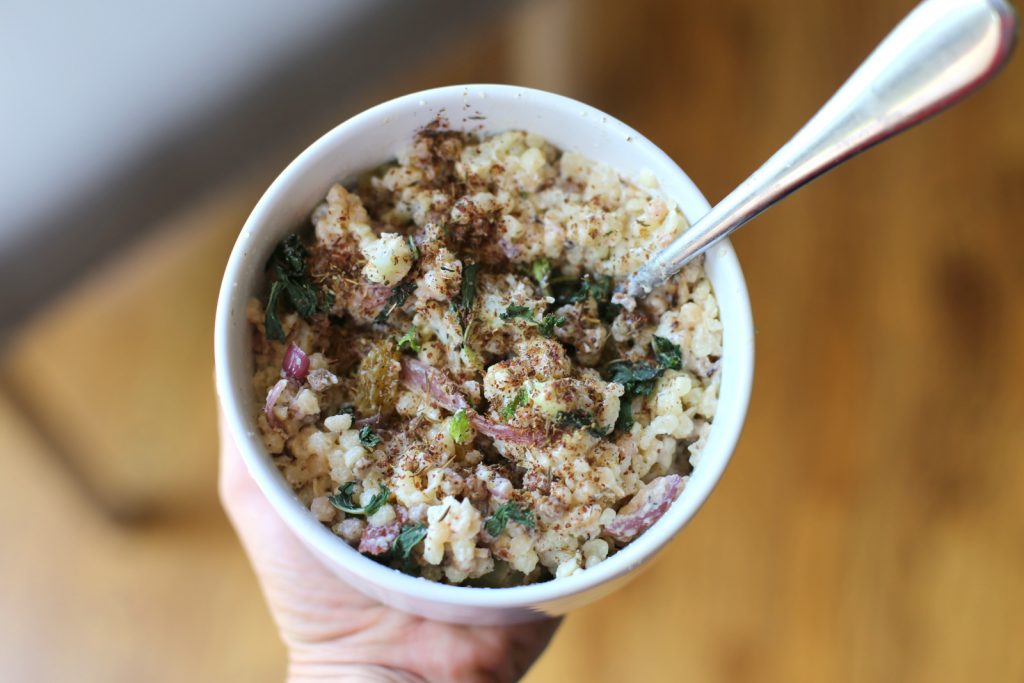 I ordered a Blue Apron delivery a week and a half ago and we still had one meal remaining on Monday. This BA recipe was a deliciously comforting vegetarian dish made with fregola sarda, a small, round pasta, and paired with a combination of roasted cauliflower and red onion, fromage blanc, shredded cheese, almonds and fresh mint. I need to remember to incorporate mint into more of the savory dishes we make in our house because it adds the most refreshing punch of flavor! (Note: I've worked with Blue Apron multiple times over the years, but we continue to sporadically purchase deliveries on our own and this shout out is not sponsored.)
Tuesday: Grouper with Roasted Parsnip Fries and Green Beans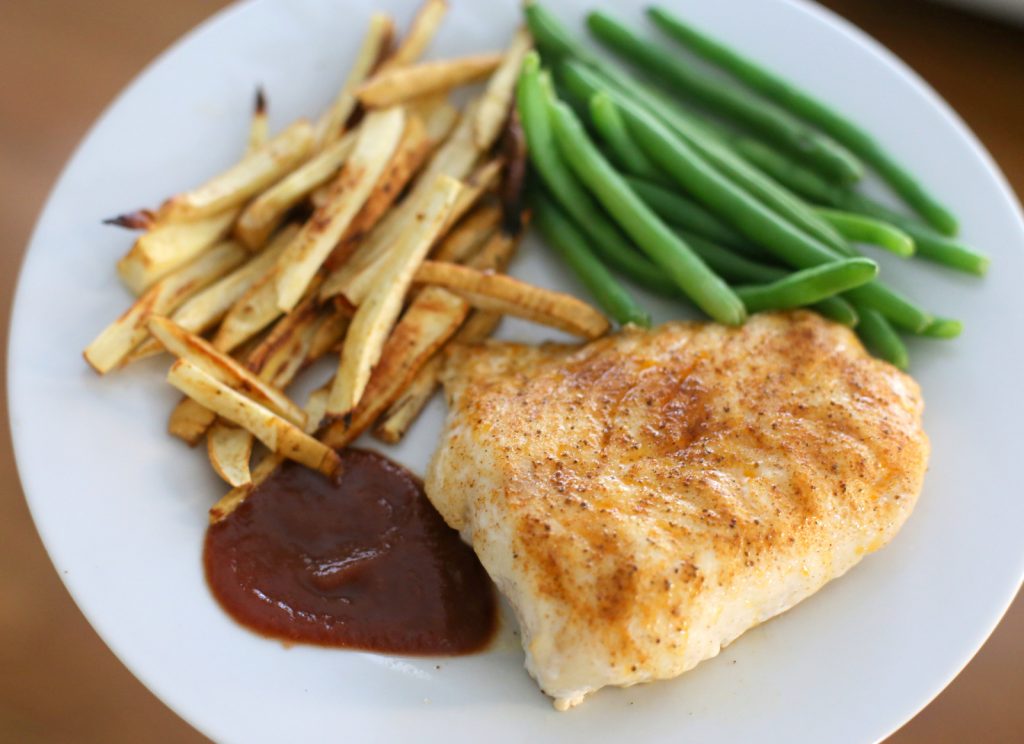 You guys already saw this dinner if you checked out the blog last week but it was a good one! Since I didn't meal plan at all last week, I grabbed a bunch of veggies at the grocery store and relied mostly on pantry staples and our freezer stash for the "meat" of our meals. I defrosted a couple of grouper filets, rubbed them with olive oil and baked them in the oven with a bit of Old Bay seasoning. For our sides, I made parsnip fries (slice parsnips, toss in olive oil, season with seasoned salt and roast) and steamed green beans. It was a simple meal but delicious!
Wednesday: Chickpea Tikka Masala with Couscous and Cilantro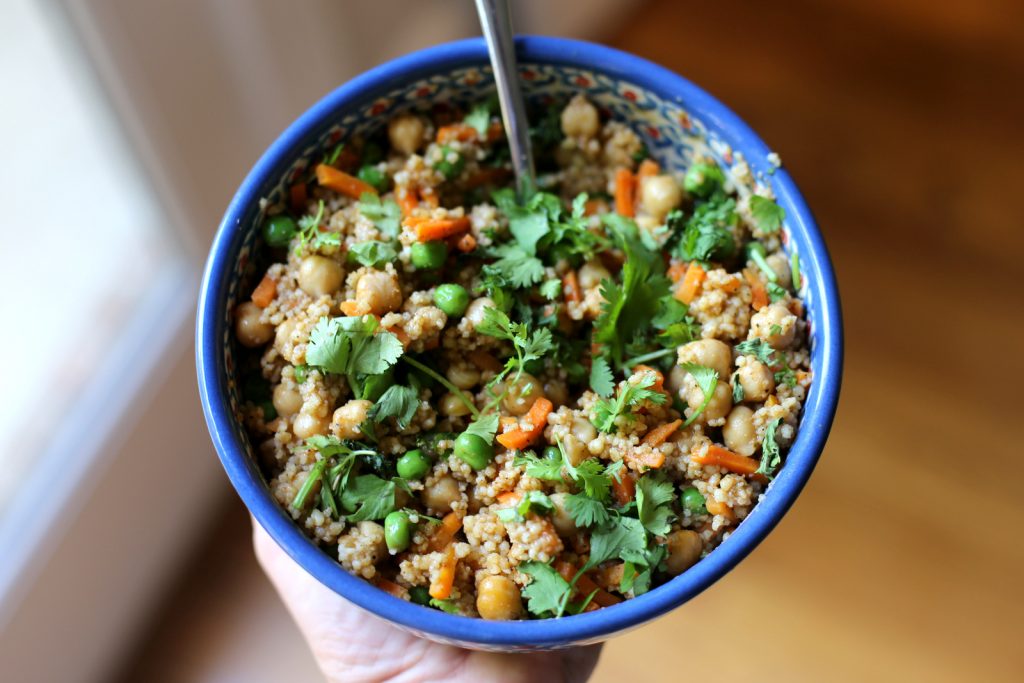 This dinner was all kinds of strange but somehow it worked! I started by cooking up some couscous on the stovetop to use as a base in this dish. I then added a can of chickpeas and frozen peas and carrots to the tiny fluffy pasta and stirred in a packet of Mike's Organic Curry Love Tikka Masala sauce I previously ordered from Thrive Market. I honestly thought this dinner was going to be a bit of a hot mess but we loved it! The fresh cilantro added the perfect punch of bright flavor to the otherwise savory dish and it was quite filling. I made enough for leftovers for lunch on Thursday and liked it just as much the next day.
Thursday: Instant Pot Teriyaki Chicken (via Well Plated) with Broccoli, Mixed Grains and Lentils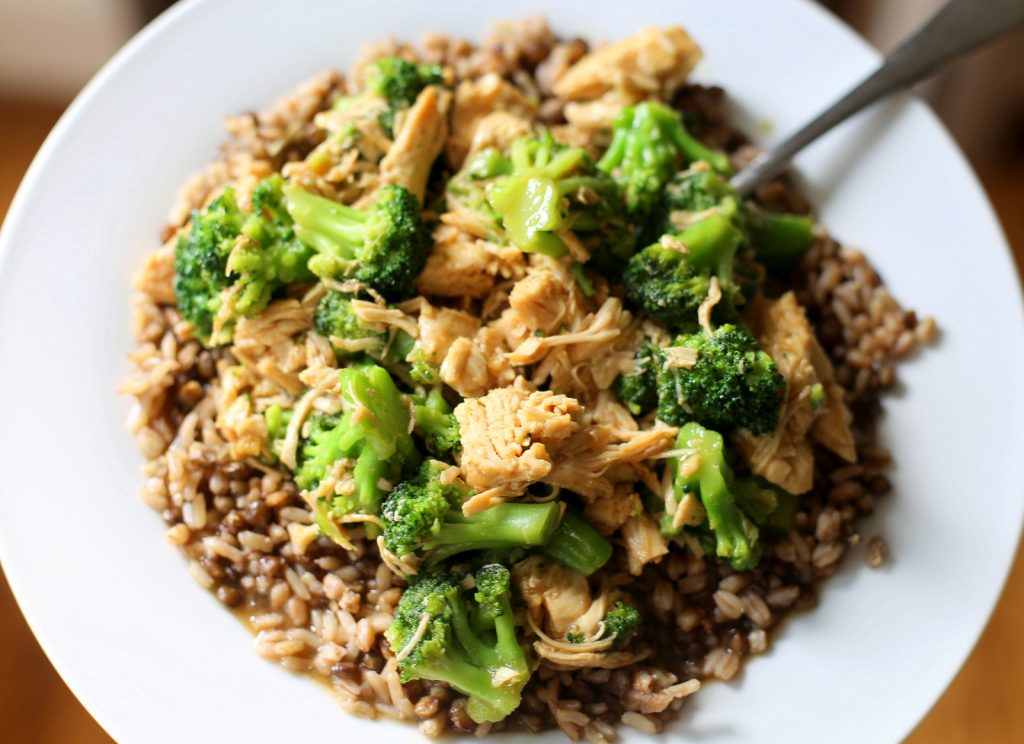 I've been meaning to make this Instant Pot Teriyaki Chicken recipe for ages ever since Erin first shared it on her blog and it did not disappoint! It came together quickly in the Instant Pot and tasted fantastic BUT I did make a couple of alterations worth noting. Rather than using the 3 tablespoons of honey and 3 tablespoons of brown sugar the recipe calls for, I opted to use 3 tablespoons of maple syrup (I'm still avoiding honey in recipes for Ryder's sake) and we thought the recipe was plenty sweet. In fact, I think it would've been too sweet for our taste had I followed the recipe exactly and that's coming from someone with a giant sweet tooth. I also added frozen broccoli to the Instant Pot when I added the shredded chicken back in and let it cook until it was nice and warm. Since the recipe produces a fair amount of sauce, it was a great way to take advantage of a flavorful sauce and use it to coat the broccoli before I served it over a mix of grains and lentils.
Friday: Shortcut Bolognese with Chickpea Pasta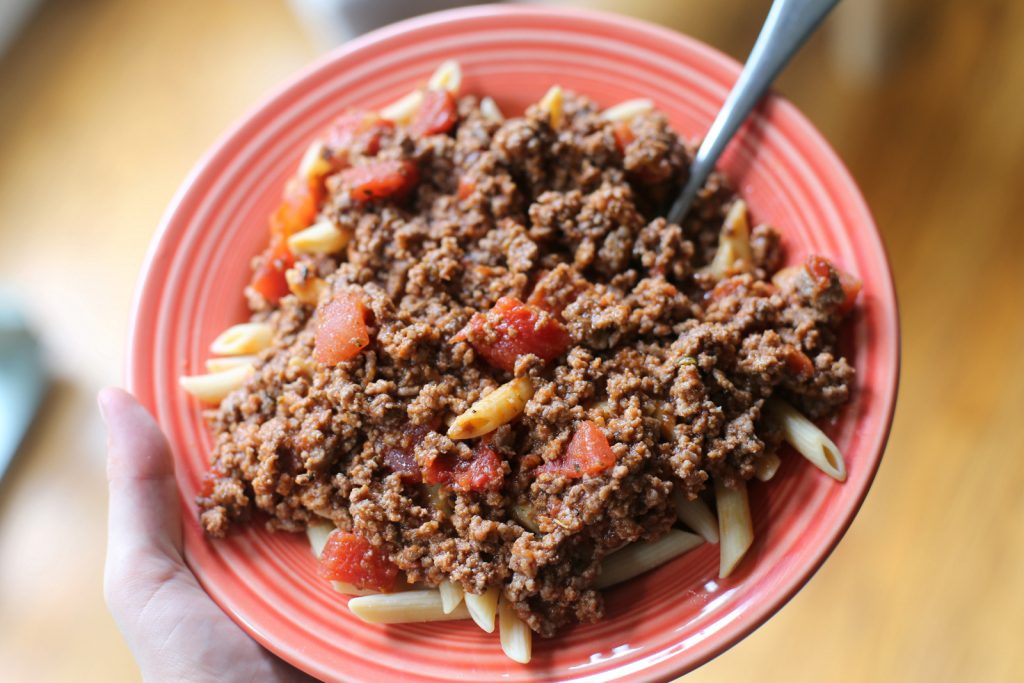 Freezer meat to the rescue again! I am loving the bulk grassfed organic ground beef from BJ's and usually use one pack of ground beef from the three-pack before freezing the other two. I had one remaining one-pound pack of ground beef on hand in the freezer and thawed it to use in what I'll call a super shortcut Bolognese sauce. I browned the meat before pouring a jar of store-bought marinara sauce on top and added some Italian seasoning to the mix. I then served the meat sauce over Banza chickpea pasta. This is, without a doubt, one of my go-to meals I almost always have in the back of my mind when I don't know what to make for dinner since we almost always have some variation of the ingredients on hand in our pantry or freezer.

Hi friends! May is nearly over and that means it's time for another round of