Weekly Workouts
category on my blog anytime!) I brought the series back to life on the blog last month after a bit of a hiatus. This week of workouts is a pretty decent representation of how my workouts are looking around here lately, as they include a solid combination of rest days, strength training, walking and some circuit-style cardio thrown in the mix for good measure.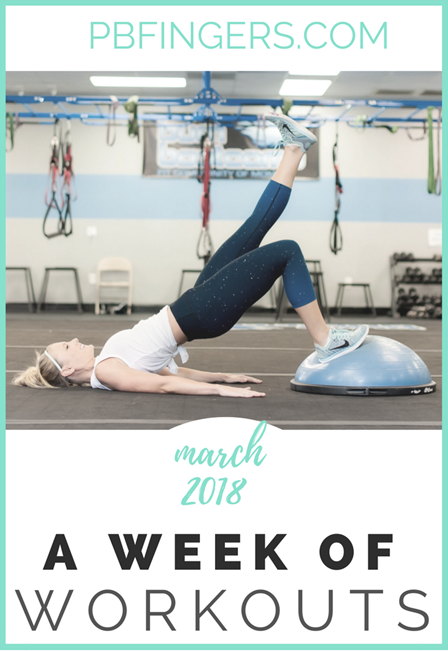 Listening to my body is the name of the game for me always but especially now that my belly is getting bigger and I want to maintain an active pregnancy in a way that feels good and safe to me and my body. Last week was the 27th week of my pregnancy and you'll notice some additional rest days and walking that might have been trumped by another day at the gym or a boot camp workout a month ago.
Week of Workouts: March 2018
Saturday: 2 Mile Walk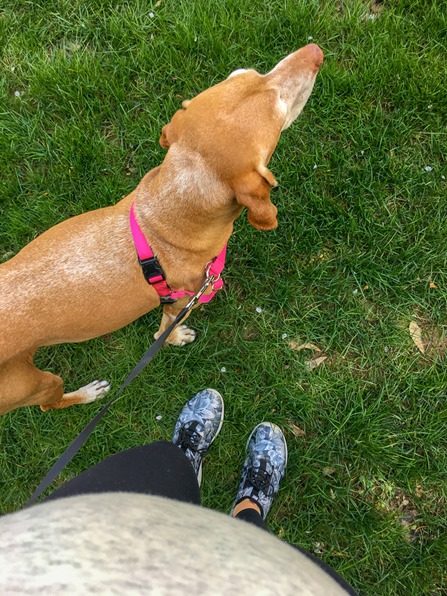 Some weekends I adore Saturday morning workouts while other times I want to enjoy a slow-paced morning and not think about fitting the gym into my day at all. Last Saturday looked like the latter and I skipped a gym workout in the morning in favor of an afternoon walk outside with Sadie in the gorgeous 65-degree sunshine. We walked at a comfortable pace and I listened to my favorite NPR podcast, Wait, Wait… Don't Tell Me. It was exactly what my body wanted and needed. A great way to move without feeling like too much on a Saturday!
Sunday: Rest
Sunday was a complete rest day and while we did walk around the neighborhood a bit, everything was at a toddler pace and quite laid back. Sunday rest days are the usual around here and I love the way they seem to reset both my body and my mind going into the week ahead.
Monday: Leg Day Circuit Workout
On Monday morning, I headed off to Burn Boot Camp to work my legs in a circuit workout I completed with three of my girlfriends. The workout began with a warm up that included two rounds of 50 air squats, 50 alternating lunges (25 each leg) and 20 half-burpees. (Just to clarify, a half-burpee is a burpee without the pushup. Also, since the warm-up was timed, I didn't make it through two full rounds and completed maybe five to eight of the second round of 20 half-burpees.)
Once the workout was over, we moved onto the main event which I detailed in the graphic above. In between each round, our group completed 40 jump squats!
I should also note that the above workout is my slightly modified version. My modifications: I substituted mini band leg lifts for slider lunges (they just felt uncomfortable in my lower pelvic area) and mini band BOSU bridges for BOSU dumbbell donkey kicks. Mini band booty exercises are some of my favorite pregnancy-friendly exercises to keep in my back pocket during lower body workouts!
Tuesday: Rest
I woke up on Tuesday feeling a little off. I felt slightly nauseated, foggy and tired and took it as a sign my body could use an unexpected day of rest.
Wednesday: Upper Body Workout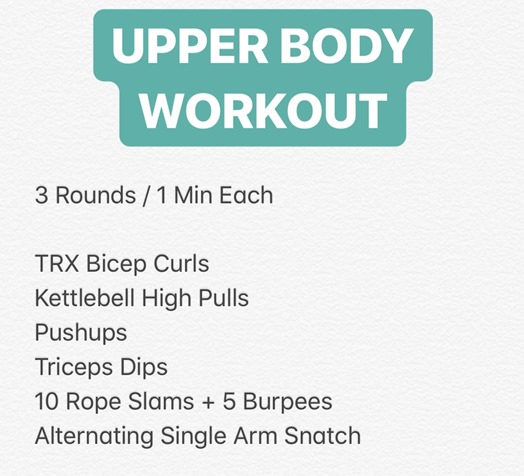 Wednesday's Burn Boot Camp workout was an upper body core workout so I swapped out most of the core exercises (v-ups, crunches) for additional upper body strength exercises. My modified version of the workout is pictured above! After completing three rounds of the six exercises in the circuit, I rounded everything out with two rounds of 45 seconds of mountain climbers and triceps push ups.
Thursday: Total Body Circuit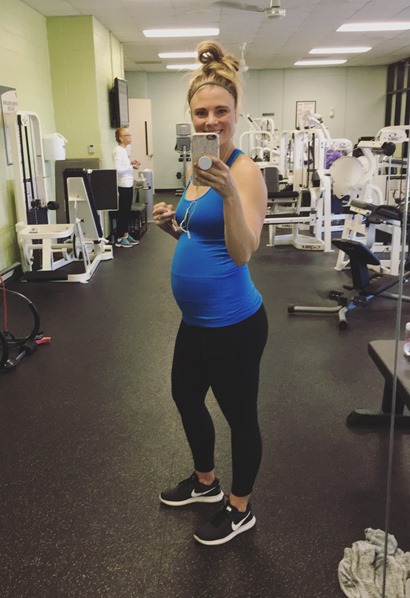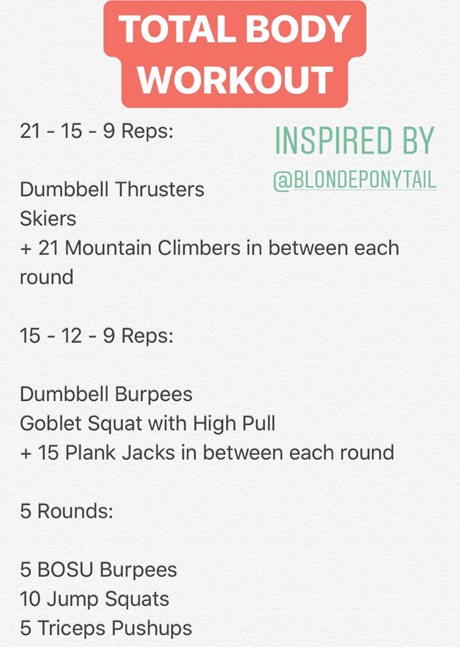 Thursday's workout was my favorite workout of the week! It was a total body sweat fest but passed by in a flash. I modeled it after this workout I found on Jess' Instagram page (@blondeponytail) but changed up a number of the exercises and the formatting a bit. The workout passed by quickly and I never got bored thanks to the decreasing reps format and what felt like three mini-workouts in one. I saved this one to my phone to reference again in the near future!
Friday: Push/Pull Pyramid Workout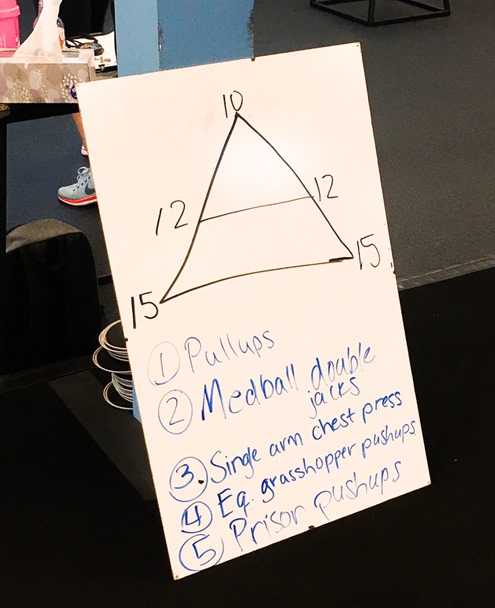 Friday's workout took me back to Burn Boot Camp for a push/pull pyramid workout! To complete this workout, we worked up the pyramid, completing 15 reps of the five exercises listed on the whiteboard before moving onto 12 reps and then 10 reps. One we reached the top of the pyramid, we began working our way back down, first repeating 10 reps of each exercise before moving onto 12 and finally 15. I didn't make it back to the bottom in the 25 minutes we were given to complete this workout but it was still a challenging one! The only thing I modified were the prison pushups (two plank rows followed by a push up) and I chose to do standing low rows followed by pushups in their place.
Question of the Day
What was your favorite workout of the week last week?

Hi friends! I'm back this morning with another Week of Workouts post to share with you guys! (You may see my past weekly workouts posts by visiting the