Is it Monday already?
The weekend passed by a little too quickly for my liking, but since time flies when you're having fun, I guess that means it was a good one!
Saturday
Our Saturday morning began with a workout. After a series of strength training exercises that focused on my legs in the weight room, I completed a new-to-me Nike Training Club workout: Lakey Peterson's Beach Legs Workout. Loved it!
Ryan and I spent the rest of the day out and about in Ocala.
Ocala Strawberry Festival
Immediately after the gym, we grabbed coffee at Cup O' the Irish and drove downtown to the square to check out the local strawberry festival. It wasn't even a quarter of the size of the Florida Strawberry Festival Ryan and I attended in Plant City a few years ago, but we still enjoyed wandering around outside despite the overcast weather.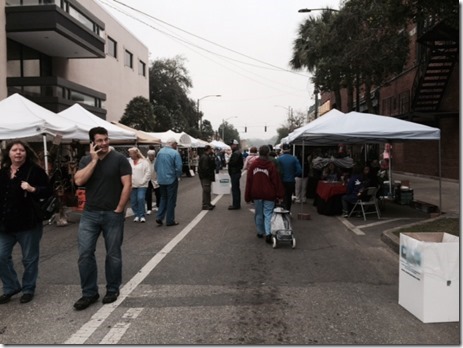 Before driving home, I requested a pit stop at Stella's Modern Pantry because I always have fun browsing around the little café.
The last time I blogged about my lunch at Stella's, I mentioned the my love for Rewined candles made from repurposed wine bottles.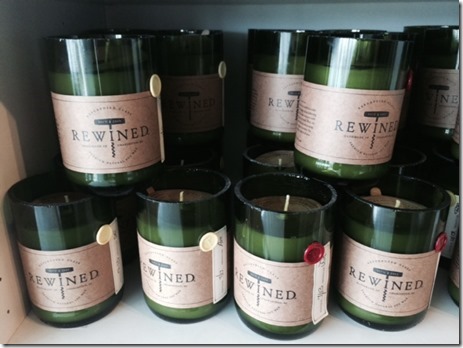 I was hoping the candles would be on sale, but no such luck! (FYI – When I said I didn't buy any of the fabulous-smelling candles because of their hefty price tag before, a blog reader commented to let me know that they are often featured on sale on RueLaLa. Keep an eye out if you are interested!)
I smelled a bunch of the candles on Saturday and my favorite was definitely the chardonnay candle. It smelled like vanilla, cedar and hazelnut.
Ocala Hike
Once we made it home empty handed, Sadie clearly needed some attention, so we headed out to our favorite local hiking trails and covered a five mile loop.
The early morning clouds burned off by the time we were done with our hike and it was a gorgeous day! This is the time of year I appreciate living in Florida most. Around the holidays I am envious of the snow and winter weather that we don't get (I think the Chicago girl in me misses it!) and in the summer it can be so ridiculously hot, so the weather from the end of January through the beginning of April is Florida's "sweet spot" in my book!
After our hike, we drove home to eat and get a little crafty. Well, Ryan didn't do any craft projects, but I had a few surprises to work on for my sister's wedding next weekend.
Eventually our stomachs told us it was time for dinner and when I suggested going out for Mexican food, Ryan was more than game!
El Torreo
We drove to a local hot spot, El Torreo, and the food was just as delicious as we remembered.
I wore a new white tunic from White Plum (stay tuned for a giveaway later this week!) and was happy for the extra fabric because Ryan and I both left dinner feeling ridiculously stuffed.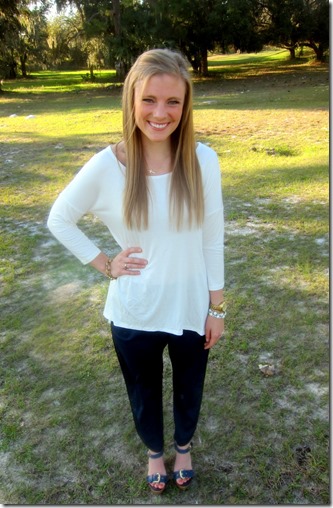 Our meal began with chips and salsa.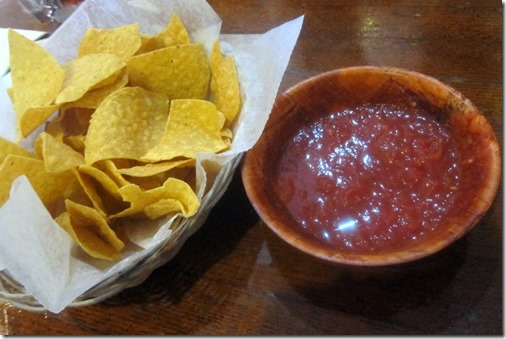 If you have mastered the art of eating only a few chips when you visit a Mexican restaurant, please share your tips with me. I am pretty sure I could eat five billion. YUM.
For my main meal, I ordered the shrimp fajitas with refried beans, guacamole and soft flour tortillas.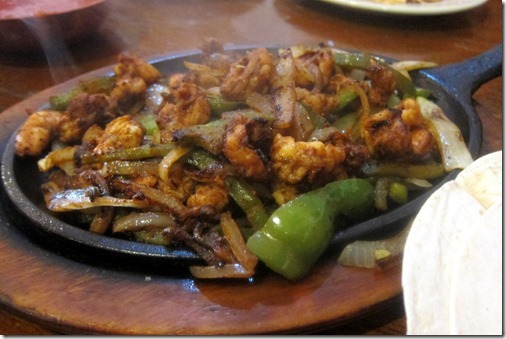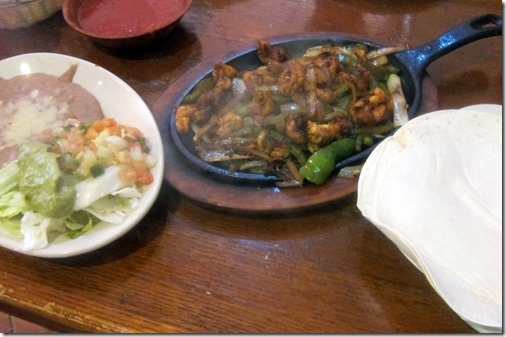 We left feeling absolutely stuffed, but when Ryan suggested frozen yogurt, I couldn't say no, so we split a cup of cake batter frozen yogurt before crashing on the couch with Sadie for the rest of the night.
It was a great Saturday!
Question of the Morning
What is your favorite thing to order at a Mexican restaurant?
I am always a huge fan of taco salads and fajitas or anything with tons and tons of pico de gallo!