Friday is officially on the horizon and today is flying by! Ryan and I have both had some late nights at work this week, but today we should be home at a decent hour and I'm hopeful that a long evening walk with Sadie is in store.
Today was a shorter day at work and after I taught TRX and worked through the rest of the morning, I grabbed lunch in the break room, worked a little more and headed home in the early afternoon.
Lunch
Lunch today (which was photographed yesterday) was another rendition of my chickpea salad served with pulled chicken and feta cheese.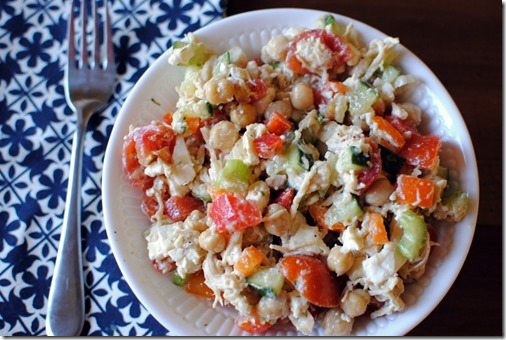 The feta added a lot of flavor to the salad. I'm a fan!
Writing My Matron of Honor Speech
After lunch, I sat down at the computer to go over my matron of honor speech. I keep waking up in the middle of the night with new ideas or important things I want to incorporate into my speech at Leslie and Ross' wedding next Saturday.
Since I've known Ross for more than 10 years (he was Ryan's best friend in college) and think my sister is basically the best person in the entire world, I want to make sure my speech is heartfelt, loving and conveys just how much they both mean to me and how much I love them together.
Though I've been a bridesmaid in a number of weddings and spoke at Merri and Pete's rehearsal dinner last October, I've never been a maid/matron of honor before and feel really nervous! I know Leslie and Ross are really laidback, so I don't feel pressure from them or anything, but I want my speech to be good for them!
If you've ever given a speech at a wedding or seen some seriously rockstar maid of honor or best man speeches, I'd love any advice you may have when it comes to writing a good one!