We've assembled furniture together before and say that the task tests a couples' relationship like no other (kind of like moving), but fortunately yesterday there were no quarrels or pieces of furniture thrown out the window in frustration.
Success!
Ryan and I each tackled two pieces of furniture on our own and would just ask the other person for help when necessary. Having total control of our own "project" made the process fairly painless.
I say that, but I didn't have the furniture with drawers. Thank you to Ryan for assembling the hard stuff.
My stuff wasn't a walk in the park though, I swear.
Just check out my brand spankin' new bookcase that I assembled all by myself!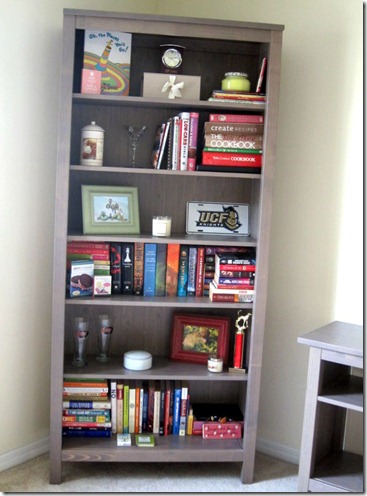 It's big and cumbersome but putting it together only took two hours. (And no, it's not crooked. Not sure why it looks that way in the picture.)
Guest Bathroom
I believe I promised you guys some pictures of our fully decorated guest bathroom yesterday!
Our bathroom was decorated around these towels I bought using a gift card to Anthropologie yesterday.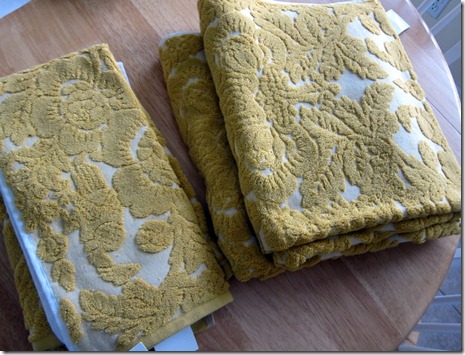 I've had my eye on these towels for more than a year. (I wanted to register for them for our wedding, but Anthropologie doesn't have a registry. Bust!)
After finally purchasing the towels yesterday, our bathroom came together fairly easily since I have an affinity for yellow décor and already had a lot of stuff that seemed to work well in the bathroom.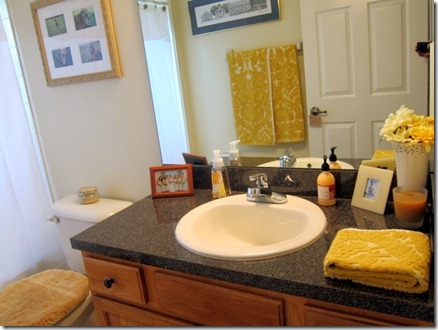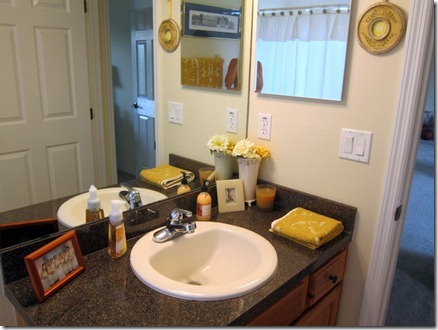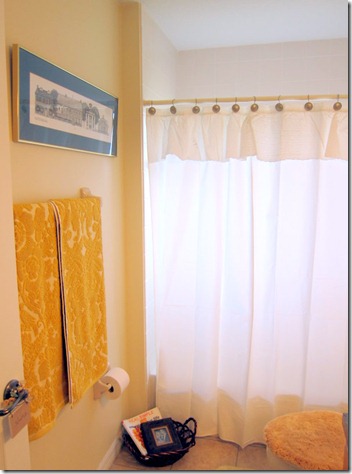 I bought the "shabby chic" shower curtain at Target earlier this week and love the vintage feel!
If I could I would make every single room in our house have a yellow theme. I love the bright sunshiny look of the color.
Breakfast
I'm not sure why I was up at 7 a.m. when Ryan and I didn't get to sleep until after 2 a.m., but I'm going to blame my body's desire for a yummy breakfast for the reason I awoke so dang early.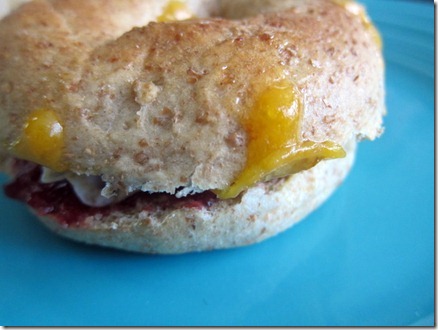 Breakfast included a toasted sweet wheat bagel, topped with melted sharp cheddar cheese, a fried egg and raspberry jelly.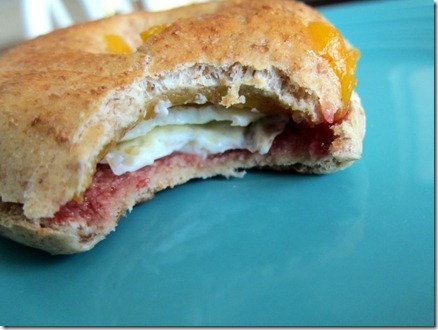 Great pre-walk fuel for a nice 30-minute morning walk with Ryan and Sadie.

Today is going to be spent working on decorating our house. I need some frames, storage items and pretty candles to complete the look of my home office. Hopefully I'll have it decorated and ready to show you guys soon!

Oh and my sister is stopping by today because she was nearby in Gainesville with some friends for the UF game last night. Can't wait to see her!

It was a long night my friends. Ryan and I were up until 2 a.m. assembling the furniture we bought at IKEA yesterday.