Man oh man.
I am so glad I tried hot yoga again. SO glad.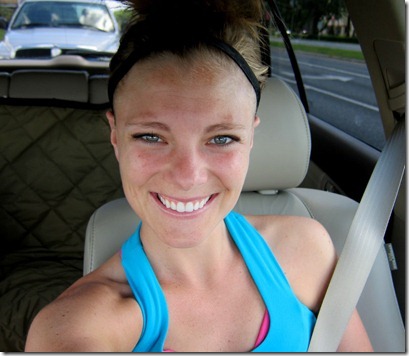 Do you see that?
That's a post hot yoga, red-faced, I-just-had-sweat-practically-burning-my-eyes smile.
A smile!
I've taken a decent amount of yoga classes throughout the years, but most (okay, all but one) have been at a local gym. From what I've been told, the yoga classes offered at many gyms are quite a bit different than the yoga classes you might experience in a yoga studio.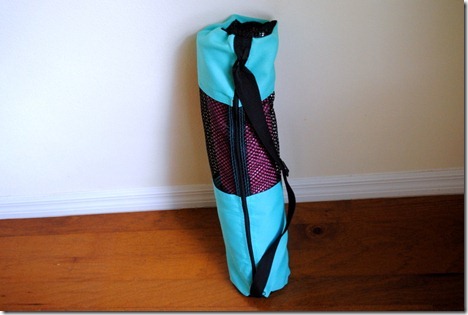 Of course this isn't always the case, as many people who teach yoga at a studio also teach at local gyms, but this notion always scared me away from taking yoga in a studio environment.
I didn't think my abilities were on par with those who really practice yoga, despite being told that yoga is all about going at your own pace and making each practice your own. That's all fine and wonderful, but if everyone else is in a handstand and I'm in the fetal position on my mat, I'm gonna feel a little demoralized.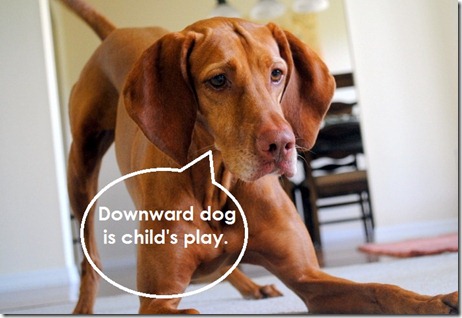 Well, the one time I got up the guts to go to a real studio, I had a pretty horrific experience that left me feeling embarrassed and totally out of my element.
Those who love yoga urged me to try another studio.
Try again.
I am so, so glad I did because today's experience was 10 million times better.
The instructor was aware of which poses might test the class participants a bit and offered alternatives to make things easier which I appreciated since flexibility isn't exactly my strong suit. She was kind, introspective, athletic and encouraging.
I will definitely go again!
Lunch
After yoga, my appetite was practically non-existent. Friends who usually practice hot yoga, is this normal? I though I'd be ravenous after class, but I really wasn't.
My mid-morning snack was larger than usual since I knew I had a sweaty workout ahead of me, but I was still surprised!
Since I wasn't about to eat my arm when I arrived home, I took some time to prepare a batch of overnight oats for lunch… only they were not-so-overnight overnight oats. More like 30-minute overnight oats.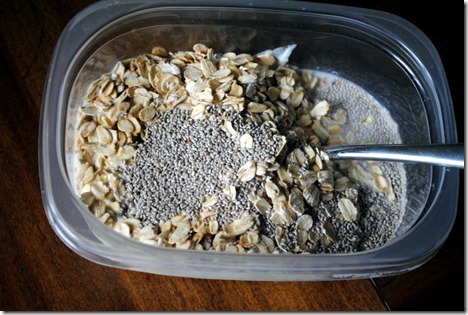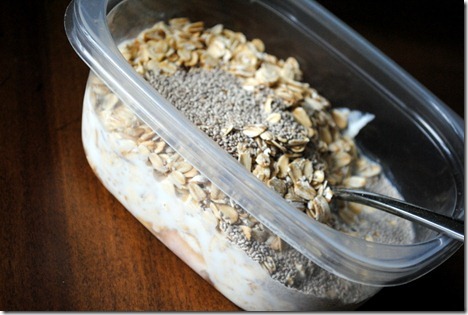 I let my mixture of one cup of strawberry banana Greek yogurt, oats, chia seeds and milk soak for about 30 minutes before digging in.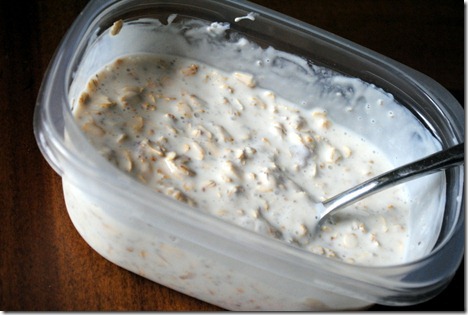 They weren't as thick and soft as overnight oats, but they were still tasty!
I also ended up stirring in a chopped banana at the last minute when I remembered that we still had a few bananas in the pantry that weren't quite brown and spotted enough to be make it into we-must-freeze-them-now territory.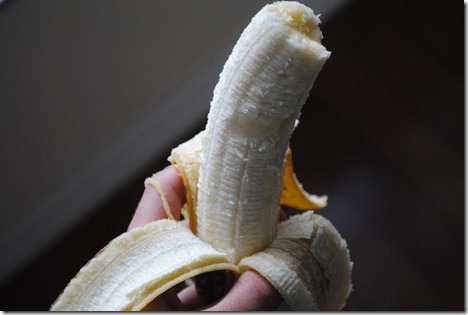 After snapping this picture, I wondered to myself whether or not most people actually eat a banana like that? Straight out of the peel?
I always peel the banana, break off the little nubbins on both ends (they're weird!) and take away all of those weird stringy bits before eating it. I'm pretty sure I've never eaten one straight out of the peel!
Back to work for a few more hours. And I should probably shower at some point. Probably.