Hello and Happy Monday!
My workweek kicked off with an early morning workout at the hotel gym.
Ryan and I began our workouts with 20 minutes of cardio on the elliptical before hopping off to use the hotel's free weights. Ryan did a chest workout while I did a shorter total-body strength workout that looked like this:
Superset 1: Deadlifts, Tricep extensions
3 min. Bicep curls
Superset 2: Bridges, Reverse crunches
3 min. Shoulder exercises (front and side raises, overhead press)
Superset 3: Lunges, Crunches on exercise ball
The three minutes I spent doing bicep curls and shoulder exercises reminded me of a BodyPump-style workout and made me miss the class so much. I love BodyPump!
Remember how I said working out at the hotel gym is kind of nice because it's always deserted? Well, that just wasn't the case this morning.
The little gym was quite crowded and the small space made today's workout a frustrating experience at times. I seriously wanted to scream "Do something!" at a guy that was just standing around in everyone's way watching the television. Maybe he didn't know that the TVs in his room work?
Plus, he was a trifecta of annoying:
Always in the way
Grunter
Starer (not in an "oooh baby" way, but in an spacy way, thus contributing to the "always in the way" issue)
After the gym, Ryan and I took our sweaty selves to the breakfast buffet for some food and my mood changed from annoyed to happy.
Food seems  to have that affect on me.
Breakfast
My meal included a jelly and cheese breakfast quesadilla that I made using a whole wheat tortilla I brought from our room.
Blueberry yogurt and an apple (which I ended up saving for later) plus a small side of corned beef hash and a weird flattened tater tot thing rounded out my meal.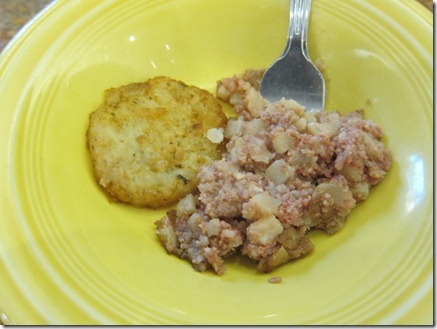 I also snapped a picture of the egg patty stack Ryan made so you guys could see what exactly these egg patties I've been talking about look like!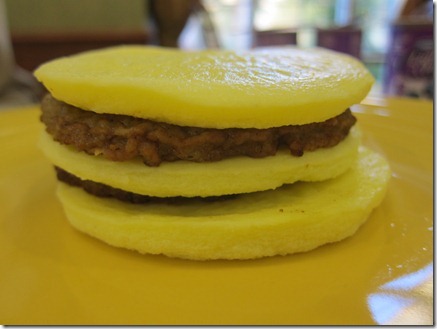 Ryan was awfully proud of his stacking skills. I'm glad someone likes the egg patties, I guess.
Today
Today's plans are taking me back to Orlando. I have a lunch date with my friend Laurel and an evening meeting about a conference coming to Orlando in December. I'm looking forward to being back in the old stomping grounds!
Question of the Morning
What gym behaviors are at the top of your "most annoying" list?
My number one pet peeve at the gym is guys that cannot stop checking themselves out in the mirror. Obnoxious.