A couple of months ago I briefly mentioned a freelance piece I was working on that involved some playtime in the kitchen and resulted in this glorious salad.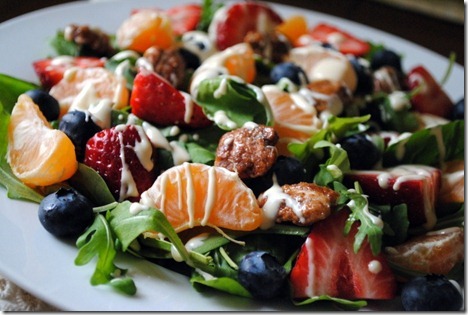 More than a few of you requested the recipe and I promised I'd post it as soon as it was published.
Though I wasn't able to say too much at the time, now that the article and recipe may be found in Publix GreenWise Market magazine, I have permission to share it with you guys!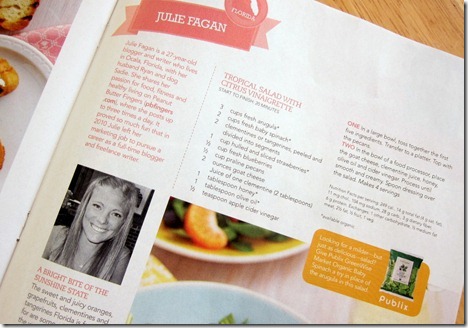 I was told to create a recipe that was quintessentially Florida.
When I set out to create a healthy recipe that captured the essence of Florida food in one dish, I knew a produce-packed salad would properly highlight Florida citrus and the state's succulent strawberries. Rather than simply top a salad with fresh fruit, I decided to weave the Florida citrus flavor throughout the dish and incorporated freshly squeeze orange juice into a wholesome homemade creamy goat cheese dressing.
I hope you enjoy it!
Tropical Salad with Citrus Vinaigrette
Serves One
Ingredients:
1 ½ cups arugula
1 cup fresh spinach
1 clementine or tangerine, peeled
5 strawberries, sliced with stems removed
¼ cup fresh blueberries
8 praline pecans
2 tablespoons citrus goat cheese dressing (recipe noted below)
Directions:
Place arugula and spinach on a plate and top with fruit and pecans
Drizzle dressing on top of the salad and enjoy
Makes approximately three 2-tablespoon servings
Ingredients:
2 ounces goat cheese
1 tablespoon honey
Juice of one clementine, or approximately 2 tablespoons freshly squeezed orange juice
½ teaspoon apple cider vinegar
1 tablespoon olive oil
Directions:
Combine all ingredients in a food processor and process until everything is mixed and a smooth, creamy dressing forms
Drizzle dressing on top of the salad and enjoy