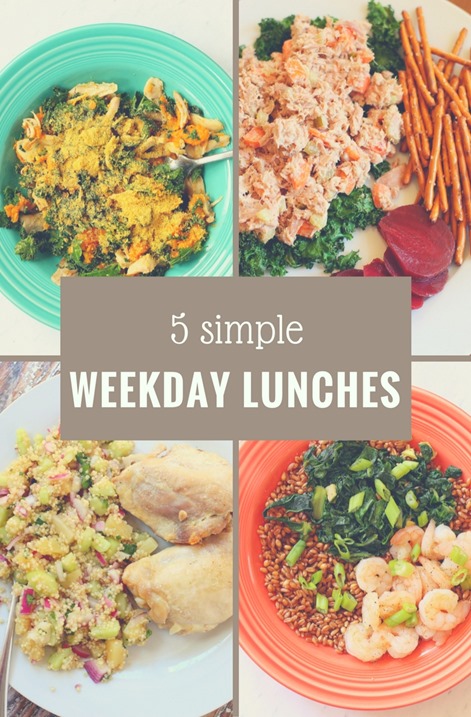 I figured I'd begin by giving you a peek into five weekday lunches and if you like the idea, I'll share some more meal recaps in the future! (I actually got the idea for this post late last week so the lunches featured below are a combination of a few from the last half of last week and the first half of this week.)
When I began assembling the pictures for this post, I noticed a few themes: 1.) Lots of repurposing of dinner leftovers happens at lunchtime. 2.) Roasting sweet potatoes on Sundays saves me when I'm in a pinch and the potatoes provide a great base for a variety of lunches throughout the week. 3.) I apparently cannot get enough chicken thighs these days!
5 Weekday Lunches
Shredded Chicken Thighs with Mashed Sweet Potato, Sautéed Kale and Nutritional Yeast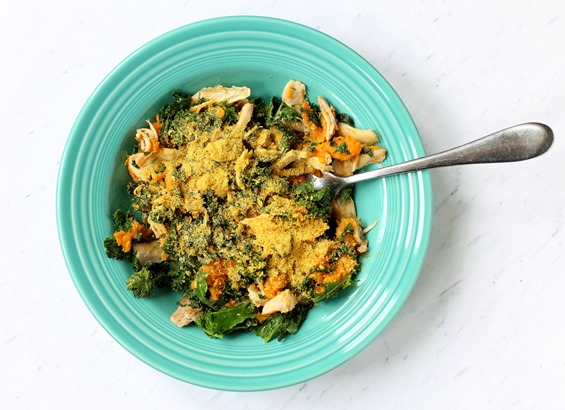 On Sunday evening, I roasted a bunch of sweet potatoes in the oven to have on hand throughout the week! I do this almost every week and it's very helpful, especially if I need to throw together lunch or dinner in a flash. I mashed one whole baked sweet potato and topped it with shredded baked miso chicken thighs, kale (sautéed in coconut oil and seasoned with garlic salt) and a hefty sprinkle of nutritional yeast (<—a great source of B vitamins, protein and fiber). This lunch was a good one, but I found myself reaching for a snack shortly after and topped a cup of vanilla Greek yogurt with some fresh raspberries and pistachios which helped me feel more satisfied.
Tuna Salad with Roasted Beets and Pretzel Sticks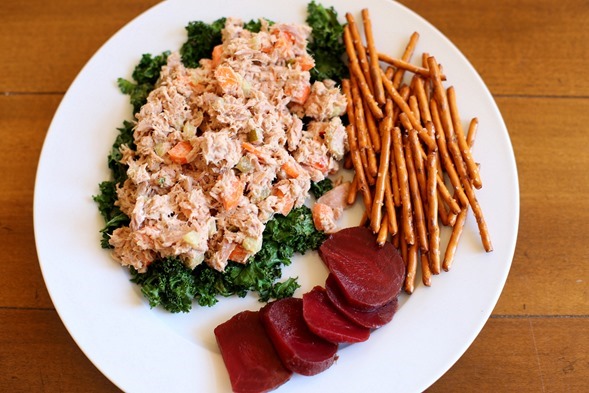 I've been a fan of tuna salad ever since I was a little girl and it's always a great fall-back lunch option for me. I made my tuna salad with dijon mustard, Primal Kitchen Avocado Mayo (a Thrive Market purchase), sweet relish and chopped carrots and served it on a bed of sautéed kale. Sides were simple thanks to pretzel sticks and sliced organic roasted Love Beets that I bought in the produce section of the grocery store.
Cold Quinoa Salad and Baked Chicken Thighs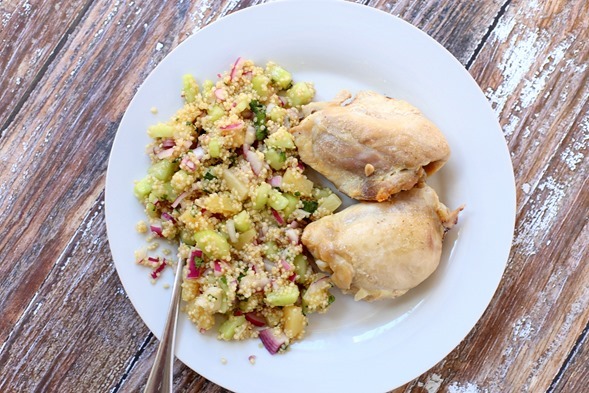 This lunch was easy thanks to dinner leftovers! I heated up two leftover chicken thighs and served them with a cold quinoa salad made with pineapple, red onion and cucumber. I'm planning to share the recipe for the cold quinoa salad soon, so stay tuned! It's a great side dish and also makes a wonderful entrée if you top it with grilled chicken or steak.
Wheat Berry Bowl with Shrimp and Sautéed Swiss Chard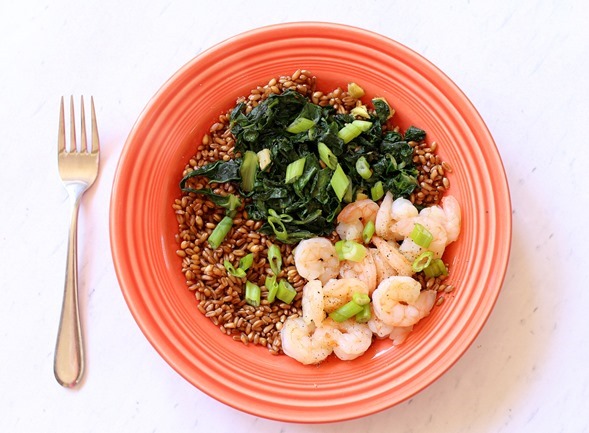 Halfway through the week, I cooked up a big batch of wheat berries (I love to have some kind of pre-cooked grain on hand, whether it be wheat berries, quinoa, brown rice, etc.) and used the wheat berries as the base for this lunch. I topped them with shrimp and Swiss chard sautéed in a combination of coconut and sesame oils with fresh ginger and garlic and loved the different flavors and textures in this dish. I topped everything with a drizzle of sesame oil and a squeeze of fresh lime juice before digging in. I only wish I would've had an avocado on hand because I felt like I was missing a punch of creaminess and an avocado would've been the perfect addition.
Mashed Sweet Potato Stir Fry with Shredded Chicken Thighs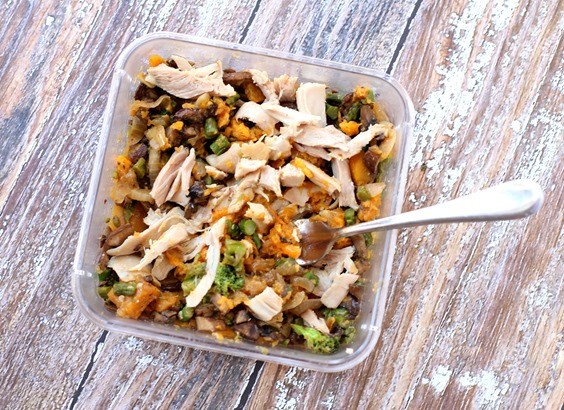 Another mashed roasted sweet potato saved the day and served as the base for this lunch which included leftover stir-fried veggies (mushrooms, asparagus, broccoli and onion) sautéed in a combination of sesame oil, coconut aminos, ginger and garlic. I topped everything off with shredded chicken thighs for some satiating protein.
Question of the Day
What have been some of your go-to lunches lately? Notice any themes in your lunches?
What was the best thing you ate for lunch so far this week?
Back in the early days of this blog, I shared my meals almost every day. While I didn't document everything I ate every day, I would typically highlight the three main meals of the day and even though I've been out of the habit of regularly sharing my meals for a while, I thought it might be fun to occasionally share a glimpse into what a week of breakfast, lunch or dinner looks like for me these days!