Good morning from sopping wet Ocala, Florida!
Rain bands from Tropical Storm Isaac are streaming across Ocala today and it is wet and dreary. To my southeastern friends out there, I hope you're staying safe!
A Big Week
You better believe I am monitoring Isaac like it's my job because I have some exciting travel planned in the upcoming two weeks. I am leaving on Friday for my friend Leah's bachelorette party in New Orleans which will put our little gang right in the area that Tropical Storm Isaac is expected to hit. Yikes.
Assuming it's safe and that Tropical Storm Isaac doesn't do too much damage, our weekend in Louisiana is ON!
I cannot wait to be reunited with these girls!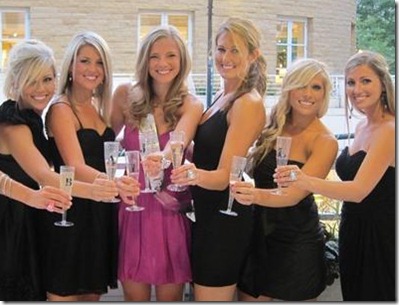 Since we're spread out all over the country (Chicago, NYC, Boston, Washington, D.C., Orlando) we haven't had a chance to get everyone together since 2010. We're way overdue and I cannot wait to party it up!
As if that trip isn't enough to get excited about, Ryan and I have an incredible vacation planned immediately after my trip to New Orleans.
We're heading to Hawaii!!!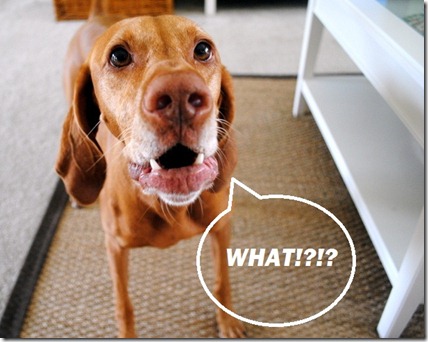 Sadie will be staying with my sister. She is stoked… even though she is blissfully unaware of our impending separation at the moment. She loves Leslie and likes forcing her cuddle face-to-face.
Back to Hawaii…
I was invited to Oahu on a press trip in January and couldn't go, but I stayed in touch with the Oahu Visitor's Bureau and jumped at the chance to attend another press trip next week. I receive a bunch of press releases every day, but this was – by far – the coolest opportunity that has come my way through the blog. I was blown away and am incredibly grateful and excited.
Ryan and I have never flown anywhere on a just-the-two-of-us special vacation. All of our trips together have been within driving distance (Atlanta, Jekyll Island) and lasted about three days. We planned to go to St. Lucia for our honeymoon, but that was canceled at the last minute due to a hurricane so we had 48 hours to plan a honeymoon and ended up going on a "Tour of Florida." (We had a blast, by the way!)
Anyway, when I was invited to Oahu, I freaked out and pitched the idea to Ryan, saying it would be the perfect opportunity for us to enjoy our first long vacation together since my airfare and hotel costs would be covered and we'd simply have to pay for Ryan's plane ticket, food and certain activities outside of the press trip. Ryan didn't need much convincing and we will be spending next week on the beautiful beaches of Hawaii!
This trip is all I've been thinking about for a couple of weeks now and the two of us are beyond excited! If any of you have been to Oahu and Waikiki Beach and have any restaurant or activity recommendations, please, please share! We are going to be there three days before the press trip officially begins and want to make sure we hit the hot spots.
Workout
I suppose I should cover today's workout and breakfast now, huh?
I hit the gym for week two of phase three of Tina's Best Body Boot Camp. The workout was essentially the same as last Monday's workout and targeted the whole body with strength exercises with some active recovery cardio and core exercises thrown in the mix. A great workout!
Breakfast
Breakfast this morning was a delicious batch of peanut butter pancakes!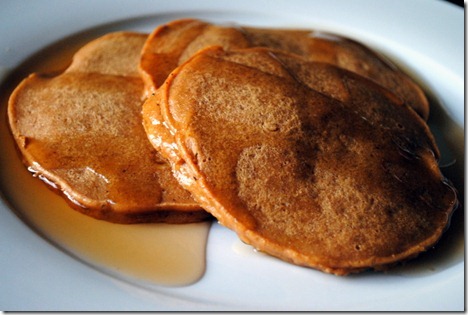 I used whole wheat flour in place of the regular flour in my original recipe and they turned out great.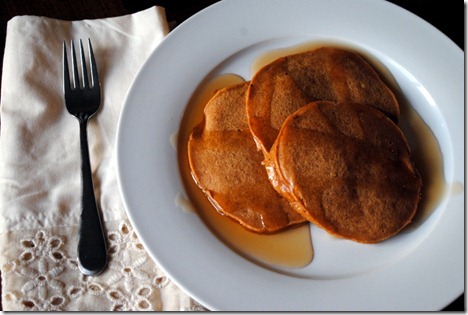 Anytime you combine peanut butter and pancakes, I'm a happy girl!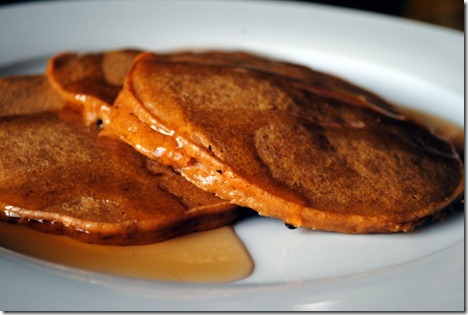 Questions of the Morning
Have you ever gone on a long vacation with your significant other? Where did you go?
Have you ever been to Hawaii? If yes, please share any recommendations!
P.S. The Fashion page was updated this morning.