Good morning! I am checking in today after a whirlwind weekend in my former hometown. I made a quick surprise trip to Orlando for my best friend Laurel's birthday!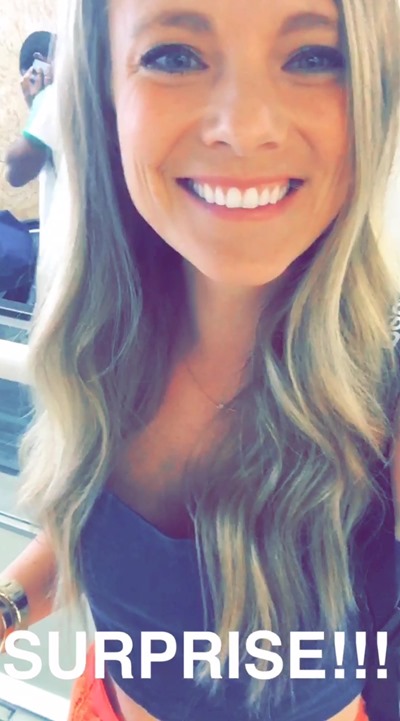 (Screenshot pic from my Snapchat video because I was the worst about taking pics this weekend! Oops.)
It was so wonderful to see her and spend quality time with my best friend, former college roommate and all-around wonderful person.
A month or so ago, Laurel's husband John reached out to me with the idea of flying me to Orlando to surprise Laurel for her birthday. I was immediately excited but also a little terrified because Chase was smack-dab in the middle of a bottle strike and I am still breastfeeding. Seeing Laurel was really, really important to me, so I was determined to make it work. Though John told me I could bring Chase, a part of me thought it was time that I spend my first night away from him, even though I felt my heart contract at the very thought. (<—Ridiculous, I know, but I can't help it!) The last time I got together with my girlfriends and had Chase with me, I felt like I was only half experiencing the excitement around me because my mind was always, always on Chase. I wanted to spend this past weekend with Laurel and feel fully present.
My flight for Orlando left bright and early on Saturday morning and after nursing Chase at 5 a.m., Ryan and I headed off to the airport. (Ryan's dad arrived in town on Thursday and we had a great day together on Friday! He was kind enough to take over baby monitor duty in the morning while Ryan dropped me off.) I texted Ryan and my mom to tell them that I felt like I was noticing every single baby in the airport and I was totally that mom who told other parents it was my first time away from my baby. It felt like a big milestone and I went into the weekend feeling an odd mix of emotional and excited to step outside of "mom mode" for a couple of days.
When I arrived in Orlando, I immediately texted John who set the big birthday plan into motion. John then told Laurel she could leave the cell phone lot where she was waiting at the airport and look for someone familiar along the curbside at the arrivals pick-up. That's where I stood, jumping up and down with a ridiculous HAPPY BIRTHDAY LAUREL sign!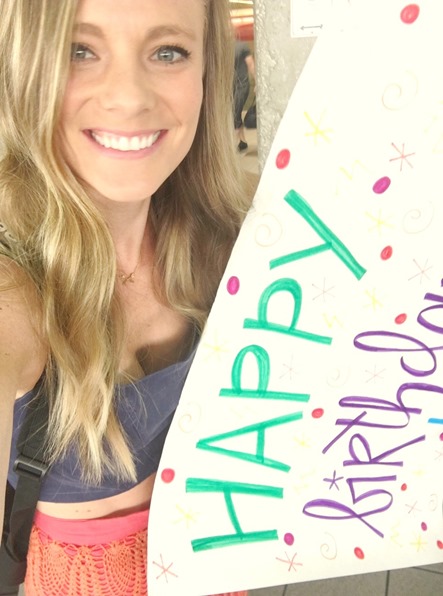 Laurel and I exchanged excited, tearful hugs and John's birthday plan was set into motion. Laurel was instructed to open an envelope upon my arrival which instructed her to drive to Tampa for lunch. I confirmed her suspicions that we were meeting up with our friends Leah and Ashley at J.Alexander's!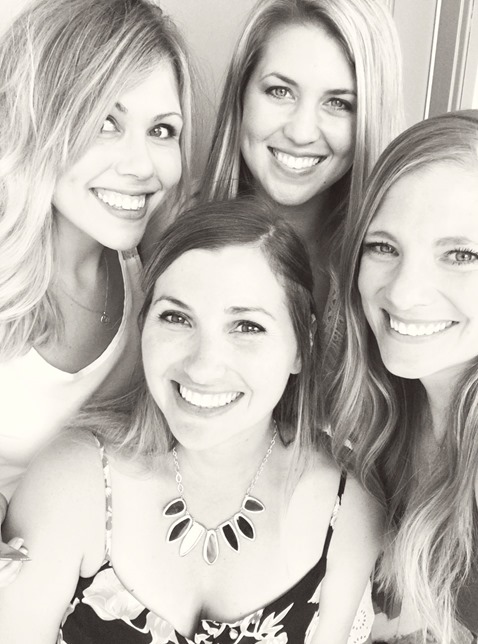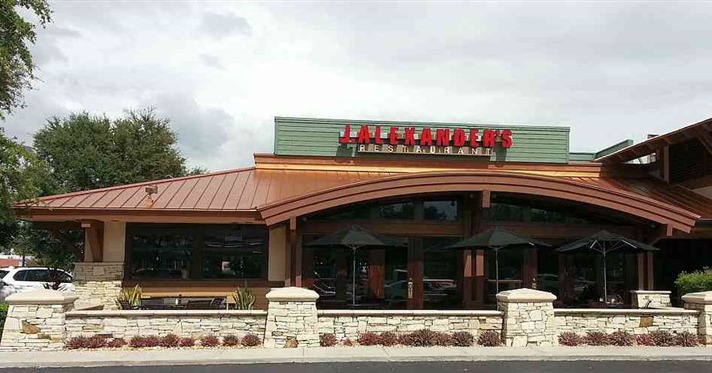 We chatted up a storm and before I knew it, I was sipping wine and sharing grilled artichokes with three of my best friends.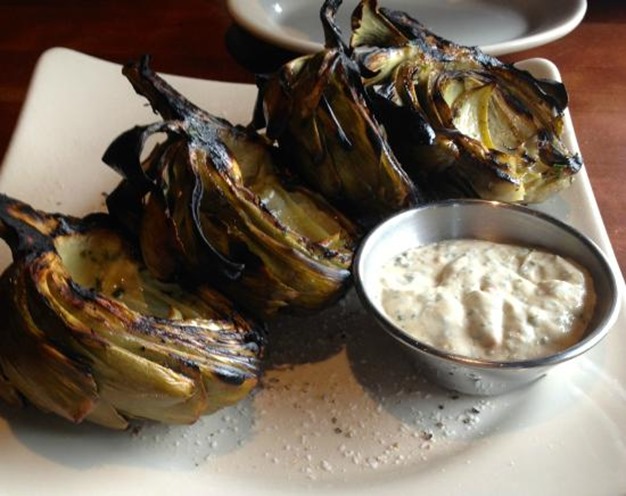 I missed them all so much and it was such a treat to be able to spend quality time together while celebrating Laurel's special day. Since John's big birthday plans for Laurel didn't require us back in Orlando until 6:30, we were able to spend the afternoon at Leah's house in Clearwater and see her adorable son Theo.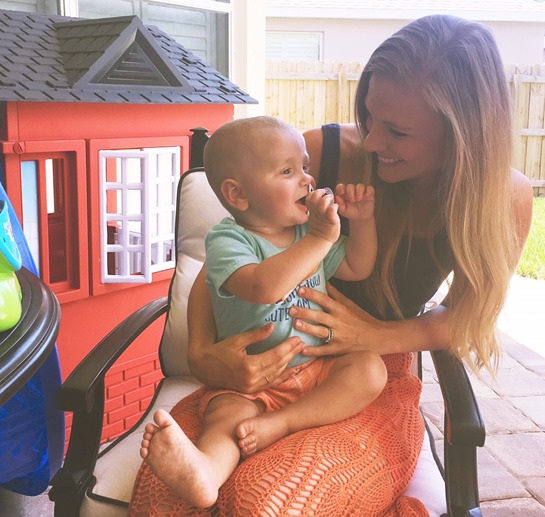 I haven't seen Theo since his first birthday and he is just the sweetest little boy. He's getting so big and is such a love bug. Oh how I wish we lived closer so Chase and Theo could have regular play dates!
Most of Saturday afternoon was spent in Leah's backyard, swinging Theo on the swing and playing with him and his toys and before we knew it, Laurel and I had to hit the road back to Orlando to be ready for John's final surprise of the evening. We hugged everyone goodbye and made the drive home, inhaling our fair share of peanut butter pretzels and jumbo M&Ms along the way. I didn't even know they made jumbo M&Ms but I must say, I am a fan!
We arrived at Laurel and John's house with just enough time to freshen up a bit before driving to Cocina 214 in Winter Park where John surprised Laurel by arranging a big group dinner with her family. To say Laurel's family is fun is a huge understatement, so a big group dinner was a great way to conclude Laurel's birthday celebration before capping off the night with drinks at 310 Park South.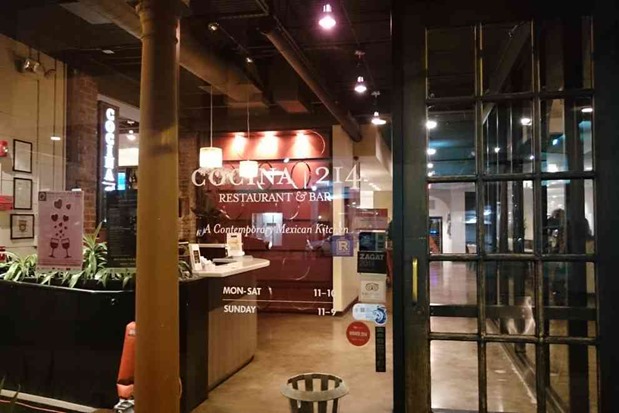 In true Julie and Laurel fashion, we stayed up late talking once we got home, but I crashed hard once I climbed into bed and slept like a rock until 6 a.m. when I dozed on and off until close to 8 a.m. Sunday passed by in a blur of quality time with Laurel in the morning and an afternoon of travel before I finally arrived home to hug Ryan, love on Sadie and scoop my baby up in my arms and smother him in kisses.
I checked in with Ryan and Chase a lot during my time in Orlando and felt a little stressed during my visit because Chase wasn't taking the bottle well when I was away. Ryan seemed to be handling everything well and offered him a lot of real food, pouches and nut butter while I was away, but knowing Chase was basically refusing breastmilk from a bottle made me feel a little helpless and concerned. I tried to compartmentalize my mind during my visit and really did feel present and focused on my time with my girlfriends but my flight ba