Another Wednesday, another BodyPump class!
Gosh, I just love the burn I feel during BodyPump. It kind of stinks during the class (especially during lunges), but immediately after the class is over, I'm riding the exercise endorphin high for the rest of the day.
"A body in motion stays in motion. A body at rest stays at rest."
That exercise mantra (which I believe I heard from Heidi the first time) definitely applies to me. On my days away from the gym, I am generally less active the entire day. On days when I work out, I am much more energetic and go-go-go. Once my body starts moving, it's much easier to keep the momentum going and continue movin'. Once I settle into "rest mode," it's so hard to break out of that state of mind.
Walk + Breakfast
Since I was already up and moving from my morning workout, taking Sadie on a walk was no big deal. Ryan and I took her on a 20-minute walk around our neighborhood before heading home for breakfast.
On today's menu was a bagelwich!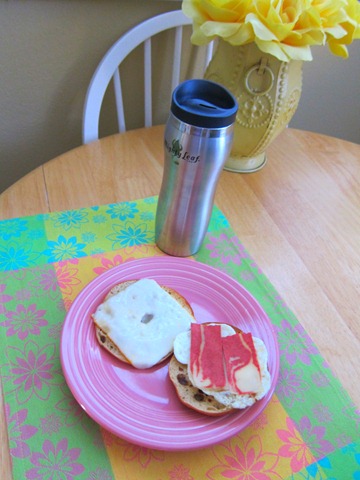 Earlier this week when I made waffles with a dippy egg, I fried up two egg whites that I refrigerated for use later in the week. Well, later arrived today and I heated up an egg white that I then incorporated into a yummy breakfast bagelwich!
My breakfast bagelwich included a toasted cinnamon raisins bagel thin topped with muenster cheese, an egg white and veggie bacon. I debated adding raspberry jelly to kick it up a notch, but I decided against it thinking that the bagelwich would then be full of too many competing flavors.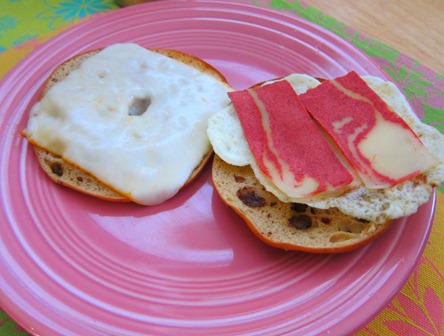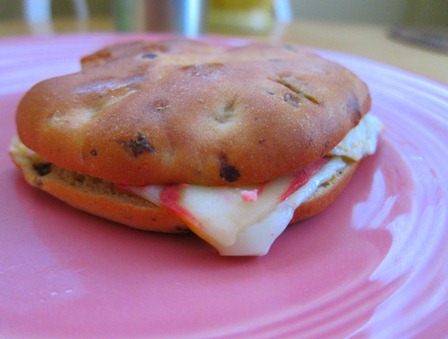 I think I made the right decision because this meal was tasty… and portable! I'm planning to finish eating it as I head out the door to work.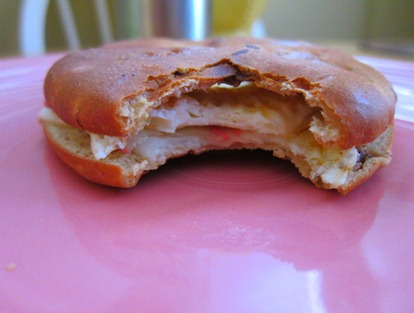 The Maple Kind, Yeah
One more fun thing before I sign off for the morning…
Considering 30+ million people have already seen this video, I'm pretty sure I am way late to the game on this one, but I just had to share it with you guys in case some of you haven't seen it yet.
My aunt and two blog readers sent me a link to this video yesterday and I probably watched it 10 times. So flippin' funny!
I think I like this video so much because it reminds me of someone…