Morning
The time change rocked our world last week but one small perk of the time change mayhem came in the form of my early morning wake-ups. Somehow waking up at 5 a.m. still feels a little like 6 a.m. and I'm relishing that feeling for as long as it wants to hang around. (On the flip side, I am finding myself ready for bed at 8:30 p.m. every night. Ooph.)
My first order of business for the day on Tuesday was coffee! I brewed myself a cup of coffee in one of my holiday mugs and while I think I should probably be embarrassed to admit just how early we broke out our Christmas decorations this year, I am loving the pops of red and green around our house. I topped my coffee with frothy coconut milk and made my way into our living room to do my morning devotional. (I always use coconut milk from a can in my coffee because the kind in a carton isn't as creamy and doesn't froth nearly as well. I just store the leftovers in a mason jar in the fridge to use throughout the week.)
I wasn't paying attention when I went to sit down on the couch with my coffee and promptly sat on this lovely collection of toys.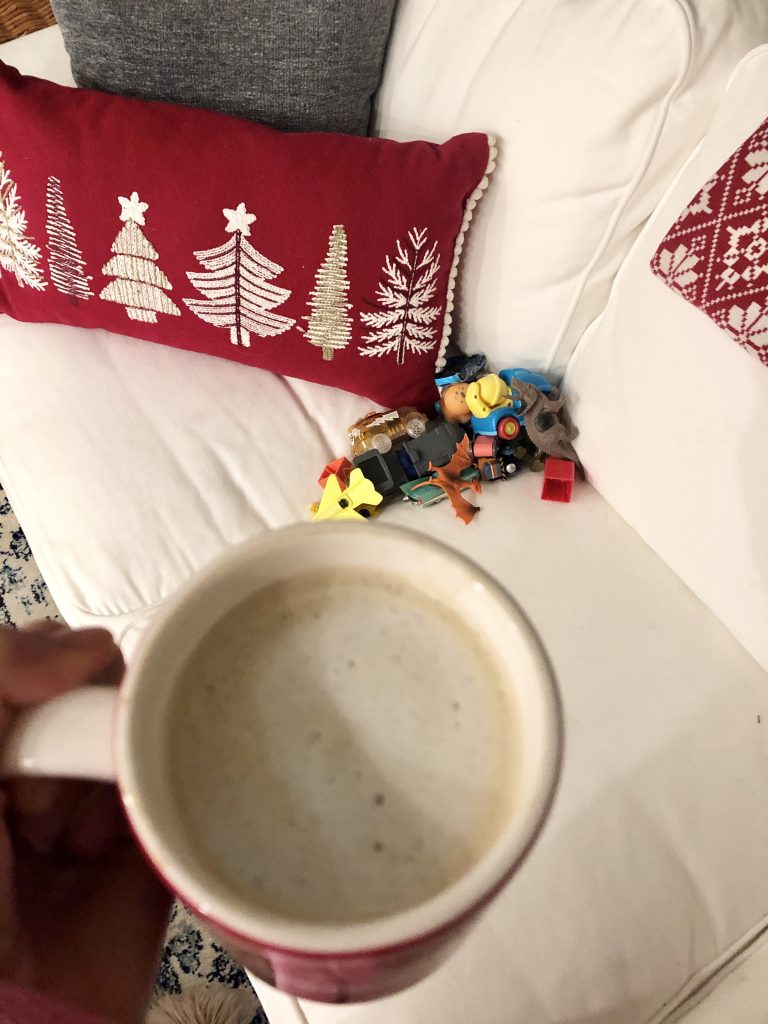 Thanks boys!
Once I was done with my devotional, I said goodbye to Ryan as he headed out the door and then whipped up a warm bowl of my pumpkin paleo oatmeal because I'm embracing everything pumpkin right now.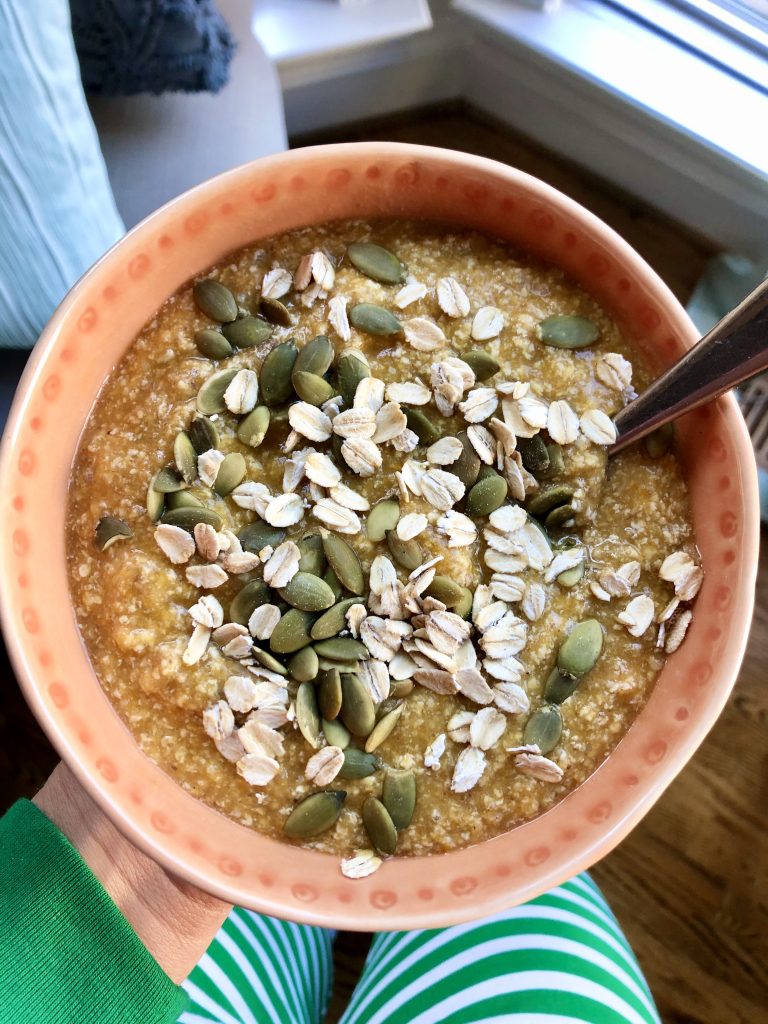 Topped with pumpkin seeds and raw oats for chewy + crunchy texture!
I ate my breakfast as I wrapped up a deadline for an upcoming partnership and then began working on one of my holiday gift guides. My gift guides always take me for-ev-errr to put together and I am hoping that by working on them a little bit every day, they won't be quite as time consuming in the coming weeks.
Soon Ryder was awake followed shortly by Chase so the morning mayhem began! I got the boys dressed and then we did our usual morning story time followed by breakfast and some playtime before we had to leave for school. Ryder tried to coerce Sadie into the fun but she was not having it.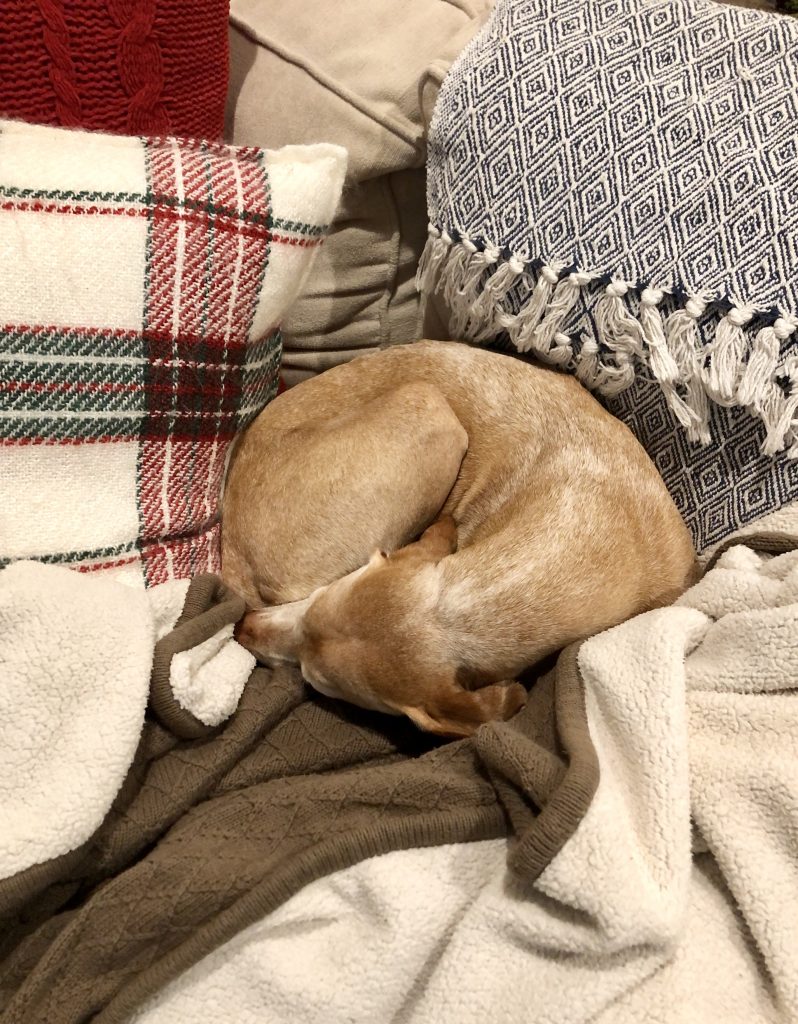 Ryder's obsession with Sadie is next-level and so sweet however Sadie is simply not a morning dog. Check back with Sadie around 10 a.m. every morning and she'll find her joy.
Once Chase was settled at preschool, Ryder and I made our way to Burn Boot Camp. He played in childcare while I got nice and sweaty during a burst training cardio workout with my friend Lauren.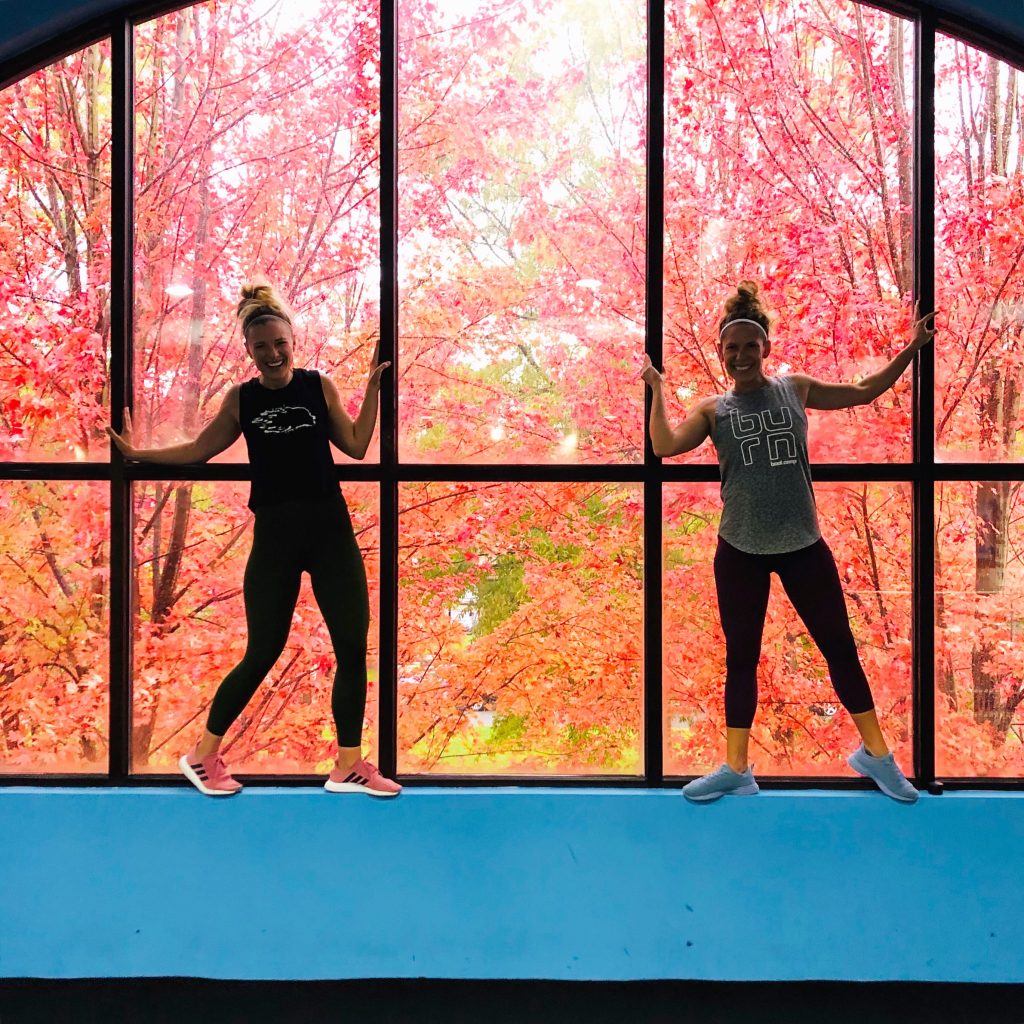 We could not resist snapping a pic in front of the window because the leaves are just on fire right now. (Our attempts to climb up on on that tiny window ledge and balance ourselves for this pic were rather comical.) Fall in North Carolina is seriously bringing the heat.
After my workout, I had a lovely battle with Ryder in the gym lobby because he did not want me to carry him out to the car and yet when I let him walk by himself he thinks it's really fun to slip out of my hand and sprint toward the parking lot. Mr. Independent, I'm telling you. Eventually we made it home and I fed him breakfast 2.0 (he likes a two-part breakfast like his mama) and then I settled him in his crib for a nap.
I then grabbed a quick shower, threw an acorn squash in the oven to roast for lunch and made myself a cup of Four Sigmatic hot cacao to sip on while I cranked out some work.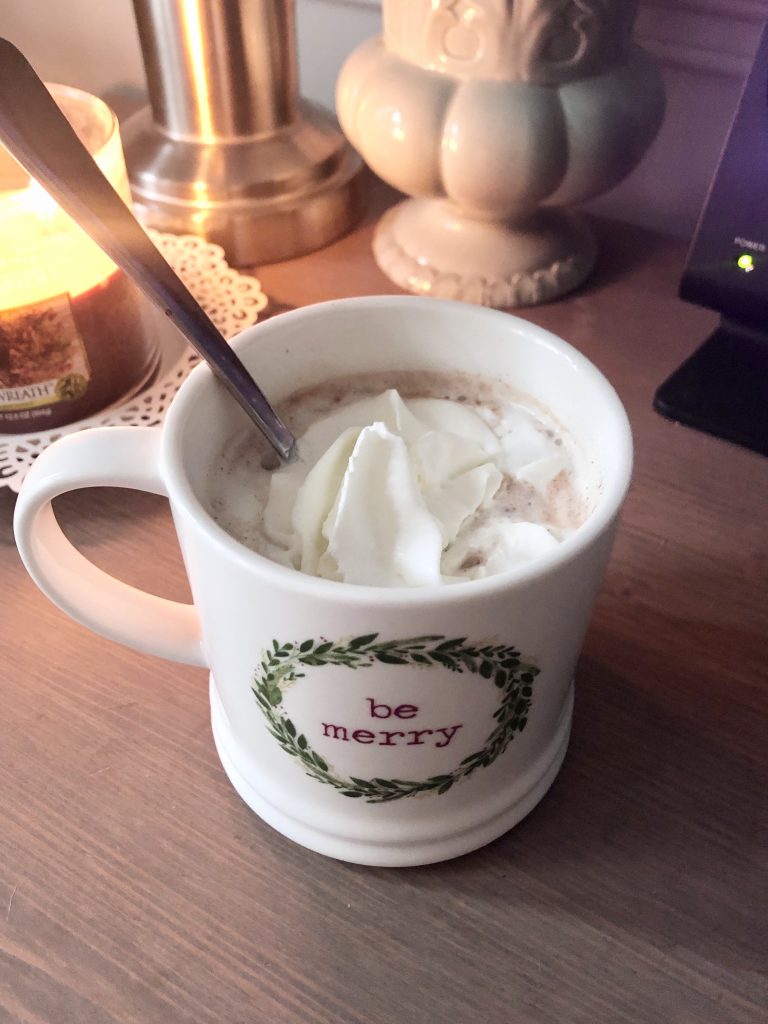 Once my acorn squash was done roasting, I mashed it up and added it to a combination of green beans and chopped chicken thighs I prepped over the weekend for easy weekday lunches.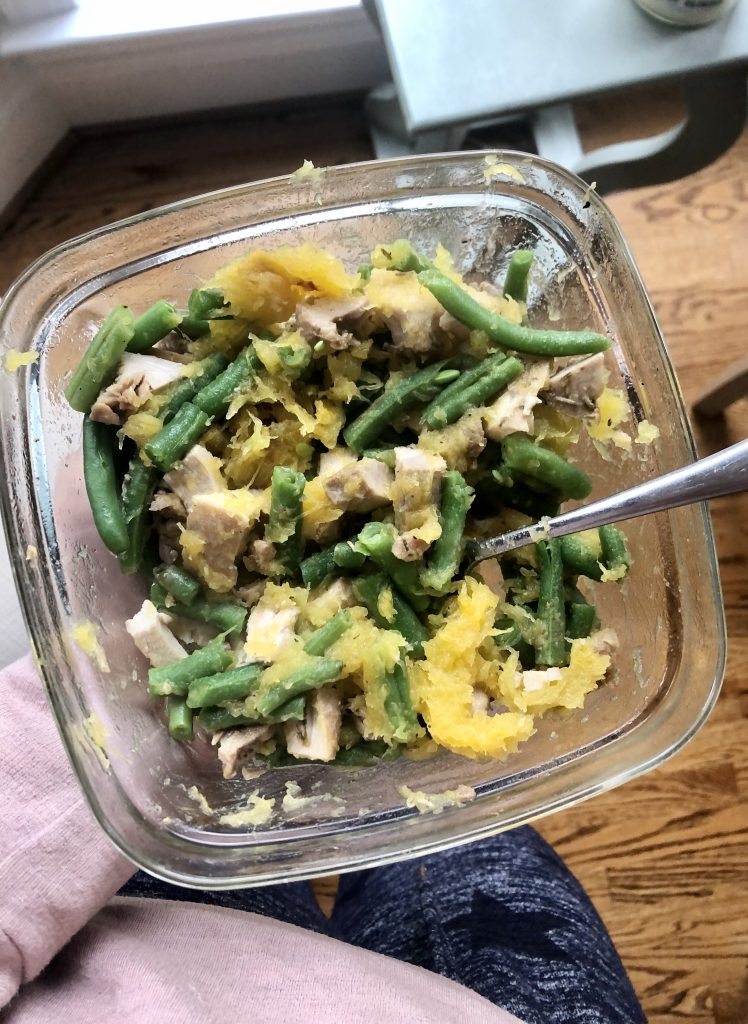 (Side note: The softspun joggers you can barely see in the above photo are heaven. I'll share more about them on Friday but I cannot stop wearing them!)
I ate my lunch while I tackled a bit more work on the computer and then got Ryder up and ready for preschool pickup.
Afternoon + Evening
Our afternoon kicked off with a dentist appointment for Chase.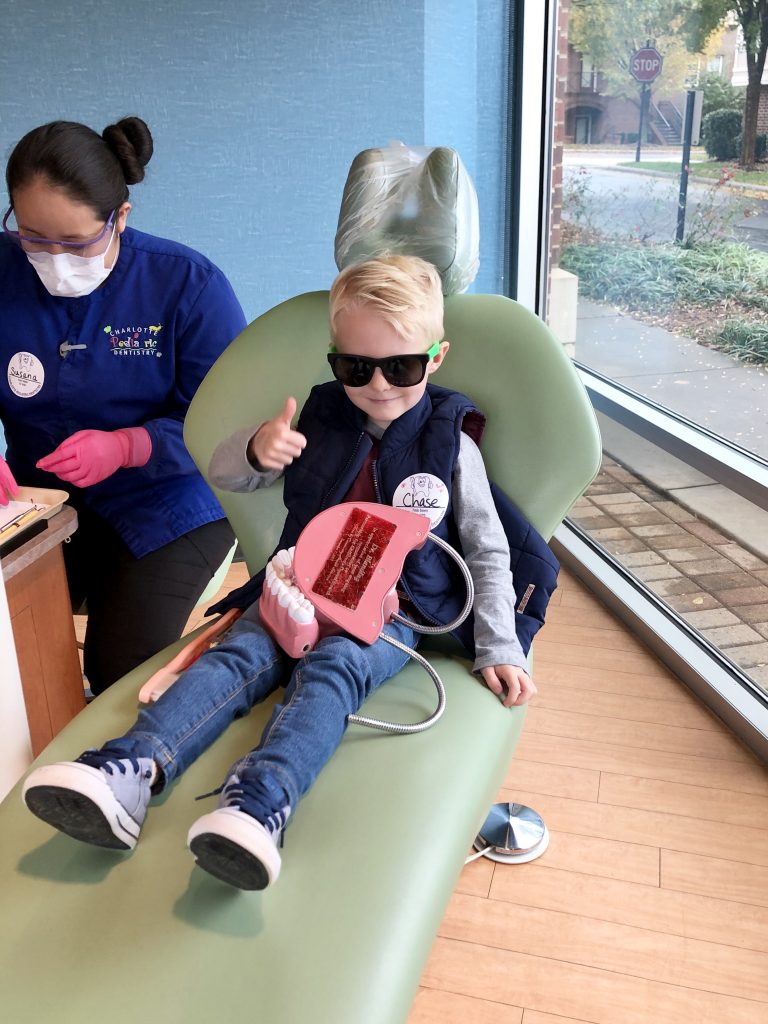 We drove straight from preschool pickup to the dentist for what I thought would be a short appointment. Ryder was very interested in driving his car on the bottom of Chase's chair which actually worked as a nice distraction for Chase while he had his teeth cleaned.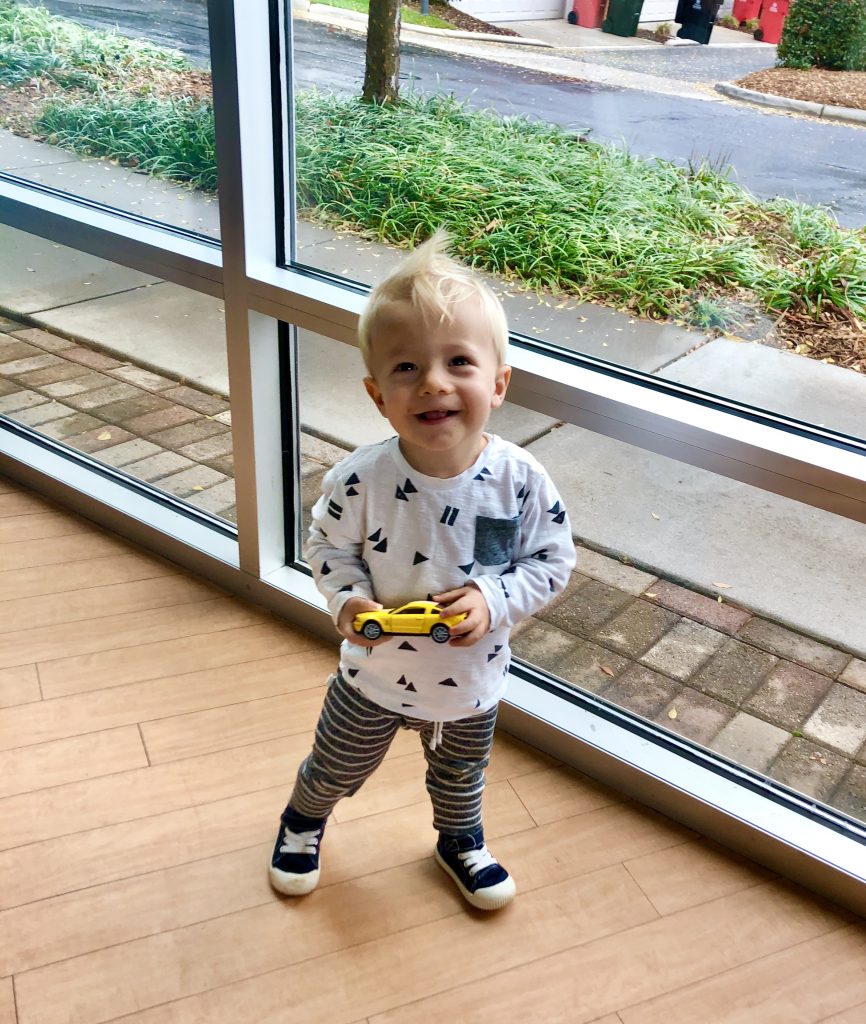 At this point, everything looked good and Chase was moved into a separate room for his first round of dental x-rays. Unfortunately the x-rays revealed a couple of cavities in between Chase's molars. I went down a spiral of mom guilt (clearly we should've been better about flossing in between his teeth) but our dentist told me it's actually quite common for a child's first round of x-rays to reveal cavities. We were able to get an appointment for 45 minutes later to deal with his first cavity but will have to return in a week or two to fix the other cavity since our dentist recommended splitting everything up so his mouth isn't numb for several hours in two different places.
Since I knew keeping Ryder entertained at the dentist for a couple of hours would be next to impossible, I used the 45 minute wait-time to load the boys back into my car and drop Ryder off at a local drop-in childcare place near our house where he could play during Chase's next appointment. We majorly lucked out because a drop-in childcare facility opened up within two miles of our house a couple of months ago and it's wonderful. The owner is fabulous (she's also a police officer in the area) and it absolutely saves me in situations like this where I have something pop up at the last second and need immediate help with the boys. It's also been great for my own appointments when scheduling a babysitter to come to the house for an hour or two doesn't really feel "worth it" for such a short amount of time (for the sitter, especially).
Once Ryder was all settled, Chase and I drove back to the dentist for his appointment.
I am so, so happy with our dentist because they handled what could've been a really overwhelming experience for Chase in a way that kept him informed in kid-friendly terms but also relaxed. They played The Grinch on a small television above him and he was given laughing gas to keep him calm which worked very well. They instructed me to sit on the bottom of the chair with him so his legs were in my lap and I could see everything. The whole ordeal was actually rather quick and Chase handled it like a champ.
Soon we were out the door and off to pick Ryder up from childcare. We eventually made our way home and everyone seemed tired and ravenous so I scrapped plans for a more involved dinner in favor of pasta with meat sauce, one of my standbys that's always fast to whip up at the last minute.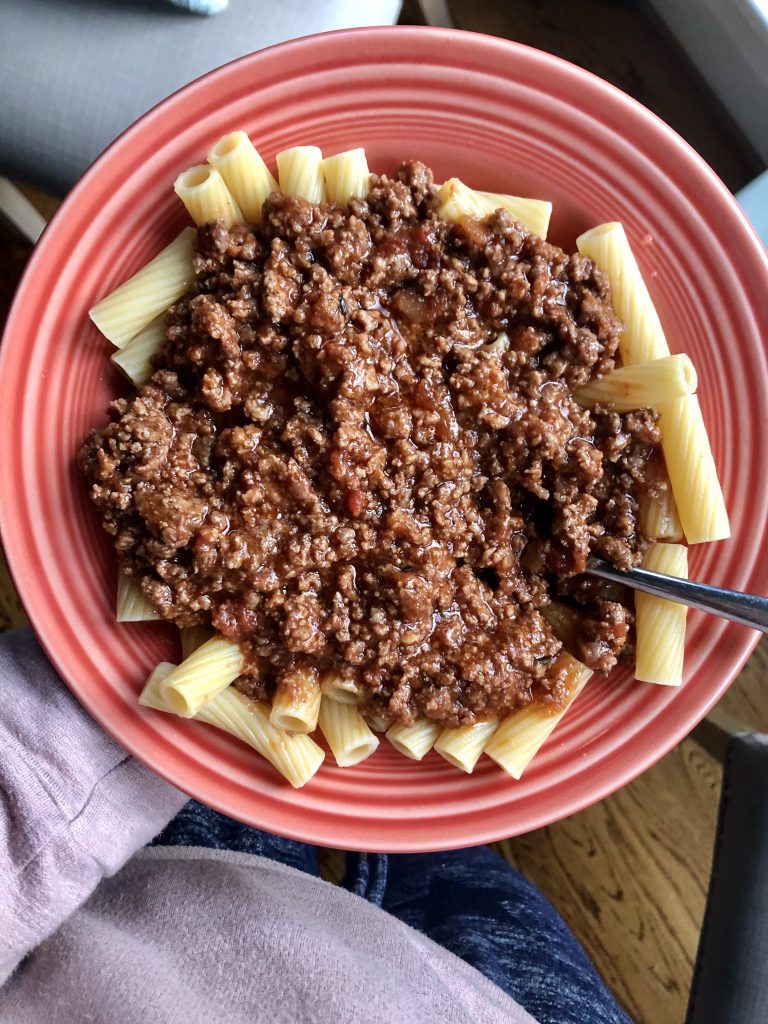 Once the Chase and Ryder were fed and I was done with my pasta, we headed upstairs for "brother bath" and our usual nighttime routine. The boys were quite excited when I showed them that their new footie pajamas arrived in the mail earlier that day and Chase immediately asked to wear them to bed that night.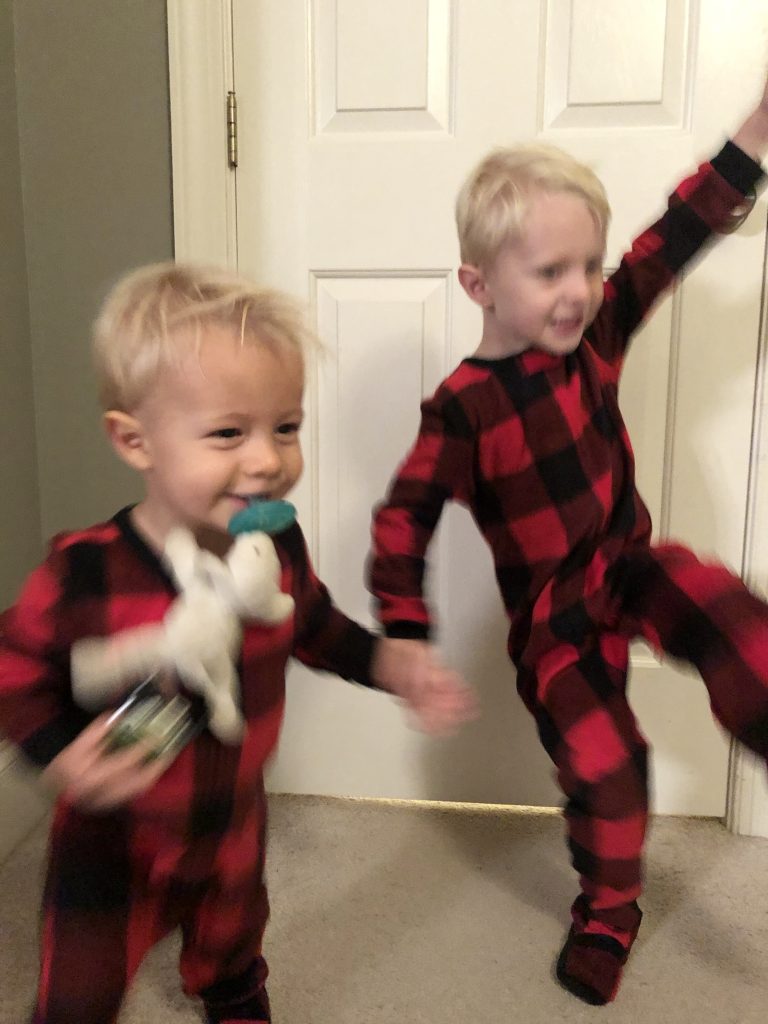 By the end of the day it was in the 30s in Charlotte yesterday so warm, fleece footie jammies were a welcomed treat for the boys! Also, I apologize for the horribly blurry picture. I actually initially snapped that one to text to my friends because all of our kids will be wearing these matching pajamas for our annual holiday party in December and I wanted to show them Chase's excitement when he heard he'd be matching his BFFs again this year.
Here's a flashback to last year in their matching pajamas: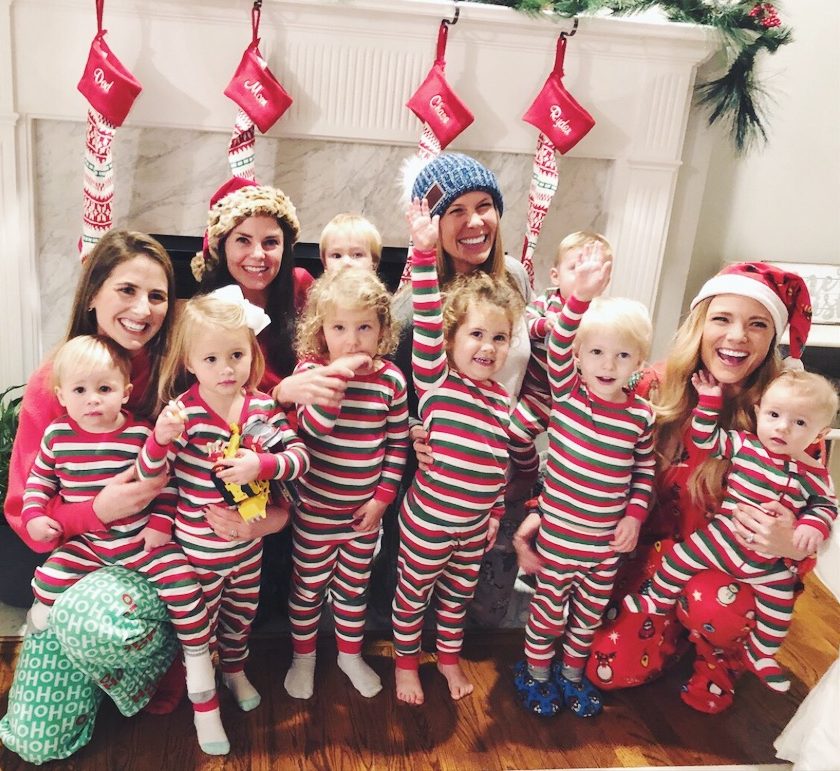 It was so cute and the kids loved it so we had to plan to do it again this year!

Ryder ended up in bed by 6:15 p.m. last night (he was just d-o-n-e) so unfortunately he missed Ryan since Ryan didn't arrive home until close to 7 p.m. Once Ryan was home, he joined me and Chase for a couple of stories before we tucked Chase in for the night.

Ryan and I ended up chatting for a bit before bed and brainstorming Las Vegas-themed outfits for an upcoming Las Vegas-themed holiday party we have on the agenda in early December. We laughed quite a bit about some of our ideas and we're waffling back and forth between two pretty solid ideas at the moment. One idea I had that got thrown out was to dress up as Ross and Rachel in Vegas (from Friends) with pen all over our faces but we decided that it wouldn't be enough of a costume for the party. I'm sure I'll share pictures of our costumes after the party so stay tuned!

And now I'm hearing Ryder making noise on the monitor, so it's time to get this Wednesday rolling. I'm hoping our Wednesday will be a little less eventful than our Tuesday! Thanks so much for stopping by the blog today and I hope you all have a wonderful rest of the week!

Hello, hello! I managed to snap a handful of photos throughout our day yesterday so I'm coming at you this morning with a recap of our Tuesday. It's been a hot second since I've shared a day-in-the-life style blog post, so if you're into random glimpses into the way other people live their day-to-day lives like I am, please come along for the ride!