I spent less than 48 hours in Michigan this weekend but the short time I visited was wonderful since it involved quality time with three of my closest friends.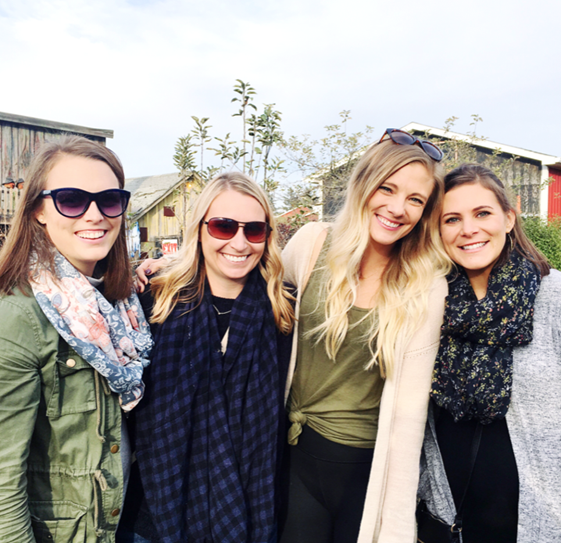 Carrie, Leah, Michaela and I have all been best friends since our elementary school days and have remained close for 20+ years. None of us live near each other and now that we're all a flight away, it's harder to get together but we try hard to prioritize seeing each other at least once a year. We've been looking forward to this trip for a long time which centered around celebrating Carrie's engagement!
Carrie and her fiancé Aaron got engaged over the summer and Leah, Michaela and I booked flights to visit Carrie for a weekend of wedding dress shopping and festive fall activities! Leah and I arrived in Detroit in the early evening on Friday night and spent the next few hours getting a manicure with Carrie and touring her beautiful bungalow house in Royal Oak before meeting up with Aaron for dinner. We enjoyed a leisurely meal over drinks before we popped into into a local dessert shop for German chocolate brownies and peanut butter chunk cookies.
Before we knew it, we had to head back to the airport to scoop Michaela up around 11:30 p.m. and spend the rest of the night back at Carrie's place, talking a mile a minute until close to 2 a.m.
Saturday
After toasted bagels for breakfast at Carrie's house, our big plans for the weekend kicked off on Saturday morning with wedding dress shopping at The Wedding Shoppe!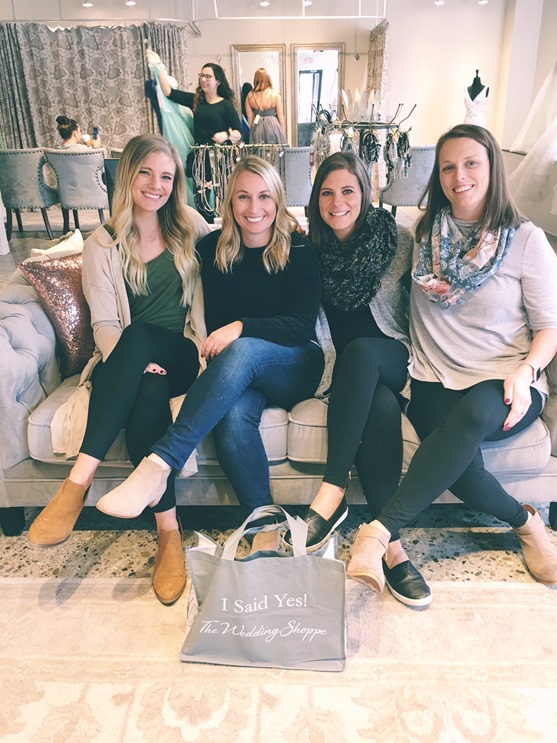 I couldn't wait to see Carrie in a gorgeous gown and once we had a few ideas about the style of dress she liked, we pulled a bunch of beautiful wedding dresses off the racks for her to try on.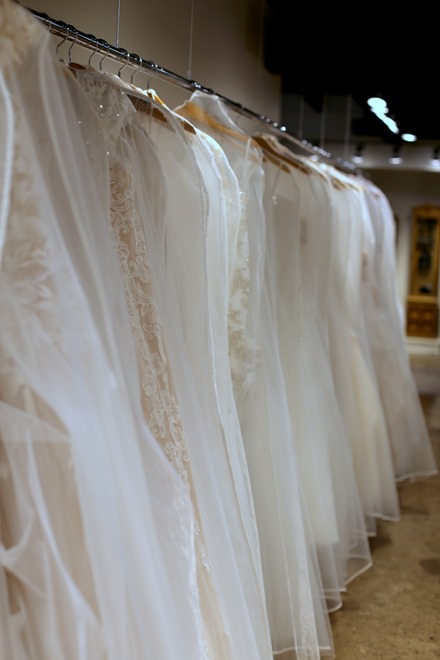 It didn't take long to figure out the style Carrie loved and watching her try on dress after dress was so much fun! Carrie was such a great bride-to-be and didn't bat an eye at trying on at least 15 dresses. When she stepped out of the dressing room in what was likely her 15th or 16th dress, Michaela, Leah and I couldn't hold back our excited reaction. There was something very special about this dress. The delicate neckline, feminine lace detailing and silhouette were all simply Carrie and she looked stunning! When Carrie slipped a veil into her hair, the whole look completely came together and she said, "I think this might be the one!" Such an exciting moment and I'm so, so happy Michaela, Leah and I were able to be a part of it.
The Wedding Shoppe then had Carrie sign a dress with her name and wedding date and snapped a couple of photos for us as we congratulated Carrie and shared in her excitement!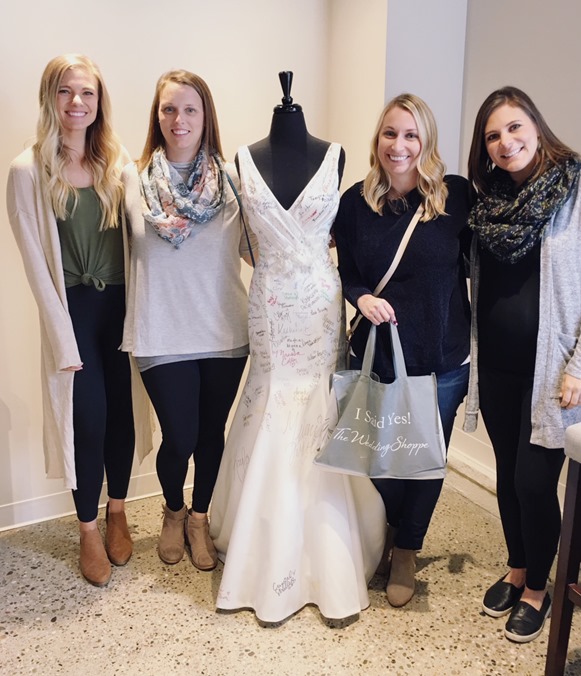 Lunch was next on the agenda and we made the short drive over to Vinsetta Garage, a quirky local hotspot known for their burgers, pizza and fried cheese curds. Naturally we couldn't resist beginning our lunch with the fried cheese curds and I was quite tempted to order another round for myself for my main meal. Those bad boys were delicious!!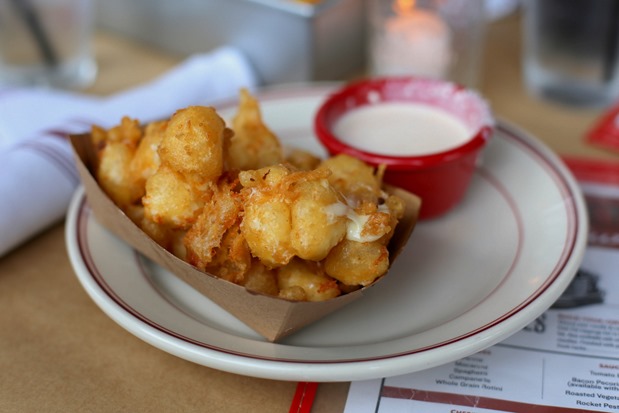 After lunch, we piled into Carrie's car to make the drive up to Blake's Cider Mill which was absolutely hoppin' with people!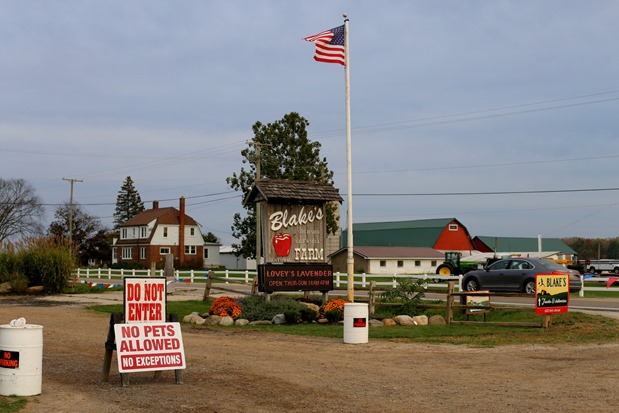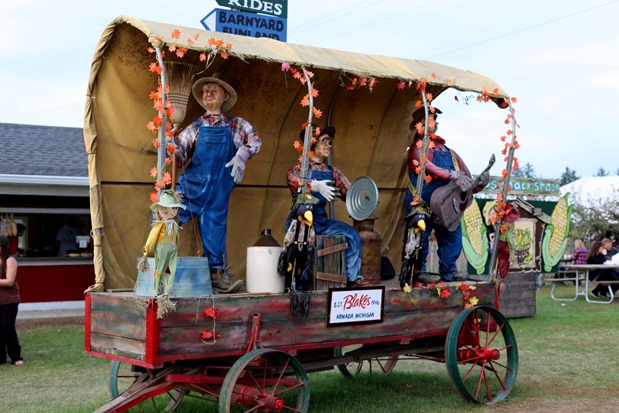 Everyone clearly wanted to take advantage of the perfectly sunny, slightly crisp fall weather and we didn't waste anytime ordering cider, a dozen cinnamon sugar doughnuts and apple fritters to share.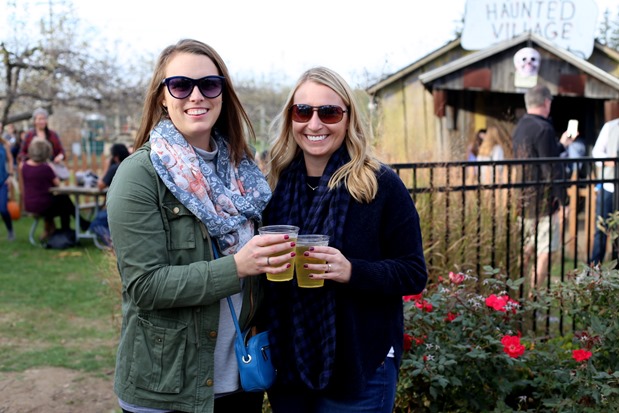 I know I should probably be raving about the cider from a cider mill (it was delicious!) but the doughnuts at Blake's were next-level good. We ordered a dozen to share and I'm pretty sure each of us easily ate at least two without batting an eye. I have a feeling I will be dreaming of those doughnuts for weeks!
We grabbed a table to sip our cider and eat our doughnuts before wandering around Blake's for a bit. It was nearly 7 p.m. by the time we left and after a 50-minute drive, we were back at Carrie's place. We had plans to head out and about that night but after a rather busy day, ordering pizza and doing face masks at Carrie's house in our pajamas sounded a lot more appealing to all of us by the time we made it home.
Give me a cozy night at home in my pajamas with my best girlfriends any night of the week and I am one happy camper!
Sunday
Sunday was a bit of a whirlwind since it was a travel day and Leah and I had flights out of the Detroit airport that left at noon. Thankfully our morning was open and we were able to enjoy crepes for breakfast at a little French cafe near Carrie's house before heading off to the airport.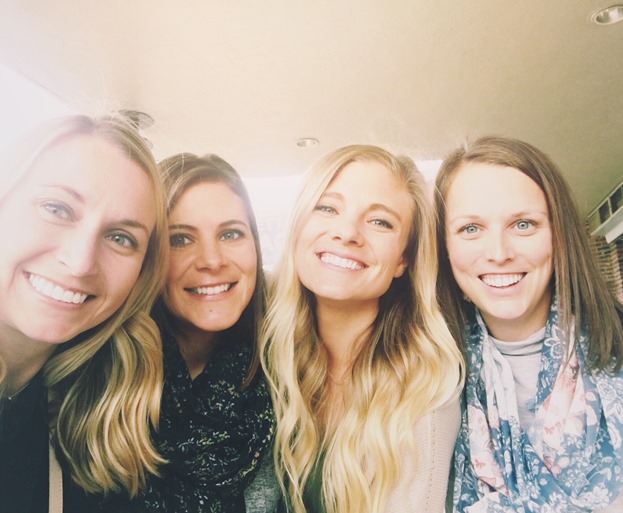 Saying goodbye to Carrie, Michaela and Leah is always hard but thankfully this time we all know we have Carrie's wedding to look forward to this spring so another reunion isn't too far off! Still, it wasn't fun to say goodbye and I left feeling that weird mix of emotions where I was so happy about our time together and so grateful for these three amazing friends I've had in my life for so long but also so sad we don't get to see each other every day like we did when we all lived within a mile of each other in Palatine. They're the best!
I arrived back in Charlotte around 2 p.m. feeling very ready to see my boys! I missed Ryan and Chase a lot while I was away and was happy to spend the rest of the weekend hanging out with my family.
I hope you all had a great weekend and enjoy the week ahead. Thanks so much for stopping by the blog today!