Goodness gracious, how it is already Wednesday!? Is this week flying by for anyone else out there? Yesterday passed by in a flash but I managed to snap some pictures throughout the day, so I figured I'd bring you guys along for the ride!
My morning began at 4:30 a.m. when our power went out and randomly reset the noise machine in Chase's room to the creepiest heartbeat sound. He's used to a steady stream of white noise and the heartbeat noise woke him up in a terrifying way. I rocked Chase in his nursery, read him two books and calmed him down before putting him back in his crib a little before 5 a.m. Thankfully he seemed ready for more rest and curled up with his stuffed animals and went back to sleep. Since I was already wide awake at this point, I headed downstairs and made my way into the kitchen where I fixed myself a shortcut pumpkin spice latte with collagen and settled in to read my devotional before working for a few hours.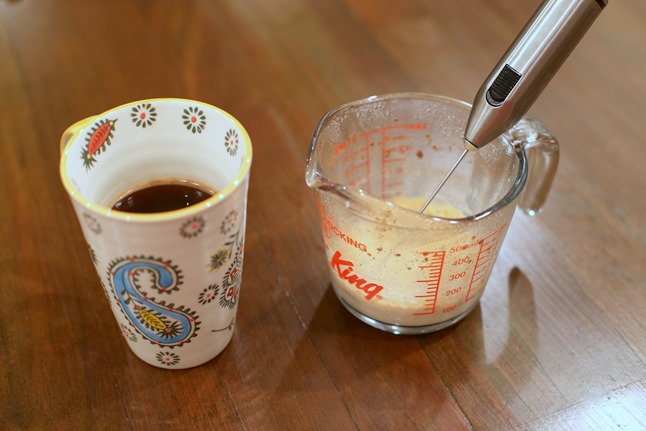 I spent two hours invoicing, following up with campaign stats and fixing a coding issue on the backend of the blog before making myself a smoothie for breakfast.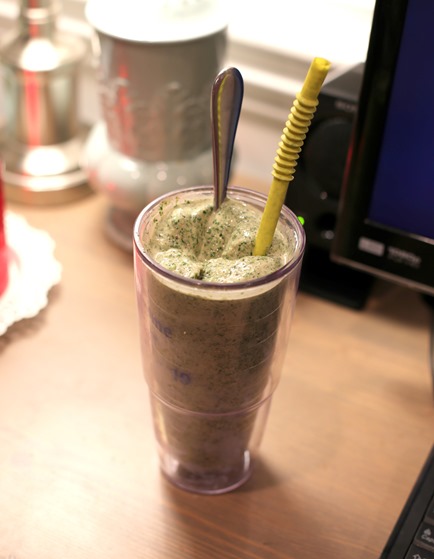 Yikes, that one looks a little rough but I promise it was good! I blended some almond milk with frozen cauliflower, frozen spinach, frozen banana, peanut butter and chocolate protein powder and it was a super thick delight!
I said goodbye to Ryan around 7 a.m. and about 30 minutes later Chase was up for the day. We had a rather low-key morning, complete with baking muffins, playing with trains and reading books at home. So often we're go, go, go around here in the morning, whether we're rushing off to preschool or heading off to the gym or a play date, and it felt so nice to ease into the morning.
In addition to our laidback morning, I opted to skip yesterday's workout in favor of a festive fall mother-son date with Chase! The two of us headed off on an adventure to Patterson Farm where we fed goats, planted lettuce seeds and went on a hayride together.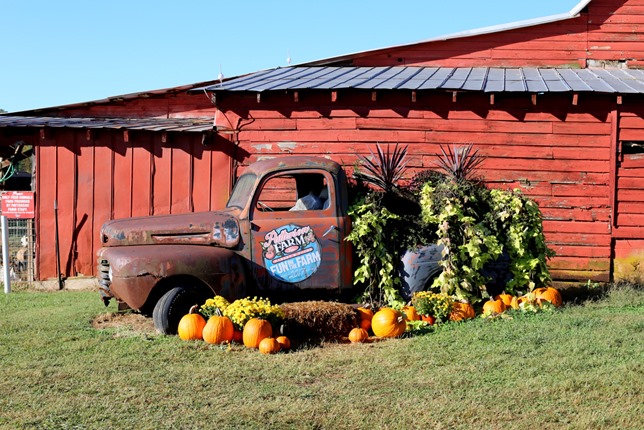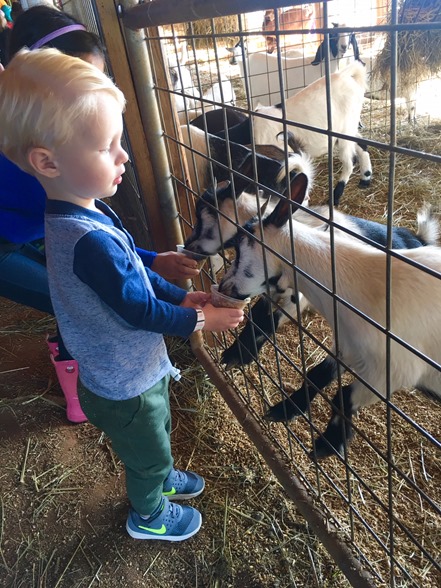 We ended our time on the farm in the pumpkin patch where Chase and I selected two small pumpkins to bring home.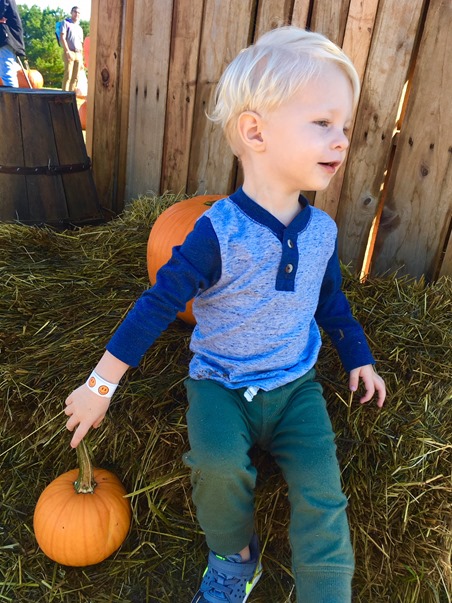 And I couldn't resist sharing a small cup of pumpkin ice cream with Chase before we hit the road and headed out. I loved our special morning together!
On the way home, we popped into ALDI to pick up some food for the week and use the "Quarter Carts" which Chase thinks are the coolest. I loaded up three green bags full of food and then Chase and I did a number on some honey roasted cashews on the drive home.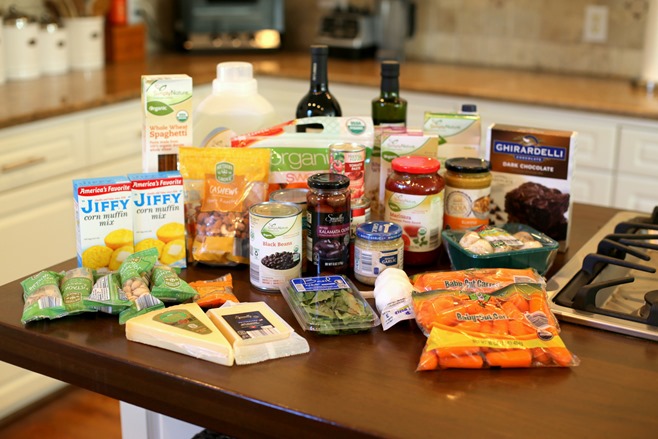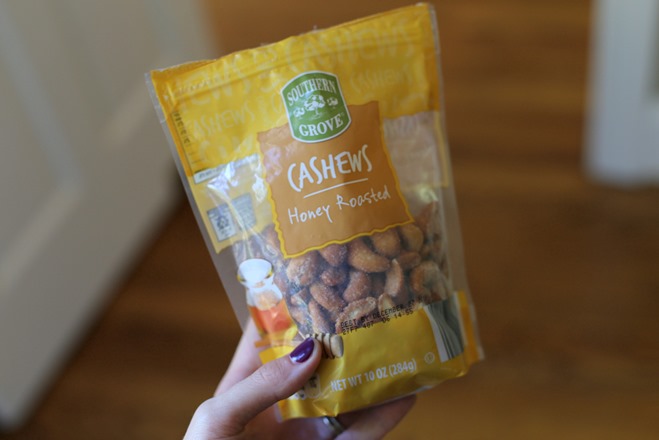 By the time we made it home, we were ready for a real lunch. Chase and I ate some leftover chicken soup from Sunday (well, he just picked out the carrots) and shared a grilled cheese sandwich before he was ready for his nap… but not until we made it through two readings of the "Chase Fagan Book" – aka Chase's new favorite book.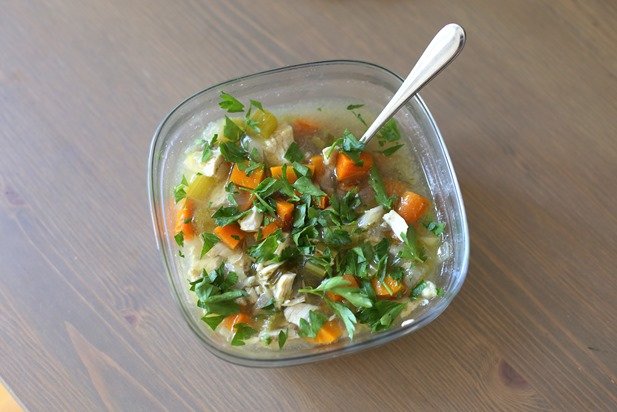 One he was sleeping, I took some time to photograph a couple of recipes for The Laughing Cow's social pages and also snacked on my photography subjects once I was done.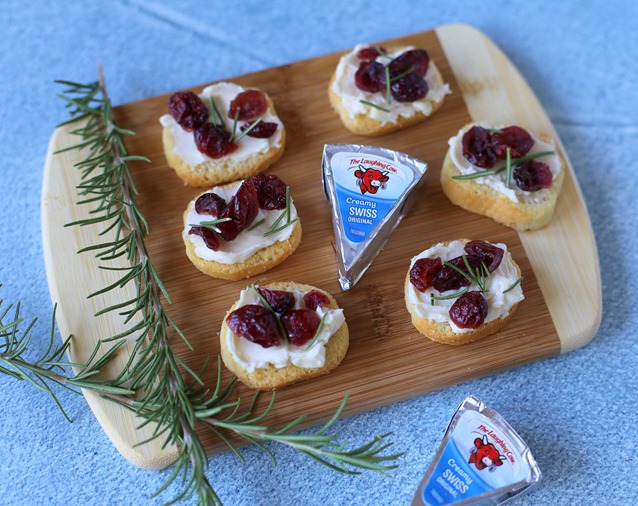 Yum!
I snacked while I edited the photos and got some more work done on the computer. Chase slept for a solid two hours which was awesome and woke up about 30 minutes before Ryan arrived home from his brief work trip to Arkansas. It was so nice to have Ryan home early and we took full advantage of the gorgeous sunny weather by leashing up Sadie and heading outside for a three-mile family walk.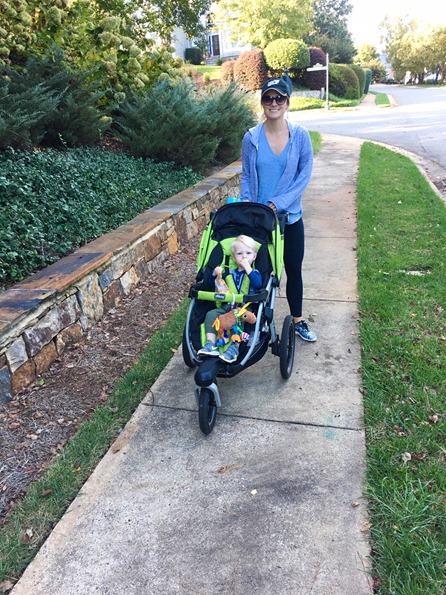 Once we made it home, we were ready for dinner which came together quickly thanks to a little prep work I did earlier in the day. Thank goodness for the crock pot!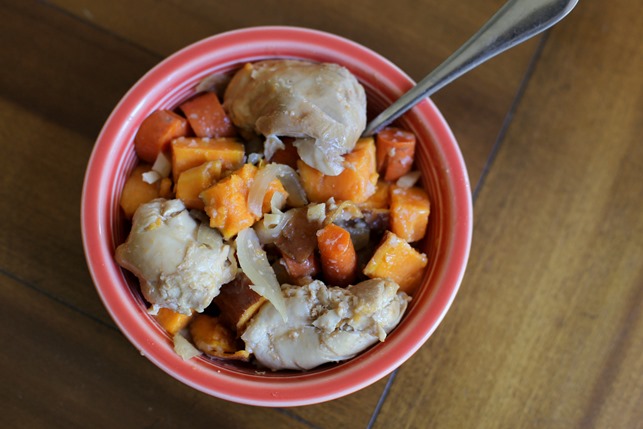 We dug into Lindsay's Slow Cooker Honey Garlic Chicken Thighs (one of the 10 Blogger Recipes I Make Again and Again) and once again loved every bite! Oh and this dinner reminds me… I've been thinking about buying an Instant Pot but we use our crock pot ALL the time and I'm wondering if it's really worth it or if it will just be another kitchen gadget that will end up collecting dust. Everyone is raving about the Instant Pot lately and I'm admittedly easily swayed by positive Amazon reviews and there are a billion on this bad boy. Thoughts!?
After dinner, we did the whole bath + bed time thing with Chase before climbing into bed and crashing hard after reading for a bit. I ended up finishing Watch Me Disappear and it was only okay… intriguing enough to keep me reading but not amazing enough to recommend.
Hope you all have a fantastic Wednesday!