And just like that another weekend is over and I'm left scratching my head as to where all the time went. It was a fast one as always!
Friday
Friday night was a pretty low key evening around here. Our wifi went out at home on Thursday morning (I published my blog post for Friday at 6 a.m. from a local coffee shop) and since someone could not come out to fix it until Saturday, I wasn't able to get much work done on the computer during Chase's naptime. I used my usual work time to completely clean out and organize our pantry.
BEFORE: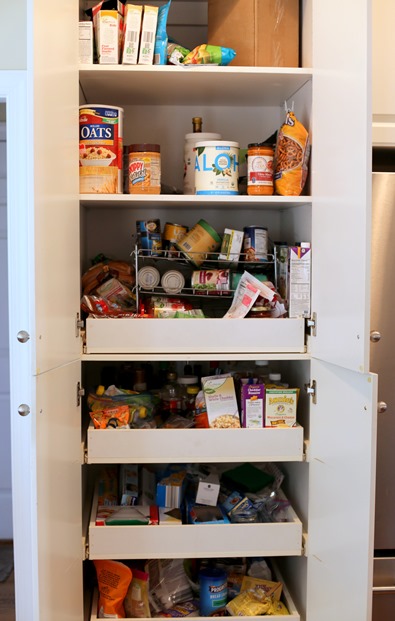 AFTER: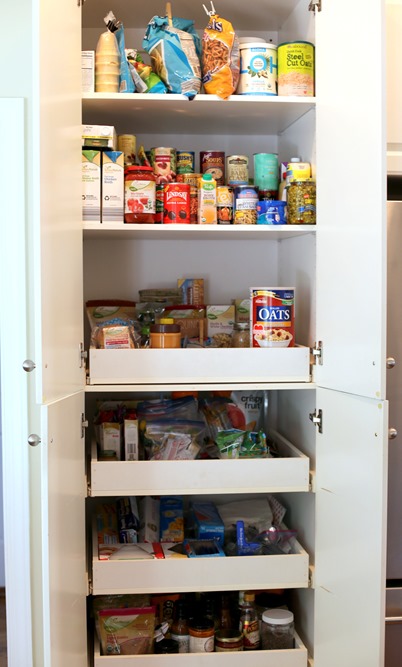 I haven't done a deep pantry clean since we moved into our house nearly three years ago! I realize it might not look like a huge change without the ability to pull out the pantry drawers and examine everything but it felt amazing to get rid of expired goods and organize and categorize everything from canned foods and grains to oils, sauces and snacks. It's kind of ridiculous how good an organized pantry makes me feel every time I open it. Perhaps it's something I should do more often than every three years?
The organization and cleaning spree continued on Friday night so clearly we had a rockin' good time as we got our house ready for our weekend guests.
Saturday
Saturday morning began with a trip to the grocery store and prep work for an afternoon cookout! Chase has been all about "helping" me cook lately which is pretty much limited to stirring, pouring and transferring chopped ingredients from one bowl to the next.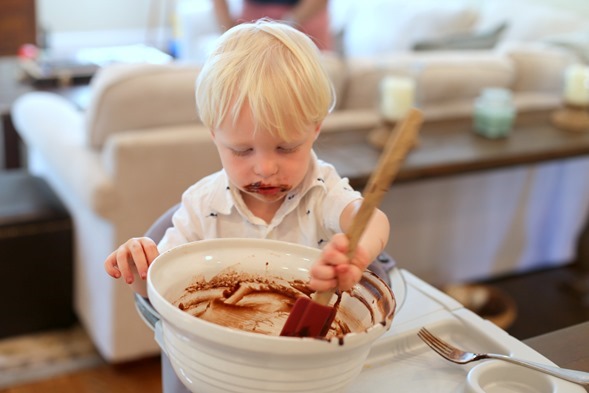 Stirring the brownie batter was quite thrilling for him, but not nearly as thrilling as "cleaning" the bowl once the brownies were baking.
Carrie, Dru and their three boys arrived around lunchtime and we were so excited to see them! Ryan and I met Dru in college (he was one of Ryan's best men in our wedding) and we've been friends with him for years and absolutely love his wife Carrie. Their three boys are adorable and so much fun and Chase had the best time trying to keep up with their two oldest, Noah and Aiden, and rolling around with their youngest, Eli.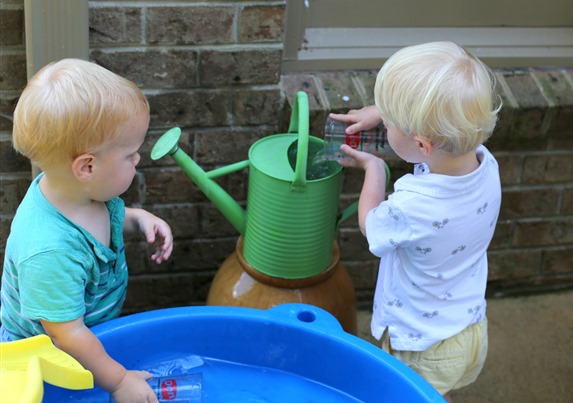 Chase is such a physical little dude – he's all about running all over the place, jumping and immersing himself in everything – and seeing him surrounded by three boys all weekend was so neat because their style of play is so similar. Non-stop, energetic and FUN!
After everyone arrived, Ryan threw some burgers, hot dogs and chicken thighs on the grill and we served them up with an assortment of sides and Chase's brownies. Once everyone was full and ready for some excitement, we changed into swimsuits and headed off for an afternoon on the lake.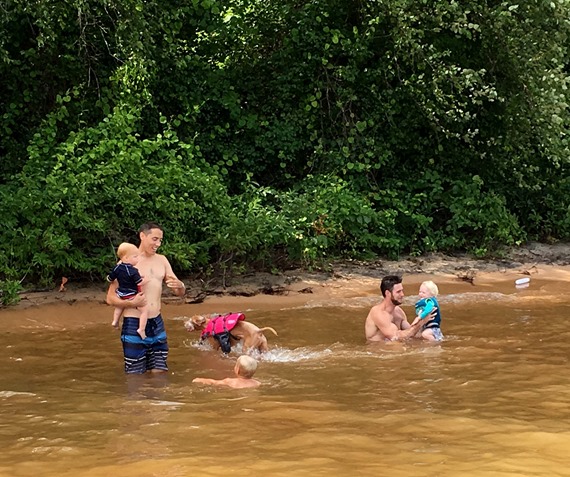 We made it up to a little sandbar and swam for a while until we noticed some dark clouds quickly rolling in. A bunch of boats were still out and about but we figured it was time to play it safe and head back. Apparently we weren't quick enough because the rain started about five minutes into our ride home and we were a bit nervous about being out on the water if a storm was coming. When we realized we were very close to my friend Carrie's parents' place we tied our boat up to their dock, sought shelter under their deck and I called Carrie to embarrassingly explain our situation and told her we definitely didn't need anything from her parents but just wanted to wait out the rain on their dock if that was okay.
Well, they could not have been kinder to us and her parents ended up coming out to greet us (it was still only drizzling at this point) and invited us to come inside and hang out for the rest of the afternoon until the weather cleared up. We were so, so grateful (you better believe I'm sending them flowers or a restaurant gift card or something!) and clearly picked the best place to wait out the rain. They were sweet enough to bring out toys for the boys and didn't make us feel like an inconvenience or a hassle at all as we profusely apologized and thanked them. Talk about great people!
We made it back home before dinnertime and since everyone ended up snacking all afternoon, no one was really that hungry and we scrapped our plans to order pizza in favor of macaroni and cheese and cookout leftovers. Not too shabby! Once the boys were all in bed, Ryan, Carrie, Dru and I had a great time chatting away (uninterrupted!) and it felt like such a treat to be able to catch up with friends we've had for years.
Sunday
Sunday morning flew by and after breakfast at home, our little gang went on a walk to a neighborhood park and then ordered smoothies at Clean Juice before Carrie, Dru and the boys had to hit the road for Hilton Head for a week-long vacation with their family.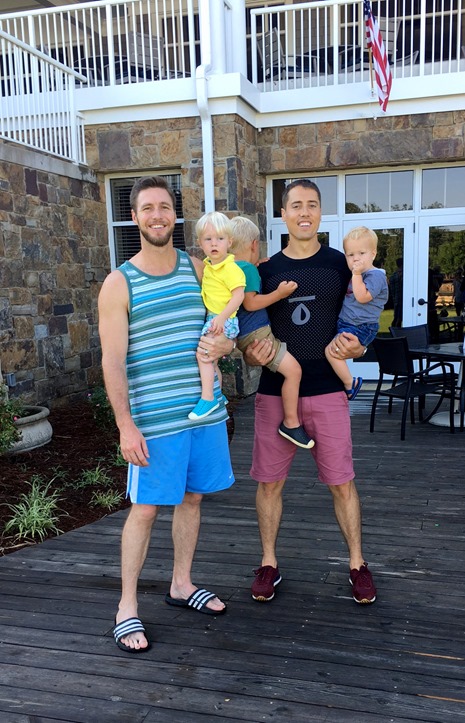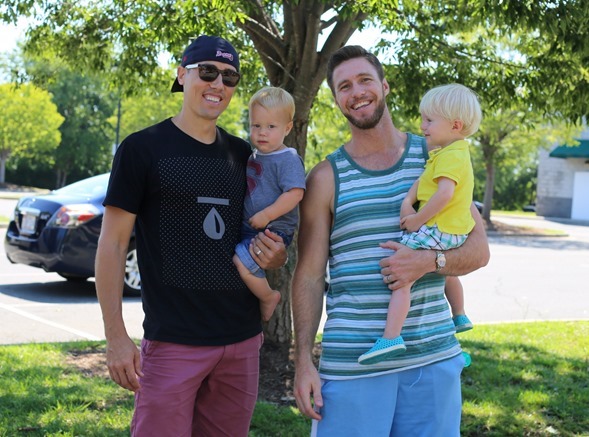 Once we all said our goodbyes, Ryan, Chase and I headed home and Chase went down for a much-needed nap. While he snoozed away, Ryan worked in the yard and I worked on my computer for a couple of hours. We spent Chase's post-nap time playing around the house until our babysitter arrived at 5 p.m. and we headed out to meet up with six of our friends for a quadruple date night!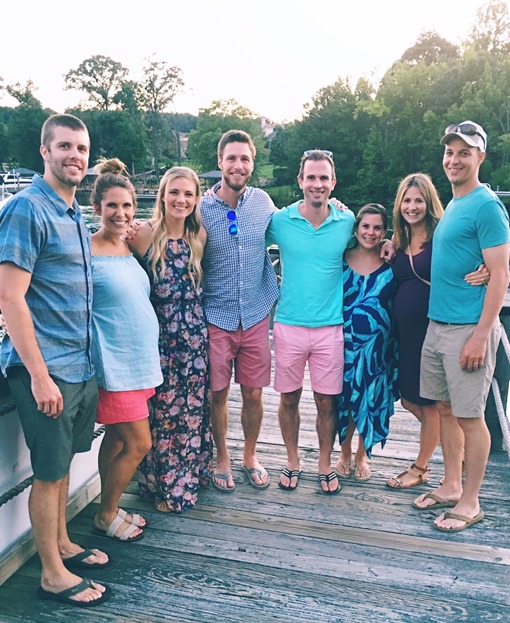 We all gathered on our boat for an evening cruise around Lake Norman with drinks and snacks before Ryan docked our boat at Port City Club, a local lakefront restaurant.
Without family in the area, I depend on these three couples so much and am so, so grateful for the friendships we have formed over the past two years. (We all met after our little ones were born and our kids are all within two months apart.) They're such a kind and thoughtful bunch but they're also just plain FUN! We loved every second we had with them on Sunday night and left agreeing that a Sunday night quadruple date was such a nice way to round out the weekend.
And now it's back to reality! I hope you all had a great weekend and enjoy the week ahead!