Hey friends! I hope you are stopping by the blog today feeling great! I'm hoping for a good day ahead full of a little more fun than yesterday and with a pool play date on the agenda, things are definitely looking up!
Morning
My Monday morning began at 6 a.m. when I woke up, sipped on some coffee and tackled my e-mail inbox before Chase was up for the day half an hour later.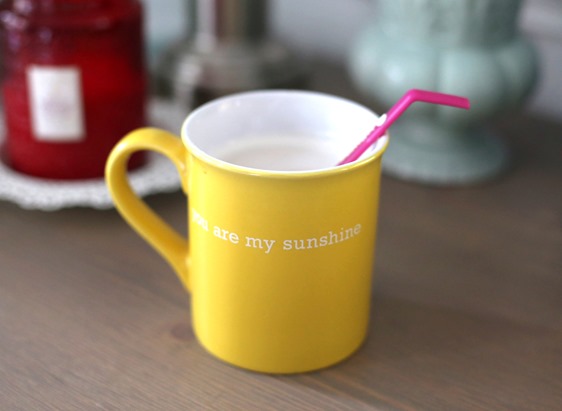 Chase usually sleeps in until 7 a.m. or so but began waking up close to 6 a.m. all last week when we were in Florida. He began making noises at 6:15 a.m. again yesterday morning and by 6:30 he was ready for action but in a very grumpy mood.
Chase is usually a pretty happy little dude but sometimes he wakes up on the wrong side of the crib and it's hard to know what to do to make him happy. I tried a bit of everything and he wanted nothing to do with 90 percent of it, including breakfast. He eventually settled down when I pulled out a stack of books and cuddled up with him to read for a while on the couch. I managed to get  a muffin topped with some cashew butter into him (and myself) before it was time to leave for boot camp and hoped getting back into the swing of our usual weekday routine would help snap him out of his little funk.
Workout + A Visit to Geico
Once Chase was settled in childcare, it was workout time! A few of my girlfriends and I went through a leg workout at Burn Boot Camp together that included three one-minute rounds of the following exercises:
5 Dumbbell Sumo Squats + 5 Squats
Band Jump Squats
3 Squat Pulses + 1 Full Squat
3 Jumping Lunges + 3 Alternating Lunges
Monster Walks
After the workout, Chase and I said goodbye to our friends and headed off to a Geico Claims Center. A couple of weeks ago, I actually got into a very minor car accident. A new traffic light was recently installed near our house and I did not expect to have to stop so suddenly and hit my breaks hard as I veered off the side of the road. Well, I didn't veer fast enough and bumped the bumper of the SUV in front of me. I actually had both Sadie and Chase in the car with me at the time so I was a little flustered even though I knew right away everyone was safe since the accident truly felt like a very tiny tap.
Thankfully the man I hit could not have been nicer to me and said not to worry about him at all as I profusely apologized. He then said, "Don't worry about it. My car doesn't have any damage and yours looks worse." It wasn't until then that I turned around to see the damage on my own car which was somehow pretty intense! I bumped the side of his SUV's bumper with my headlight (apparently a costly fix!) and now my car is in the process of being repaired while I drive around a snazzy rental for a week or so.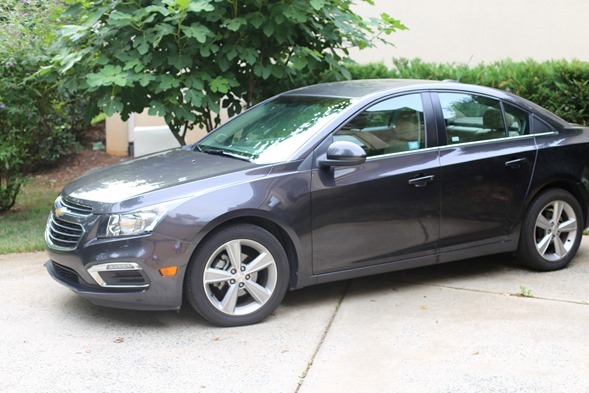 So far I have been incredibly happy with my experience with Geico and our time at the claims center went pretty darn smoothly as my car was examined and I received my rental. Chase even got some Geico stickers and a little stuffed lizard so his day was made!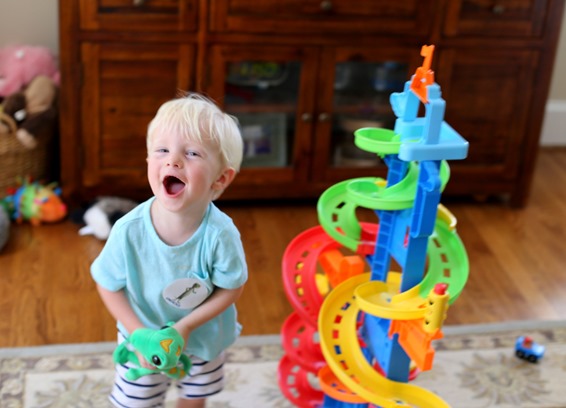 I don't think the kind people at Geico realized the little lizard toy would quickly morph into our early-afternoon entertainment once we arrived back home! After lunch, we played many, many rounds of "find the lizard" and Chase LOVED it. I'd tell him to cover his eyes with his hands and close them tight (whether or not he listened was debatable) while I hid the lizard all over our living room. He had the best time searching for it and I was just happy to see a smile on his face again after a moody morning!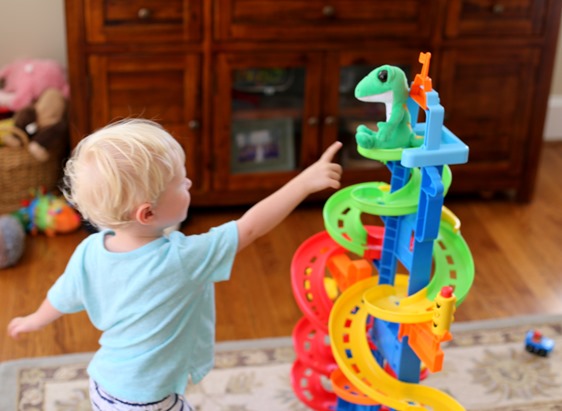 Chase went down for his nap around 12:30 p.m. and even though I snacked on some no bake nut butter balls with him during his earlier lunch, I found myself feeling hungry again and reheated some Pad Thai leftovers to enjoy while I worked.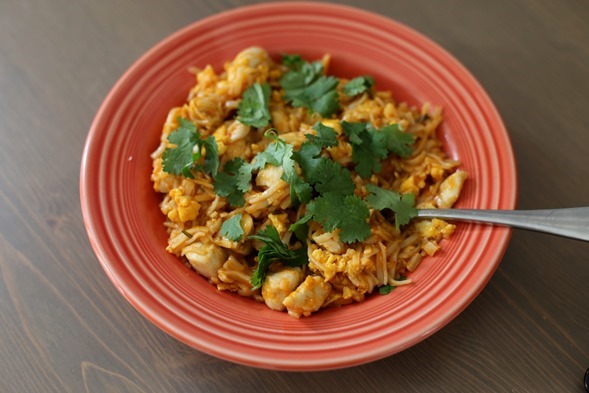 A little while later, I wanted something crunchy and poured myself a bowl of kettlecorn to fuel me through my naptime work session.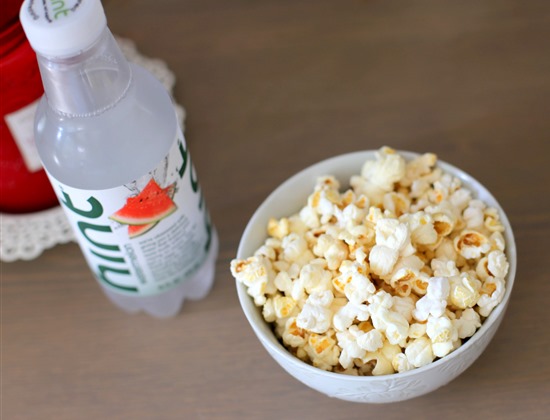 Once Chase was awake, the two of us had to run a couple of errands, so we headed out on a little adventure. My small group has officially been meeting for a year and we wanted to celebrate our incredible group leader, Danielle, at our meeting yesterday evening. I picked up a gift card from all of us and a bouquet of flowers and we each wrote her a little note to thank her for the time and effort she pours into planning group meetings that center around topics that encourage thoughtful, vulnerable, honest and often hysterical conversation.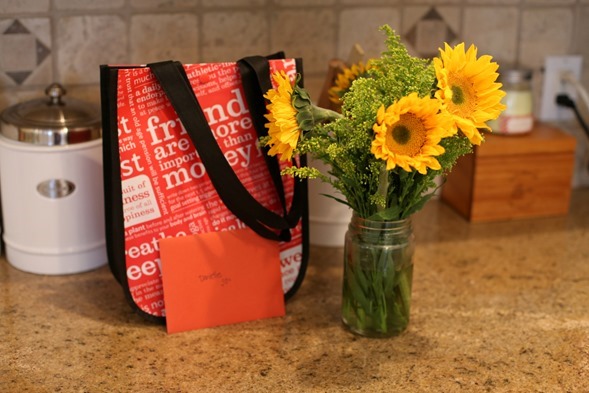 (I also met the sweetest blog reader while we were out and about – also named Danielle – and wanted to give her a little shout out and say thank you for saying hi! And big congrats again on your newborn baby girl!!)
After everything was checked off my list, Chase and I headed home for dinner. Ryan arrived home not long after we walked through the door and the three of us ate an easy dinner of chicken sausage with peppers and onions and roasted white sweet potatoes with a bit of butter.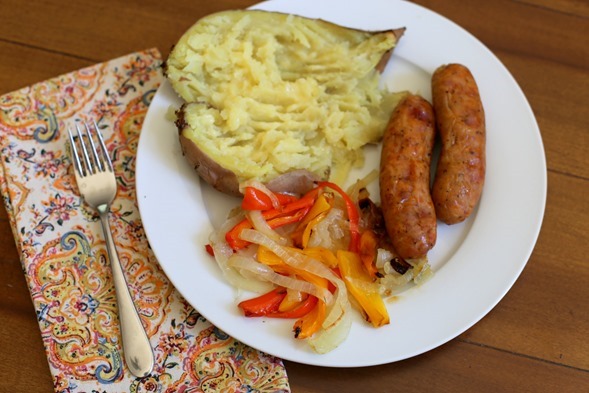 I had to head off to my small group meeting as Ryan and Chase began bath time so I said goodbye to my boys and Sadie and spent the next two hours with my friends, diving into our latest study.
It was so nice to see everyone after a week away and I loved our time together as always.
I arrived back home around 9:30 p.m. to find Ryan reading in bed, so I quickly changed into my pajamas and joined him with my book. I didn't sleep very well on Sunday night, so I was pretty tired by the end of the day on Monday and ended up drifting off to sleep when I was only about 30 minutes into reading A Hundred Summers.
And now Tuesday is here! My plans for today include a workout, a pool play date, naptime workin' and hopefully grilling out with our neighbors this evening.
Hope you all have a fantastic Tuesday! Thanks for stopping by the blog today!