Good morning, party people!
I hope your Thursday is off to a good start. My day began before dawn when my alarm clock blared, abruptly waking me up in the middle of a dream. I must have been dreaming about a concert or something because a song was playing in my head when the music of my alarm started playing and clashed with my dream song. It was like Battle of the Bands: Dream Edition.
Apparently we are starting this Thursday on quite a little tangent!
Breakfast
After my alarm went off, I got dressed in comfy travel clothes and headed into the kitchen to eat the breakfast I assembled (and photographed) last night.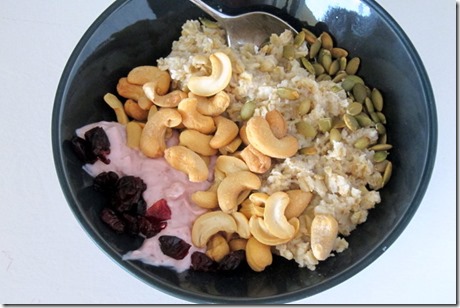 Oatmeal + Black cherry Greek yogurt + Cashews + Pumpkin seeds + Dried cranberries
My dad, sister and I were all ready to head out the door by 5:30 a.m. and drove to the airport to board the first flight out to Baltimore. We should be arriving shortly!
My mom will be picking us up at the airport (she arrived in Pennsylvania on Monday to bring my grandma home from the hospital) and then we have plans to grab some food at a diner before spending the afternoon with my grandma, Nana. After that, it's onto my grandma Mimi's house in Gettysburg!
Question of the Morning
Do you wake up to a certain song as your alarm clock?
When I'm at home in Ocala, Ryan and I use a regular alarm clock with one heck of an annoying beep. Whenever I travel, I use the alarm clock on my phone and wake up to "Call Me Maybe." I know it's a weird song to wake up to, but it's a good one because it eases into the energetic part of the song. I appreciate the way it builds so I can motivate myself to get out of bed before the chorus starts blaring. When Ryan travels he listens to the a cappella version of "Wavin' Flag" by the YellowJackets. If you love a cappella, definitely give it a listen! It's a good one!