You better believe I'm taking full advantage of BodyPump classes while I'm in Jacksonville. My parents' gym had a lunchtime BodyPump class on the schedule today, so I worked at home through the morning before heading out for a mid-day break to work up a sweat.
After I set up my little station, I sipped on water as I waited for the class to begin. The instructor asked whether or not anyone was new to BodyPump and one woman timidly raised her hand. I expected the instructor to walk over to the woman and give her an overview of the class to make her feel more comfortable, but she kept her microphone on and asked the woman her name from the front of the room. Once she knew her name, the instructor then said, "Uh oh! Everyone watch out for Caroline! She's new!"
That was it. She didn't give Caroline advice or tell her what to expect from her first class. She didn't tell her what equipment she needed. Nothing! I'm sure the instructor thought she was being playful, but I instantly felt awkward for Caroline and could tell other members of the class felt a little uncomfortable. What if this was Caroline's first group exercise class ever? 
Thankfully the woman next to Caroline helped her figure out what weights to grab, so she wasn't too lost. Still, it was a rather awkward start to the class and I'm just glad Caroline was a trooper. I hope she didn't feel too singled out!
Lunch
Lunch today was a tuna salad sandwich served on toasted Ezekiel bread with a sliced apple and sugar snap peas.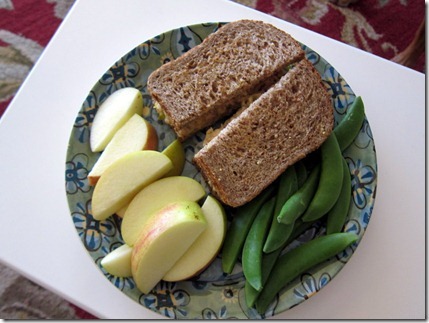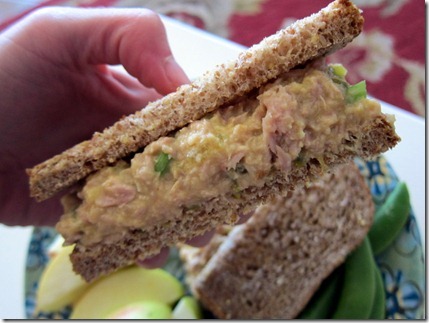 Nice and filling.
Question of the Afternoon
Have you ever felt really uncomfortable in a group exercise class?
The most uncomfortable I've ever felt during a group exercise class was when I took my first hot yoga class at a real yoga studio. Yikes. I was waaay out of my element. I've also felt really, really lost during a step aerobics class, but I just laughed at my lack of coordination and kept stepping and tried my best to pretend I knew what I was doing.