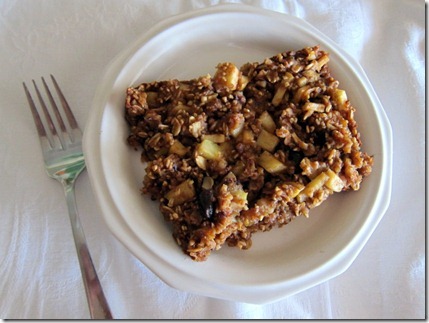 But first, you should all know that Sadie is officially a lady of the night whenever we visit my parents in St. Pete.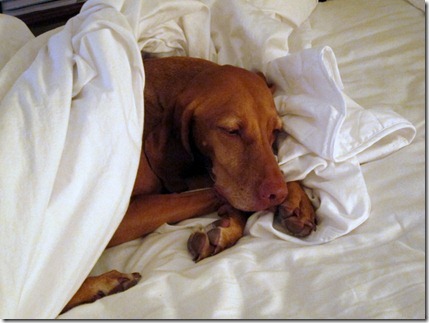 She bed hops two to three times, paying late-night visits to everyone in their separate rooms.
What a little hussie.

Sadie's bed hopping routine didn't bode well for my sleep. Since my bed seemed to be her "home base," she would bed hop for a while and then come back to snuggle with me. I eventually closed her out because all the bed hopping was getting a little ridiculous, but by the time my heart turned to stone and I was fine with locking her out of my room, it was 4 a.m.
Needless to say, I didn't get the best sleep last night, but it was my own fault since I'm a softie when it comes to Sadie.
Breakfast
Breakfast this morning was fantastic!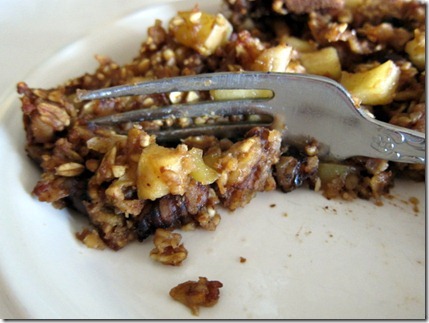 I know it doesn't look like much, but it got rave reviews from everyone.
I revamped my recipe for banana pecan coconut baked oatmeal this morning to create a batch of apple walnut baked oatmeal, perfect for three people. 
Apple Walnut Baked Oatmeal
Serves three
Bake time: 22 minutes
Ingredients
3/4 cup old fashioned oats
1/4 cup steel cut oats
1 teaspoon baking soda
1/4 teaspoon salt
3 tablespoons liquid egg whites (1 egg white)
1/2 cup applesauce
1/4 cup apple butter
3 tablespoons raisins 
1/4 cup chopped walnuts
1 medium apple, finely diced
Directions
Preheat oven to 400 degrees.
Stir together rolled oats, steel cut oats, baking soda and salt in a large bowl and set aside.
In a medium bowl, combine egg white, applesauce and apple butter.
Add applesauce mixture to oat mixture and stir.
Add raisins, walnuts and apple to the oatmeal applesauce mixture and stir.
Pour into a loaf pan sprayed with cooking spray and pat down. Bake uncovered for 12 minutes. Remove from oven, stir mixture and bake uncovered for an additional 10 minutes, until lightly browned.
Spoon into bowls and enjoy. Also delicious when topped with milk, yogurt or fresh berries!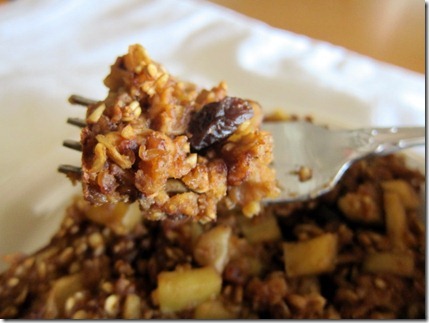 This baked oatmeal wasn't as fluffy as the original one and crumbled a bit, but it was chewier and packed with more fun ingredients that added to the flavor of the dish. 

I'll be back soon and hope to check in before my afternoon meeting.

Happy Friday!!!

Recipe to come in a minute…